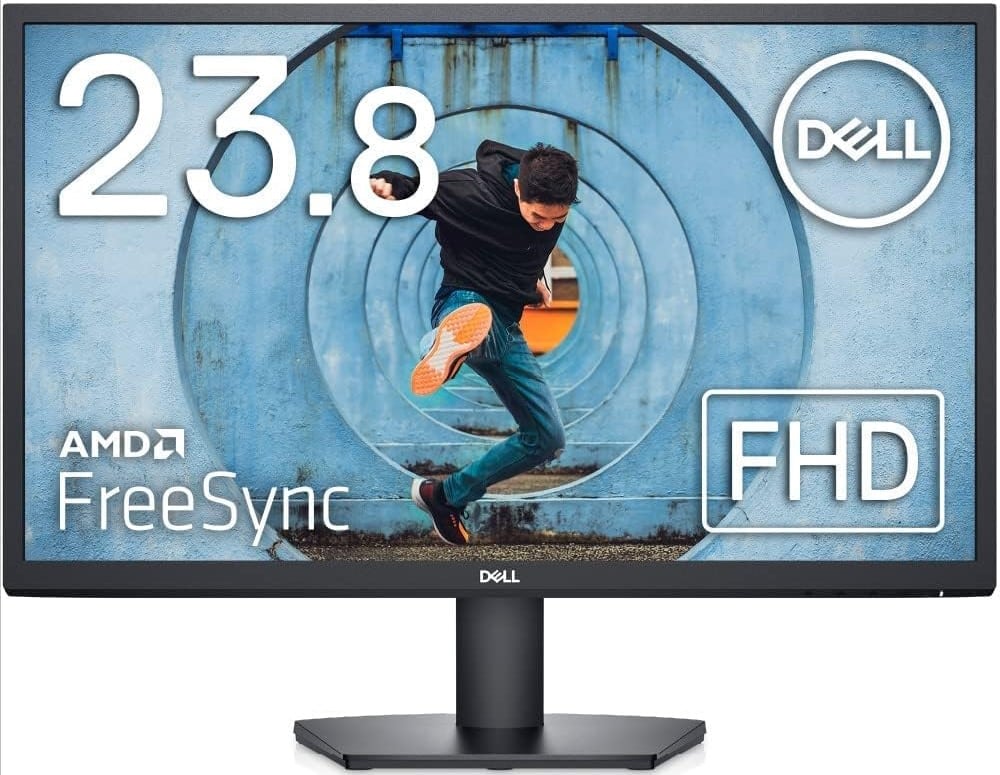 The Dell SE2422HX is an affordable and easy-to-use solution for businesses or your home office-slash-remote work setup. It's not as sophisticated as the previous Dell monitors we reviewed, like the impressive U3224KB, but there is always value in simplicity for the right customer. Let's take a closer look at this option to determine if it's a great option for daily use.

Dell SE2422HX Specifications
Screen Size: 24 Inches
Resolution: 1920 x 1080 FHD
Aspect Ratio: 16:9
Panel Technology: Vertical Alignment (VA)
Refresh Rate: 75Hz
Response Time: 5ms
Contrast Ratio: 3000:1 (Static)
Brightness: 250 cd/m2
Built-in Speakers: None
Stand: Height – No
Stand: Tilt – Yes
Stand: Swivel – No
Stand: Pivot– No
VESA Compatibility: Yes
Connectivity: HDMI1.4 x 1, VGA x 1, 3.5mm x 1
Dimensions (WxHxD): 21.8" x 16.5" x 7"
Weight: 7 lbs

Design and Features
The Dell SE2422HX is a basic monitor, so it has a simpler yet improved design compared to the UltraSharp models. This monitor comes in matte black, so it doesn't stand out and becomes a distraction. It is not sleek and sophisticated, but Dell minimized its plastic parts to give you more viewing room and less impact on the environment.
It is not too big as far as what we're used to now, so it will fit into most settings or environments, such as study corners in dorms. Its reduced footprint dropped its overall depth to 7 inches, so it should fit on most shallow surfaces. The whole product only weighs 7 pounds, so it is portable and easy to move around when needed.
Its build quality is robust and reliable since the monitor was meant for daily use in business and office monitors. The plastics used are thick and sturdy, plus there were no cosmetic defects, even if it's a budget model. There is some wobbling because of the stand's low ride height, but it's not concerning since it only happens in select instances.
The Dell SE2422HX has OSD buttons under the right side of the bottom bezel. They are easy to access, but it's more difficult to get to a specific setting since you need multiple key presses. This isn't a deal-breaker since the monitor is priced low, but many brands now use joysticks for convenience and better usability.
The included stand only offers tilt, so there aren't a lot of options for positioning it. It is another understandable limitation, but it can be a deal breaker this time since there are ergonomic alternatives for a little more money. You can use VESA mounts, but that's an added expense that will dispel the SE2422HX's budget pricing.

However, we think the bigger limitation of the Dell SE2422HX is its connectivity layout. Most office monitors only offer HDMI 1.4 and VGA like it, but doing that helps with cost and frankly, its all that's ever needed for it. You also get a 3.5mm jack for headphones, but there are no speakers involved this time around.
Display and Performance
The Dell SE2422HX uses a 24-inch VA panel with a 1920 x 1080 resolution, a 75Hz refresh rate, and a 5ms minimum response time. The backlight has a 250 cd/m2 output, while the contrast is listed at 3000:1, like most VA panels. It doesn't have special features like HDR, but that's understandable since it's meant for work rather than play.
1080p is perfect at 24 inches, so they are still in wide circulation for all monitor categories. It is easy to read and write on them, while games and movies look decent, even if they aren't the sharpest out there. They can also run off the most basic hardware, so you don't really need flagship-level gear to get it going.
The Dell SE2422HX covered only managed to cover 97% sRGB and 75% of the DCI-P3 color space. It is not the most accurate, with a deltaE average of 2.81, but that's more than decent for daily use and media consumption. Most users won't need to calibrate the screen out of the box, although you might want to adjust the brightness setting to suit your room.
Calibrating the monitor reduced its dE average to 1.08, which is excellent for a monitor out of it. The downside is that you will need a colorimeter that is more expensive than the monitor itself to get a similar result. Its not worth it this time around, and we recommend going with a better monitor first before buying the gadget.
The Dell SE2422HX's backlight reached 251 cd/m2 at 100% brightness, so it is not the brightest display out there. Its contrast is a different story since it peaked at 2150:1 at 50% brightness, enabling it to produce better black luminance. 2150:1 is far from what we've seen on other VA models, but it's undoubtedly preferable to what IPS alternatives can provide.
Panel uniformity for the test sample wasn't as impressive as the latter since there were backlight leaks on the upper edge of the screen. They added some clouding in dark scenes, but they aren't as bad against white backgrounds like Microsoft Office or browsers. Note that this can vary between every unit made due to tolerances, so there are worse units out there.
The main weakness of the SE2422HX's panel type is its slower pixel response time. It is prone to blurring during fast transitions, so it is not suitable for games like Valorant. Setting the overdrive to its maximum setting doesn't help since it adds massive overshoot.
It's compatible with FreeSync, but G-Sync is out of the question since that usually requires DisplayPort. VRR isn't entirely necessary for 1080p, but it is nice to have VRR compatibility with AMD and its value-oriented GPUs. Its input lag sits at 9ms, so it's responsive enough for any computing use.
Thoughts on the Dell SE2422HX
The Dell SE2422HX isn't the most revolutionary monitor out there, but it does the simpler things better than some options out there. It's also built well, even if it is not as aesthetically pleasing as the upper-tier models. But the best part about it is its price, so you can easily buy two to maximize your productivity setup.
However, there are some very valid limitations that you may want to consider before pulling the trigger. It is not great for other types of use and is missing some essential creature comforts. But we knew that at first glance, yet we still think it's a decent pick as a budget option for work or as a daily driver.
Pros:
Low Price
Robust and Reliable
High Contrast
Cons:
Basic Connectivity and Ergonomics
Slow Pixel Response Time
About the Author: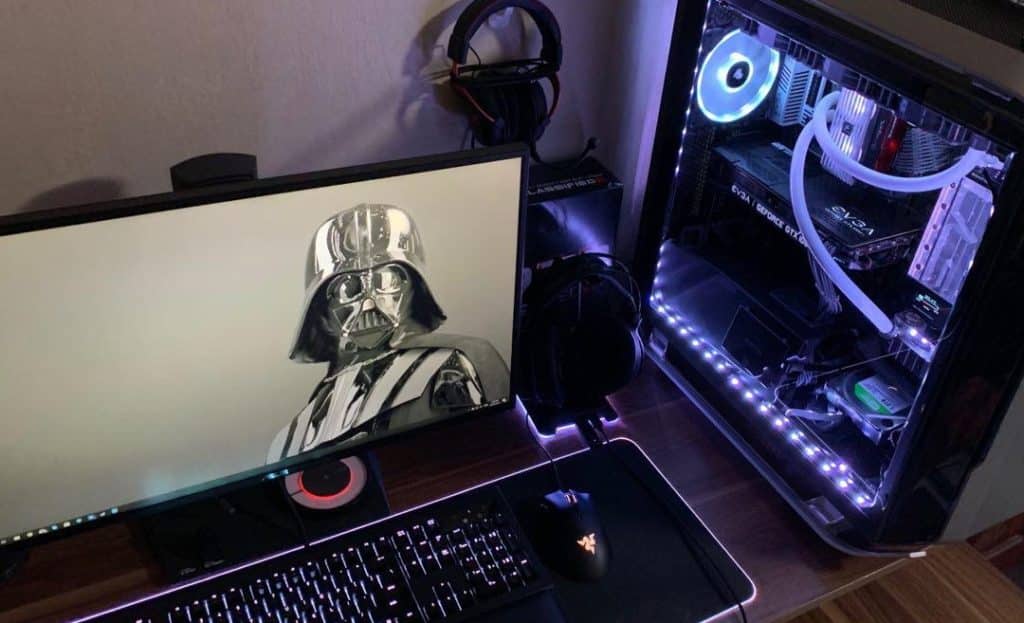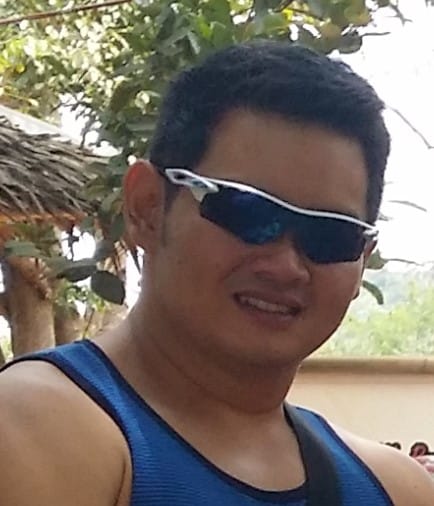 Paolo has been a gaming veteran since the golden days of Doom and Warcraft and has been building gaming systems for family, friends, and colleagues since junior high. High-performance monitors are one of his fixations; he believes that every citizen's right to enjoy one. He has gone through several pieces of hardware in pursuit of every bit of performance gain, much to the dismay of his wallet. He now works with Monitornerds to scrutinize the latest gear to create reviews that accentuate the seldom explained aspects of a PC monitor.