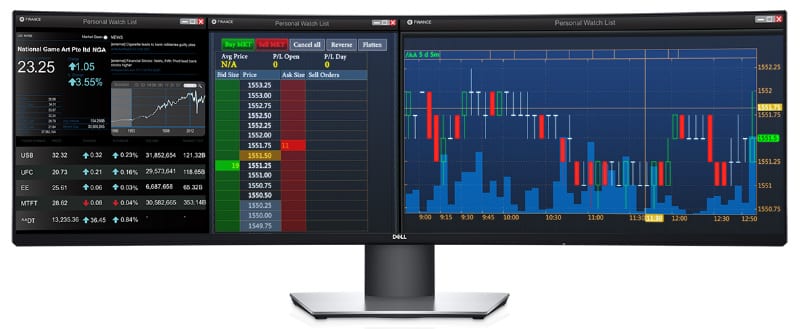 The Dell U4919DW offers a super ultrawide 49-inch screen that makes it perfect for streamlining your workflow or merely enjoying the view. We've seen similar products from other brands like the Samsung C49HG90 which is just as big, but disadvantaged when it comes to the resolution. The Dell U4919DW stays true to its Ultrasharp branding, but is it worth the hefty sub-two grand price tag?

Dell U4919DW Specifications
Screen Size: 49 Inches
Resolution:5120 x 1440 QHD
Aspect Ratio: 32:9
Panel Technology: In-Plane Switching (IPS)
Refresh Rate:60hz
Response Time:5 ms
Contrast Ratio: 1000:1 (Static)
Brightness: 350cd/m²
Stand: Height–Yes
Stand: Tilt – Yes
Stand: Swivel–Yes
VESA Compatibility: Yes (100 x 100)
Connectivity: DisplayPort 1.4 x 1,HDMI0 x 2, USB 3.0 x 7, USB-C x 1, 3.5mm Jack
Dimension (W x H x D): 47.84" x 18.06" x 9.95"
Weight: 37.92 lbs

Design and Features
The Dell U4919DW is a unique addition to the brand's immense portfolio, but it doesn't stray away from the identity of its monitor brethren. The distinct, all-business appearance that's composed of matte black and gunmetal textures are utilized, giving the monitor it's professional look. This model doesn't offer the InfinityEdge design, but the bezels surrounding the display area are reasonably thin and unimposing.
What's immediately noticeable about the Dell U4919DW once you prop it up is it feels solid and durable. The plastics and panels used do not warp, and there are no creaky corners on the chassis. The downside to all of this is the weight of the display which almost reaches a massive 38 lbs.
The proportions of the Dell U4919DW is dramatically impressive in the sense that it's a gigantic display, but with reasonable girth where it counts. The monitor will only consume ten inches of depth on a desk, even if the product spans almost four feet in width. The chassis is also pleasingly thin, making it easy to mount via the VESA bolt pattern.
However, there is little need to spend the extra cash for a VESA mount since the Dell U4919DW already comes with a flexible stand. The mechanism will allow you to tilt, swivel, and adjust the height so you can get the perfect viewing angle. The signature stand remains firm despite the chassis' heft, so the product will retain its posture for as long as you'd like.
You can tell that the Dell U4919DW is a true-blue multitasking monitor just by looking at its well-equipped I/O layout. The down-firing panel includes DisplayPort 1.4, dual HDMI 2.0 slots, and a total of 7 USB 3.0 connectors for your peripherals. There is also a USB-C slot that supports DP Alt Mode with power delivery for your MacBook Pros and Dell XPS laptops.

The only characteristic we dislike from the Dell U4919DW is its use of OSD buttons which is considered antique by today's standards. A premium monitor like this should at least have a JOG button or even a remote for convenience. At least, the buttons at the lower corner are tactile and clearly labeled to lessen the user's confusion.
Display and Performance
The Dell U4919DW boasts a 49-inch IPS panel with a 5120 x 1440 resolution, 60Hz refresh rate, and 5ms response time. This model isn't HDR-capable, so it only has a 350cd/m2 backlight and a typical 1000:1 contrast ratio. The Samsung C49HG90 has a screen that's almost identical to two 1080p monitors. However, this more impressive model equates to dual QHD screens.
This means that the Dell U4919DW's screen offers more viewing real estate, allowing you to place and work with more windows and toolbars. Dell even included a Display Manager software suite to take advantage of the monitor's size. This tool will help users organize and reorganize apps or restore older configurations as needed.
But what's fantastic about the Dell U4919DW is how accurate its claims are when it comes to image quality. The IPS screen is capable of 99% sRGB or 75% Adobe RGB coverage for balanced shades and lifelike images. Accuracy out of the box hits DeltaE 1.3, which is fantastic for a product that isn't marketed for photo editing.
Calibrating the Dell U4919DW is unnecessary since there are no apparent benefits of buying and utilizing a colorimeter. The color accuracy will improve to DE 1.25, but that isn't worth the cost and effort of buying another gadget.
However, the Dell U4919DW struggled to reach a contrast ratio above 800:1 in tests so that blacks can look a bit grayish. The screen isn't washed out, but it's noticeable when the monitor is sat next to another IPS variant. We recommend staying below 50% brightness to negate this issue and to ensure your eyes remain comfortable and safe.
But what matters more is the Dell U4919DW's excellent Gamma which sits close to the ideal 2.2 level. Images look brighter and more accurate on this monitor, making it suitable for a certain level of photo editing. Games are sufficiently vibrant with eye-popping shades, creating a pleasing performance overall.
The only real disadvantage we see is the Dell U4919DW's middling panel uniformity which gave birth to deviations that reached around 18%. The sides of the display area may look less illuminated than the center, although this is understandable due to the size. We didn't notice any bleeding, but each unit will definitely vary from another.
The Dell U4919DW is only suited for casual gaming, especially since it needs a top-end GPU to run smoothly. The screen's limited refresh rate and pixel response revealed some blurring and ghosting in fast-paced action. Slower genres like RPGs look and feel much better on this display, so competitive gamers may have to look elsewhere.
It's also worth noting that the Dell U4919DW doesn't have FreeSync or G-Sync, which we think is sorely needed at this resolution. Input lag is decent at 25ms, but overall, the Samsung C49HG90 is still the winner when it comes to our favorite past time.
Thoughts on the Dell U4919DW
The Dell U4919DW is an excellent premium monitor for business users and professionals who want to maximize productivity. The display's image quality doesn't require tweaking beyond brightness adjustments, making this model easy to use for all user levels. The 5120 x 1440 screen looks crisp and detailed despite the size, plus, it allows a multitude of windows to be simultaneously open and arranged for convenience.
The only negative aspect of the Dell U4919DW we are disappointed about is the lack of gaming chops such as FreeSync or a faster input lag. It's understandable that the product doesn't perform that great for our hobby since it isn't marketed for it. But for a monitor at this price range, we expected a do-it-all level of performance.