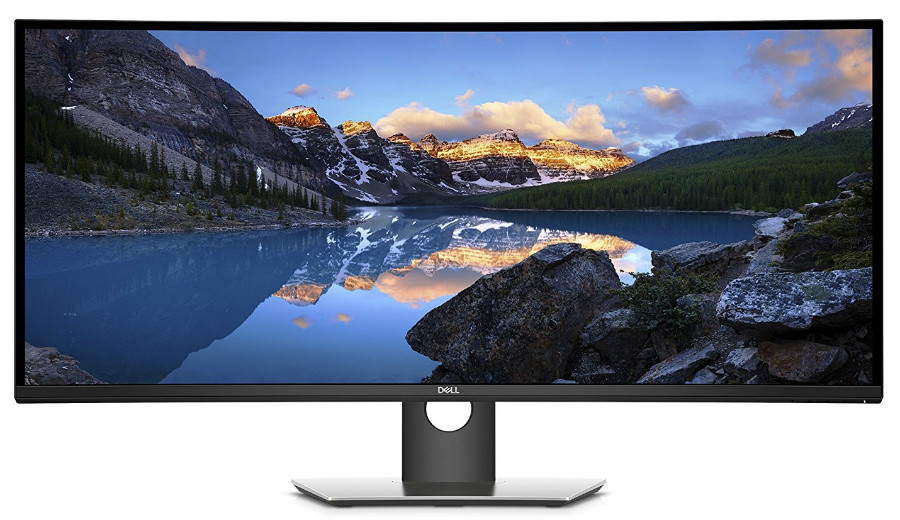 The Dell U3818DW Review is a premium prosumer grade ultrawide monitor with an impressive 3840 x 1600 resolution for home and office use. This massive monitor's imposing presence demands an equally elite computer for work or gaming at its side, so it can bring images alive with stunning vibrancy and clarity. The Dell U3818DW currently has a single competitor in the market, and what makes it exciting other than its proportions is its massively lower price which makes it easier to own.

Dell U3818DW Specifications
Screen Size: 38 Inches
Resolution: 3840 x 1600  UW-QHD
Aspect Ratio: 21:9
Panel Technology: In Plane Switching (IPS)
Refresh Rate: 60Hz
Response Time: 5ms
Contrast Ratio: 1000:1 (Static)
Brightness: 350 cd/m²
Built-in Speakers: Yes 2 x 9 Watts
Stand: Height – Yes (4.5 Inches)
Stand: Tilt – Yes (-5°/+21°)
Stand: Swivel – Yes
Stand: Pivot – No
VESA Compatibility: Yes
Connectivity: DisplayPort 1.2 x 1, HDMI 2.0 x 2, USB-C 3.1 x 1, USB 3. x 6, 3.5mm Audio Jacks
Dimensions (WxHxD): 35.2″ x 21.54″ x 8.91"
Weight: 26.76lbs

Design and Features
The Dell U3818DW sports its maker's signature aesthetic consisting of a matte gray and black treatment mixed into a minimalistic design. The 38-inch screen doesn't employ Dell's Infinity Edge design, but instead, it uses a dual stage design consisting of a thin plastic outer layer and the inner panel borders. Frankly, there isn't a wildly noticeable difference between the two since the plastic strips can't disrupt your view, although we reckon it would add to the amazing factor this monitor brings.
Dell included a robust stand which could withstand the Dell U3818DW's heft while providing flexibility to a monitor that ideally should stand still. Users get to enjoy height, tilt and swivel to get a perfect view, making this model suitable for individuals with varying anthropometrics. Although, future owners should take note that the screen's total width exceeds 35 inches, making it wider than most desks.
For that, you might want to consider wall mounting or using articulated arms which are easily compatible thanks to VESA compliance. Don't get us wrong; the mechanism Dell provided can hold the massive cabinet quite well, although, for tight spaces, placement could get difficult. If opt to go with mounting, make sure the set you purchase can handle up to 30 lbs since the Dell U3818DW alone already weighs in at a little under 27 lbs.
The Dell U3818DW's rich I/O layout helps it to emphasize on its productive uses since it has practically every modern connector you will need. You will find a DisplayPort 1.2, two HDMI 2.0 slots, a USB-C 3.1, and a total of size USB 3.0, two of which are on a hub on the side. The addition of a USB-C receptacle enables the Dell U3818DW to accept video signals from a mobile device while charging and allowing data transfer, essentially making it a gigantic dock for your USB-C laptop.
The Dell U3818DW's size allows the company to add numerous features, but it's size also allows the addition of a decent entertainment package. There is a pair of built-in speakers with 9 watts of power each which can generate enough response to satisfy personal listening. Of course, the two channel setup lacks bass response, but surprisingly it did sound decent for music. But for gamers and movie goes, we still recommend an appropriate set or headset so you can enjoy the oomph titles try to provide.
Display and Performance
The Dell U3818DW boasts a 38-inch IPS panel with a mesmerizing 3840 x 1600 resolution, 60Hz refresh rate, and 5ms response time. At a glance, test images appear clear and text is well-defined, although 4K still has an advantage in this aspect. The slight difference is an acceptable trade-off if you ask us since games and images appear spectacular in this format.
Out of the box, the Dell U3818DW and its screen's 10-bit depth can provide a little over 100% sRGB coverage or 77% in Adobe RGB which allows vibrant imaging, with decent accuracy. Tests show that this model only has a DeltaE of 1.38 out of the box, which makes it excellent at displaying lifelike images. Titles like Battlefield 1 shine in this monitor, where dominant colors such as greens in the Ardennes forest map pop to make the scene look alive.
Although we noticed one downside when the combat shifted to the darker areas, where shadows and low-lit environments appeared to look a bit grayish. Gamma sat perfectly at 2.2, but we found the Dell U3818DW's actual contrast to average between 680:1 and 700:1. Images are still satisfying thanks to the fantastic output, making it easy to overlook the low contrast ratio.
For the busy bee editor or designer, the Dell U3818DW comes with a toolset to help you get the job done. The multiple connectors allow simultaneous inputs for PbP/PiP operation or the extra space can be used for three or four windows in an instance. Gamers, on the other hand, might need to do with less despite the promising pictures the product is capable of.
Unlike the LG 38UC99-W, this product doesn't support FreeSync, which if paired with a powerful AMD Vega GPU, could create a buttery smooth experience. It also doesn't help that the Dell U3818DW can only go up to 60Hz with a pixel response time of 5ms since we did notice some interlacing artifacts or blur in some jerky scenes. Input lag is also a bit high at a little over 20ms which cause some delays felt by sensitive users.
Casual gamers can easily overlook these flaws if they don't put in the extra effort to weed them out. But if you are coming from a faster product built solely for gaming, then the discrepancies in performance will manifest. It also doesn't help that you can get a 34-inch 100Hz alternative with G-Sync, and because of that, we can't recommend the Dell U3818DW if you are into hardcore gaming.
Thoughts
The Dell U3818DW is superb for both entertainment and productivity with performances backed by a consistency we've come to expect from the company. The ultra wide format with a larger resolution makes it ideal for content creation, while the crisp and colorful imagery enhanced by the engrossing 2300r curve provides a deep and realistic peek into the virtual world of gaming.
The lack of gamer-centric features like FreeSync is understandable, although, in this day and age, the latter's free implementation should make it an automatic addition to a premium monitor's skill set. But if you are in the market for a 38-inch behemoth whether, for work or play, the Dell U3818DW is the current benchmark despite its marvelously lower price.