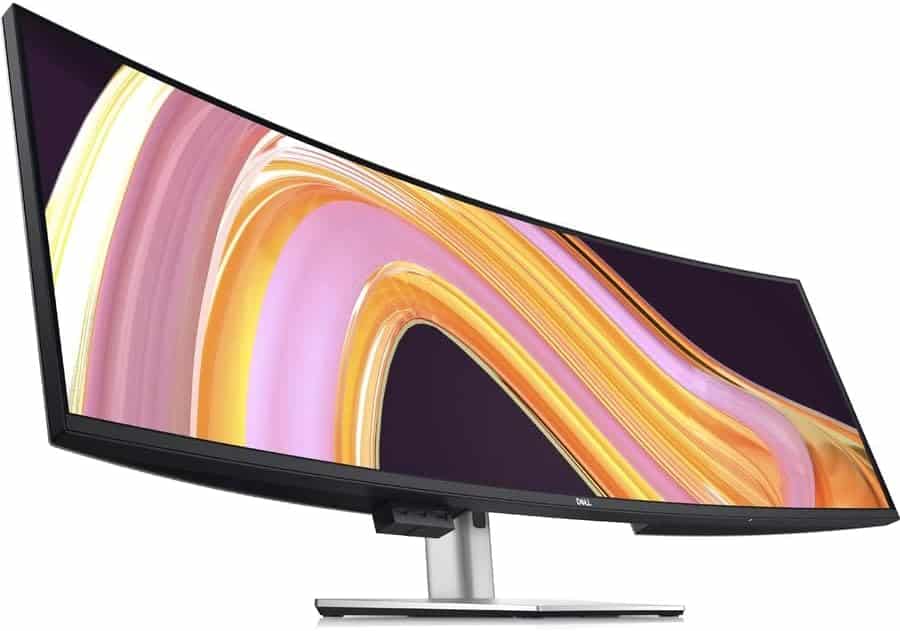 The Dell UltraSharp U4924DW lets you take advantage of a super-ultrawide DQHD IPS Black panel and the latest technologies for improved productivity. It offers improved contrast versus regular IPS models and has an intelligently laid out USB-C hub I/O to accommodate modern devices. It is not cheap, but let's see if we can expect top-end performance from this colossal screen.

Dell UltraSharp U4924DW Specifications
Screen Size: 49 Inches
Resolution:5120 x 1440 QHD
Aspect Ratio: 32:9
Panel Technology: In-Plane Switching (IPS Black)
Refresh Rate: 60Hz
Response Time: 5ms
Contrast Ratio: 2000:1 (Static)
Brightness: 350 cd/m²
Speakers: Yes (2 x 9 Watts)
Stand: Height–Yes
Stand: Tilt – Yes
Stand: Swivel–Yes
VESA Compatibility: Yes (200 x 100, 100 x 100)
Connectivity: DisplayPort 1.4 DSC x 1, HDMI 2.0 x 2, USB-C PD90W x 1, USB-C PD15W x 2, USB-C 3.2 Upstream x 1, USB 3.2 Downstream x 1, USB 3.2 x 4, RJ45 LAN x 1, 3.5mm Jack
Dimension (W x H x D): 47.8" x 20.5" x 10.6"
Weight: 35.93 lbs

Design and Features
We used the Dell UltraSharp U4924DW to work on this review, and it is impressive indeed for productivity and anything in between. The monitor has the same aesthetic as the other UltraSharps we tested, so it has that signature matte silver and matte black combination. The large display is bezel-free, but it still has inner borders like any other monitor out there.
Dell probably used engineers to create the box for this monitor since it's complex yet very functional in handling and protecting the device. The base and stand to greet you in their own covered nooks, along with the bounty of cables for the monitor. It can be challenging to unpack the whole thing, but following the included instructions for it should make it a breeze.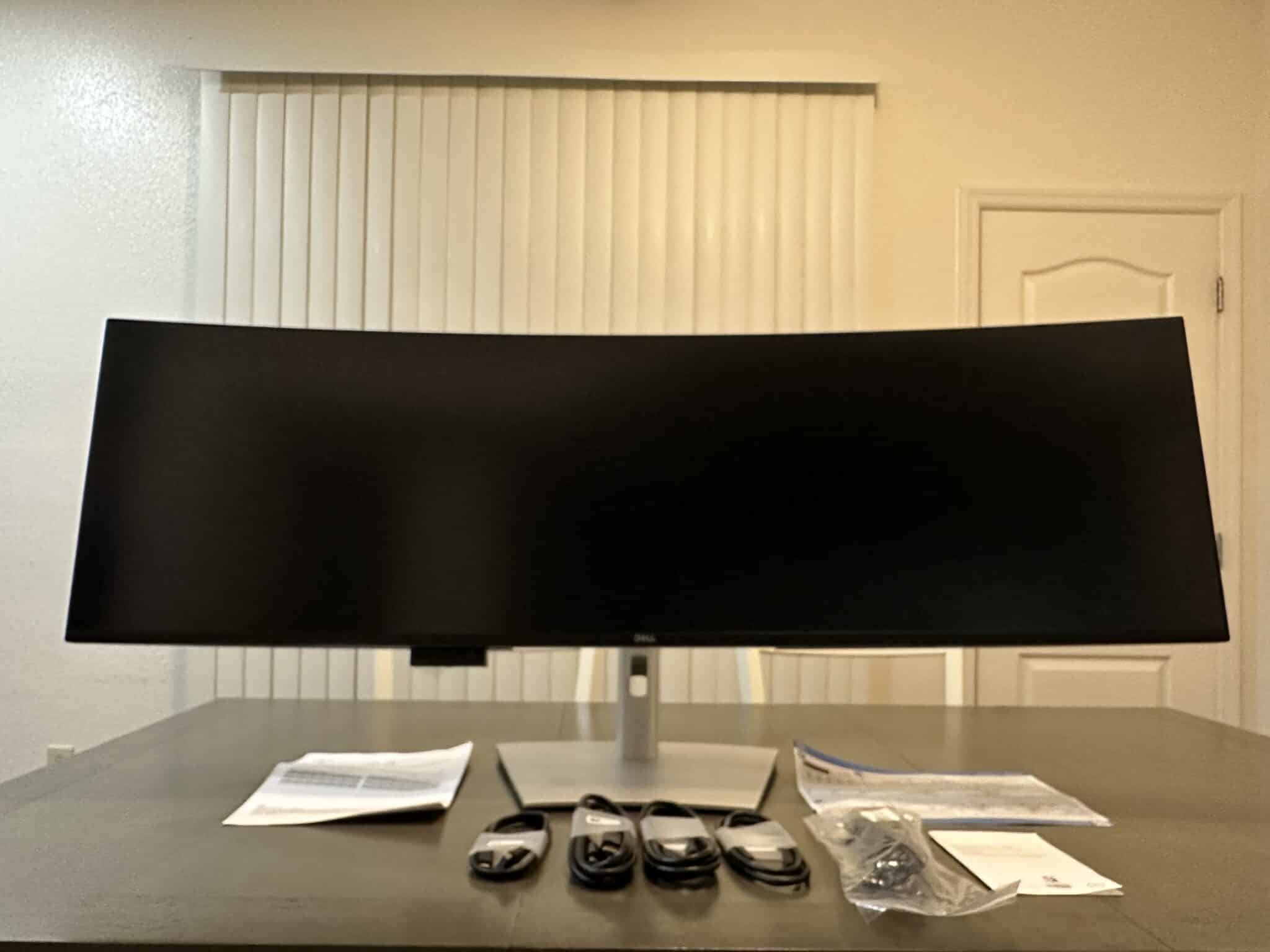 You get USB-C to USB-C, USB-C to USB-A, DisplayPort, and HDMI cables, along with the power line that connects to the internal power supply.  It's already completely out of the box, unlike the U3224KB, which had cables for Thunderbolt 4, DP 2.1 Mini, and a USB-C to USB-A for upstream.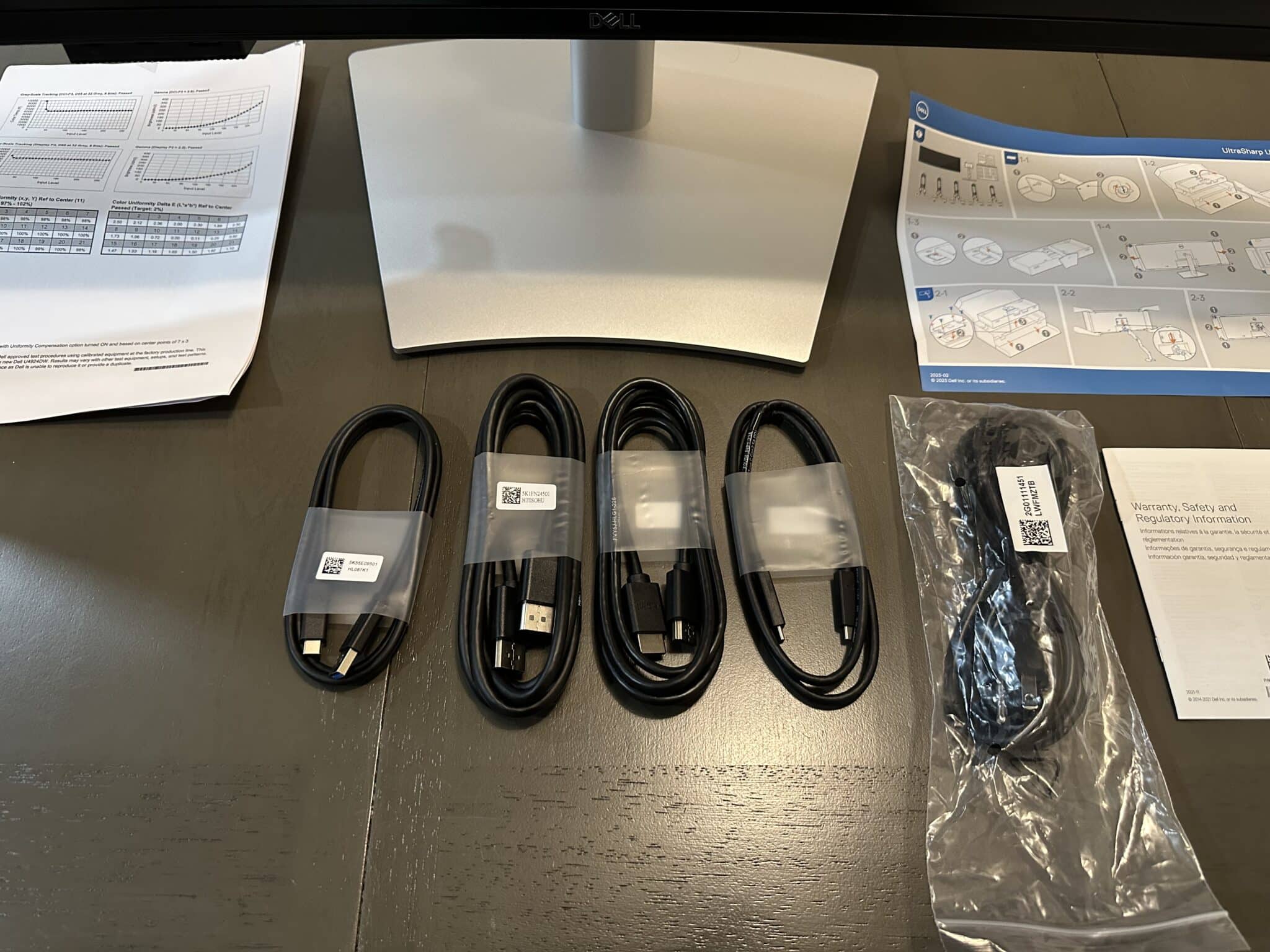 Moving the Dell UltraSharp U4924DW while boxed or unboxed is a workout by itself since it's big and heavy. The entire package weighs 50 pounds, while the monitor itself weighs 35.93 lbs. It needs 10.6 inches of depth and almost 48 inches of depth, so you will need a 60-inch table if you want to have room for it and a tower or some speakers.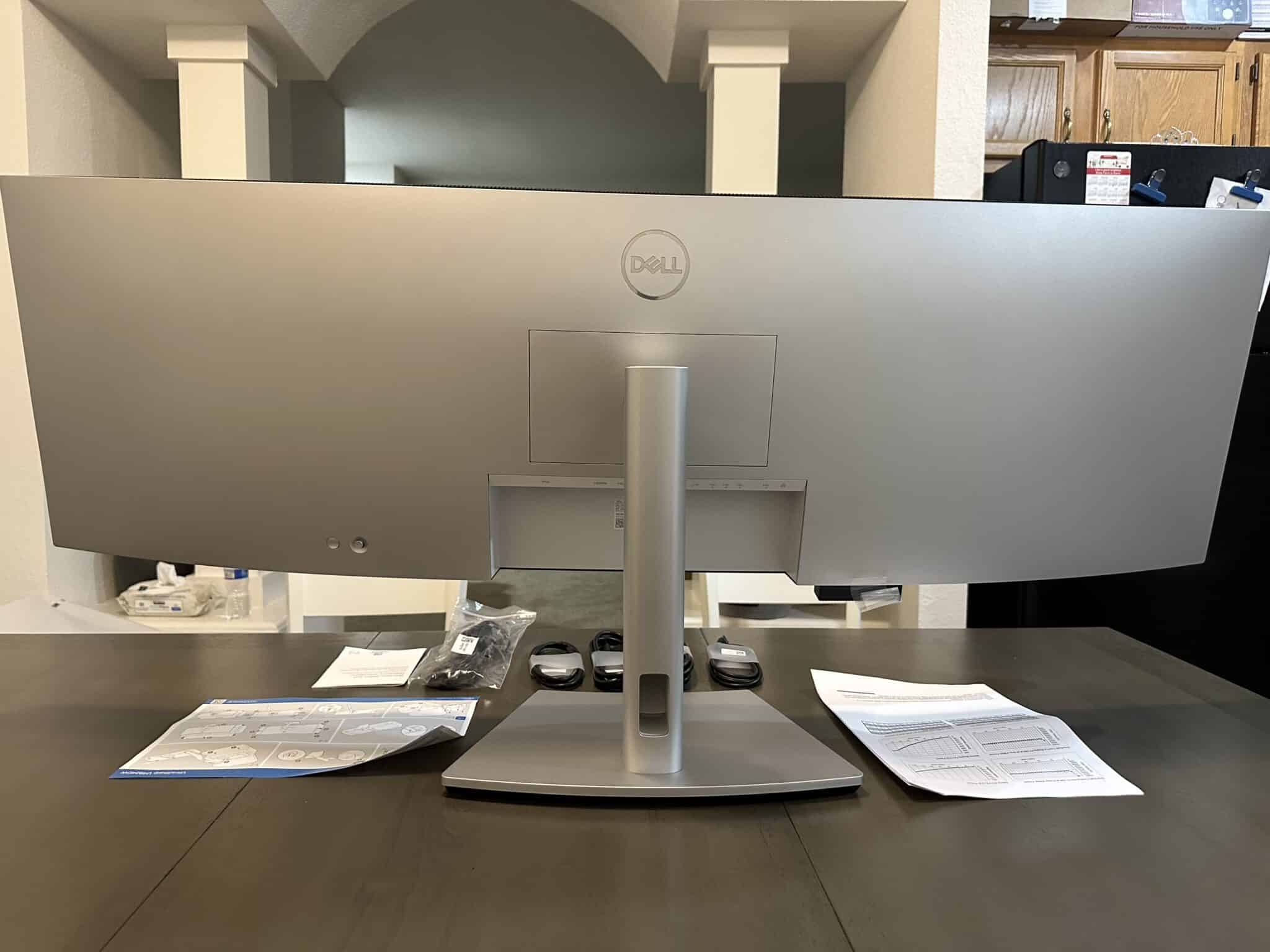 Its build quality is impressive since it barely wobbles, and it doesn't sag despite its massive size and weight. The base and stand are very heavy by themselves, but that was intended to support the extra wide cabinet. It was pristine when we unboxed it, plus you'd know that extra care went into building the package up with the way the box and the padding inside were designed.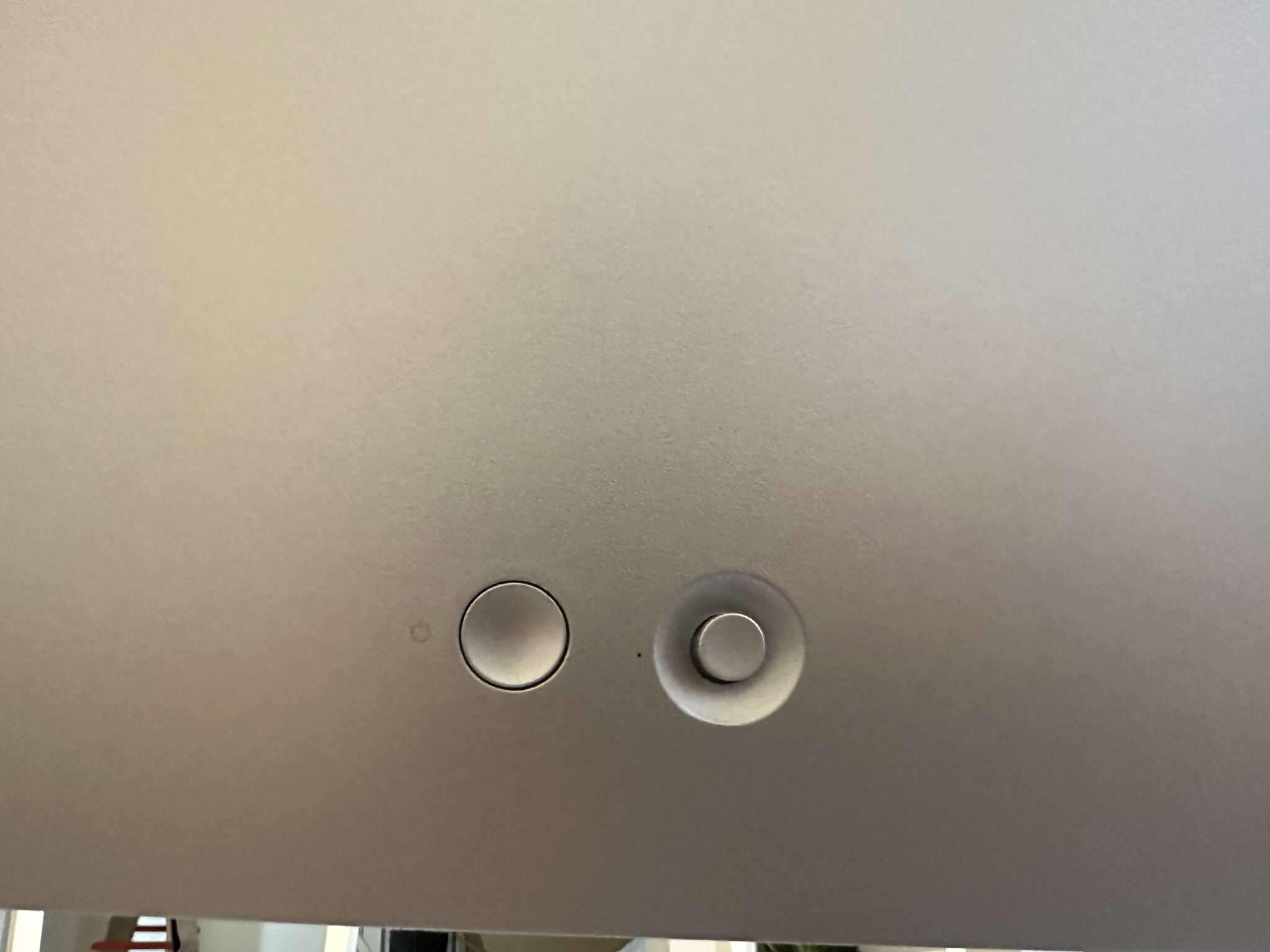 The Dell UltraSharp U4924DW's control layout is identical to the rest of the UltraSharp models we tested in the past few months. The joystick and power button are located at the back, but they are near the bottom of the chassis at an offset position from the center of the wide display. There is an indicator light adjacent to them so you can easily feel for them instead of standing up to reach in or overturning the cabinet.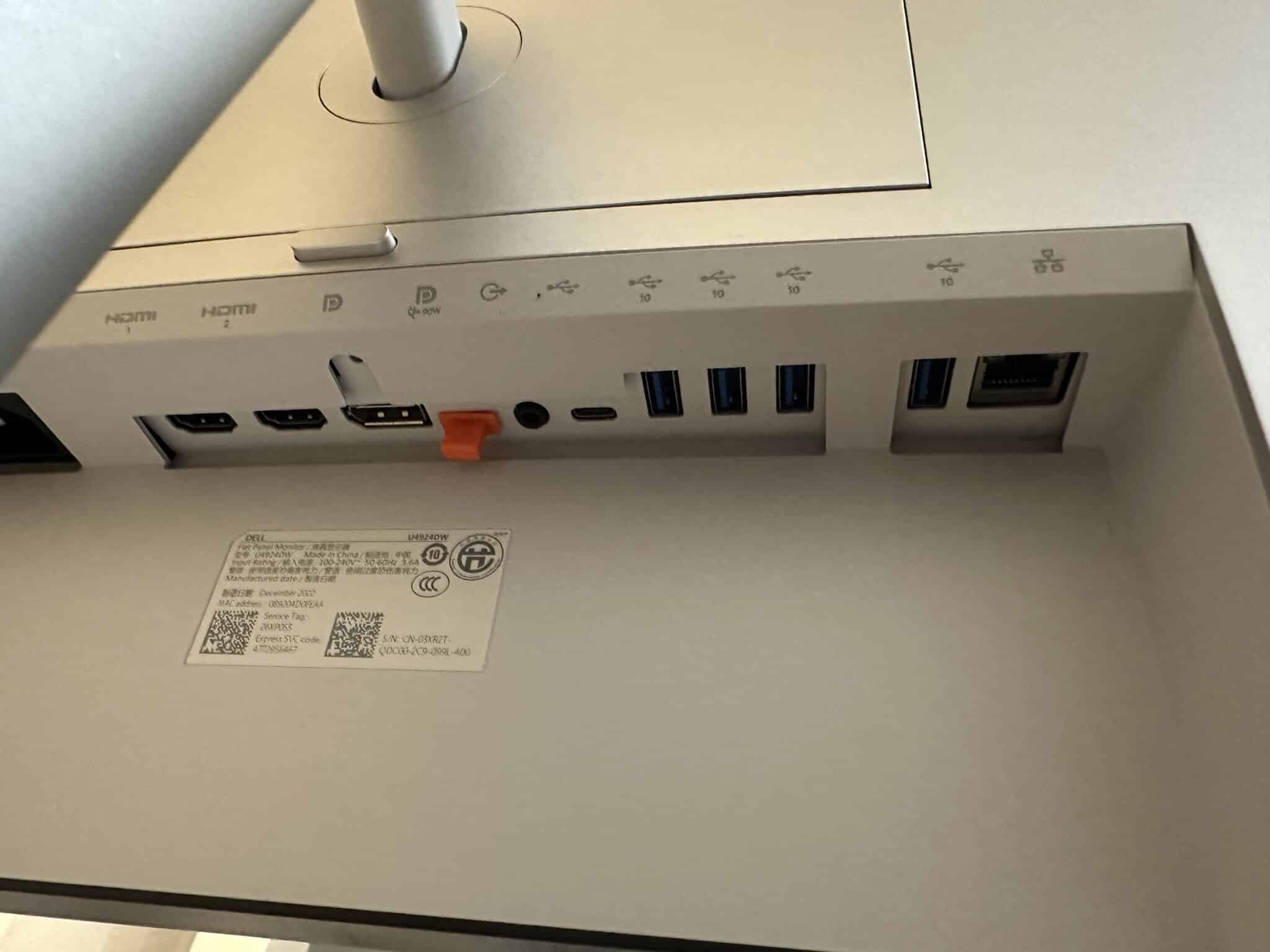 One of the highlights of the product is its connectivity layout, which includes just about anything you will need. The monitor has DisplayPort 1.4, two HDMI slots, and a 90-watt USB-C port with DP Alt Mode. You will also find a USB-C upstream port, a LAN slot, a 3.5mm jack, and four USB 3.2 ports for peripherals and its KVM functionality.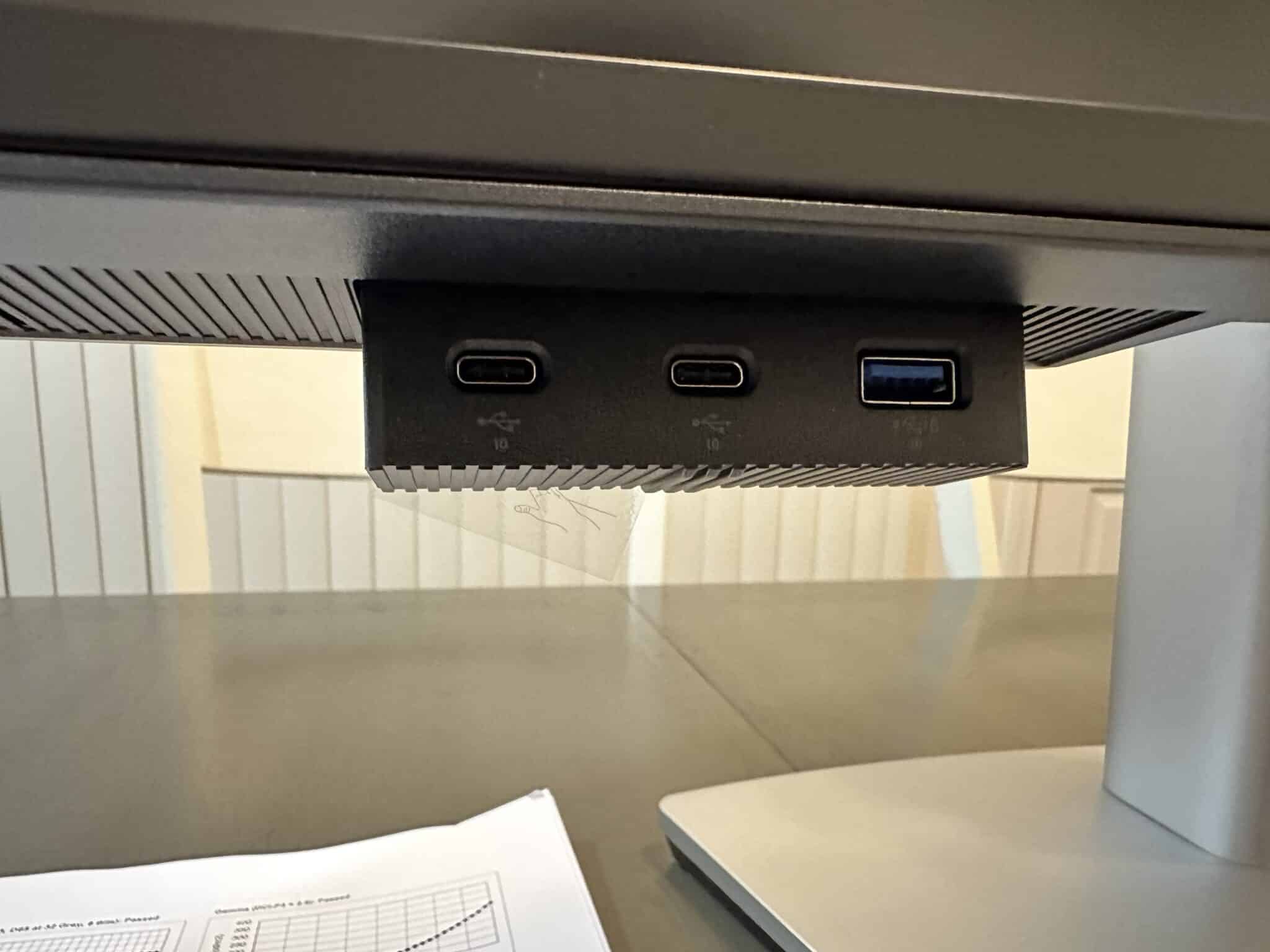 It doesn't end there since it has the pop-out hub at the bottom on the left side of the Dell logo on the bottom bezel. Pressing it unlocks and drops the hub down, revealing two more USB-C slots and a type-A port with charging. You can't use them for MacBooks, but they are handy if you want to charge or transfer something from an iPhone or anything similar.
Another upgrade you get with this model is its speakers, which have 9 watts of power. It can't produce deep, thumping bass, but it's loud and clear enough for videos and even some casual gaming. Headsets will be better for immersion, but it is always nice to have a decent integrated set for select instances.
Display and Performance
The Dell UltraSharp U4924DW boasts a 49-inch super ultrawide IPS Black panel with a 5120 x 1440 DQHD resolution, a 60Hz refresh rate, and a 5ms response time. Its backlight has a 350 cd/m2 output, while the contrast is listed at 2000:1 since it's an IPS Black model. It doesn't list HDR capabilities, but that's understandable since it wasn't equipped for such.
What makes this model stand out other than its colossal size is its Dual QHD resolution. It is equivalent to two 2560 x 1440 screens set side by side minus the bezels in between, so it's great for productivity and content creation. It is not as sharp as a 4K screen, but its extra room is more appreciable since you can stretch your apps out and create a smoother workflow.
The Dell UltraSharp U4924DW worked flawlessly when it was plugged into the Asus ROG Zephyrus M16 we use to review monitors for gaming and editing. The monitor ran at spec without issues, plus it had enough juice to keep the computer topped up. There was no need for scaling, but you might want to practice maximizing the space with your work programs or apps.
It's also worth noting that the Dell Ultrasharp U4924DW's curve is much gentler than what you normally see on gaming variants like the Samsung Neo G9. It is less polarizing and distorted, so flat screens will not look convex or as if they were curving outward. These are minor characteristics, but it's enough to change your perception of curved versus flat screens in the long run.
The Dell UltraSharp U4924DW covers 100% sRGB and 91% P3 for rich colors while completing your tasks. Its default accuracy had a deltaE average of 1.69, so it is already accurate out of the box. Most users won't need to adjust it, apart from lowering the stock brightness level, which will strain your eyes after an hour or so.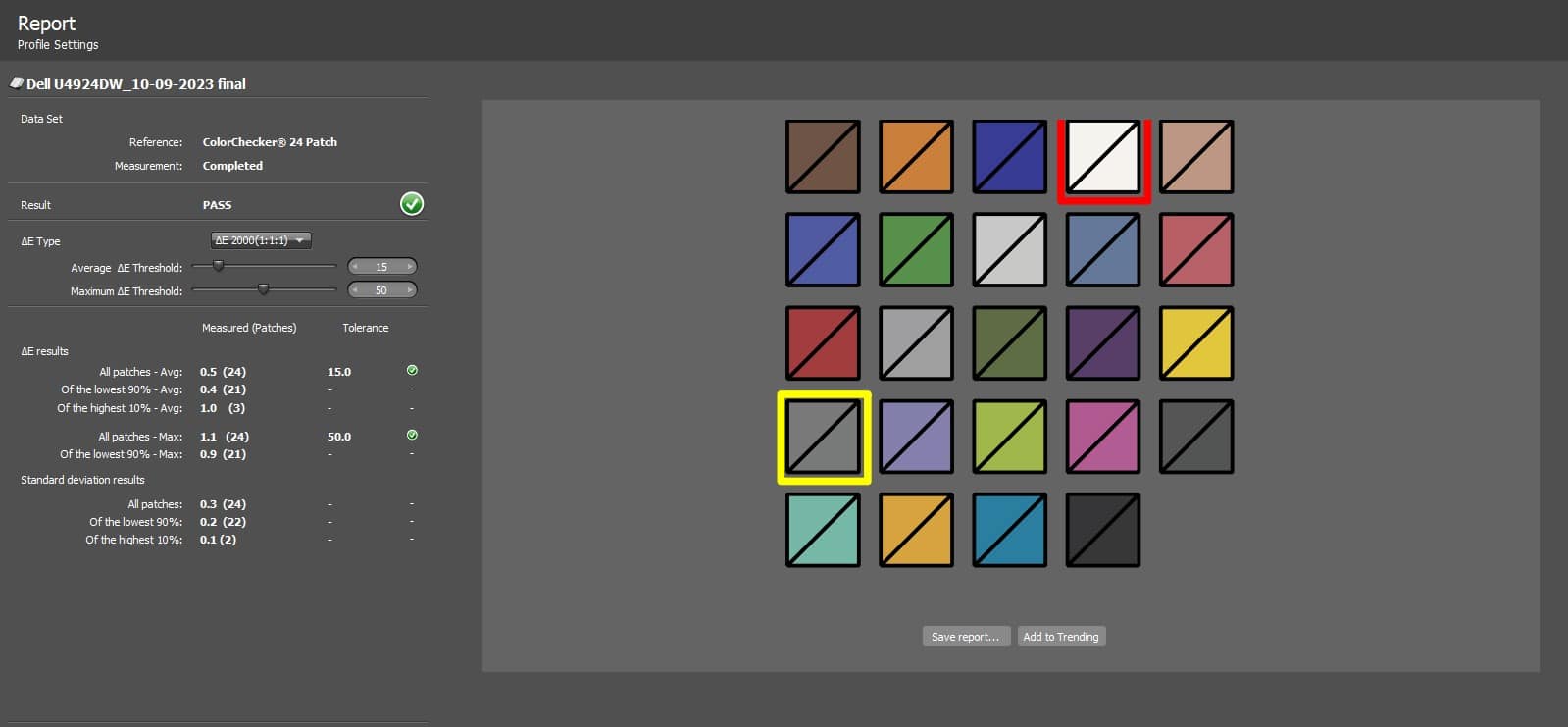 Calibrating it without Calibrite Display Plus colorimeter reduced the dE average to 0.5, making it comparable with the best monitors out there. You have to get a colorimeter to achieve the same since every panel has miniscule differences which introduce variances when settings or ICC profiles are simply copied. Buying it is worth it for creators, but most will be able to get away with the default setting and the included filters or color presets.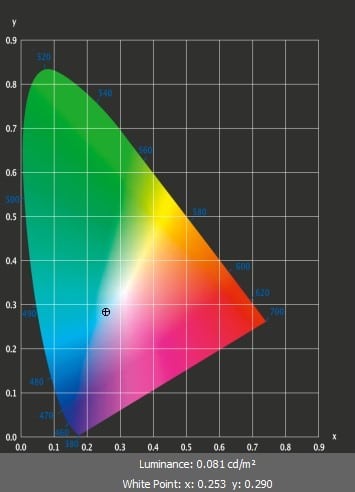 The Dell UltraSharp U4924DW's backlight reached 360 cd/m2 at 100%, so there is room for tweaking. Its contrast peaked at 1481:1 at 47% brightness since the monitor's black luminance was recorded at 0.081. Some of the other IPS Black monitors had slightly better results, but the advantage the panel type offers is apparent since dark images look less washed out.

One thing where this model did not excel is its panel uniformity. There was a 10% variance on the top right edge of the screen, while the bottom row was dimmer than the rest of the quadrants. It is hard to notice the flaws due to the size, and there is a big chance that you will get a different panel when you buy one.
The Dell UltraSharp U4924DW isn't the most responsive monitor out there, but we can still consider it good for gaming. Fast-paced titles like Valorant will reveal some persistence, but it does slightly better for games with darker ambients like Modern Warfare 2. It is fantastic for immersive titles, but you have to set its overdrive to its Fast level to get a suitable middle ground without adding overshoot.
Adaptive Sync is missing from the U4924DW, just like with most of Dell's UltraSharp displays. VRR would be handy for it since some titles do stutter due to the unique resolution. But on the other hand, its input lag is quite decent at 10ms, so there won't be any perceivable delays while enjoying some downtime and playing immersive games like Starfield.
Thoughts on the Dell UltraSharp U4924DW
The Dell UltraSharp U4924DW is a fantastic pick for multitasking thanks to its super ultrawide screen that will fit a lot of stuff in. It also helps that it has excellent colors and contrast, along with features that will make day-to-day tasks with modern devices much more convenient. It's not cheap, but it is one of the rare options out there that are easily justified based on what you get in return for your hard-earned cash.
It is not perfect, but most of the weaknesses we listed above are not deal-breakers for its target market. It may be a bitter pill to swallow for young professionals at its MSRP, but grabbing it at around the $1200-$1400 price point (discounted price at the time of review) is a steal. It is one hell of an upgrade if you decide to get it, although avid gamers might need to look at alternatives.
Pros:
Fantastic Panel Qualities
Excellent Build Quality
Lots of Connectors, Including 90W USB-C
Adjustable Stand
Cons:
Expensive
Built for Productivity – No Gaming Features
About the Author: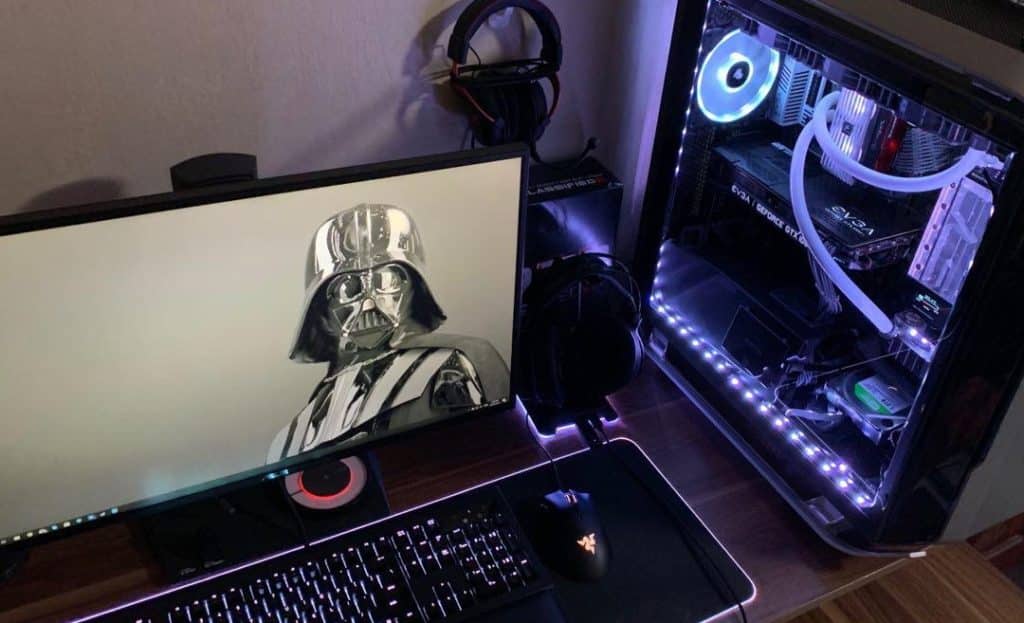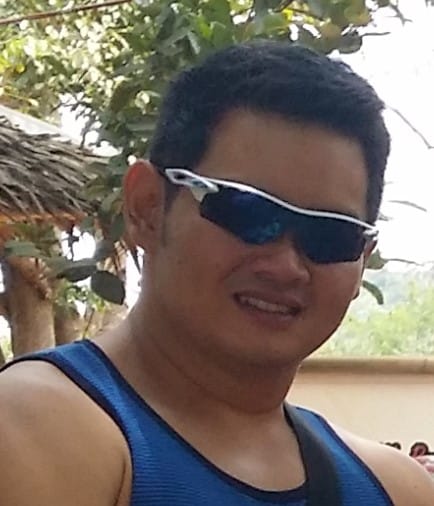 Paolo has been a gaming veteran since the golden days of Doom and Warcraft and has been building gaming systems for family, friends, and colleagues since junior high. High-performance monitors are one of his fixations; he believes that every citizen's right to enjoy one. He has gone through several pieces of hardware in pursuit of every bit of performance gain, much to the dismay of his wallet. He now works with Monitornerds to scrutinize the latest gear to create reviews that accentuate the seldom explained aspects of a PC monitor.