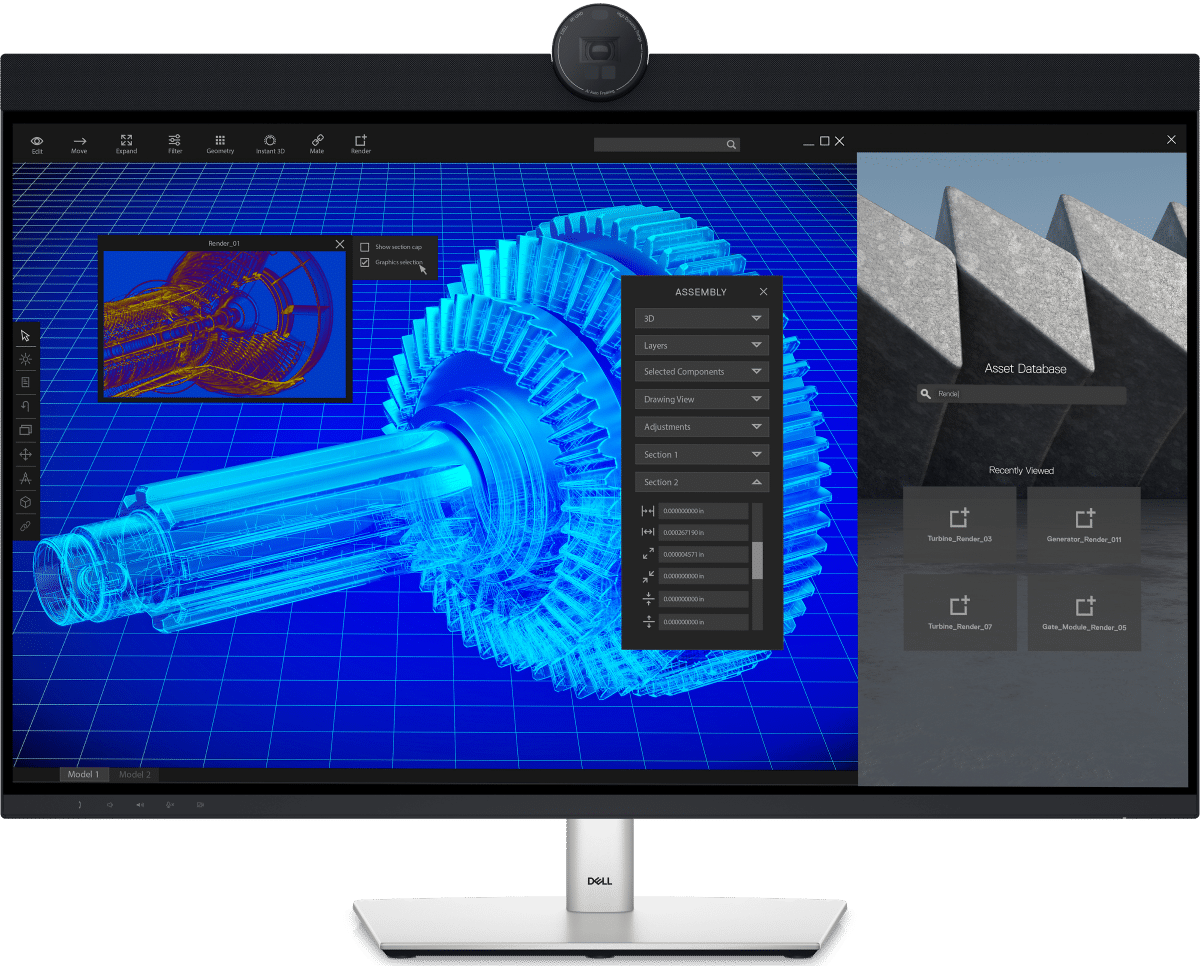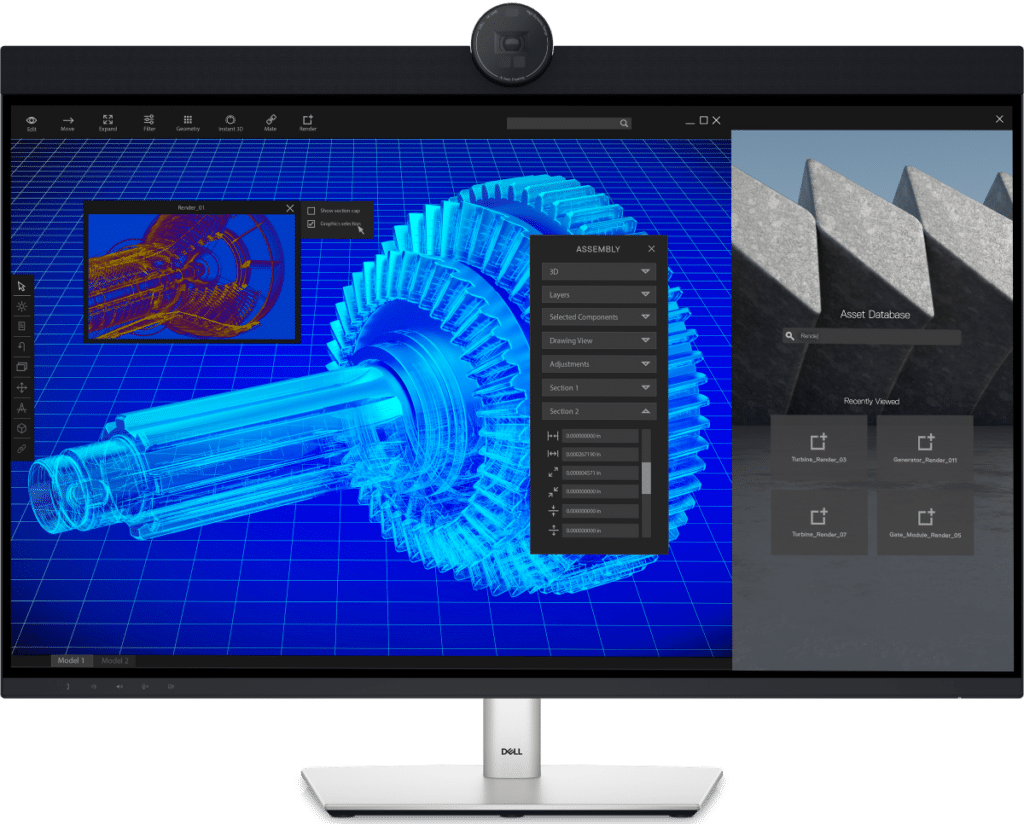 The Dell UltraSharp U3224KB is a heavily-equipped flagship monitor with a beautiful 6K IPS Black panel with fantastic clarity and colors. It has its sights on the Apple Pro Display XDR, which costs almost twice as much. Let's discover if this model takes the crown based on its price and relative performance.

Dell UltraSharp U3224KB
Screen Size: 32 Inches
Resolution: 6144 x 3456 6K UHD
Aspect Ratio: 16:9
Panel Technology: In-Plane Switching (IPS Black)
Refresh Rate: 60Hz
Response Time: 5ms (Fast)
Contrast Ratio: 2000:1
Brightness: 400 cd/m2 SDR (600 cd/m² HDR Peak)
Built-in Speakers: Yes (2 x 14 Watts)
Stand: Height – Yes
Stand: Tilt – Yes
Stand: Swivel – Yes
Stand: Pivot – Yes
VESA Compatibility: Yes
Connectivity: DisplayPort Mini 2.1 x 1, HDMI 2.1 x 1, USB-C Thunderbolt 4 x 1, USB Thunderbolt 4 Downstream x 1, USB-C x 3, USB 3.2 x 5, Ethernet RJ45 x 1
Dimensions with Stand (WxHxD): 28.10″ x 19.61″ x 9.10″

Design and Features
The Dell UltraSharp U3224KB looks just like any of the brand's top offerings, although it can look peculiar at first due to the gadgets on the top edge. It has an elegant matte silver finish, so it will match well with premium laptops and workstation PCs. It has a bezel-free design but will still have panel borders like most regular IPS models.
Unboxing the device is a neat experience since it's tightly packed into a compartmentalized box. It's separated into three main pieces, but assembly is easy and tool-free. Extra care will be necessary, but you'll be fine since the package includes specific instructions on how to do it correctly.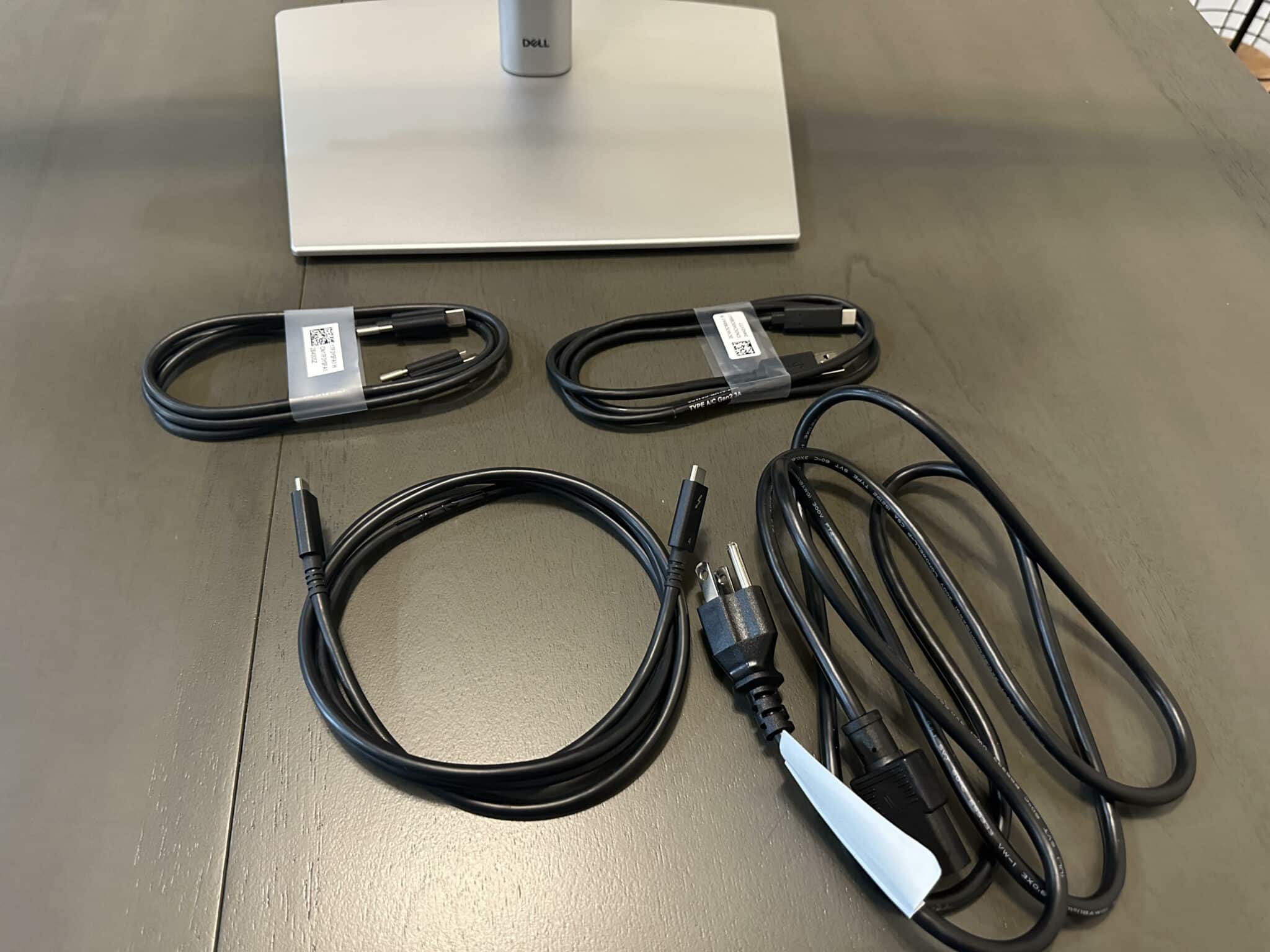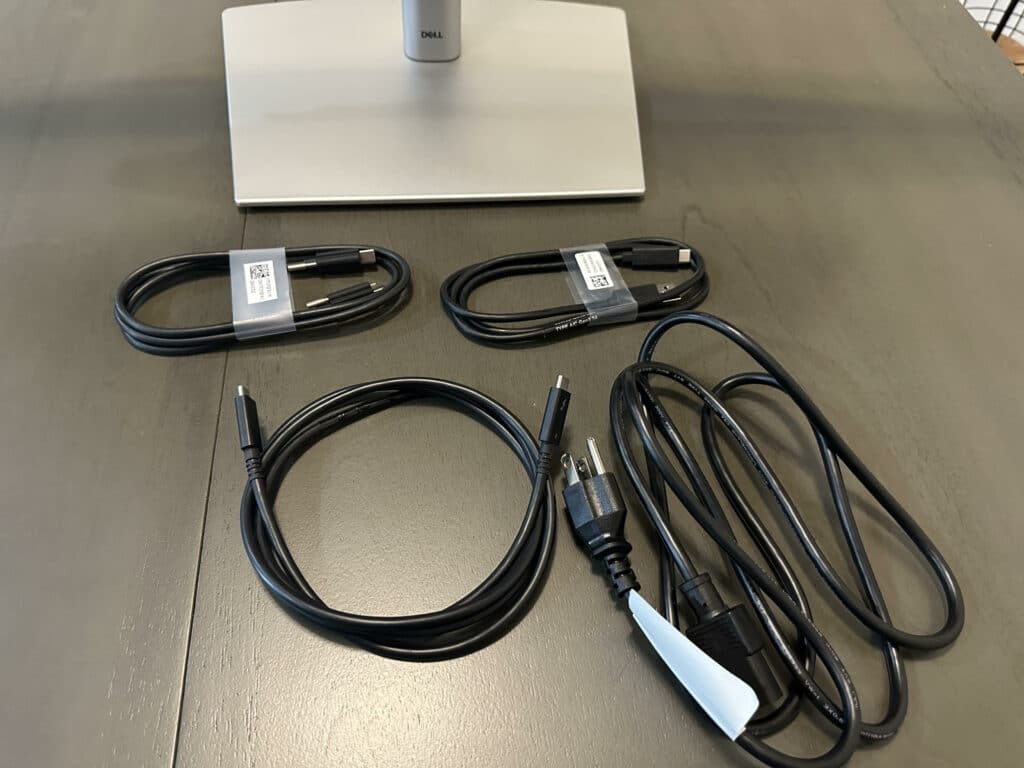 It also only includes cables for DisplayPort 2.1 mini, USB-C Thunderbolt 4, USB-A to USB-C, and the power cable in the box. You have to source others like HDMI cables or adapters if your PC or laptop doesn't have USB-C. It also doesn't have an external power brick, so you don't have to deal with a bulky black box.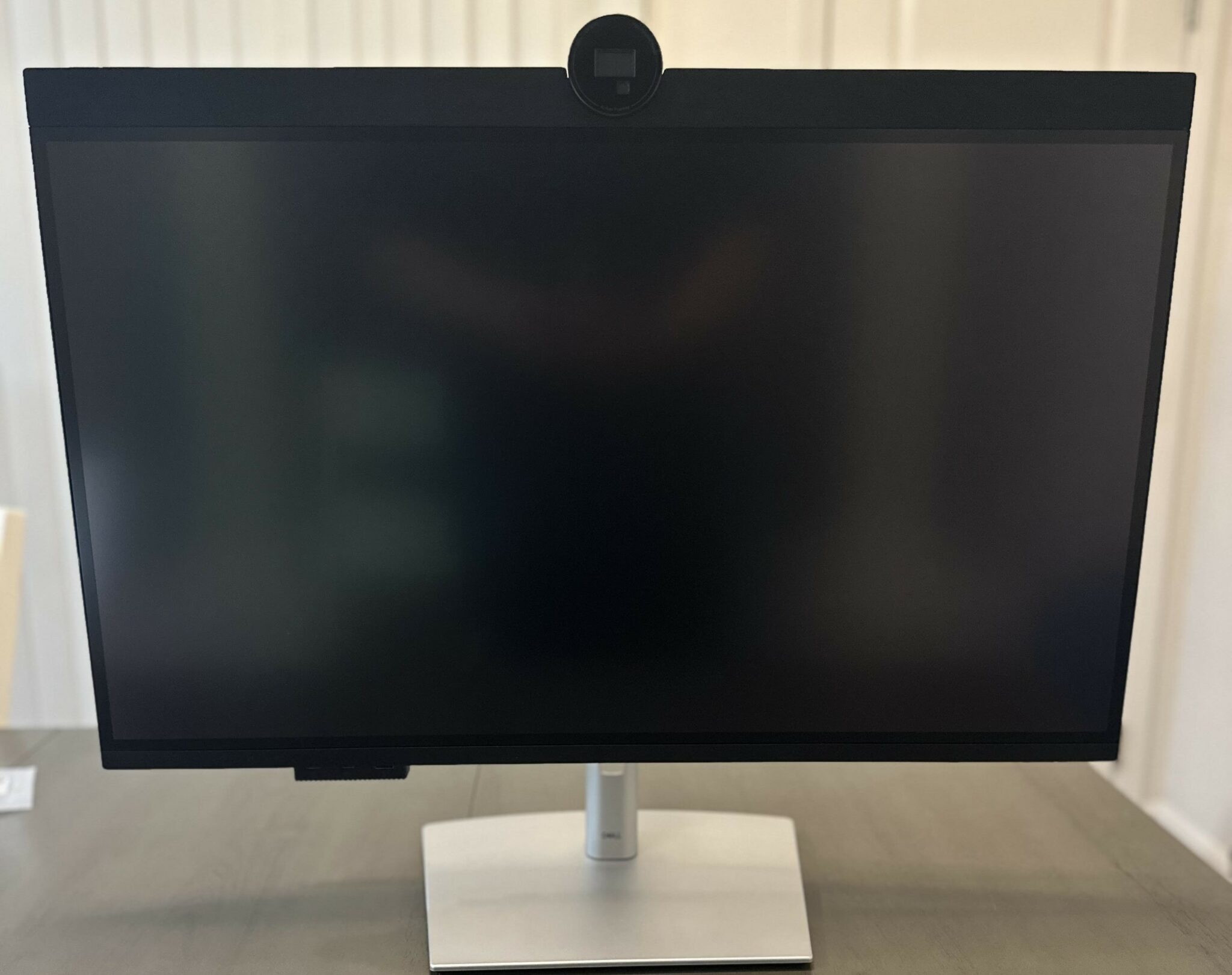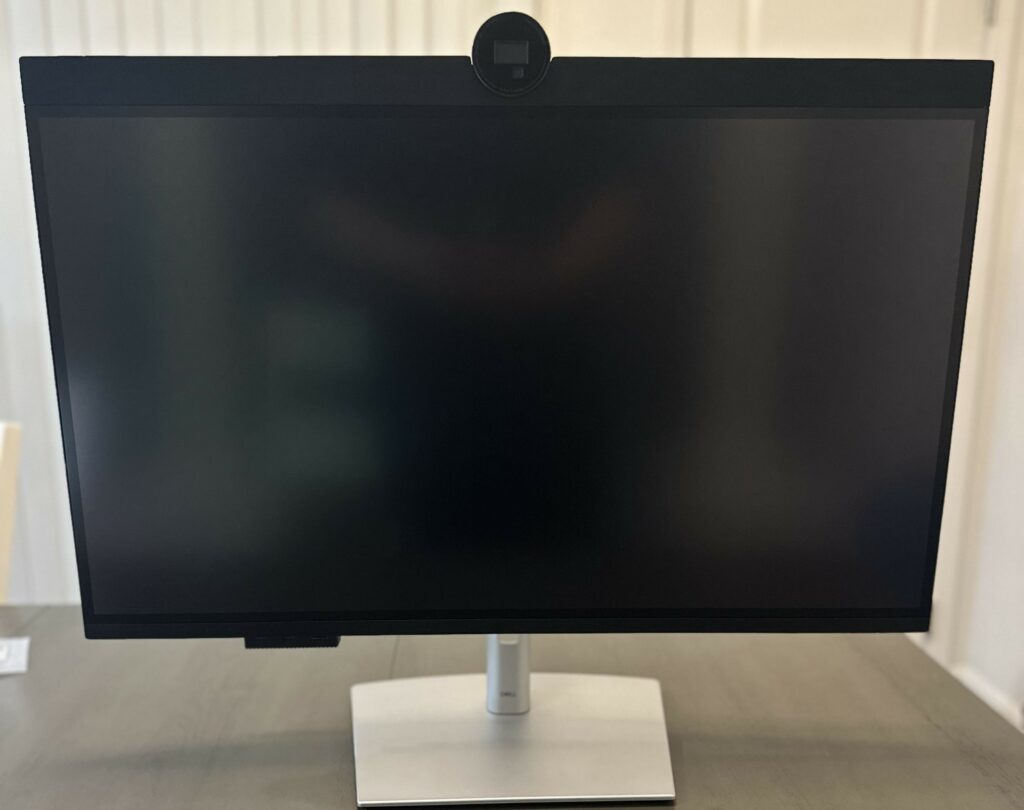 It's not as big as the U4323QE we received, but it can still be overwhelming for users, especially those who are coming from 24-inch monitors. The device needs 9.1 inches of depth from your desk and around 28 inches of depth, so it should be manageable for most users. However, it's quite heavy when combined with the metal-based stand, so extra care will be necessary.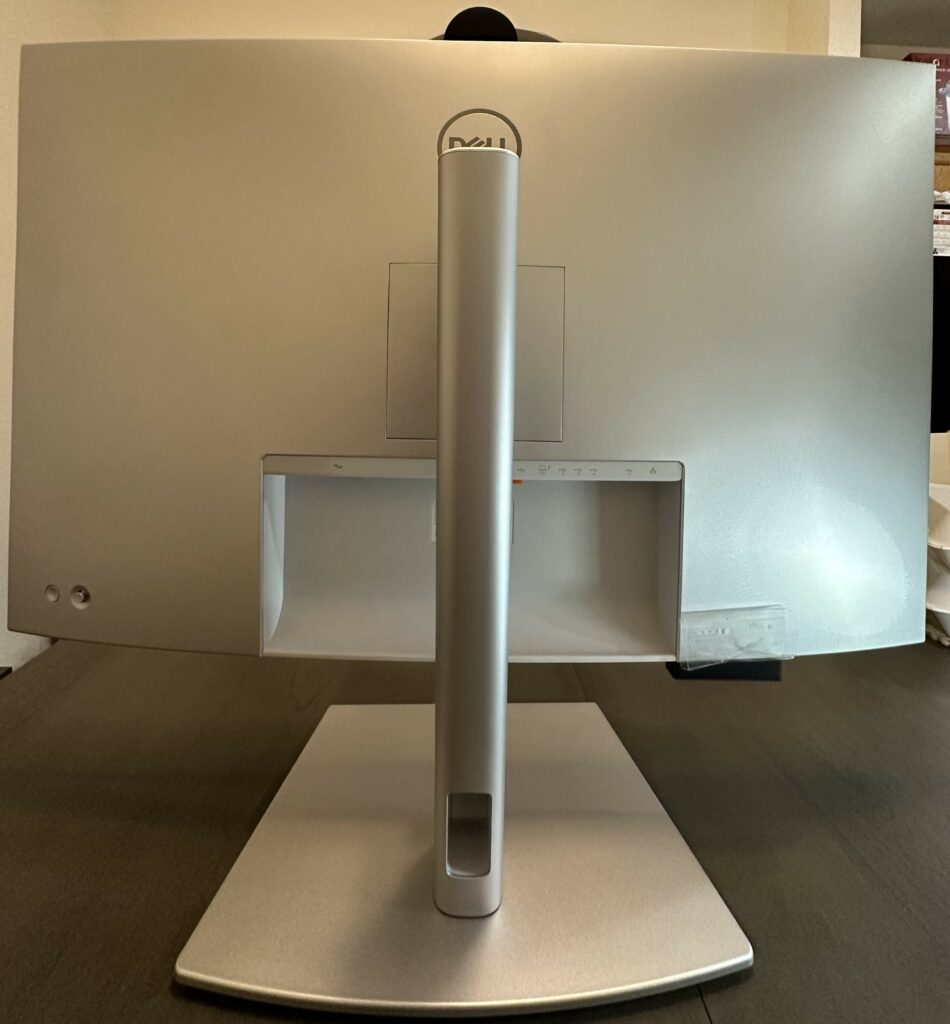 The monitor's build quality is fantastic and comparable with the best and most expensive models out there. The plastic panels used are thick and sturdy, and every bit and piece looks and feels like they were manufactured with precision. The included stand is big and heavy enough to keep it stable, although the screen can slightly wobble if you touch it.
The Dell UltraSharp U3224KB has a standard joystick for its OSD, along with Dell's Display Manager app, which has shortcuts to some of its features. It also has touch control keys at the left side of the bottom bezel for its conferencing features. It has all you will need, so remotes are unnecessary, even if the device has a few gadgets.
But perhaps the most noticeable feature on the U3224KB, other than its panel, is its large webcam at the top bezel. It has a 4K dual gain HDR CMOS sensor, offering superb clarity even when the lights are dim. It can get a little grainy in the dark like most webcams, but objects like the person in front of it are still readily visible.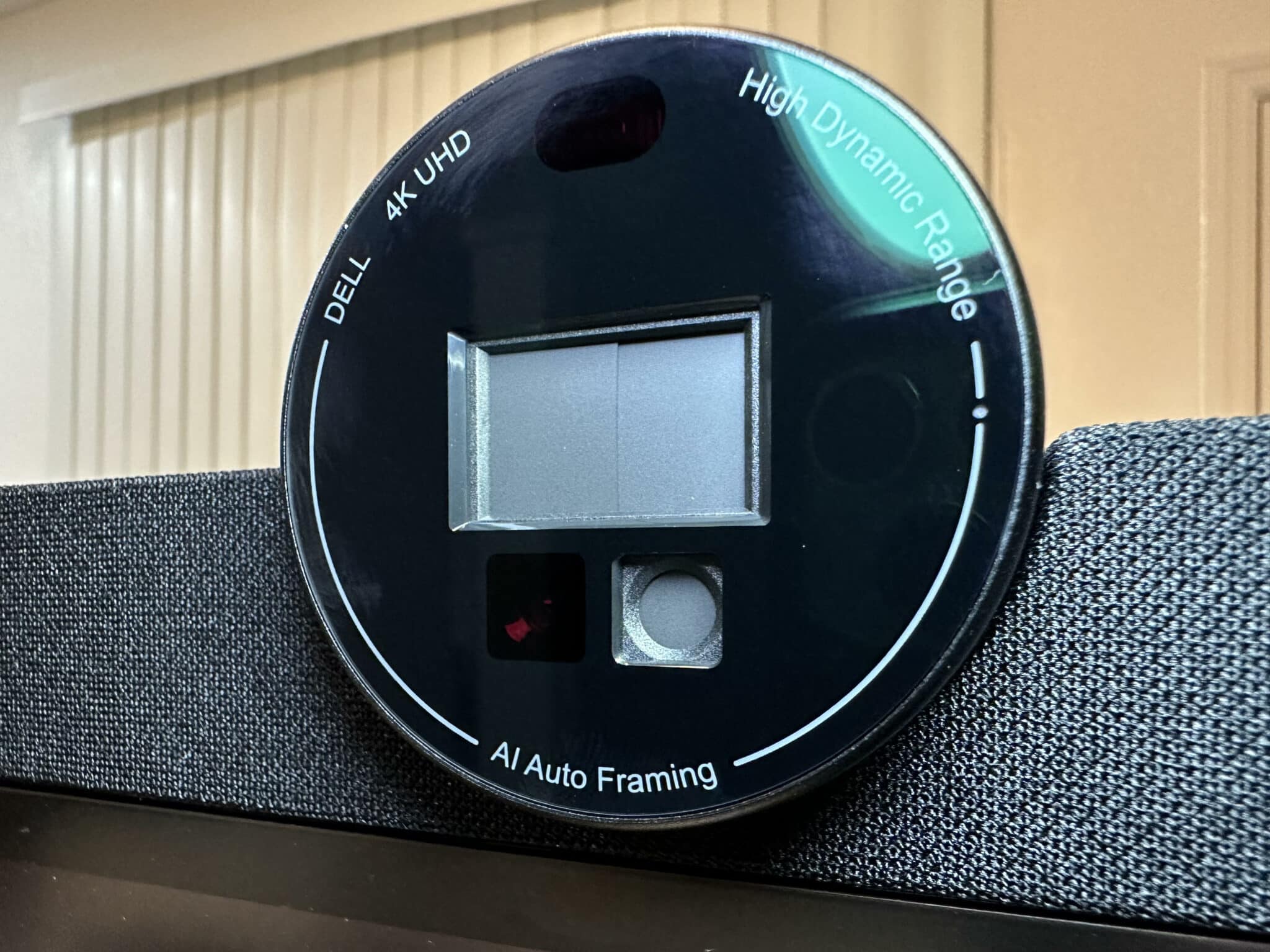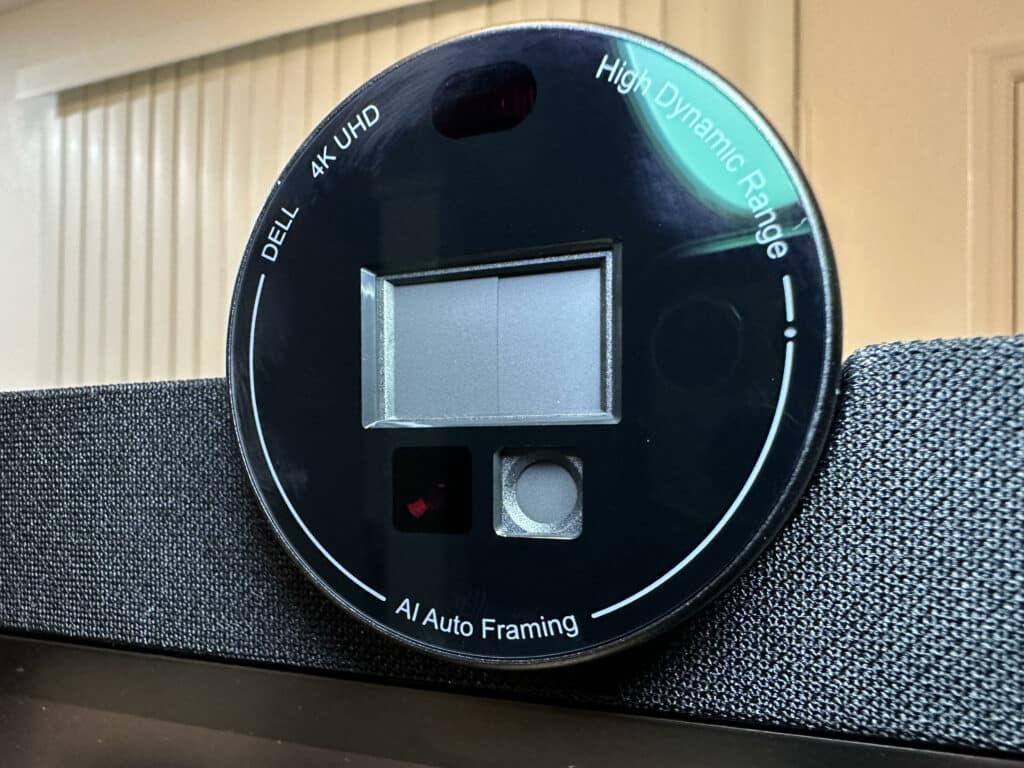 It has shutters directly on the sensor and an indicator light if its recording or not. It automatically closes when unused, so you don't have to tuck it in for security. You can also tilt it down for a better angle of you, but it's not possible to tuck it away and out of sight.
The top edge also looks thicker due to the 14-watt speakers that are arranged like a stereo soundbar setup with a soft dust filter. It can make the monitor look upside down, but the output spread is good at that position. It's also out of the way when you use the monitor, so it's less distracting.
You also get dual echo-cancellation microphones with the setup, so you don't have to look like you're from outer space with a headset. It is very convenient, although it could be a bit more sensitive in picking up your voice. Voice comms are crystal clear, but you have to lean in a bit to not sound quiet to users at the other end of the call.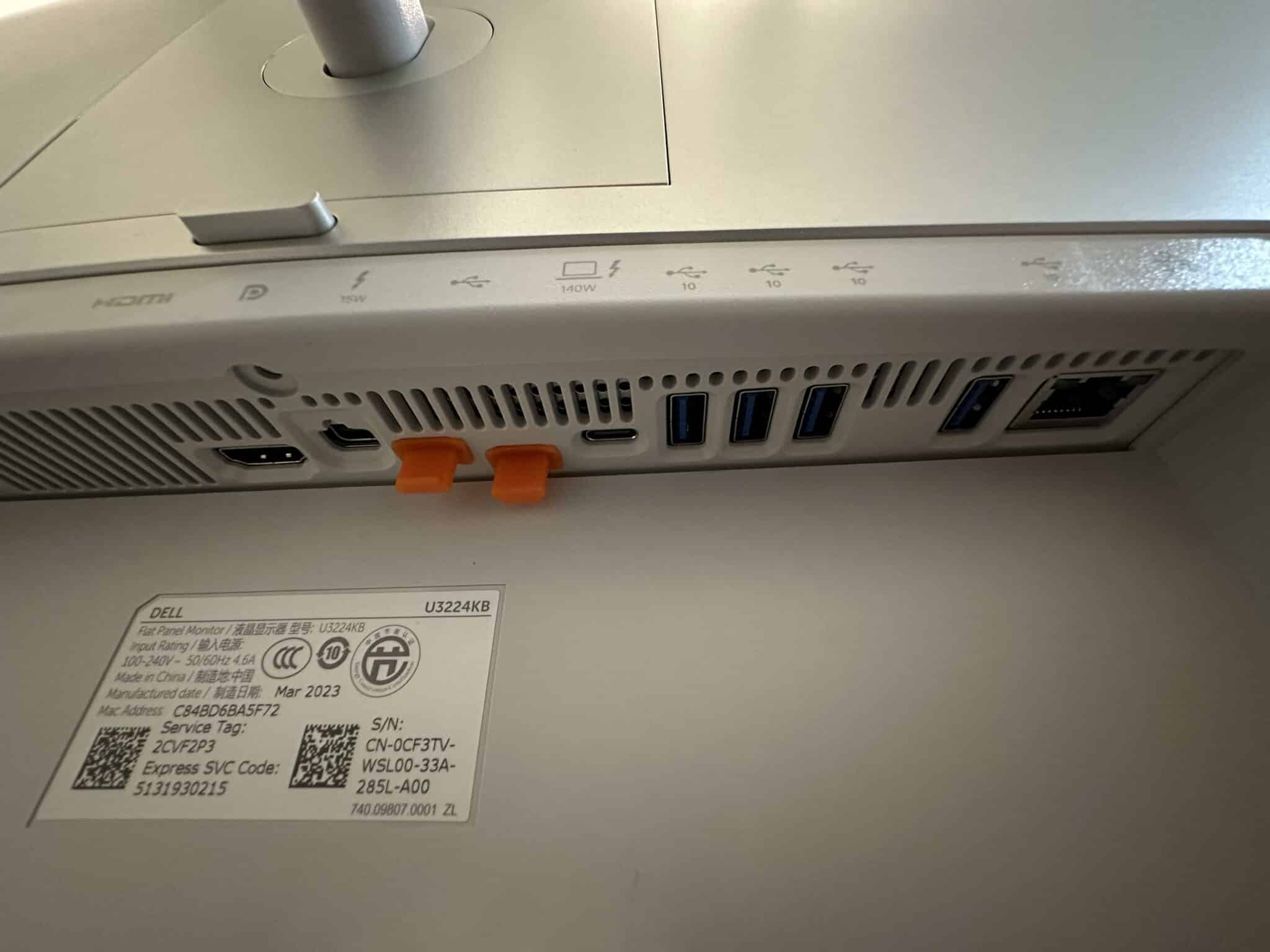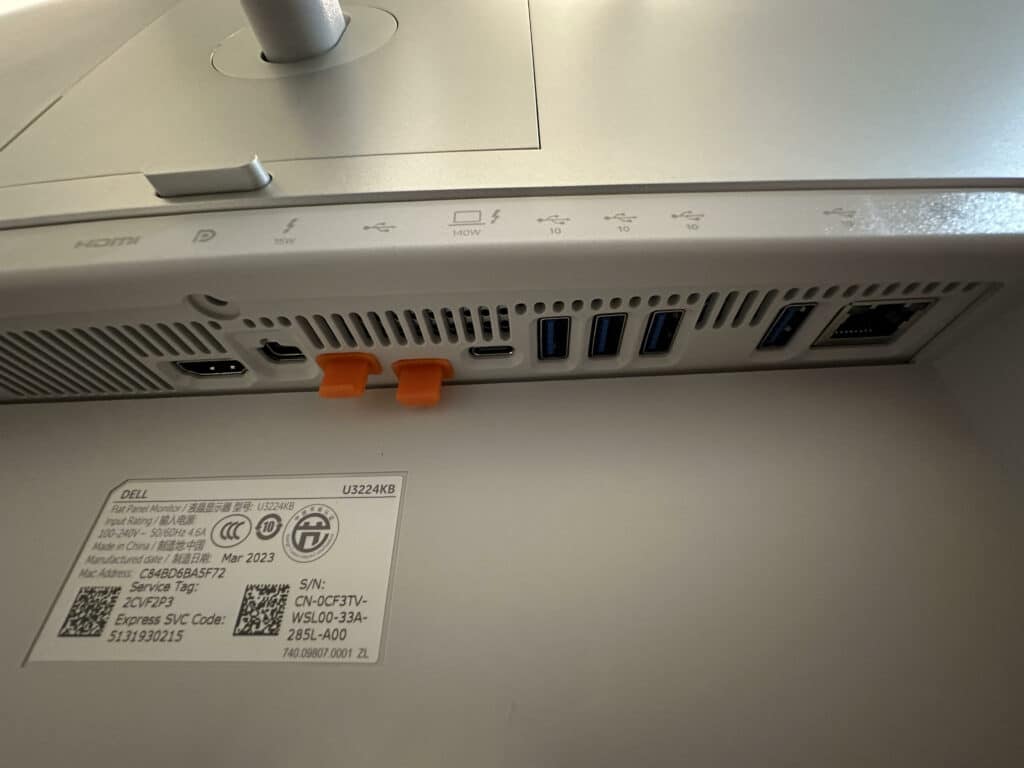 What's complicated and great at the same time is the Dell U3224KB's connectivity layout. It has a newer DisplayPort 2.1 mini port, an HDMI 2.1 slot, and a USB-C Thunderbolt 4 port with DP Alt Mode. You also get another TB4 downstream port, a total of three more USB-C ports, and five USB 3.2 type-A slots for accessories.
It doesn't have a 3.5mm jack for headphones, but you won't need them since the speaker and mic setup is very good compared to other built-ins. It also has an RJ45 LAN port for network management so admins can easily control each monitor in a studio setting. The new pop-out convenience hub under the monitor is also present, containing two USB-C slots with 15 watts each plus a type-A slot with BC 1.2 capabilities.
You can take advantage of all the connectors if you use the Dell UltraSharp U3224KB's auto-KVM feature, which lets you switch between two PCs. It's going to be a tricky affair with more cables, but you can easily arrange them on the stand's upright.
Display and Performance
The Dell UltraSharp U3224KB boasts a 32-inch IPS Black panel with a unique 6144 x 3456 6K resolution, a 60Hz refresh rate, and a 5ms response time. The backlight has a 400 cd/m2 output and a 600 cd/m2 peak, while the contrast is listed at 2000:1. This model is also certified for HDR 600, but it only has limited dimming zones.
The U3224KB's unique 6K resolution can be polarizing for some since the pixel density is unusually high at 223 PPI. Images and movies become very sharp, but the text will become almost impossible to read at the 100% scale. Fortunately, you can easily adjust that, although beware that not all programs will follow your setting instantly.
We used a USB-C-equipped gaming laptop with a dedicated RTX 3070Ti for this test. Unfortunately, we ran into an issue with the USB-C slot that's connected to the GPU since it limited the screen to 30Hz. The second USB-C slot that is connected to the laptop's 12900H processor worked instantly, although we had to set the resolution, refresh rate, and scale manually.
We also tried the other USB-C slots on the Dell UltraSharp U3224KB, but only the Thunderbolt 4 was able to accept video input. It's a very advanced monitor, so upgrading your gear at home or in the office might be necessary. Thunderbolt 4 is also supposedly backwards-compatible, so the 30Hz limit issue might be on our laptop's end instead of the monitor.
Another issue we ran into is that the monitor tended to slow down similar to when framerates drop if streaming services like Netflix are in full-screen mode. The fix we found is to set your monitor's resolution to 3840 x 2160, as opposed to the 6144 x 3456 native. There is no loss of quality or interlacing if you downgrade to 4K, although we hope that it can be addressed by a newer system with DP 2.1 or TB4 to lessen the hassle.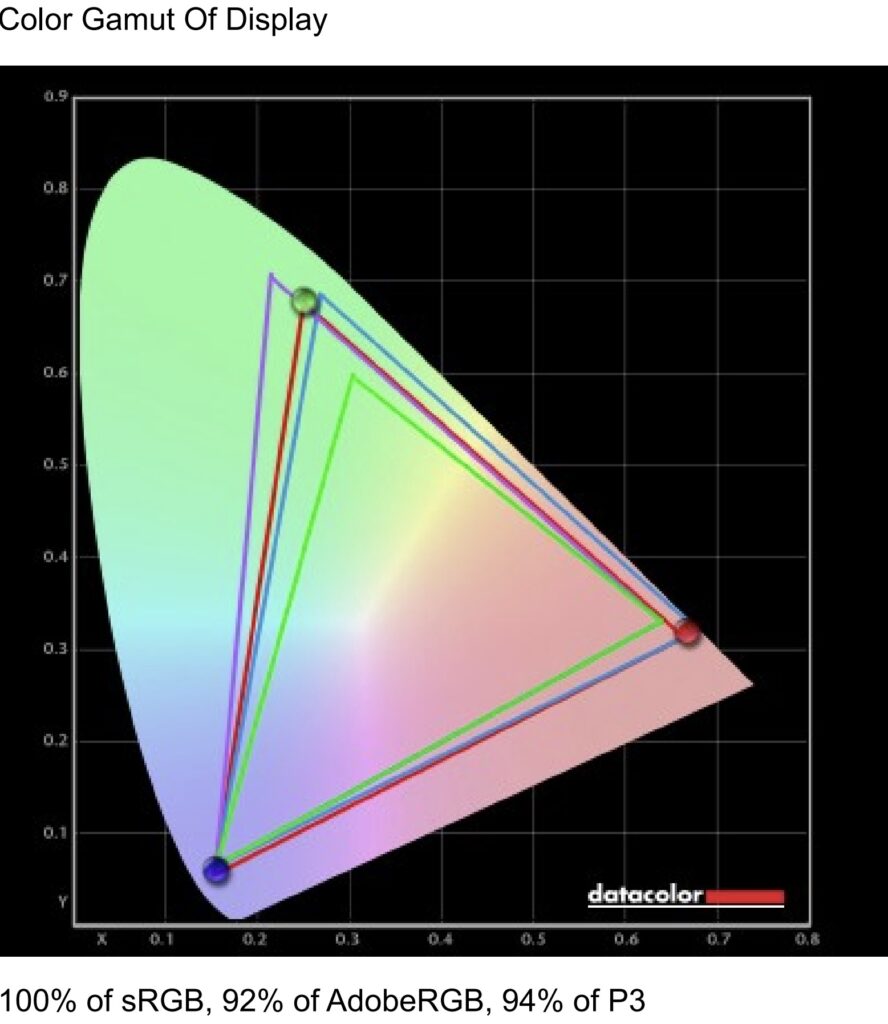 The Dell UltraSharp U3224KB is capable of fantastic color quality, but its coverage falls a bit short of the company's claims. The SpyderV Elite recorded more than 100% of sRGB, but its DCI-P3 and Adobe RGB coverages are only at 94% and 92%, respectively. However, that's still a fine score for a productivity monitor, especially when its default dE average is only 0.99.
Dell did an excellent job with its factory calibration, ensuring that this model is one of the few you can use for editing work without calibration. The Apple Pro Display XDR is better regarding gamut coverage and default accuracy, but it's a minor advantage. Most users won't even see the difference with the naked eye, plus this monitor is at least $2000 cheaper.
Calibrating the Dell UltraSharp U3224KB with the Calibrite Display Plus improved its already excellent deltaE average to 0.40 with the Calibrite Display Plus and 0.54 with the Spyder X. This makes it one of the best monitors we have reviewed when it comes to color fidelity. You don't need to buy a colorimeter, but we highly recommend it for this model if you do color-critical work like editing.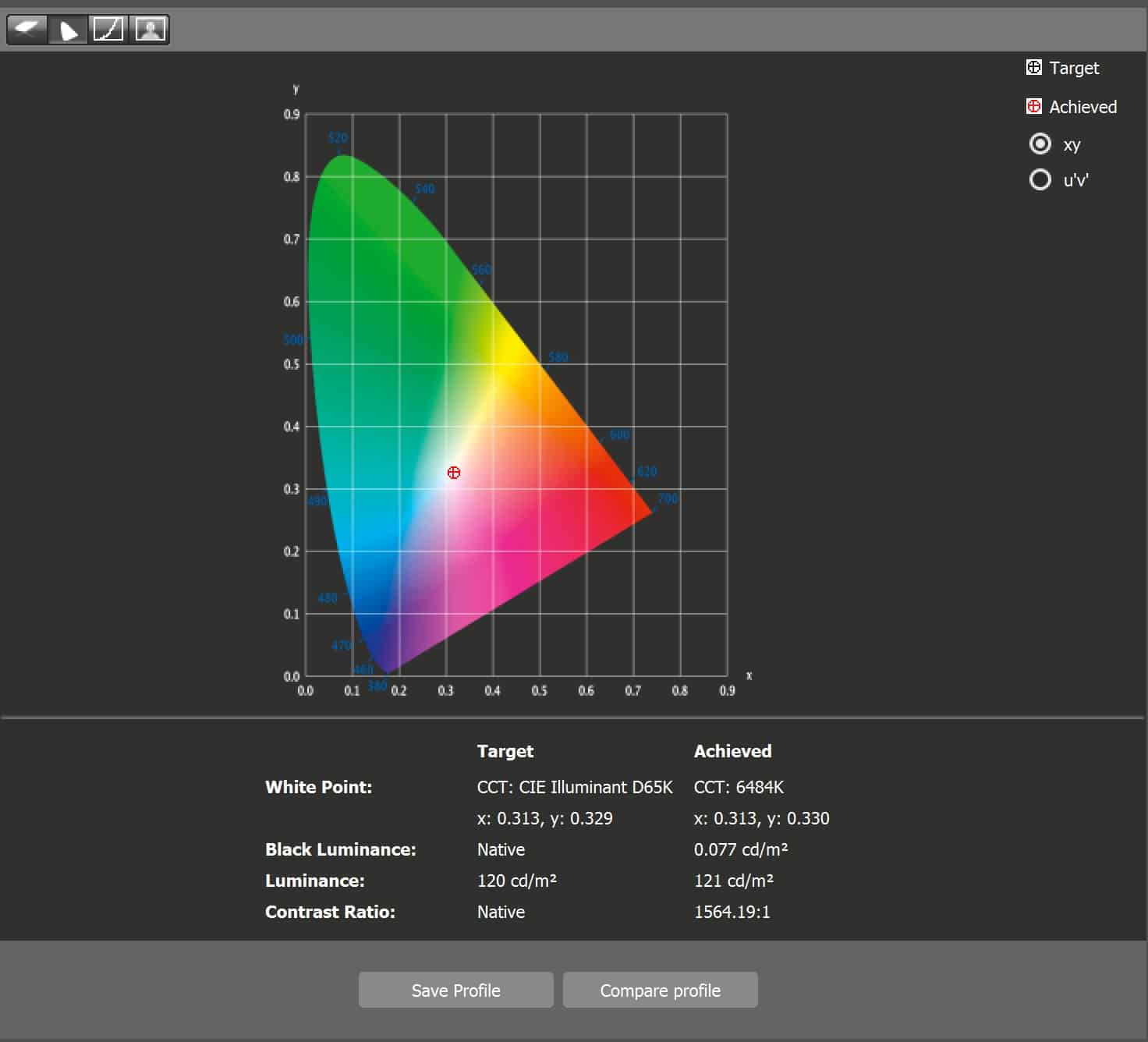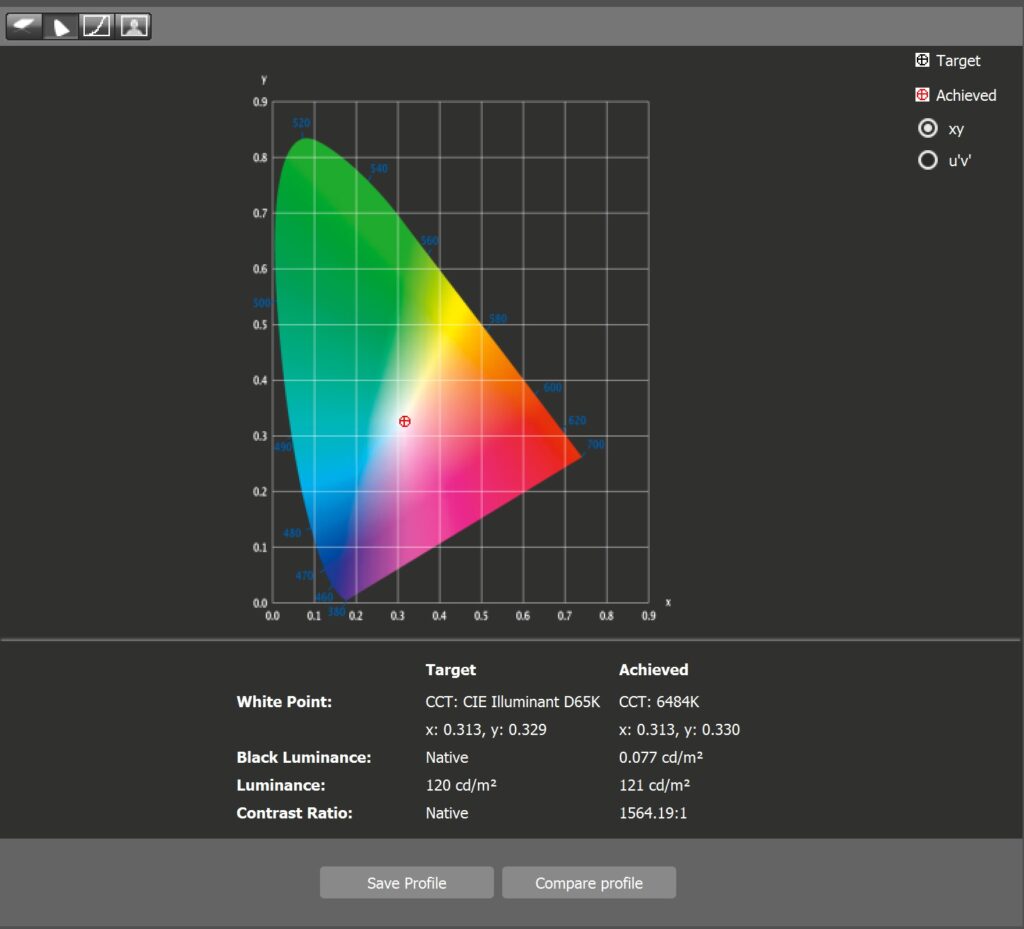 The Dell UltraSharp U3224KB's backlight reached 488 cd/m2 at 100% but peaked at 617 cd/m2 when HDR was active. Its contrast ratio reached 1564.19:1 at 34% or 120 cd/m2 brightness. However, the product has an excellent black luminance of only 0.077, so it's more capable when it comes to dark scenes, as promised by the panel tech.
Although its contrast ratio isn't as high as a VA panel, we can say that the latter's advantage is quickly declining. We first saw IPS Black's capabilities on the Dell U3223QE, but it has improved with this newer model. We're hoping for gaming variants with the same capabilities so washed out scenes while playing at night will be a thing of the past.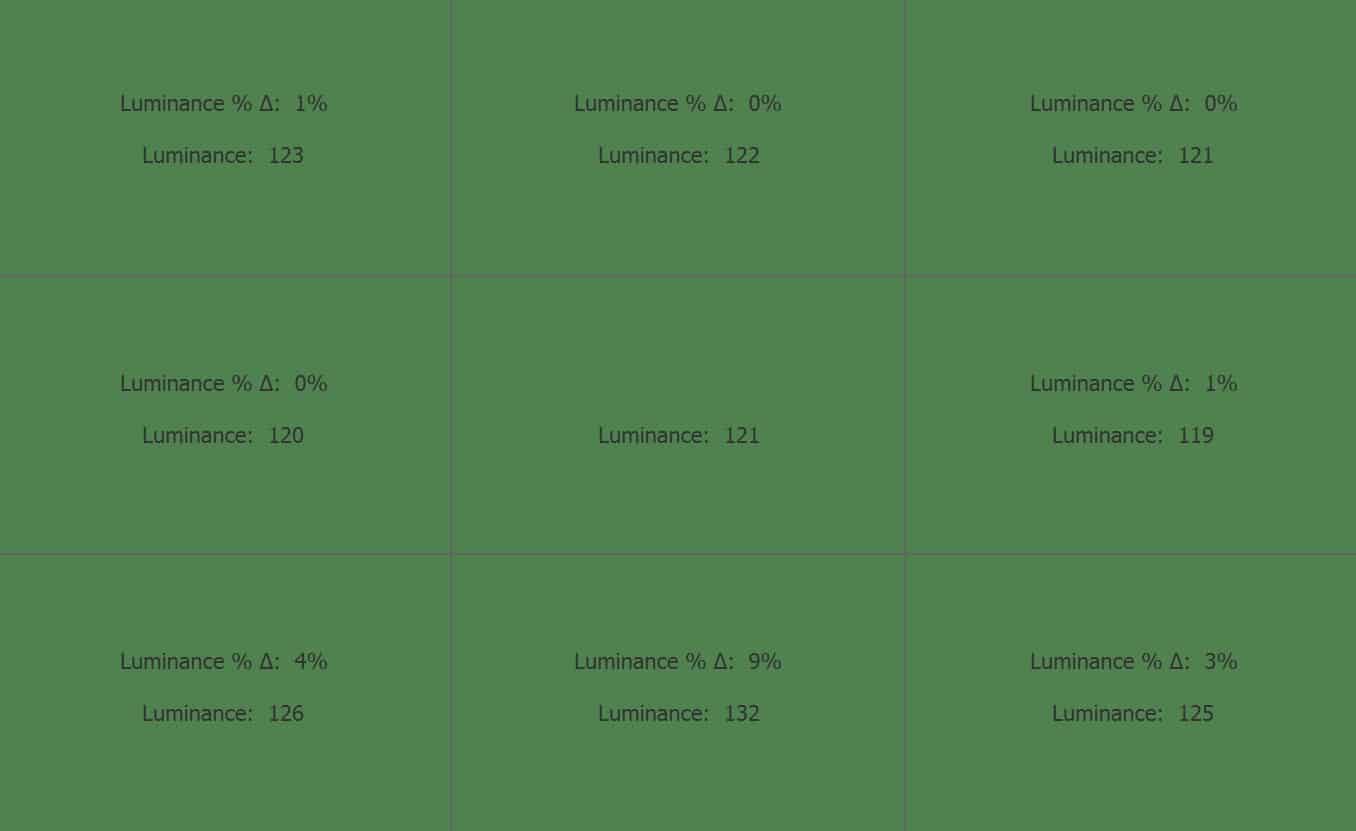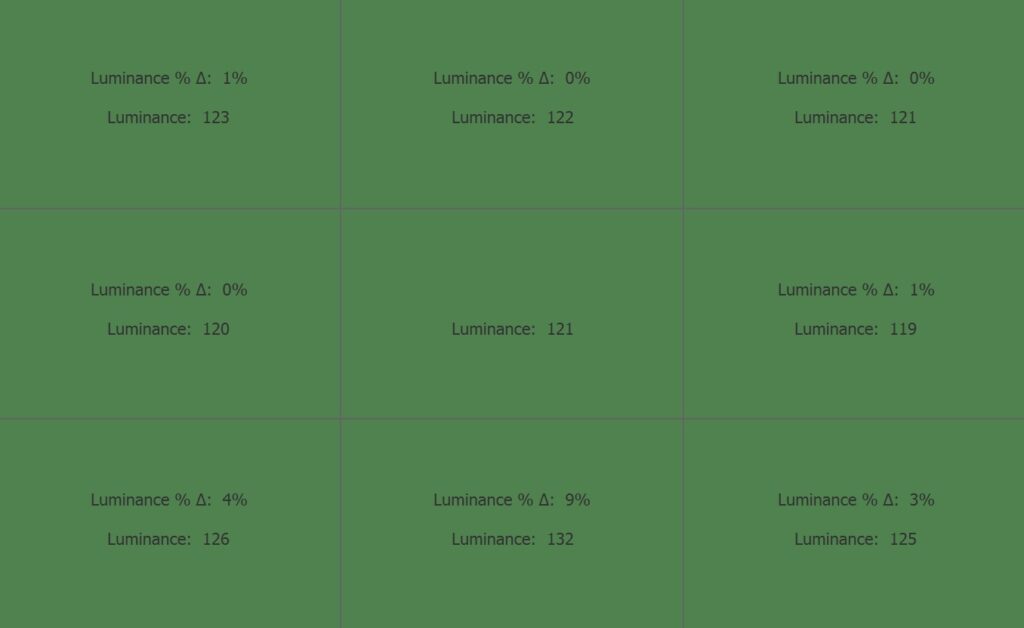 The Dell UltraSharp U3224KB's panel uniformity had minimal variances when scanned with a colorimeter. However, the bottom row showed some IPS glow when a full-black image is on screen, although it's not noticeable in full color. Note that this is normal, and getting a unit with better uniformity is possible.
Its pixel response time isn't the fastest, but it can keep up with minimal blurring and ghosting. The monitor's Fast works without any massive overshoot. It is not going to be as fast as a gaming variant, but it can hold its own for immersive games. The more significant issue here is its massive resolution which will make many GPUs bleed.
Very graphically light games like League of Legends only ran at 53 FPS in 6K, while many heavier titles like Warzone 2 barely even reached 30 FPS with our laptop. There's a good chance that you will be able to get higher framerates with top-end systems, but those are equally expensive. One solution we tried on MW2 was to drop the resolution to 4K, which defeats the purpose of spending this much on a unique monitor.
The Dell UltraSharp U3224KB doesn't have Adaptive Sync, but that's typical for display products in the prosumer space. It would be convenient in this case, especially since we experienced a ton of stuttering while playing games. Input lag sits at 10ms at 60Hz, so the monitor is still free from delays or a sluggish feel.
Thoughts on the Dell UltraSharp U3224KB
The Dell UltraSharp U3224KB is something we'd love to have on our desks thanks to its amazing performance and features. Its IPS Black panel offers superb default and calibrated accuracy, while its impressive 6K resolution provides gorgeous eye candy. It's built like a tank with advantageous features, such as its 4K webcam, so it's a good investment for your workstation.
The only major issue we see with this model is its very high price which is triple the cost of the U3223QE when it first came out. There are also the TB4 issues we witnessed, but new tech problems tend to get ironed out. But overall, it's a good investment if your computing activities require fantastic image quality, uncompromised conferencing capabilities, and excellent entertainment value.
Pros:
Brilliant and Accurate 6K IPS Black Panel
Superb Features
Future Proof Thunderbolt 4 and DisplayPort 2.1
Fantastic Build Quality
High Contrast and Low Black Luminance (For IPS)
Cons:
Expensive
Thunderbolt 4 Issues with Test Laptop
About the Author: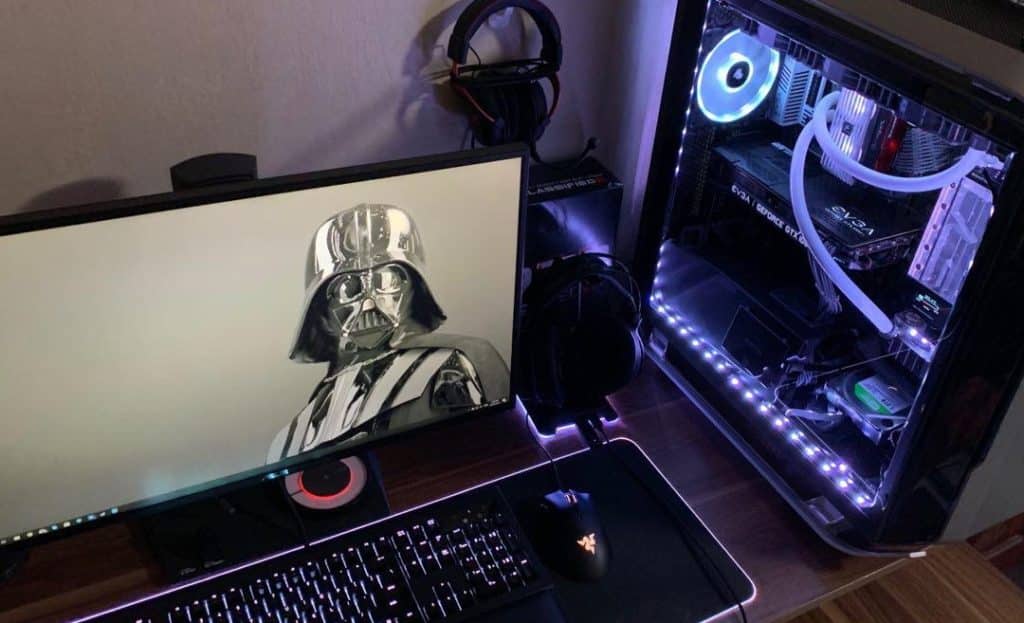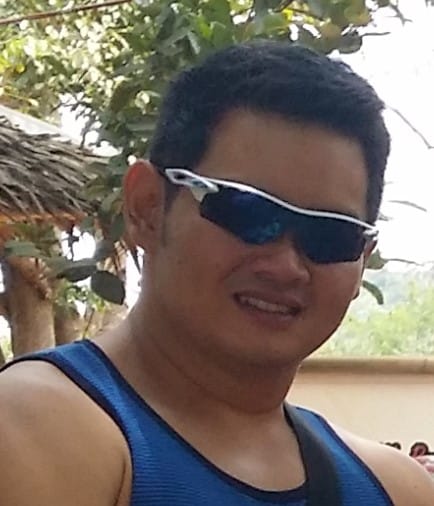 Paolo has been a gaming veteran since the golden days of Doom and Warcraft and has been building gaming systems for family, friends, and colleagues since junior high. High-performance monitors are one of his fixations; he believes that every citizen's right to enjoy one. He has gone through several pieces of hardware in pursuit of every bit of performance gain, much to the dismay of his wallet. He now works with Monitornerds to scrutinize the latest gear to create reviews that accentuate the seldom explained aspects of a PC monitor.