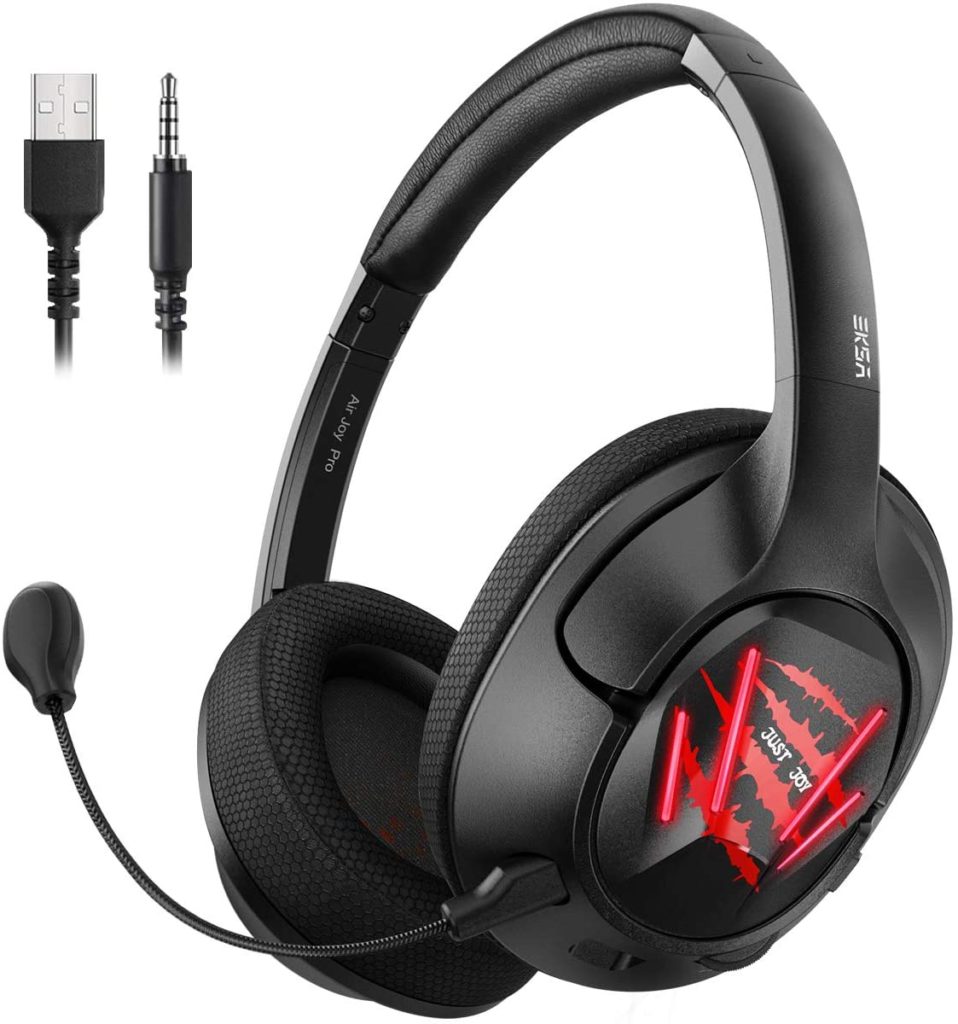 The EKSA Air Joy Pro offers a simple solution that includes many gamer-sought features in a lightweight and affordable package. It costs less than half of most of its competitors, but it has some characteristics such as removable cables and USB-C that you can only find on high-end options. Is the EKSA Air Joy Pro worth a buy for your gaming setup or should you invest your money on a more premium option?
Design and Features
The EKSA Air Joy Pro is designed to be minimal so all the unnecessary chunk or weight that you would normally find on the aggressively designed models are avoided. The EKSA E900 Pro we reviewed earlier will look more familiar to gamers, while this model's general shape is closer to an audiophile model from brands like Sony or Bose. The device has a matte black finish all over with red accents and LED lights which betray its gamer-centric nature.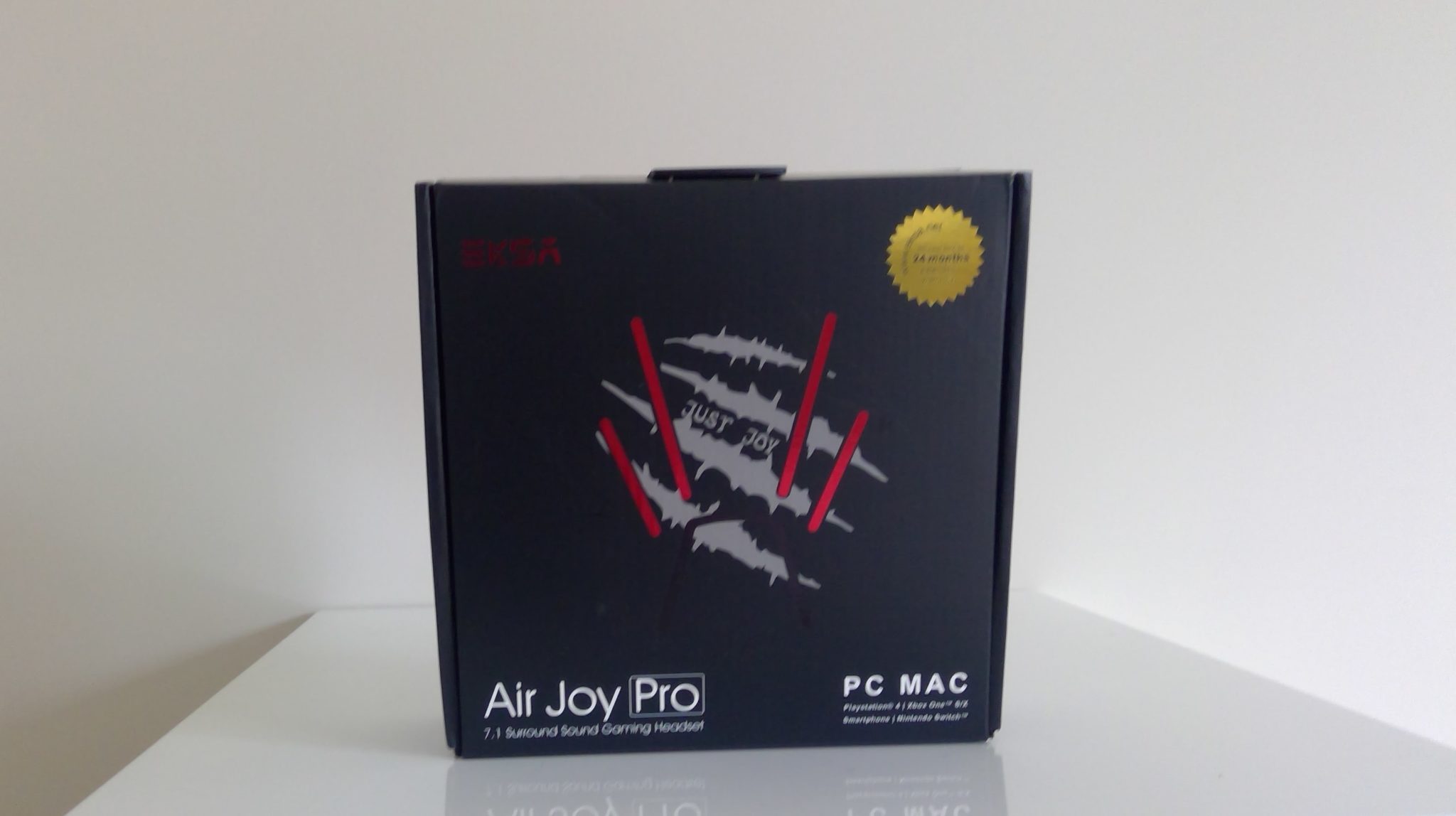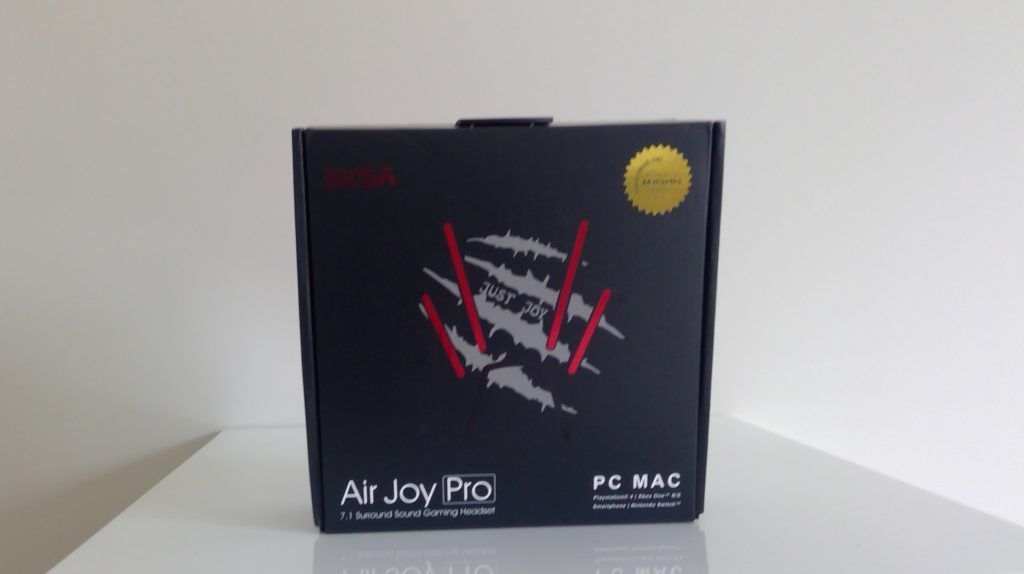 Its look makes the EKSA Air Joy Pro wearable in public since it doesn't look conspicuous to make your head look like it just came back from the future. The pair is compatible with multiple platforms including mobile, so you can use it with phones if it has the necessary connectors. Its lightweight nature also makes it a great choice since it makes it very portable and comfortable to use on long commutes.
As mentioned, the EKSA Air Joy Pro is as light as a feather at 5.3 ounces so its great for long gaming sessions. The metal band doesn't squeeze too tightly even if my head is quite big, and the earcups are big enough to envelop my earlobes and avoid pain. The cups have a nylon-like cover that isn't the softest, but at least it dries up fast from sweat without stinking.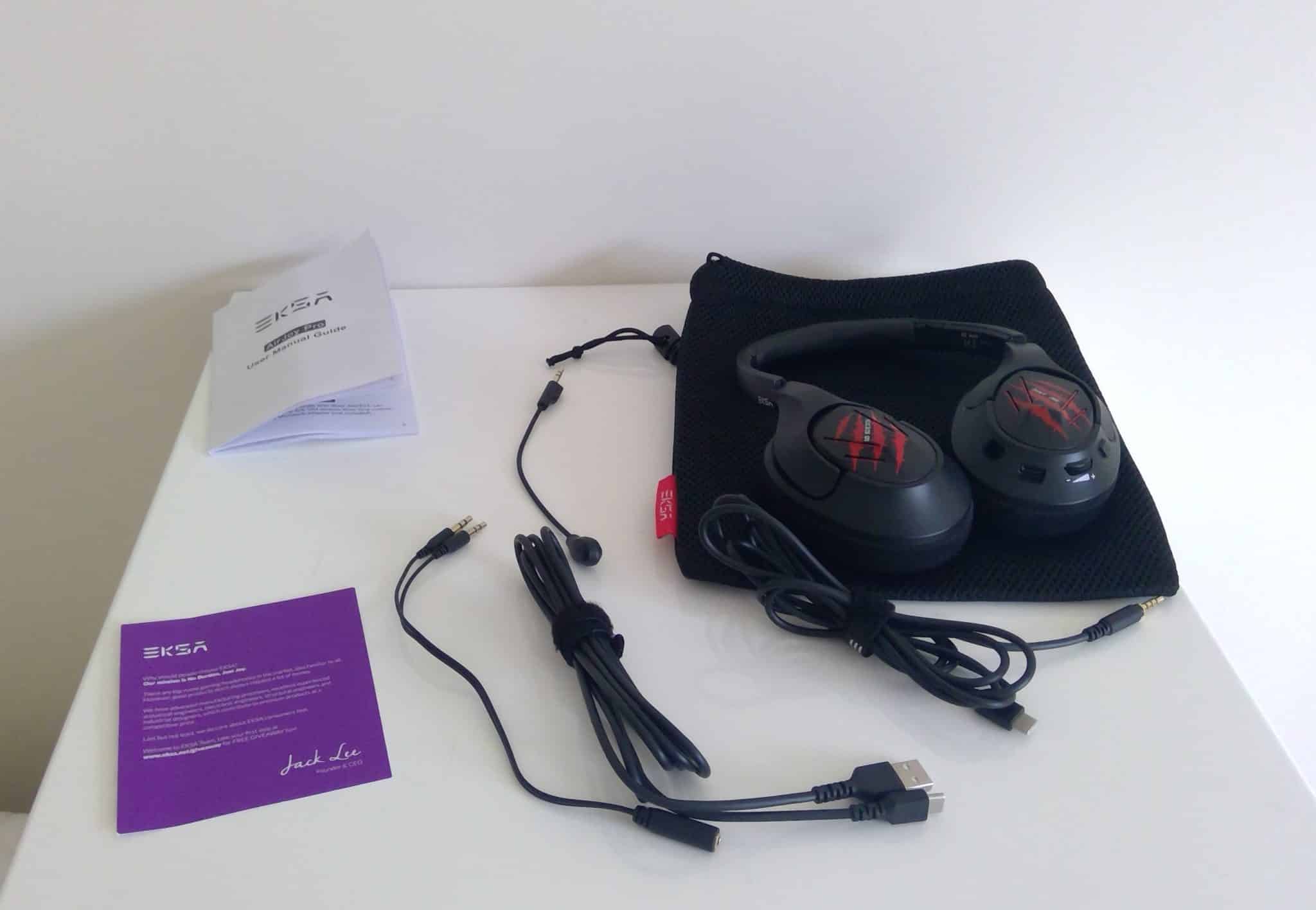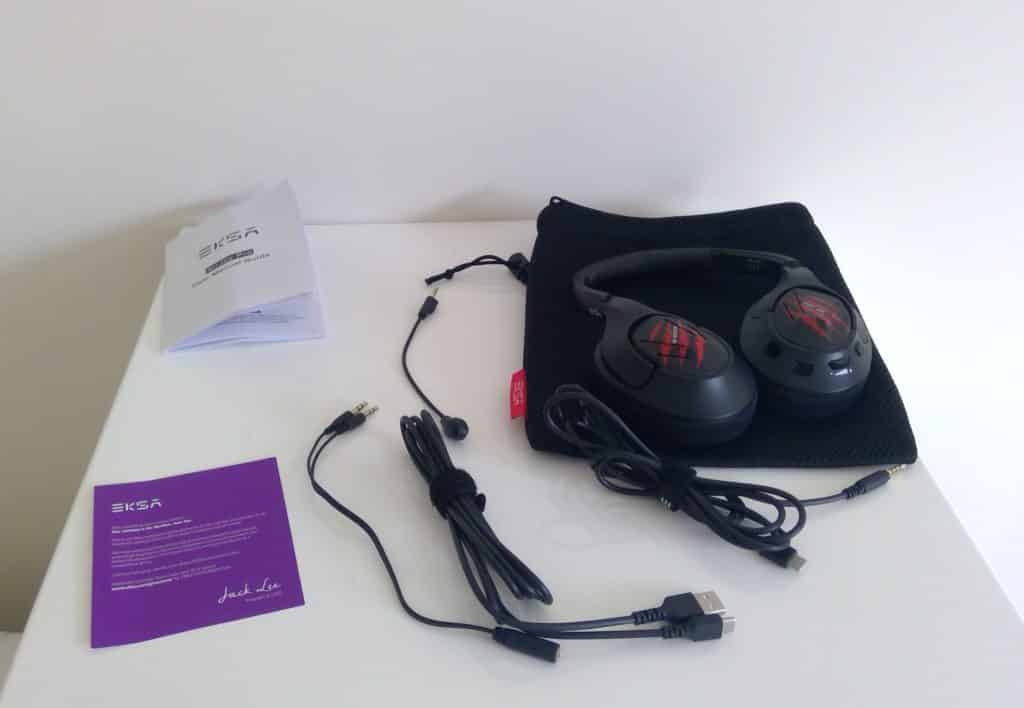 The EKSA Air Joy Pro is neatly packed into an attractive box along with valuable accessories that are functional and essential. The headset includes a nylon bag that doubles as its protection, along with 3 types of cables that expand its functionality. `You can use a USB-C to USB-C connection, USB-C to 3.5mm, and a dual input 3.5mm jack to suit your device's needs.
The EKSA Air Joy Pro even includes downloadable software that you can get from their official website. It's not as equipped as those from premium brands like Razer, but it has the essential features you will need for the headset's functions. However, take note that you only get access to it if you use the USB connection on your PC instead of the 3.5mm jacks.
All of the controls for the EKSA Air Joy Pro can be found on the left ear cup so you won't have to fumble for an inline remote while gaming. You get a volume wheel and a dedicated mic button which many manufacturers often forget to include on their offerings. The ports for the inputs are also located on this side of the pair so users won't have to deal with cables that are unwantedly dangling about.
You will also find decorative red LEDs on the EKSA Air Joy Pro, but the downside is they only power up if you use the USB connection. We like the overall look of the headset, but the prints on the earcups look tacky. The captions and the red claw marks look out of place on the sleek and sophisticated form of the headset.
Performance
The EKSA Air Joy Pro offers decent sound quality for gaming, but it isn't without kinks caused by its connectivity design. It cannot render a respectable range of highs or details, but the mids and bass are punchy enough to be satisfying. You also get 7.1 surround which can improve immersion, but it isn't always accurate.
However, the connectivity is once again the limitation for the EKSA Air Joy Pro since you can only access its 7.1 feature via the USB connection. This means consoles have to contend with stereo sound, but that isn't necessarily deal-breaking since the surround sound isn't particularly accurate anyway. Another aspect you lose is the ability to adjust the mic's echo which is sometimes crucial for comms during multiplayer games.
Another notable limitation for the EKSA Air Joy Pro is both the 40mm drivers and the mic sound a bit muffled when using the 3.5mm connectors instead of the USB-C port. It's less of an issue for the better quality sound cards, but most default chips on motherboards result in this issue. The USB connection, on the other hand, sounds cleaner so talking and listening to your teammates is less of a struggle.
Connecting the EKSA Air Joy Pro to consoles and mobile phones nets the same results as above, so in truth, usability is limited. Listening to music is reasonable, but using the headset to communicate for something like Discord on mobile phones can be problematic. You have to really listen in, especially when bassy explosions start mudding the sound.
Tweaking the volume to around 60% helps the EKSA Air Joy Pro's performance and lessens its issues. The sound signature sounds less distorted this way, but the slight muffling issues can only be solved if you use the USB connection.
Thoughts on the EKSA Air Joy Pro
The EKSA Air Joy Pro presents excellent value if you consider what's included in the package along with some of its features. Its flexibility is great since you can use it with many gaming devices, including mobile phones. The aesthetics aren't overdone so you won't get strange looks when the pair is used in public, but the claw marks and the cheesy catchphrases on the cups may raise a few eyebrows.
However, you have to limit your expectations with the EKSA Air Joy Pro when it comes to performance. The bulk of the price went to its great functionality, but the sound quality left something to be desired. The EKSA Air Joy Pro is a great choice if you don't want to overspend on a gaming headset, but you can't expect top-notch gaming audio fidelity from it.
Pros:
Lightweight and Comfortable
Great Shape and Looks
Affordable
Lots of Connectivity Features
Dedicated Mic Mute Button
Cons:
Muddy at High Volumes
Clunky Driver
Sounds Muffled when Analog Audio is Used
Some Features Not Available When Analog is Used
About the Author: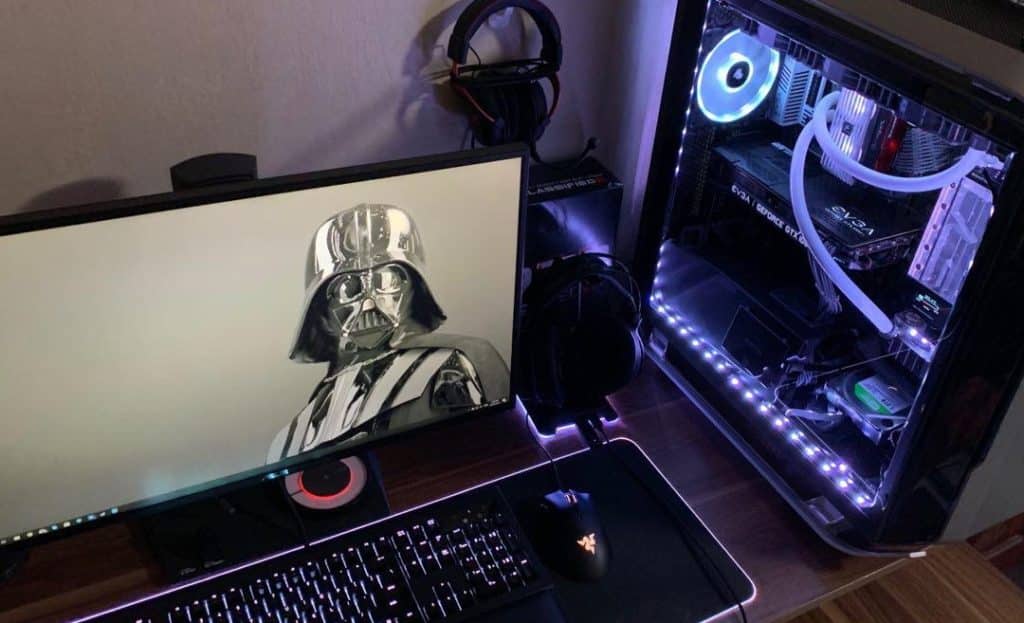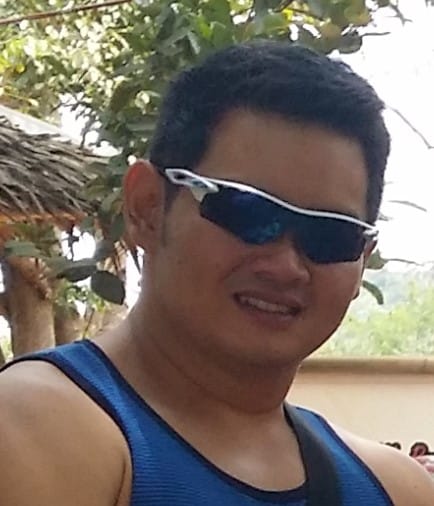 Paolo is a gaming veteran since the golden days of Doom and Warcraft and has been building gaming systems for family, friends, and colleagues since his junior high years. High-performance monitors are one of his fixations and he believes that it's every citizen's right to enjoy one. He has gone through several pieces of hardware in pursuit of every bit of performance gain, much to the dismay of his wallet. He now works with Monitornerds to scrutinize the latest gear to create reviews that accentuate the seldom explained aspects of a PC monitor.