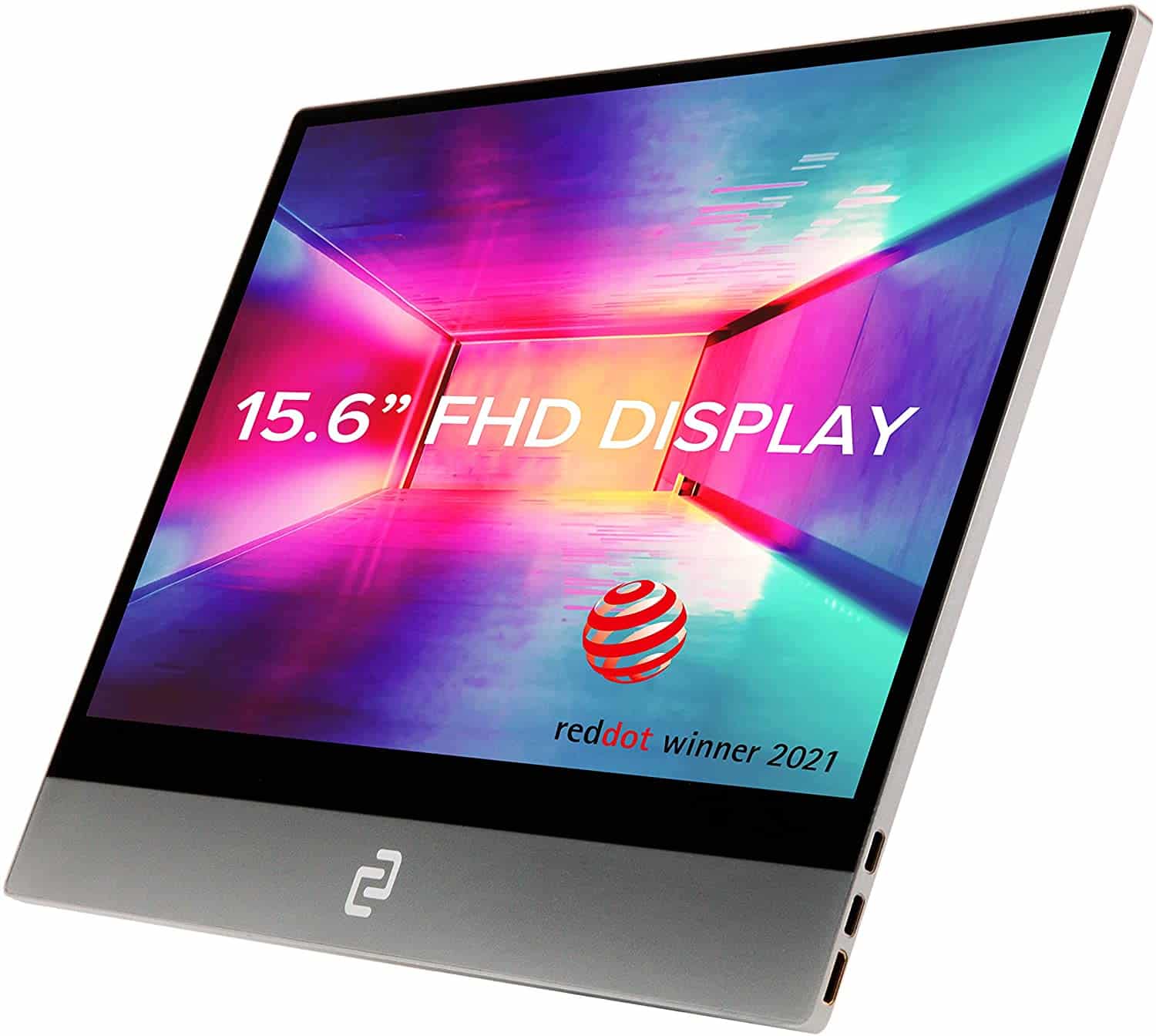 The Espresso Display is a well-designed portable monitor with its slim and sleek chassis and a vibrant IPS touchscreen IPS panel. It's priced like a premium model like the Asus MB16AMT, so we know many will be skeptical since Espresso is newer in the business. Let's check out if the Espresso Display is worth the investment for your multitasking needs outside of the home and office.

Espresso Display Specifications
Screen Size: 16 Inches
Resolution:1920 x 1080 FHD
Aspect Ratio: 16:9
Panel Technology: In-Plane Switching (IPS)
Refresh Rate: 60Hz
Contrast Ratio: 1000:1
Brightness: 300 cd/m²
Built-in Speakers: Yes
Stand: Height – Yes
Stand: Tilt – Yes
Stand: Swivel – No
Stand: Pivot – Yes
VESA Compatibility: No
Connectivity: USB-C x 1, Micro HDMI 1.4 x 1
Dimensions With Stand (WxHxD): 14″ x 10″ x .0.2″
Weight: 2 lbs

Design and Features
The Espresso Display goes for a premium appeal with its sleek and slim, aeronautical-grade aluminum-encased display. The frame has a gunmetal finish, but the screen is surrounded by a matte black border. It's not bezel-free, but the said borders are flat and flush against the double layer of protective glass.
What makes the Espresso Display appealing is how thin it is versus the established competition in the market. It's only 0.2 inches thick and it only weighs 2 pounds, making it the most portable 15.6-inch option in the market. Its 14 x 10-inch width and height is comparable to most laptops, so it should slide in nicely into any laptop bag.
Build quality, however, could some improvements on the Espresso Display which looked good but had a few minor issues. The edges aren't perfect and there are some very small uneven gaps if you look close enough. We're sure this is isolated, but this also means that quality control should tighten up its operation and scrutiny of the final products.
The Espresso Display uses two buttons (up and down) for its OSD, which is probably the simplest we've encountered at Monitornerds. You only get to adjust its volume and its brightness setting, so it's quite easy to use. However, it doesn't allow give enthusiasts the freedom to tweak the screen to a level that they see fit.
The Espresso Display's basic package doesn't come with the MounGo portable monitor, so you have to contend with the usual flip cover. It can prop the monitor up with some degree of tilt adjustments, but it is not a stable solution for it. The MountGo accessory, however, will give you height, tilt, and pivot for better adjustability.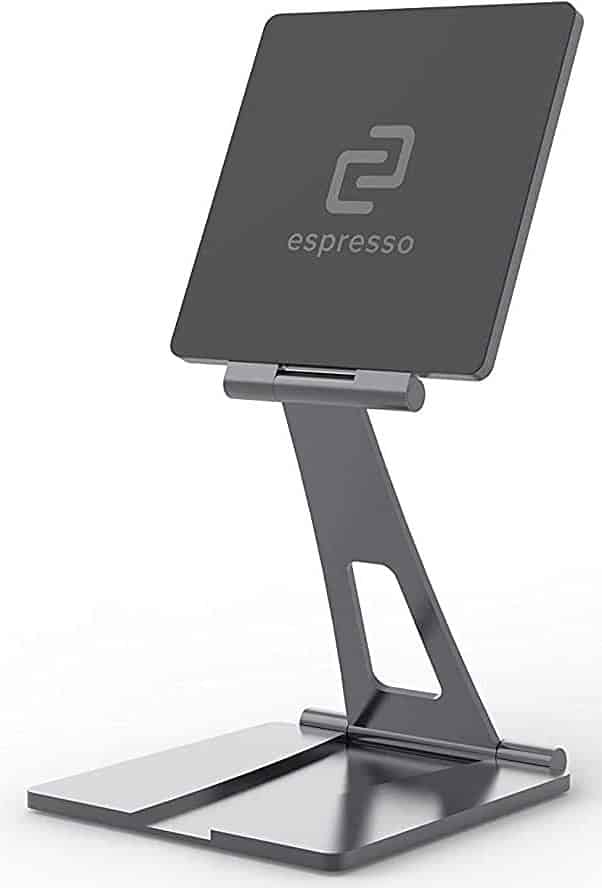 It will allow you to use the portable monitor in portrait mode, but the downside is it will cost you an extra 60 bucks or so. You can also mount the Espresso Display, but the adapter will cost an extra 45 bucks, which we think is too expensive. We think this is the biggest downside of the product, so going with a bundle that's on sale might be your most practical option.
The Espresso Display's connectivity is sufficient for your daily needs, although you have to choose with regard to power delivery. There are two USB-C ports that receive power from adapters and video with power signals from your laptop respectively. There is also a mini HDMI port, but you still have to connect the USB-C power slot to a source to activate the monitor.
We'd use the video input USB-C slot and connect it to a laptop, but that will drain your computer's battery quicker. However, it's the most convenient solution for working on the go, so make sure that you have your laptop charger with you or a large power pack to supplement it. You will also find a 3.5mm jack near the OSD buttons, but the laptop's soundcard will definitely sound better cleaner for headphones.
The Espresso Display even includes a tiny pair of stereo speakers to complete its package. However, they sound very tinny with mediocre clarity, so we think the laptop's pair will sound better. It's always nice to have extras, but we think everyone will appreciate them more if they are of better quality and usable.
Display and Performance
The Espresso Display sports a 15.6-inch touchscreen IPS panel with a 1920 x 1080 resolution, and a 60Hz refresh rate. The backlight is rated at 300 cd/m2, while the contrast ratio is listed at 1000:1 like most IPS monitors. The monitor responds to common gestures such as pinching and zooming to make things even more convenient for the user.
its not sluggish when using its touch capabilities, but the common delay that is apparent in all touch screen monitors is still there. It's only a minor issue and it won't disturb most users, but sensitive users will see the difference between the laptop's monitor and the pointer or cursor.
The 15-6 1080p display of the Espresso Display looks sharp and crisp compared to a desktop variant. Some may find it difficult to read the smaller letters, but its prospective buyers are mostly used to the size since it's comparable to some laptops. The space the 1920 x 1080 resolution offers are irrelevant in most cases since this will be used as a secondary display to extend one's viewable area.
The Espresso Display renders 100% of the sRGB which is excellent considering many options in the market could only manage 93%. Default accuracy isn't the best with the 2.65 dE average, but it's decent enough for daily use. The screen looks vibrant, although it has a cool tint which, unfortunately, we couldn't fix.
The Espresso Display doesn't have OSD options other than brightness and it doesn't support hardware calibration. As such, it cannot be tuned for editing purposes, but it should look good for other uses. That's fair since it's meant to be a secondary monitor, but it would have been handy if it could be tweaked for better color accuracy.
The Espresso Display's backlight only managed to produce 221 cd/m2 which quite far off from its 300 cd/m2 claim. That's fine for indoor use but it will look dim in well-lit rooms or on outdoor spots such as cafes. The monitor managed to reach a 1082:1 which is decent for a portable IPS monitor, but still insufficient in producing deep blacks.
The Espresso Display doesn't have a pixel response time, but that's understandable since this is a touch screen display. Fast-paced scenes revealed some trailing and persistence, so the monitor isn't ideal for fast-paced games. However, that's fine since it is intended for mobile gaming on platforms like the Nintendo Switch which has mostly casual and immersive titles.
The Espresso Display doesn't have FreeSync, so G-Sync compatibility is also out of the question. That's again, understandable since this was not designed for PC gaming. Input lag sits at 12ms at 60Hz, so it's still quite responsive even if it is obviously slower than most modern desktop monitors.
Thoughts on the Espresso Display
The Espresso Display is an excellent crowd-funded concept that challenges the current portable monitor market. its thin frame is beautifully crafted and it's quite functional if you have its accessories. The IPS panel isn't the most accurate in this category, but it's quite vibrant and rich with its full sRGB coverage.
Our biggest complaint with the Espresso Display is the paywall that you have to go through to enjoy its excellent design. The stand costs more than $60, while the VESA adapter, which is quite cheap in other cases, costs more than $45. It's a great concept, but it's not competitively priced versus its established competition.
Pros:
Excellent Color Coverage
Thin and Lightweight
Attractive Aluminum Chassis
Unique Design
Cons:
Stand and Other Accesories Sold Separately
Very Limited OSD Options
Pricey for Portable Monitors
About the Author: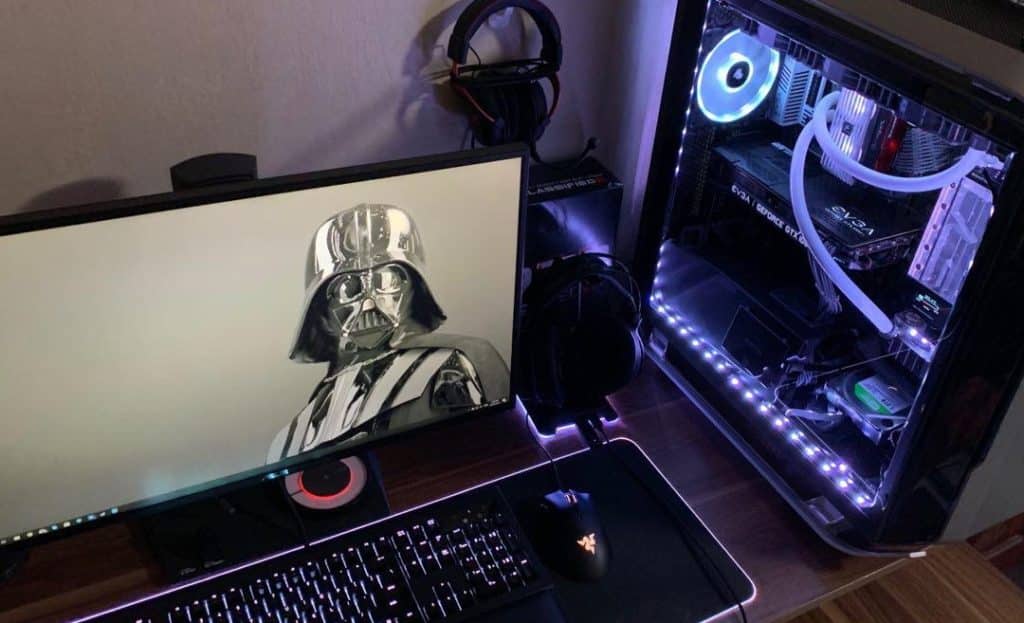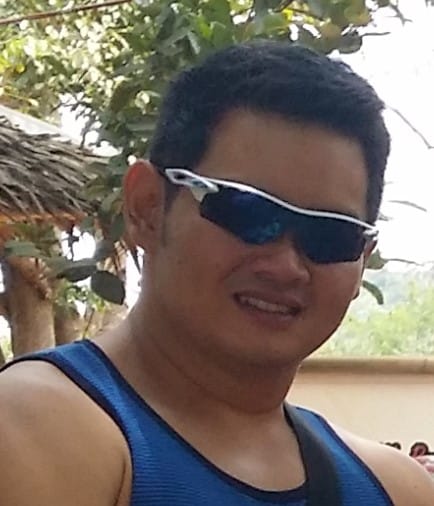 Paolo is a gaming veteran since the golden days of Doom and Warcraft and has been building gaming systems for family, friends, and colleagues since junior high. High-performance monitors are one of his fixations and he believes that it's every citizen's right to enjoy one. He has gone through several pieces of hardware in pursuit of every bit of performance gain, much to the dismay of his wallet. He now works with Monitornerds to scrutinize the latest gear to create reviews that accentuate the seldom explained aspects of a PC monitor.