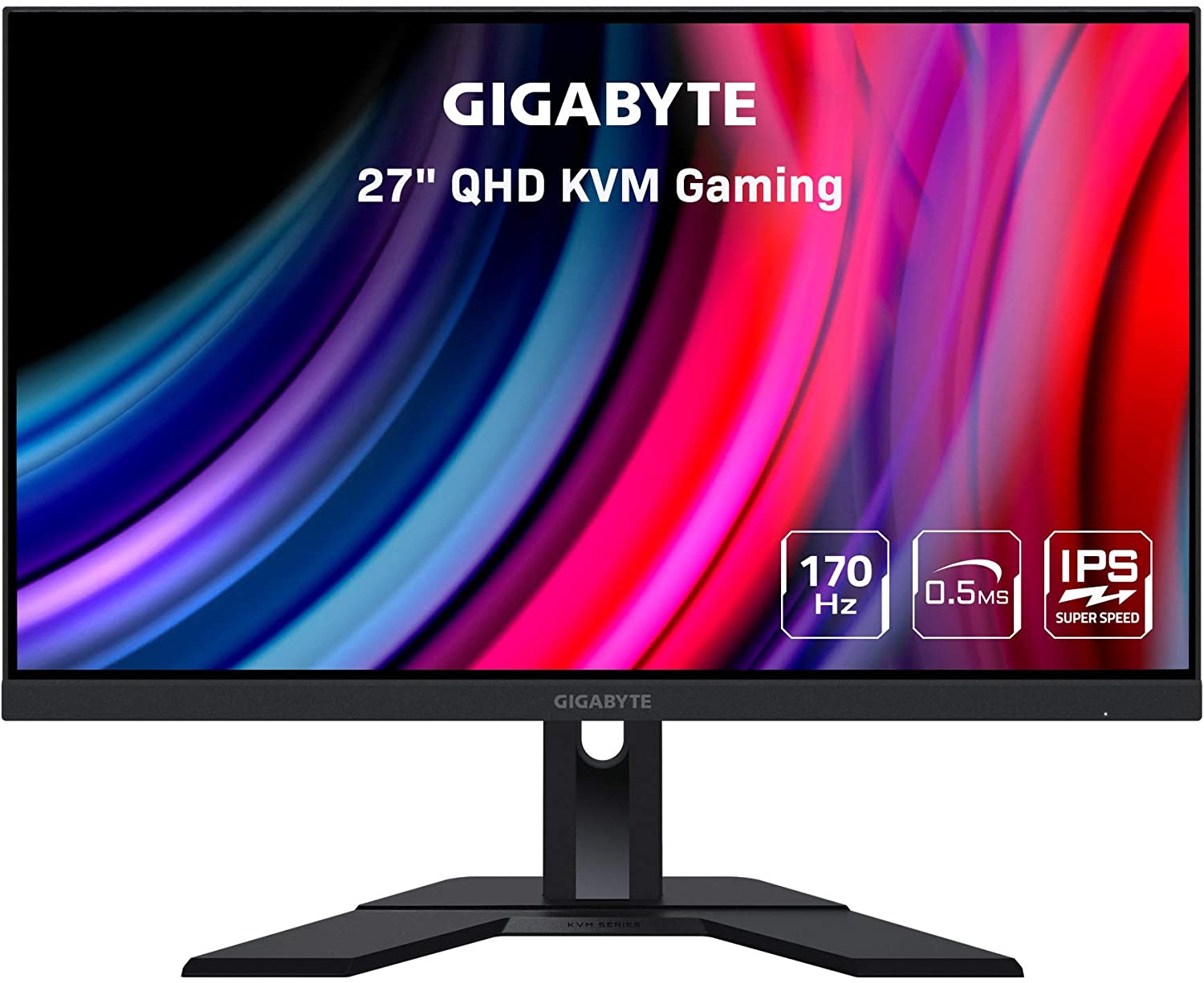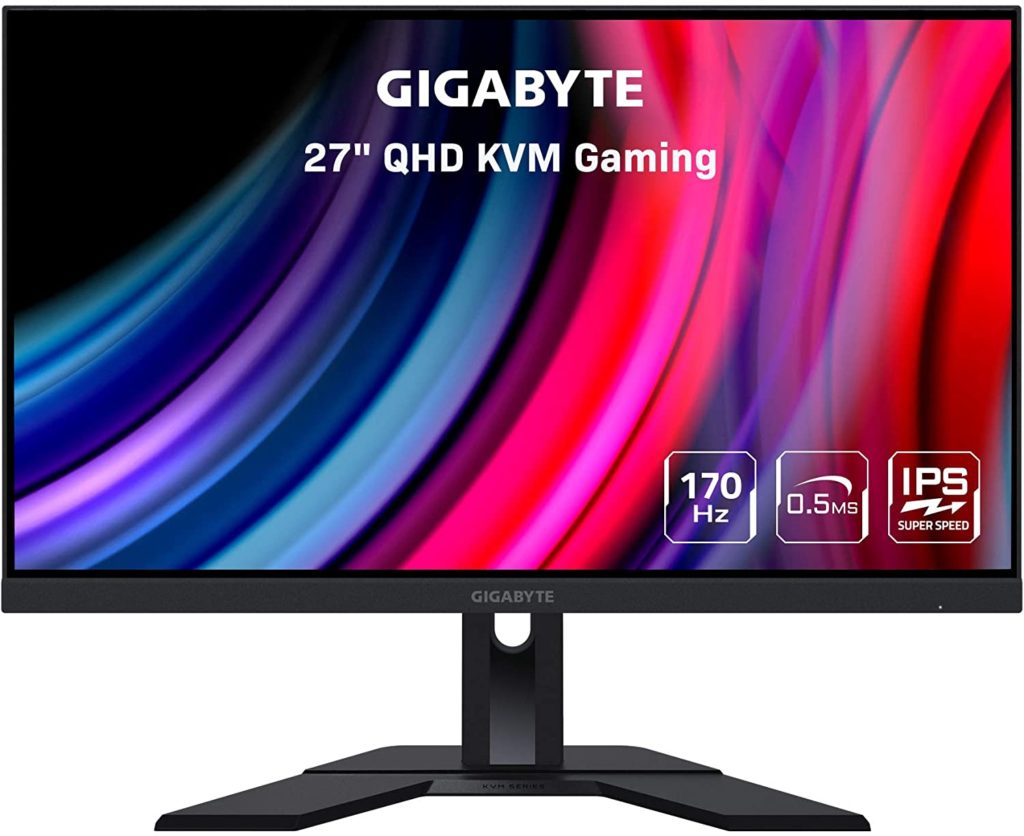 Update 03/30/21: The Gigabyte M27Q which consistently gets sold out is now available as of March 3, 2021 via the links above and below. 
The Gigabyte M27Q offers features and specifications that are attractive in today's market while adding in a bit more to increase its functionality. This model uses a Fast IPS panel unlike the G27QC, but it's also advertised with wide color coverage and HDR capability. The Gigabyte M27Q introduces a new formula of usability for users, but can it perform just as well as its VA counterparts?

Gigabyte M27Q Specifications
Screen Size: 27 Inches
Resolution: 2560 x 1440 QHD
Aspect Ratio: 16:9
Panel Technology: In-Plane Switching (IPS)
Refresh Rate: 170 Hz
Response Time: .5ms MPRT
Contrast Ratio: 1000:1
Brightness: 350 cd/m²
Built-in Speakers: No
Stand: Height – Yes
Stand: Tilt – Yes
Stand: Swivel – No
Stand: Pivot– No
VESA Compatibility: Yes 100 x 100
Connectivity: DisplayPort 1.2 x 1, HDMI 2.0 x 2, USB 3.0 x 2, USB-C x 1, 3.5mm Jack x 1
Dimensions With Stand (WxHxD): 24.22″ x 21.01″ x 7.99 ″
Weight: 12.13 lbs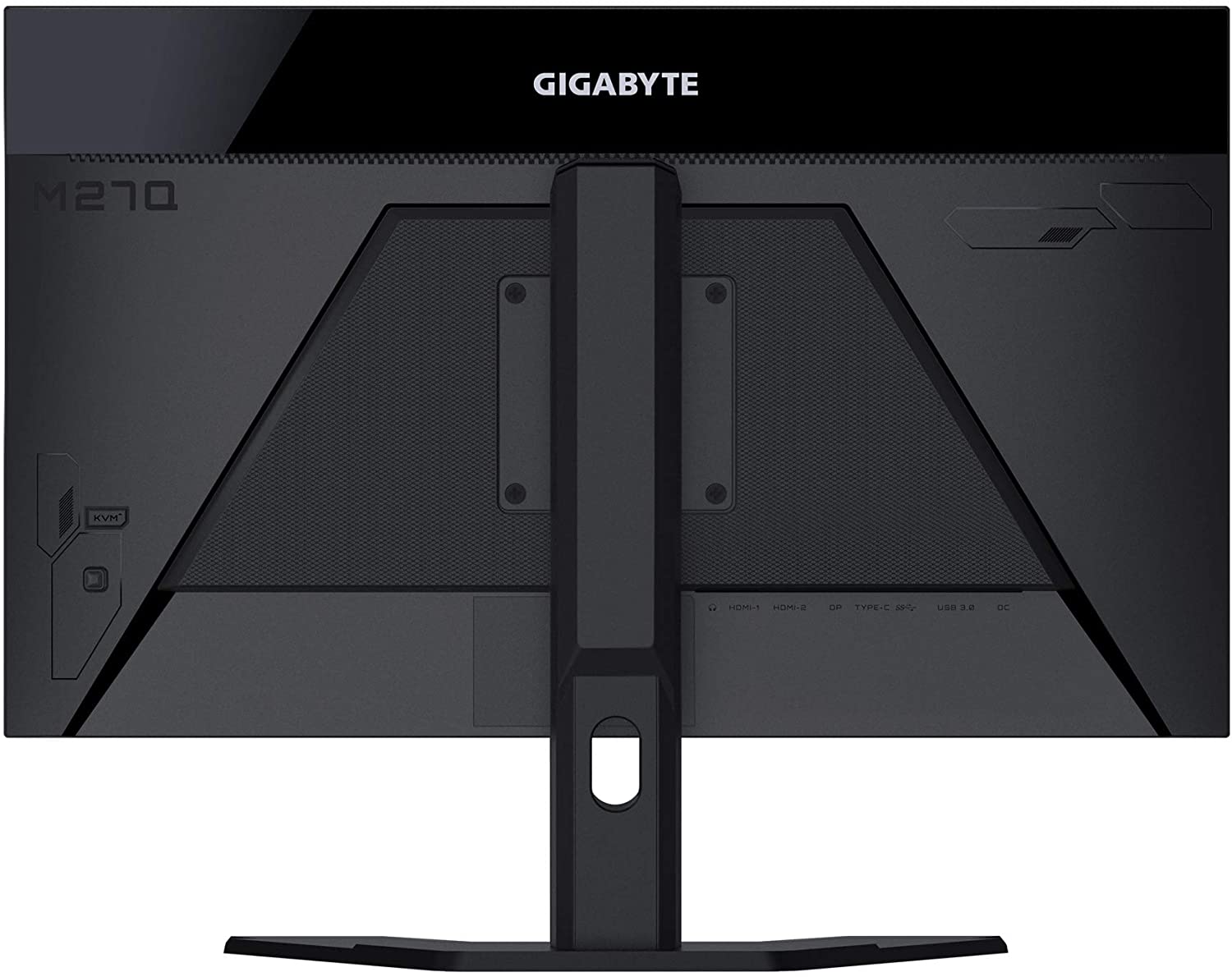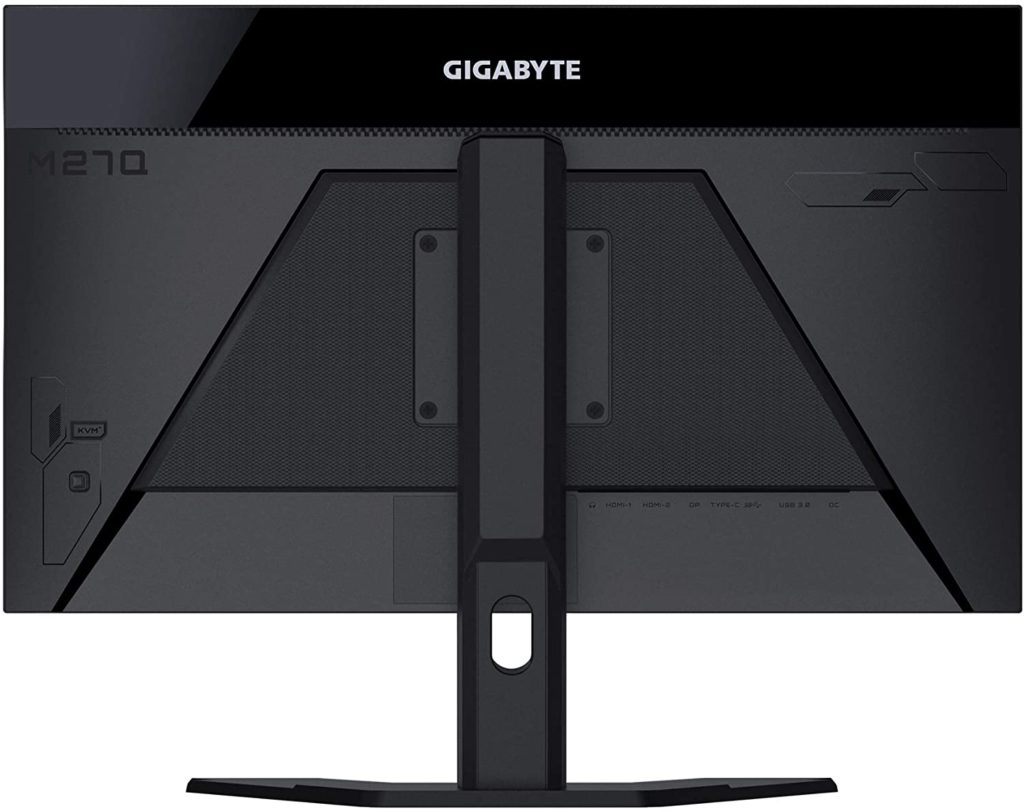 Design and Features
The Gigabyte M27Q looks just like the G27QC in every aspect, except it's a flatscreen, unlike the latter which has a deep curve. The monitor uses the same matte black finish that is virtually scratch-proof, making it easy to maintain the new look. The display is bezel-free on three sides, but you will still see minimal panel borders when it's in use.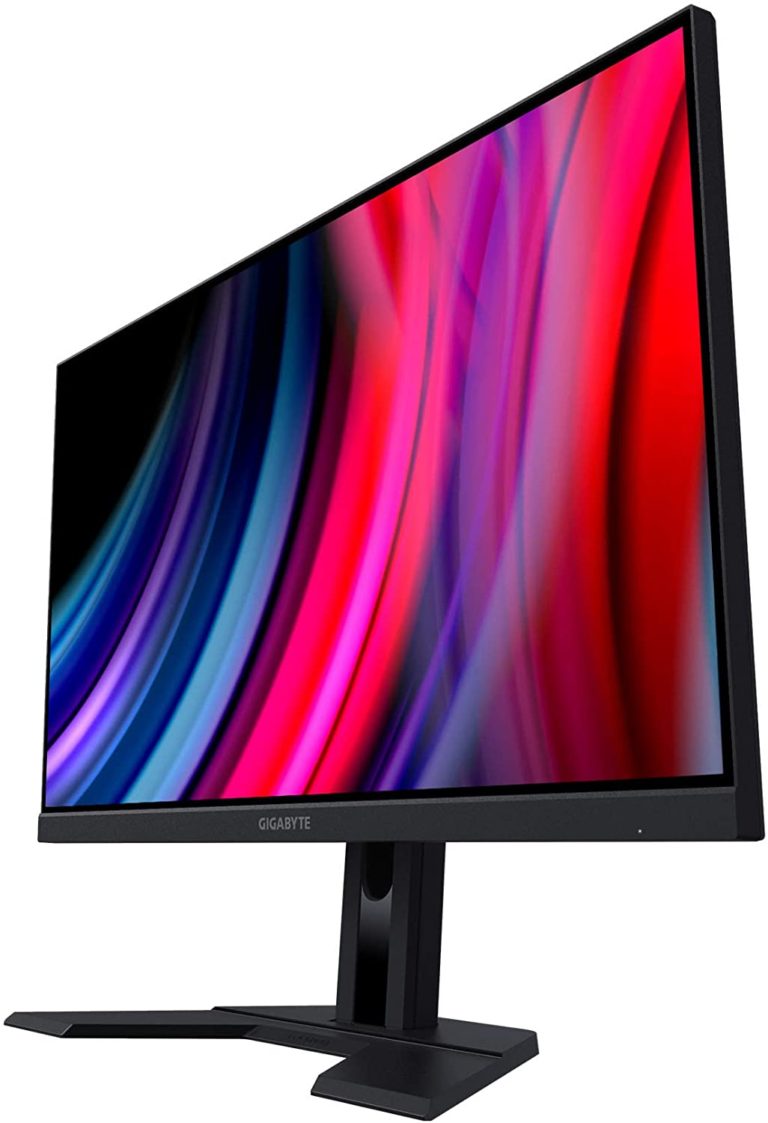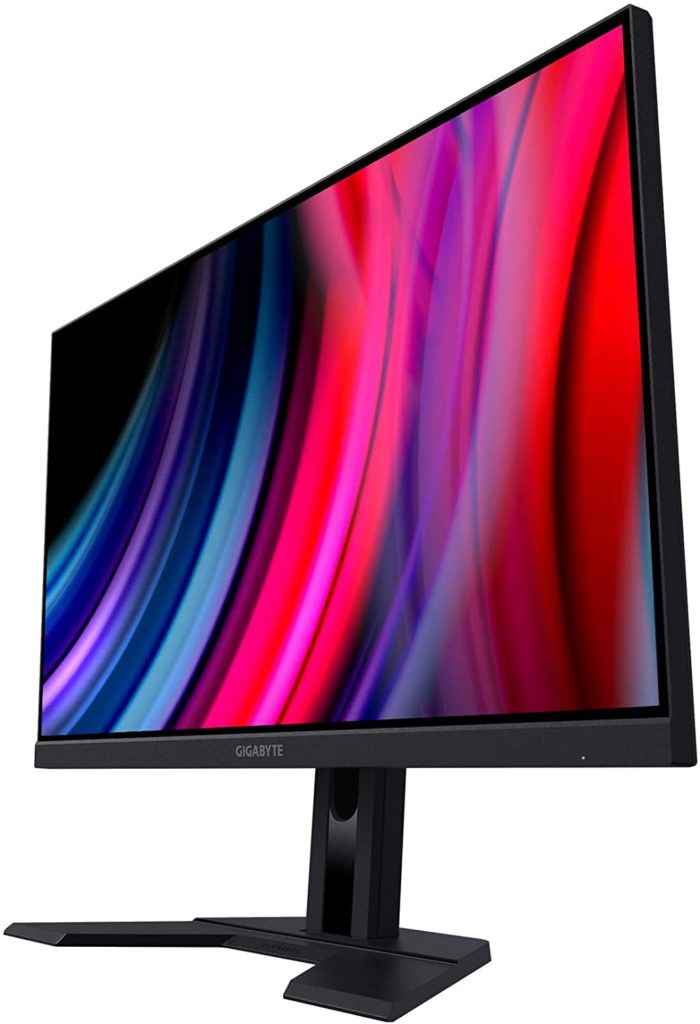 The Gigabyte M27Q is a reasonably-sized monitor, but there's a good chance that it will be bigger than the ones you use at school or work. The stand included is flat and it has a blank spot in the middle for small peripherals if in case it is too big for you. The device only weighs 12.13 pounds so it should be ok to use glass tables for it.
The chassis for the Gigabyte M27Q is mostly made of plastic, but its build quality is great if you consider its price. The stand isn't completely stable, but it can handle the cabinet's weight without unnecessary wobbling. We also did not notice any flexing or uneven gaps on the plastic so the product looks great all around.
What we love about the Gigabyte M27Q and the other monitors in this current series is that they all use OSD joysticks. Most monitors in the same or at are at least close in price range still use buttons, so the joystick is a big deal for us. The software for it is well laid-out, so it's almost impossible to accidentally power down the monitor while using it.
The stand with the Gigabyte M27Q only offers tilt and height adjustments, but that's acceptable in most instances. You can still match it to your seating height or get an angle that fights off unwanted glare. You can swap it out for a VESA mount, but we think it's completely unnecessary unless you have multiple screens or would want to save space.
The Gigabyte M27Q also uses the usual DisplayPort 1.2 and dual HDMI 2.0 combination, but it also includes a USB-C slot that can be used for video input. This design comes in handy for the monitor's KVM feature which lets you control two different PCs using the monitor and a single set of peripherals. You also get a pair of USB 3.0 ports for accessories and a 3.5mm jack for headphones or speakers.
The Gigabyte M27Q doesn't have a pair of speakers in its chassis. That's okay since most will use headsets anyway, but those tiny cans can be useful for daily tasks such as conference calls or even background music while working. Its acceptable since the monitor is already quite affordable, especially if you consider its other aspects such as its gaming performance and KVM.
Display and Performance
The Gigabyte M27Q sports a 27-inch IPS panel with a 2560 x 1440 resolution, a 170Hz maximum refresh rate, and a 0.5ms boosted response time. The backlight is higher on this model at 350 cd/m2, but its contrast ratio isn't comparable to the VA variants at 1000:1. Gigabyte advertises DisplayHDR 400 compatibility, but we all know that its benefits are limited and mostly unnoticeable.
1440p in a 27-inch screen and its resulting pixel density is great for all-around use since it is the sweet spot for visibility and sharpness. Games will look noticeably crisper and cleaner, but users won't struggle with other tasks such as reading walls of text or browsing. It will take a high-end card to run games at 170 FPS, but it's still easier compared to 4K.
The Gigabyte M27Q is capable of vibrant colors with more than 100% sRGB and around 93% DCI-P3 coverages. The default accuracy needs a bit of tweaking since the deltaE average reached as much as 3.13 at default. It's not bad for gaming and many will not notice the errors, but some shades can look imbalanced or warm at times.
The good news is you can get away with a few tweaks to correct the Gigabyte M27Q's color accuracy and temperature. Calibrating isn't worth it since the dE average only improved to 1.45. You can use a colorimeter if you already have it, but we don't recommend spending the extra which will put you in range of better pre-calibrated monitors.
The Gigabyte M27Q's backlight can get searingly bright at 390 cd/m2, but its contrast ratio is less impressive at 940:1 at 50% brightness. You can't expect true blacks or appreciable HDR performance from it. The screen can look a bit washed out when used in the dark, especially when black or dark colors are dominating the screen.
The sample of the Gigabyte M27Q did not show any major uniformity issues on the screen so it looked even across the entire display space. There are some minor leaks at the top and bottom bezel, but it wasn't enough to ruin the experience. However, this aspect varies wildly between every unit, so it's possible to get one with worse symptoms.
One of the Gigabyte M27Q's key strengths is its pixel response time which is already great even if you don't use overdrive. The monitor only displays very minor smudges or blurring in fast-paced scenes, so it won't be an issue even if you play competitive titles. Setting the overdrive to its Picture Quality setting is the best option for this model.
Another particular feature of the Gigabyte M27Q is its KVM feature which is quite easy and smooth to use. It works best with a gaming PC and a workstation computer like a MacBook Pro for switching between games and work. Streamers can also use it for switching in between games and the supporting applications, so there is some value to the feature even if it belongs in a niche segment.
The Gigabyte M27Q is a FreeSync gaming monitor, but it also works flawlessly with Nvidia's G-Sync Compatible Mode. Owners are free to choose which GPU to buy when the time to upgrade comes, so you can keep the M27Q for quite some time. Input lag sits at 4ms at 170Hz, so there is no need to worry about delays while gaming.
Thoughts on the Gigabyte M27Q
The Gigabyte M27Q is a well-rounded gaming monitor with a great IPS panel that goes up to 170Hz with decent color performance and responsiveness. It needs a bit of tweaking in our opinion, but we know some gamers will appreciate the oversaturation in some instances. The added features such as its KVM controller and FreeSync/G-Sync compatibility will help it appeal to gamers who are rapidly becoming more sophisticated in choosing their gear.
However, the Gigabyte M27Q isn't perfect and its VA counterparts are better in some ways. Similar IPS-equipped options like the Asus VG27AQL1A have better performance numbers even if they are a bit more expensive. However, price is where this monitor cracks the comparison since it's at least a hundred bucks cheaper, providing fantastic value for consumers all around.
Pros:
Very Low Price for a 170Hz Monitor
Great Post-Calibration Results
Smooth KVM Functionality
Excellent Pixel Response Time
FreeSync and G-Sync Compatible
Cons:
Mediocre Color Accuracy and Contrast at Default
Stand Doesn't Swivel or Pivot
USB-C Charging Very Limited
About the Author: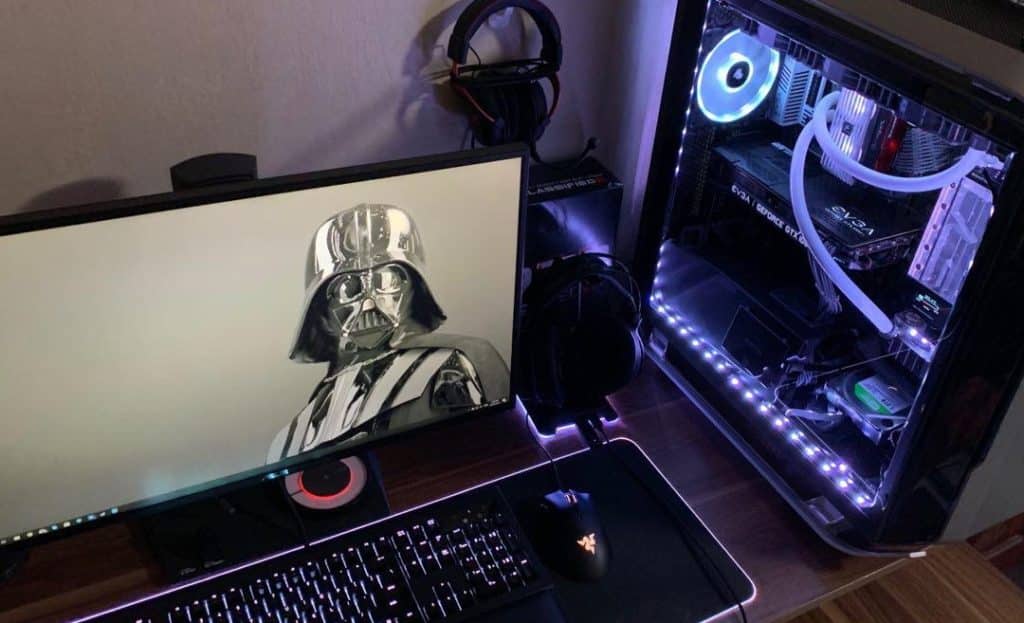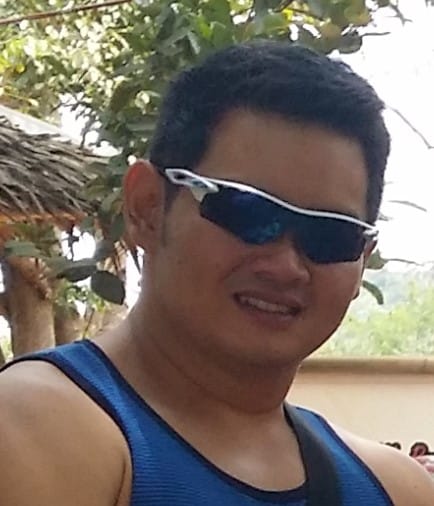 Paolo is a gaming veteran since the golden days of Doom and Warcraft and has been building gaming systems for family, friends, and colleagues since his junior high years. High-performance monitors are one of his fixations and he believes that it's every citizen's right to enjoy one. He has gone through several pieces of hardware in pursuit of every bit of performance gain, much to the dismay of his wallet. He now works with Monitornerds to scrutinize the latest gear to create reviews that accentuate the seldom explained aspects of a PC monitor.