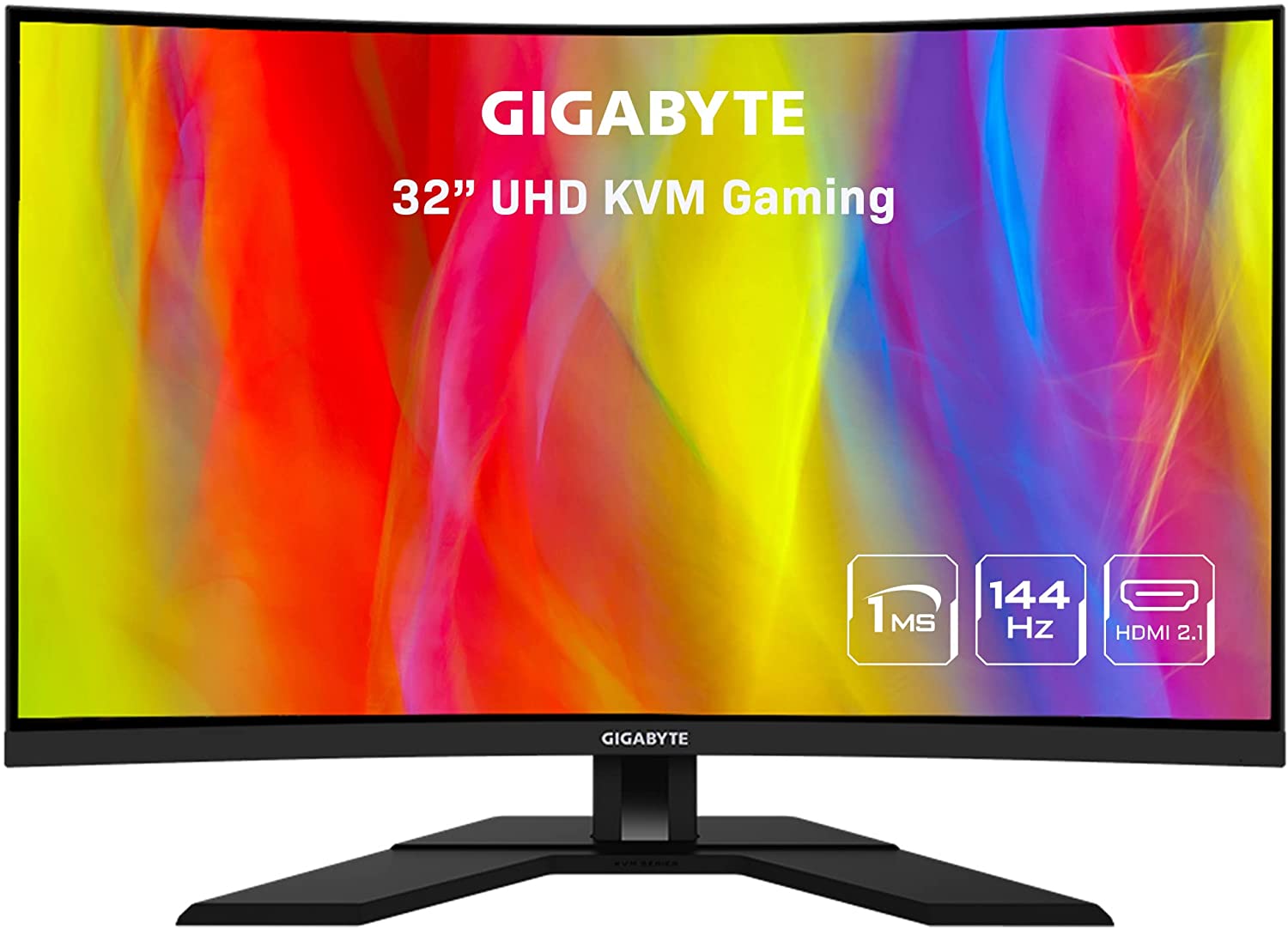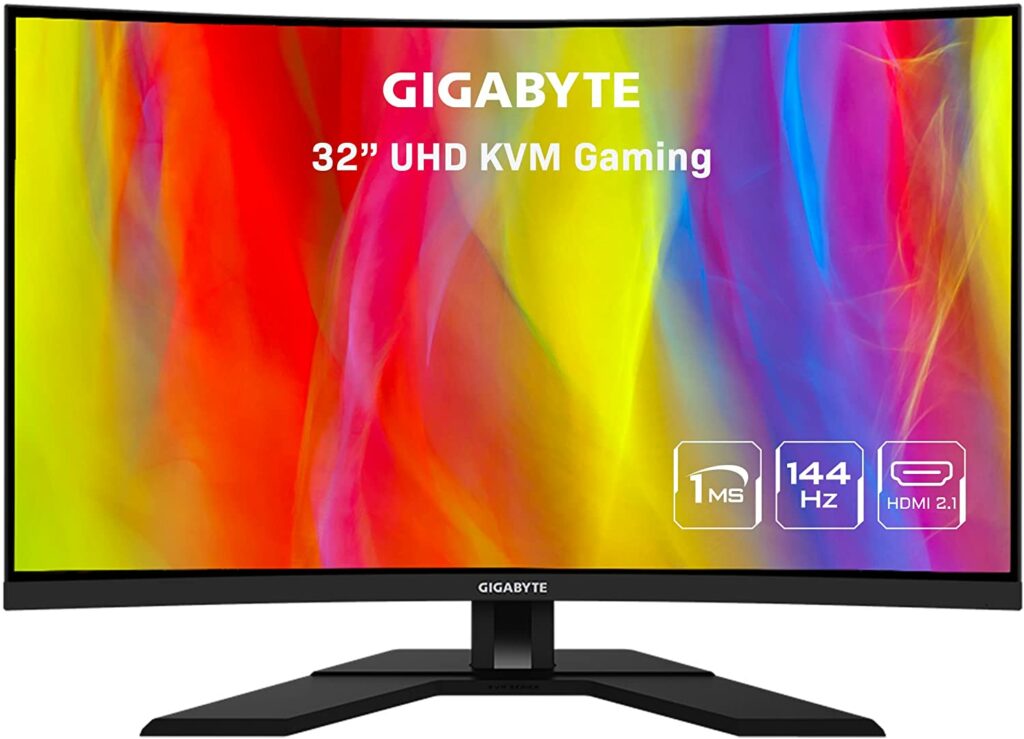 The Gigabyte M32UC is a 4K 160Hz monitor that was designed for multi-platform gamers who want great performance at a reasonable price. It uses a curved VA panel which is better for immersive gaming thanks to its unique shape and extended contrast. The Gigabyte M32UC offers tremendous value at its current price point, but let's see how it compares to the excellent IPS-based M32U.

Gigabyte M32UC Specifications
Screen Size: 32 Inches
Resolution:3840 x 2160 UHD
Aspect Ratio: 16:9
Panel Technology: Vertical Alignment (VA)
Refresh Rate: 144Hz (160Hz OC)
Response Time: 1ms MPRT
Contrast Ratio: 3000:1
Brightness: 350 cd/m2 (400 cd/m2 Peak)
Built-in Speakers: Yes (2 x 3 Watts)
Stand: Height – Yes
Stand: Tilt – Yes
Stand: Swivel – No
Stand: Pivot– No
VESA Compatibility: Yes (200 x 200)
Connectivity: DisplayPort 1.4 DSC x 1, HDMI 2.1 x 2, USB-C x 1, USB 3.1 x 3, 3.5mm Jack x 1
Dimensions With Stand (WxHxD): 28″ x 21.9″ x 7.2″
Weight: 17.2 lbs

Design and Features
The Gigabyte M32UC uses the same aesthetic as the other non-Aorus Gigabyte monitors so it may look like an office display to some. It has a matte black aesthetic all over, but it has a noticeable bulge since it's a curved display, unlike the M32U which is flat. The display is bezel-free on three sides, but you will still see inner borders when the screen is in use.
It's a big monitor, so you might want to scope out how much desk space you have for it before pulling the trigger. It is only a few inches short of an ultrawide monitor's width, so it can offset your desktop speakers if you have any. The good news is it's lightweight and only eats up 7.2 inches of depth from your desk, unlike its predecessor.
The monitor has decent build quality even if it's lighter than similar-sized monitors on the market. It uses plenty of plastics, but it is reasonably durable to resist cracking and flexing when moderate force is applied. The stand is stable enough to hold the cabinet's size and weight, although it can still slightly wobble if you nudge the monitor accidentally.
The Gigabyte M32UC has an OSD joystick and a dedicated KVM button so you can access its features seamlessly. It's easy to get to a specific setting while switching between host devices without swapping out the mouse and keyboard. All it's missing is a remote at this point, but they aren't entirely necessary for regular use.
The stand included with the Gigabyte M32UC offers tilt and height adjustments, but the latter has a limited range so the monitor can still sit low for some people. It doesn't swivel like the M32U, but that's understandable since this is a curved display. You can use VESA mounts if you need more flexibility, but that's only necessary for specific circumstances.


The Gigabyte M32UC's main highlight is its connectivity layout which can accommodate a powerful PC and the latest gaming consoles. It has a DisplayPort 1.4 slot with DSC  and two HDMI 2.1 slots, plus a 15-watt USB-C slot with DP Alt Mode. You also get three USB 3.1 slots that allow you to connect your peripherals and use its KVM functionality.
You also get a pair of 3-watt speakers with the monitor to complete the package, but they aren't powerful enough for gaming and entertainment. The pair cannot provide a decent bass response and they start to distort when you increase the volume. It is nice to have an extra set for basic tasks such as conference calls, but we recommend sticking with headsets to enjoy this display.
Display and Performance
The Gigabyte M32UC boasts a 32-inch 1500r curved VA panel with a 3840 x 2160 resolution, a 160Hz overclocked refresh rate, and a 1ms MPRT response time. The backlight has a 350 cd/m2 rating and a 400 cd/m2 peak while its contrast ratio is listed at 3000:1 like most VA panels. This model is certified for HDR 400, but we all know how limited that is when it comes to imaging improvements.
4K is easier on the eyes if it's on a bigger screen like this model since the pixels aren't too tightly bunched up. Its easier to browse, process documents, and read with it since the letters do not become too small as it does on 27-inch variants. Note that the extra pixels are still there, so you won't lose the sharpness and level of detail which are synonymous with the 4K branding.
The Gigabyte M32UC renders more than 100% sRGB and 86% DCI-P3 for good color reproduction in games and movies. It is not very accurate out of the box, but it's 2. 68 deltaE average isn't too far from what the M32U managed. Most users won't feel the need to calibrate the screen since it sits just right for its intended usage.
But on the other hand, calibrating the Gigabyte M32UC reduced its dE average to an impressive 0.88. You are going to need a colorimeter to achieve this, and those only become necessary if you will use the monitor to make money. You can also use the monitor's accurate sRGB mode if you need to, but it locks out crucial settings in the OSD.
The Gigabyte M32UC's backlight reached 488 cd/m2 in SDR and it peaked at 501 cd/m2 when its HDR mode kicked in. its contrast, on the other hand, reached 2899:1 at 50% brightness, enabling the display to produce deep blacks and rich saturation levels. It is surprising that the backlight pumped out that much, although it's still incapable of great HDR performance since it doesn't have local dimming.
Its panel uniformity had some issues at the top and bottom edges when it displays dark or all-black images. Some clouding became noticeable in those instances, although it's not as noticeable in full-color or white backgrounds. Note that this isn't permanent for the entire M32UC line since there are manufacturing tolerances so it's entirely possible to get a better unit.
The Gigabyte M32UC is still bound by the limitations of VA panel technology, so it is prone to blurring in fast or contrasting transitions. Setting the monitor's overdrive to its Picture Quality setting is your best bet since it's the only one that doesn't induce overshoot. You also need to keep your framerate high and stable to help avoid blurring and ghosting.
The Gigabyte M32UC is compatible with both FreeSync and G-Sync so you don't have to worry about losing VRR if you switch GPU brands. It's also important to note that you can only use VRR up to 144Hz since overclocking the panel will lock the feature out. Input lag sits at 5ms at 144Hz, so there is no need to worry about delays while gaming on your PC, PS5, or Xbox Series X.
Thoughts on the Gigabyte M32UC
The Gigabyte M32UC presents great value in its segment if you consider its gaming and imaging performance together with its current price. The VA panel's higher contrast makes it attractive for immersive gaming, plus it's decently accurate out of the box. It's not as feature-packed as the Aorus FI32U, although we know that each one of the add-ons has a corresponding effect on its price.
However, it isn't perfect just like most monitors that have lowered price points and premium-level features. Its flaws are minor and acceptable, especially since you are getting a high-refresh 4K screen with HDMI 2.1 connectivity. It's a great alternative to the M32U if you want more contrast for immersive gaming.
Pros:
Good Gamut Coverage and calibrated Accuracy
Includes HDMI 2.1 and USB-C
Reasonable Price
Excellent Brightness and Contrast
Cons:
No VRR at 160Hz
USB-C Limited to 15 Watts
Dismal HDR Performance
About the Author: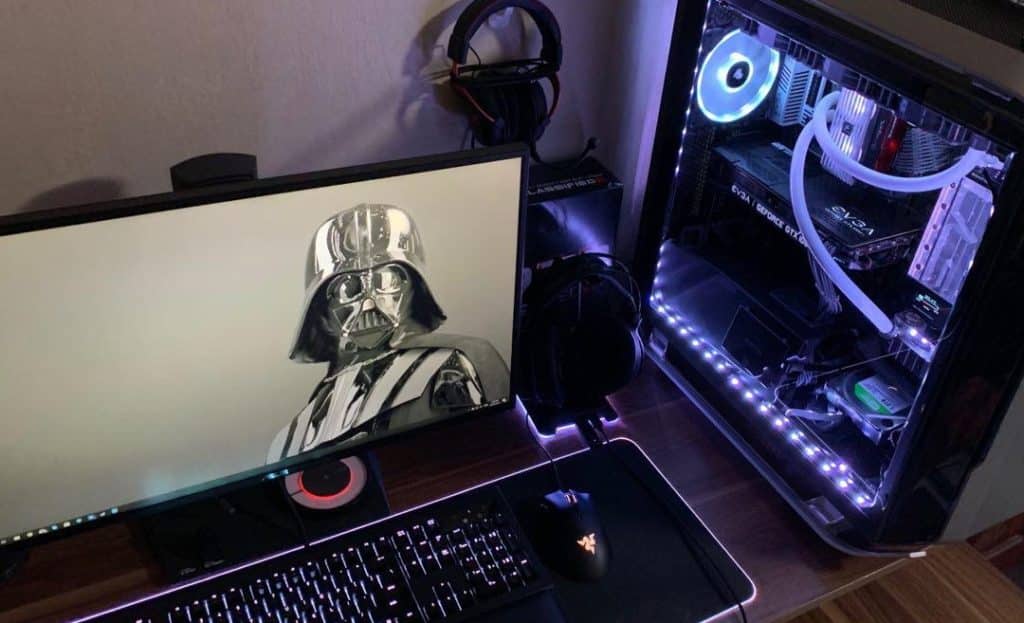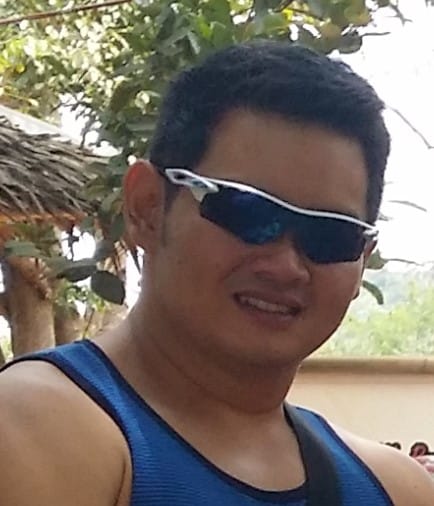 Paolo is a gaming veteran since the golden days of Doom and Warcraft and has been building gaming systems for family, friends, and colleagues since junior high. High-performance monitors are one of his fixations and he believes that it's every citizen's right to enjoy one. He has gone through several pieces of hardware in pursuit of every bit of performance gain, much to the dismay of his wallet. He now works with Monitornerds to scrutinize the latest gear to create reviews that accentuate the seldom explained aspects of a PC monitor.