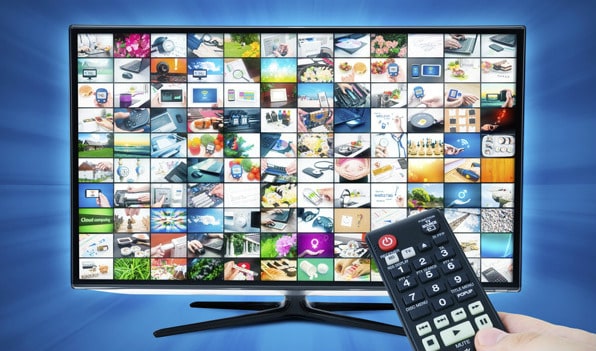 Using a monitor to watch TV is a practical choice nowadays since buying a TV just to watch cable or to stream Netflix is an additional costly purchase. With the advancements in gadgets, connectivity, and display technology itself, connecting a monitor to your cable box or TV tuner has never been easier. Streaming Hulu or Amazon Prime Video is great, but with the Winter Olympics coming up, you may just want to watch the free over the air television signal.  Here are the necessary steps and hardware you need to watch your favorite shows, sports events, and news on your PC monitor for gaming or professional use.
Why Use a Monitor With a TV Tuner or Cable Box?
The first obvious reason to use a monitor to watch TV is to save money. LCD TVs have dropped in cost recently, but buying an additional display for a single purpose eats up valuable resources and finances. Computer displays also have crisper outputs due to the denser pixels in each square inch on the screen.
In some instances, monitors can appear smoother with less smudging since typically, their pixel transition times are faster than a TV. It also helps that this type of product includes various types of connections, allowing users to add cable or tuner TV capabilities and even a gaming console to the mix.
How To Watch TV on a Monitor with a TV Tuner or a Cable Box
1. Check Your Monitor and your Gear
The first thing you need to know is if your monitor can support TV signals from a Tuner or your cable box. By today's standards, most of these devices use HDMI as the main signal input/output line. If your monitor runs a 1080p resolution, there should be no issues. But keep in mind that newer devices require at least a 720p output for it to work.
Another important aspect is if your display is HDCP compliant which is sort of like a DRM that protects HD and UHD content from piracy. If your monitor's HDMI input does not support HDCP, it will not be able to decode the signal, defeating the purpose of this endeavor.
You should also check if your monitor and cable box/TV tuner include built-in speakers or a 3.5mm jack so you can connect your desktop speakers or headset directly. If there isn't an option for any of these, you will need an adapter or sound extractor which we will explain later on.
2. Connect Your Monitor, Cable Box, and Speakers
If your monitor checks all of the items mentioned above, you are almost home free. Connect your TV box to the monitor via HDMI and plug your speakers into the device which has the necessary 3.5mm input. Most of the time, everything is plug and play, but some setups may require minor tinkering in the monitor's OSD and the tuner or box's remote to select the correct inputs or outputs.
If your monitor is HDMI compatible but there is no audio, you might need to use an HDMI audio extractor like the one below. The J-tech Digital Audio extractor comes in different configurations which include 3.5mm, optical, or RCA connectors. Make sure to check which type of plug your external speakers will use since this gadget can reach as much as fifty bucks.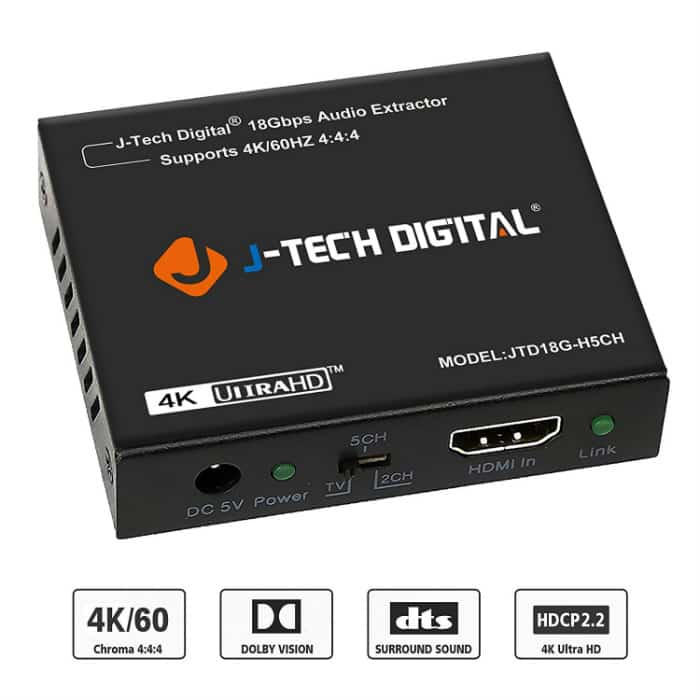 J-tech Digital Audio Extractor
On the other hand, if you are using a monitor with legacy connectors such as DVI or VGA, you can also use the TNP HDMI to DVI converter. This device will translate your HDMI signal to DVI while extracting audio to a 3.5mm auxiliary jack. Take note that this adapter only supports 1080p and 720p. Use this item only as necessary, since adapters like these sometimes do not work correctly on every model available.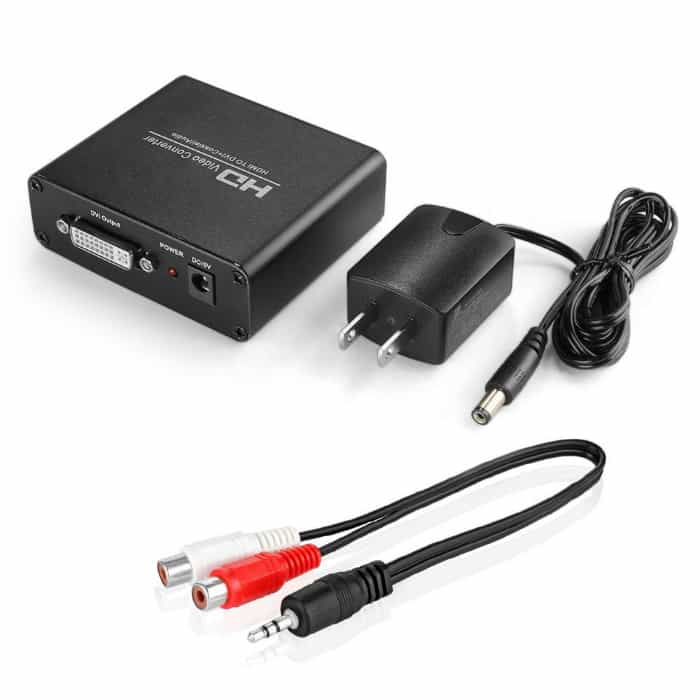 TNP HDMI to DVI Converter
How to Use a Monitor with a TV Tuner
1. Check if Using a TV Tuner is Feasible for You
If you want to watch local broadcasts instead of cable TV, you can use TV antennas and a TV tuner for your monitor. But before anything else, check out http://dtv.gov/maps to see which channels are available for your area. TV signal reception varies from area to area, affecting broadcast signal strength and clarity. Another website you can check out is AntennaWeb which lists down available channels via this procedureConnect your Monitor, TV Tuner, and Antenna
2. Setup your TV Tuner Gear to use A Monitor to Watch TV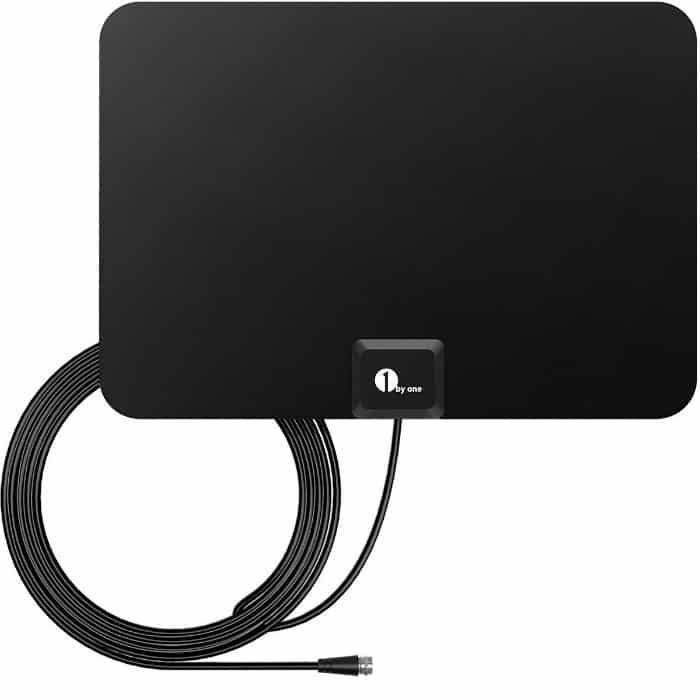 1byone HDTV 35-Mile Indoor Antenna
Just like with cable TV box use, you will need an HDMI-compatible monitor and external speakers if there aren't any. But the most important gear you have to consider after that is the antenna, which dictates how clear the broadcast will be for you. For those in the city, a 35-mile antenna will suffice, but those on the outskirts may need anywhere from 50 to 75 miles.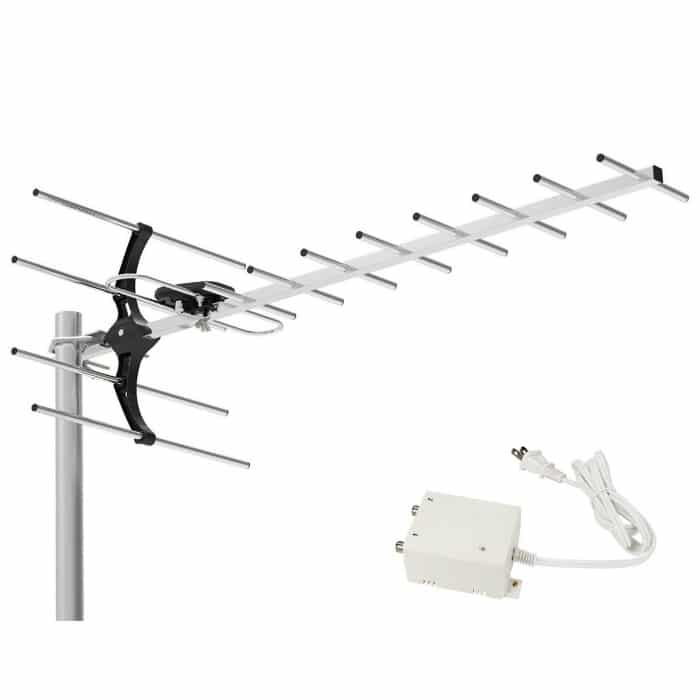 1byone 80-Mile Digital Amplifier Antenna
A clear and stable signal is much more guaranteed if you get an antenna with a wide range in case there are a lot of obstructions in your neighborhood (such as tall buildings or trees). After choosing your antenna, you will need a TV Tuner since monitors don't come with a built-in set. Most models come with an HDMI connector, but you may need an RCA to 3.5mm cable for your speakers to work with this setup.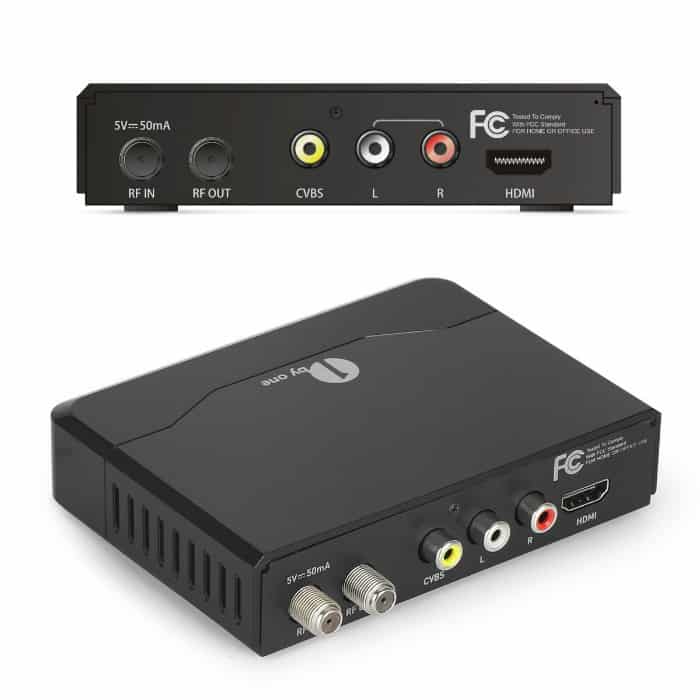 1byone Digital ATSC TV Tuner
Connect the antenna to the RF jack on your tuner while running an HDMI cable from there to your monitor. If you have to use external speakers, connect it to the tuner which will decode the audio from the signal for you. After connecting your devices together, you may once again need to open up OSD menus to select proper inputs and outputs.
If the signal isn't as clear or is a bit fuzzy, try adjusting the direction or location of antenna until you get better reception. To avoid these issues, consider buying an antenna that has a wider range than what is needed so it can catch broadcasts better.
How to Stream TV or Movies on your Monitor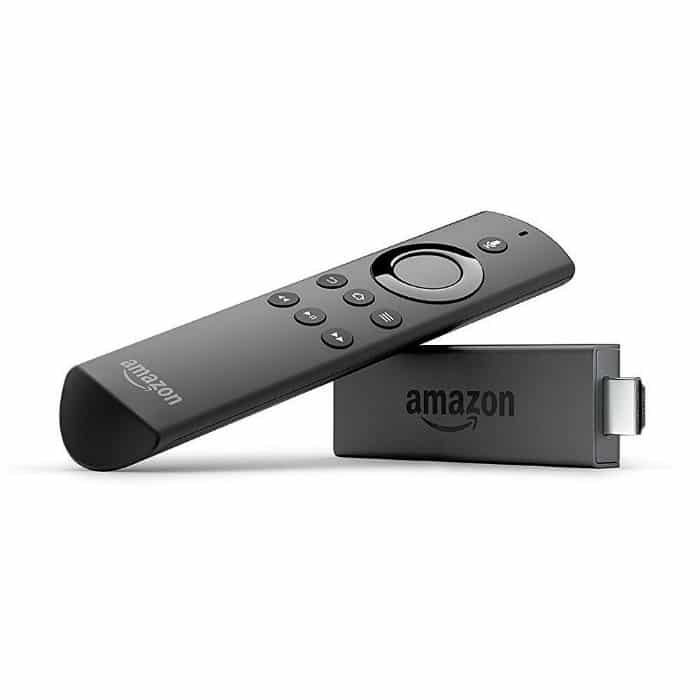 Amazon FireTV with Alexa Remote
This setup is the easiest since you only need to purchase the Google Chromecast or Amazon FireTV which is around $20 to $50 on most retailers. This gadget connects directly to your monitor's HDMI connector and is configurable via your mobile phone. Some cable services such as DirecTV let you stream cable popular channels for an additional fee, making your viewing much more convenient.
Take note that you might once again need external speakers that can connect to your monitor via its auxiliary jack. Once again, make sure that the HDMI input you are going to use is HDCP compliant to ensure that your display can decode the audio and video stream from your Chromecast dongle
Thoughts on Using Monitors to Watch TV
Adding TV or cable as a secondary function for your gaming or design monitor adds tremendous value to your setup. Most graphics cards nowadays use DisplayPort as an input, leaving your HDMI slots free for other excellent purposes such as watching TV or adding a gaming console. If, however, you have an HDMI only screen, you may also use an HDMI splitter for an additional cost.
Using monitors to watch TVs shouldn't cost you over a hundred bucks if you follow this guide. Simply make sure that your hardware is compatible with the requirements mentioned above, and you are good to go. Cheers!