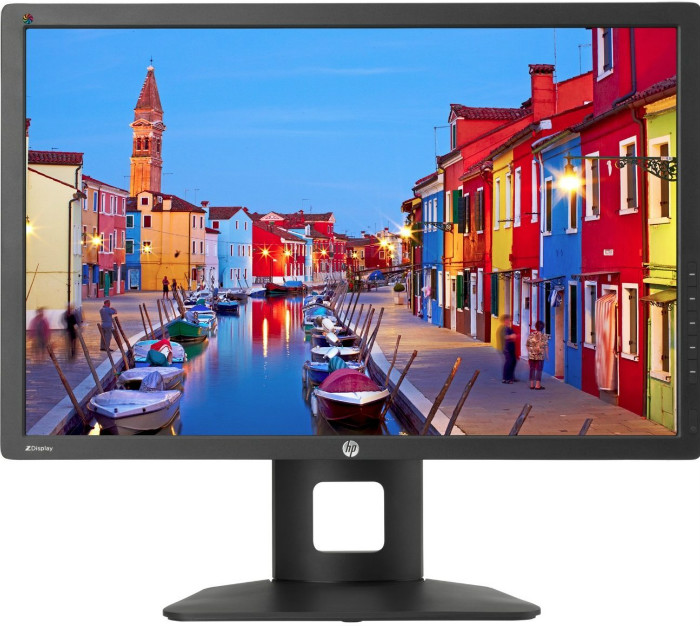 The HP DreamColor Z24x G2 is a regular-sized professional monitor designed to offer accurate reproduction and valuable utility to meticulous designers. This product costs twice as much as other similar-sized mainstream options, but its potential for stellar performance just might be worth that much. Artists and photographers should check the HP DreamColor Z24x G2 out for its color accuracy and fair price which is a bit high for a 24-incher, but easier on the pocket as far as designer monitors go.

HP DreamColor Z24x G2 Specifications
Screen Size: 24 Inches
Resolution: 1920 x 1200p WUXGA
Aspect Ratio: 16:10
Panel Technology: In-Plane Switching (IPS)
Refresh Rate: 60Hz
Response Time: 6ms
Contrast Ratio: 1000:1 (Static)
Brightness: 300 cd/m²
Built-in Speakers: No
Stand: Height – Yes (4.7 Inches)
Stand: Tilt – Yes (-5°/+20°)
Stand: Swivel – Yes
Stand: Pivot – Yes
VESA Compatibility: No
Connectivity: DisplayPort 1.2 x 2, HDMI 1.4 x 1, DVI-D x 1, USB 3.0 x 5, 3.5mm Audio Jack
Dimensions with Stand(WxHxD): 22" x 20.7" x 9.4"
Weight: 15.4lbs

Design and Features
The HP DreamColor Z24x G2 utilizes an industrial look which emphasizes more on its functionality, unlike its cousins in the brand's other line which appear luxurious. The bezels are less than an inch thick on all sides, and while it doesn't look that bad, they do create a utilitarian look. The product comes in matte black and a texture that doesn't attract dust or fingerprints, so it's relatively easy to keep it looking new.
We like how HP placed the OSD and power buttons on the right bezel which doesn't improve on its aesthetics, but on the other hand, makes it accessible to users. The rear makes it look like the HP DreamColor Z24x G2 was from the mid-2000's, although we are glad that the bulge is within reasonable limits. At the center is where the stand connects to the cabinet, although there are no VESA holes on it so you will need an optional adapter if you want to use other mounting options.
But judging from robust-looking stand, you won't need to explore armatures or wall mounts since this part includes excellent articulation. You can tilt, swivel, and pivot plus you have a height adjustment of nearly 5 inches, making it easy to configure the HP DreamColor Z24x G2. The build quality of the product feels solid as well, and together with the 15lb weight, holding it seems like you have a tank in your hands.
The HP DreamColor Z24x G2 is well-equipped in the connectivity department since it includes everything you will need for practical operation. There are two DisplayPort 1.2s, an HDMI 1.4 slot, a DVI-D connector and five USB 3.0 ports. Two of the latter are located in the hub accessible from the left, so you can easily connect thumb drives or peripherals.
We've seen a better-equipped I/O layout on the ViewSonic VP2468, although the HP DreamColor Z24x G2 already has every essential covered. The one thing missing is a pair of built-in speakers which could provide soothing hums of background music while you work. For almost half a grand, we expected a decent pair at least.
Display and performance
The HP DreamColor Z24x G2 features a 24-inch IPS panel with a 1920 x 1200 resolution, 60Hz refresh rate, and 6ms response time. A contrast ratio of 1000:1 and max brightness of 350cd/m2 are specified, and while these specs are typical, what sticks out is the 16:10 contrast ratio. Many of today's users aren't familiar with this form factor, but its primary advantage is it adds vertical space to your view.
The functions of the HP DreamColor Z24x G2 are focused on six colors presets which you can individually calibrate. The selection includes Adobe RGB, sRGB, BT. 709, Native, User Defined, and Adjust sRGB. The latter utilizes the panel's native RGB and gamma capabilities but allows you to choose between warm, cool or neutral color temps.
Even if the product comes factory-calibrated with a full report included in the package, you can maximize the screen further according to your tastes. Even if you don't get advanced settings such as six-axis calibration, you can squeeze every ounce of accuracy from the HP DreamColor Z24x G2 with the help of a colorimeter. The monitor and HP's proprietary calibration software are designed to work with popular devices like the X-Rite i1Display Pro.
If you have access to a calibrator, the HP DreamColor Z24x G2 can deliver accurately vibrant colors with a DeltaE well below the ideal 2.2 score. Each shade is represented accordingly without any skewing, so images appear evenly saturated and lifelike. Contrast isn't an issue as well since grayscale performance is top-notch, while the deep blacks help to create eye-popping images.
For designers who game casually and regularly, the HP DreamColor Z24x G2 might not be a good fit if you only have room for a single display. The product doesn't come with FreeSync compatibility plus it registered an average of 35ms of input lag, meaning there will be delays from input to output. The 6ms response time doesn't help either since it produced noticeable motion blur from time to time.
Thoughts on the HP DreamColor Z24x G2
The HP DreamColor Z24x G2 is a fantastic monitor for professionals who want accurate reproduction and clarity. While not as crisp as a 1440p screen, the added pixels from the 16:10 aspect ratio increases view space by a bit for productivity. The added flexibility of hardware and software calibration suggests that every visual preference is within reach.
To sum it up, the HP DreamColor Z24x G2 means business when it comes to imaging quality, but that is where it fails for after-hours gamers. The massive input lag and the absence of FreeSync means that this monitor is hardly suitable for any gaming. For the price which can be considered affordable in the designer segment, we expected even a fraction of gaming viability.