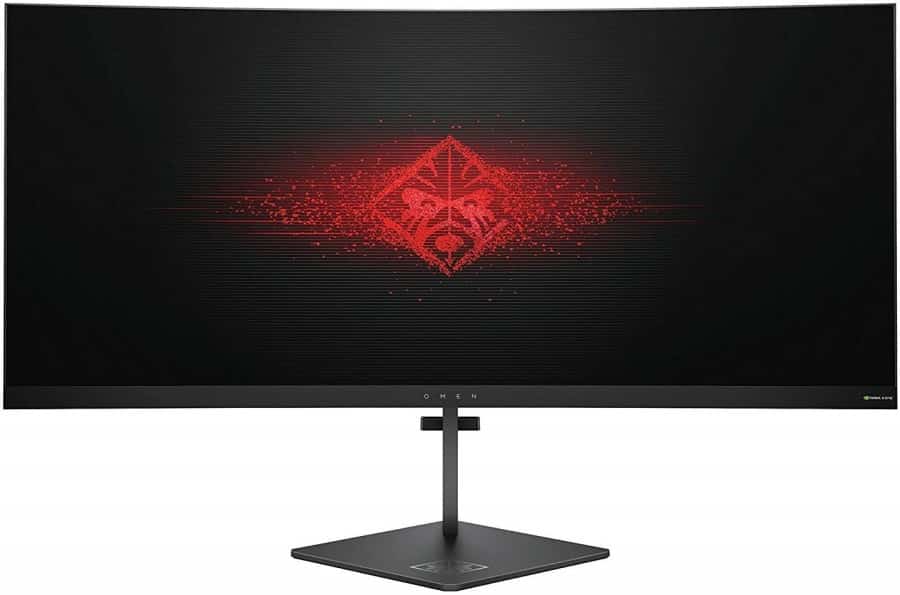 The HP Omen X35 offers an immersive ultrawide screen that has smoothness in mind with its 100Hz refresh rate and G-Sync. Its also one of the most aesthetically pleasing in its category thanks to the minimalist design HP applies to its Omen line. The HP Omen X35 isn't top of the line by today's standards, but does its reduced pricing make it one of the best for the money?

HP Omen X35 Specifications
Screen Size: 35 Inches
Resolution: 3440 x 1440  UW-QHD
Aspect Ratio: 21:9
Panel Technology: Vertical Alignment (VA)
Refresh Rate: 100Hz
Response Time: 4ms
Contrast Ratio: 2500:1 (Static)
Brightness: 300 cd/m²
Built-in Speakers: No
Stand: Height – 4.8 Inches
Stand: Tilt – Yes
Stand: Swivel – Yes
Stand: Pivot – No
VESA Compatibility: Yes
Connectivity: DisplayPort 1.2 x 1, HDMI 1.4 x 1, USB 3.0 x 4, 3.5mm Audio Jacks
Dimensions (WxHxD): 33.8″ x 94″ x 12.95"
Weight: 26.46lbs

Design and Features
The HP Omen X35 looks like it belongs in a studio more than an RGB-fied gaming setup thanks to its slim proportions and cleaner design. The chassis is noticeably slimmer, while the weave pattern on the matte black chassis adds a subtle hint of class. The display area is bezel-free on three sides, which gives the impression that the screen is larger than it is according to the dimensions.
Build quality for the HP Omen X35 is superb, thanks to the brand's excellent choice of materials. The metal stand gives the device sufficient stability, while the plastic panels are manufactured perfectly to avoid burrs or uneven seams. The device also doesn't wobble, but the upright cannot hold the screen at the maximum height since its too heavy.
As mentioned, you can adjust the height of the HP Omen X35 or tilt the chassis, but that's about it for ergonomics. You can't use a monitor like this in portrait or at a swiveled angle anyways, but you can opt for a VESA mount if you need to. It's also worth noting that the orientation of the base makes it consume more than a foot of depth, so be ready with a massive and deep desk if you are upgrading to this product.
You can, however, use the footing's surface as stowage or you can place your keyboard over it since its flat. The placement of the upright gives you a deep area to utilize, plus, it allows you to push the monitor closer to a wall.
We're disappointed that the HP Omen X35 doesn't have a joystick for the OSD since it is a premium monitor. The functions are controlled by a button layout on the side which you have to stretch out to reach due to the size of the display. The good news is there is only three, so you won't have to be master button-presser to avoid mistakes or confusion.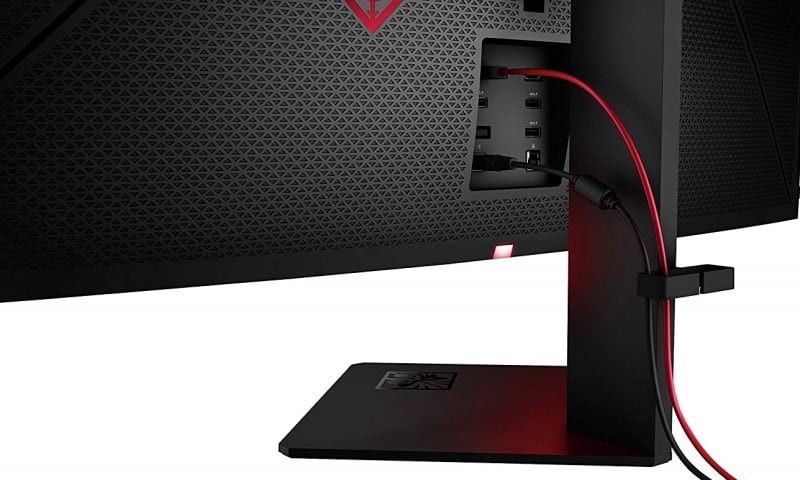 The HP Omen X35 is a G-Sync gaming monitor, so Nvidia's proprietary FPGA controller comes pre-installed into its control board. This means that you only get DisplayPort 1.2 and HDMI 1.4 for video inputs which limit the flexibility of the display. HP did manage to squeeze in four USB 3.0 slots for accessories, unlike the first few G-Sync variants which totally omitted them.
There is also a 3.5mm jack on the HP Omen X35 for your headset which will most definitely be used since there are no speakers. The thin frame doesn't have space to accommodate an upsized pair which can deliver convincing sound quality. We'd prefer it if there was a premium or tuned built-in set, but they are rarely used anyway.
Display and Performance
The HP Omen X35 sports a 35-inch curved VA panel with a 3440 x 1440 resolution, 100Hz refresh rate, and 4ms response time. The backlight is set at a maximum of 300 cd/m2, while contrast is claimed to top out at 2500:1. This model's spec list is comparable to monitors like the Asus PG348Q and the Acer X34, but those models use IPS instead.
QHD ultrawides like the HP Omen X35 offer an excellent balance between detail and visibility since the pixel density is comparable to 27-inch QHD variants. You get the extra sharpness and details of a higher resolution without image softening despite the size of the screen. 3440 x 1440 monitors aren't as demanding as 4K screens, but you will still need a very powerful GPU to keep frames consistently near the 100Hz limit.
The HP Omen X35 provides excellent color quality by today's standards, but it falls short of a few of the claims posted in its marketing. The VA screen is able to produce 99.5% of the sRGB gamut which is vibrant enough, while average accuracy by default sits at Delta E 2.1. Color temperature is almost perfectly sat at 6500K, so there is no need to use a colorimeter to clean the image quality.
Gamma sits at 2.15, but unfortunately, you can't do much about it apart from using a colorimeter since there are no gamma presets in the OSD. Contrast, on the other hand, misses the company's claims, but its still at a superb level of around 2150:1. Blacks are deep and inky while grayscale and color separation are well-defined as you can expect from a VA monitor.
The best you could do is to adjust the brightness to around 40%-50% to reach these results for the HP Omen X35, which has a more limited OSD. HP's factory tweaking is spot on, but we would have liked a bit more flexibility for users who want to tweak their units personally.
Responsiveness is acceptable for the HP Omen X35, but you can still expect some smudges and persistence since this is a VA-based model. The device's overdrive function does a good job at cleaning up some of the insistent blurring, but it adds a strange stutter to the graphics.
The worst attribute of the HP Omen X35 is its panel uniformity which suffered due to the clouding issues on the edges. Some quadrants. The backlight showed as much as 17% variance, affecting the contrast on the respective quadrants. The corners look washed out as a result, but this flaw could vary between unit to unit.
The HP Omen X35 is a G-Sync monitor, so its VRR capabilities will only work with an Nvidia GPU. You need a high-end card to run this monitor at its maximum with high to ultra settings, but you can get away with upper midrange cards like the RTX 2070 if you optimize your games. Input lag sits at 15ms which is slightly higher than competitive gaming monitors, but most will still not feel any delays while playing.
Thoughts on the HP Omen X35
The HP Omen X35 is a well-designed ultrawide gaming monitor that is aesthetically pleasing and capable of excellent colors. VA technology's strengths in contrast and black depth are highlighted in this model, while its weakness in pixel responsiveness is kept at a minimum. The refresh rate seems limited at this point, but it's still buttery smooth for story-driven games which are more suited for the product.
It's great that you don't need to calibrate the HP Omen X35 with a colorimeter, but the flaws brought about by the poor panel uniformity will make buyers look elsewhere. That can change between unit to unit, but there are the limitations in the OSD and the overdrive's performance.
About the Author: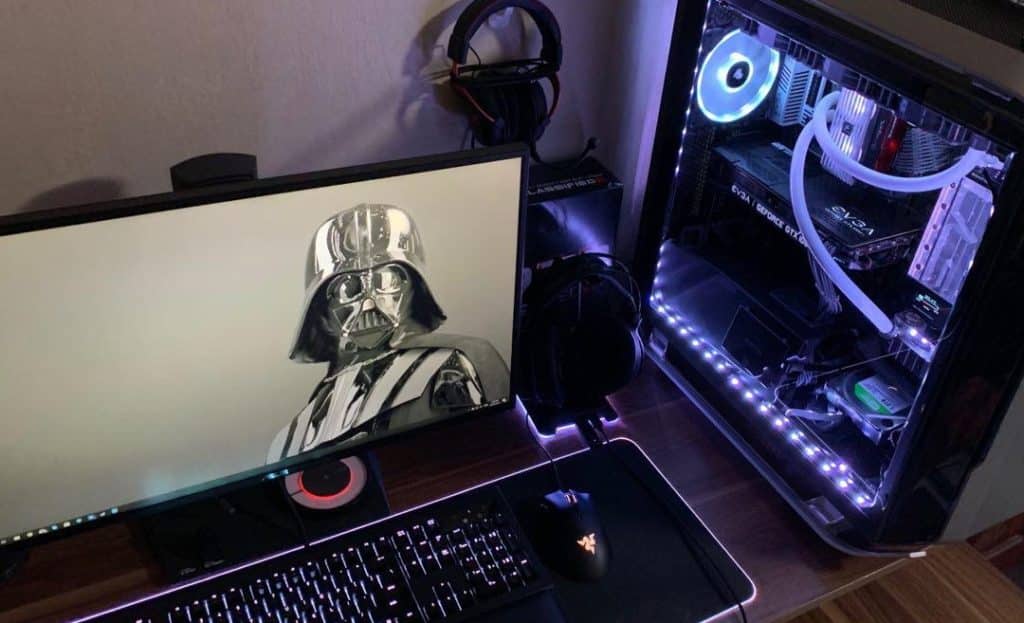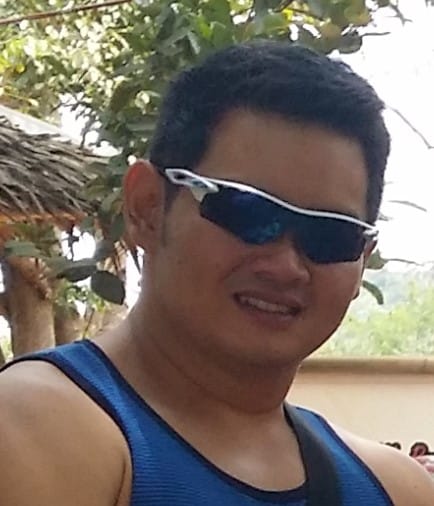 Paolo is a gaming veteran since the golden days of Doom and Warcraft and has been building gaming systems for family, friends, and colleagues since his junior high years. High-performance monitors are one of his fixations and he believes that it's every citizen's right to enjoy one. He has gone through several pieces of hardware in pursuit of every bit of performance gain, much to the dismay of his wallet. He now works with Monitornerds to scrutinize the latest gear to create reviews which accentuate the seldom explained aspects of a PC monitor.