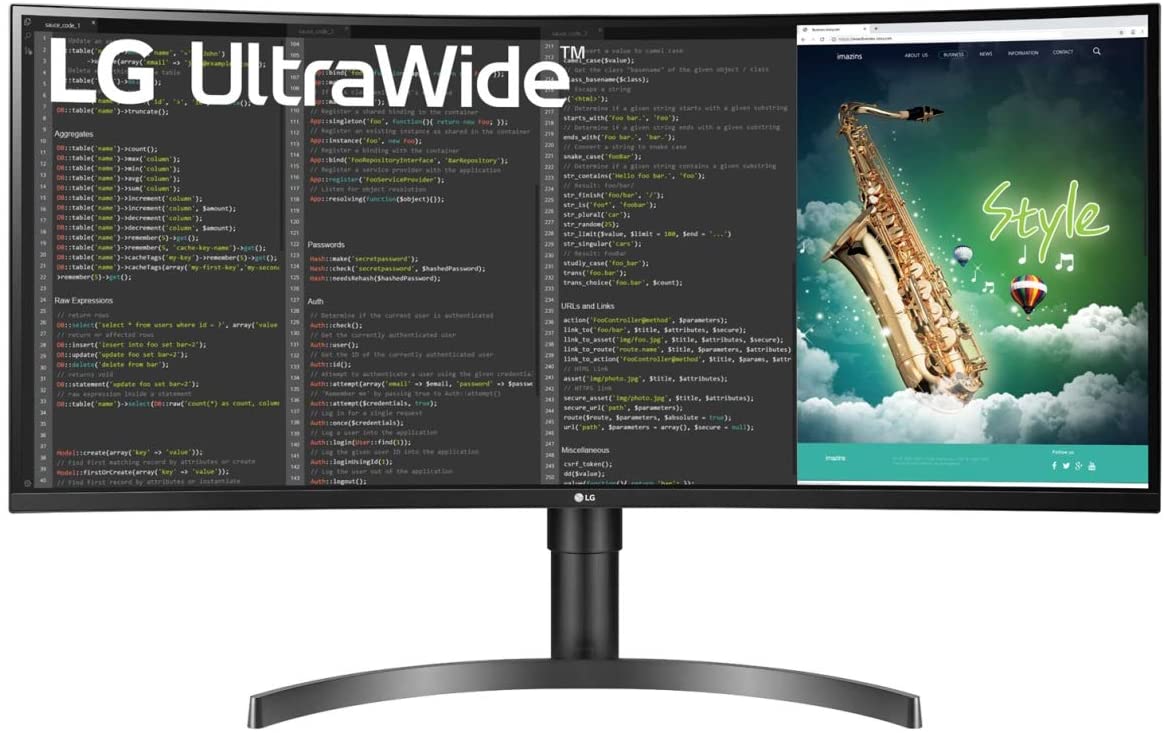 The LG 35BN75C-B was designed to bridge the gap between work and play without asking for too much money or compromising its capabilities. It has attractive features like USB-C and a high refresh rate, so professionals who also game occasionally will surely enjoy it. Let's see if the LG 35BN75C-B will excel in both scenarios based on its performance numbers.

LG 35BN75C-B Specifications
Screen Size: 35 Inches
Resolution: 3440 x 1440 UW-QHD
Aspect Ratio: 21:9
Panel Technology: Vertical Alignment (VA)
Refresh Rate: 100Hz
Response Time: 5ms
Contrast Ratio: 2500:1 (Static)
Brightness: 300 cd/m²
Speakers: Yes (2 x 7 Watts)
Stand: Height – Yes
Stand: Tilt – Yes
Stand: Swivel – Yes
Stand: Pivot – No
VESA Compatibility: Yes
Connectivity: DisplayPort 1.4 x 1, HDMI 0 x 2, USB-C PD94W x 1, USB 3.0 x 2, 3.5mm Jack x 1
Dimensions (W x H x D): 32.7" x 22.6" x 9.9"
Weight: 18.3 lbs

Design and Features
The LG 35BN75C-B mentions that it's also for gaming, but it doesn't look like the UltraGear variants which are more aggressive-looking. The device has a matte black housing so it looks discrete and will not clash with your gaming or productivity setup. The display is bezel-free on three sides, but note that you still have minimal inner borders even if they are barely noticeable.
Before pulling the trigger, you have to consider its size since it might push off peripherals or take over your desk. It's almost three feet wide and ten inches deep so it could interfere with large desktop speakers or deep full-sized boards. It is not particularly heavy at 18.3 pounds, but it's still rather easy to get unbalanced while carrying it.
Its build quality is great just like most of LG's offerings, so there is no reason to doubt its quality. The plastics used are thick and sturdy enough so they won't flex or crack with modest force. The included stand is firm and stable, although the display can slightly wobble if you nudge the screen accidentally.
The LG 35BN75C-B has an OSD joystick under the LG logo so you don't have to reach over to the monitor's rear. It also works with LG's OnScreen Control app which lets you adjust some features directly in Windows using your mouse and keyboard. It doesn't get more convenient than this, and we're glad LG implements it on almost every monitor they offer.
Unfortunately, the stand included with the package only offers tilt and height adjustments for your convenience. That's forgivable since curved monitors are meant to be centered and they are not suited for portrait viewing. You can use VESA mounts, but it is only necessary in exceptional cases like when the user has multiple screens or if the desk is too small.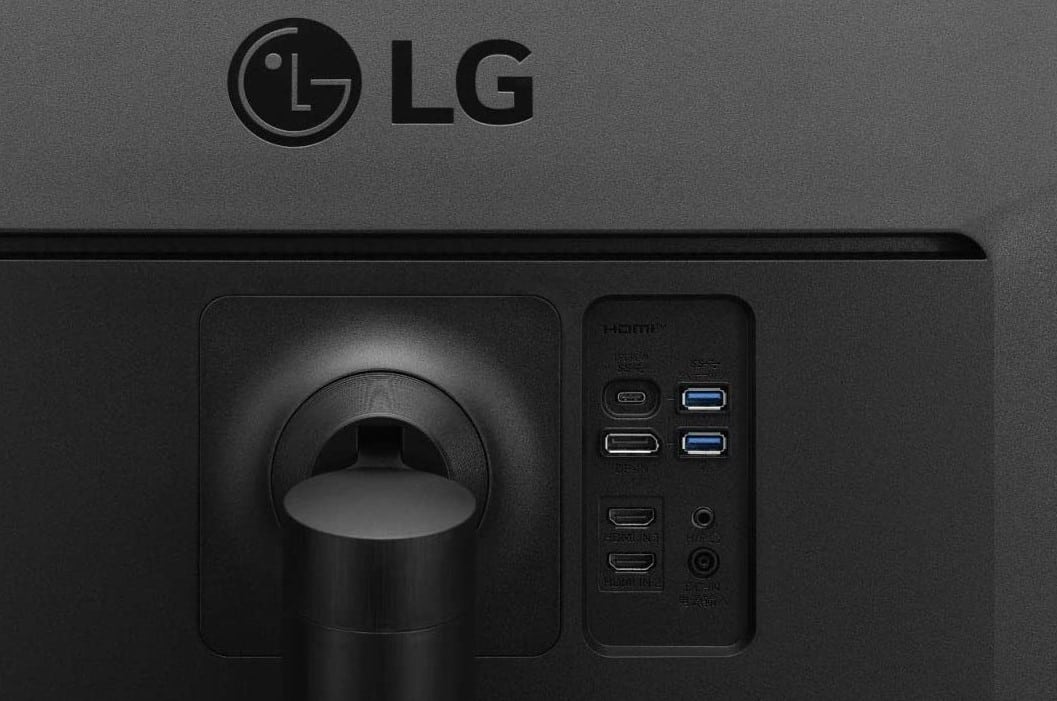 What makes the LG 35BN75C-B attractive is its connectivity layout which starts with the usual DisplayPort 1.4 and dual HDMI 2.0 ports. What's great about it is the USB-C slot which supports DP Alt Mode and up to 94 watts of charging power for laptops like the MacBook Pro. You also get two USB 3.0 slots and a 3.5mm jack for peripherals to enhance its flexibility further.
Another feature we like about this product is its pair of 7-watt MaxxAudio speakers which sound considerably better than most built-ins. Their volume and overall quality make them usable for entertainment purposes or music. However, games will always sound better with headsets or desktop speakers, but it's always nice to have upgraded extras which may become necessary at some point.
Display and Performance
The LG 35BN75C-B boasts a 35-inch 1800r curved VA panel with a 3440 x 1440 resolution, a 100Hz refresh rate, and a 5ms response time. The backlight has a 300 cd/m2 output while the contrast is listed at 2500:1. This model doesn't advertise HDR certification, but it can emulate it if it receives an HDR10 signal.
1440p ultrawides are great for both productivity and games since its naturally crisp and it has the advantage when it comes to space. It's easy to tile multiple apps across the display while games look more convincing thanks to the wide FOV and high pixel density. You will need a meatier GPU to get consistent framerates so be warned that upgrading might not stop with just the monitor.
The LG 35BN75C-B renders 100% sRGB and around 90% DCI-P3, making it vibrant enough for games and movies. Its default accuracy has a deltaE average of 1.89, so it is relatively accurate and balanced out of the box. Most users won't feel the need to calibrate it apart from adjusting some standard settings before use.
Using a colorimeter improved that dE average to 1.09, close to what a high-end prosumer display can offer. Doing this will make it more suited for editing work but note that it will be difficult with manual calibration. You need the help of a colorimeter, and those aren't cheap or practical if you are only gaming or using this product as a daily driver.
Its backlight reached 285 cd/m2 which is plenty so the screen won't look dim in well-lit rooms. Its contrast ratio reached 2605:1 at 60% brightness, so it is capable of deep and rich blacks for convincing night scenes in games and movies. This is the main draw of VA panels versus IPS or TN, and only OLEDs or those with specialized yet very expensive backlights are better.
Its panel uniformity isn't perfect since backlight leaks showed up as clouding on the upper edge of the screen. It is not noticeable in all instances, but dark scenes can sometimes reveal them, especially at night. This is a common flaw on curved panels, but not all units made have this issue since manufacturing tolerances are in play.
The main weakness of the LG 35BN75C-B is its slower pixel response time which makes it prone to blurring in fast or contrasting transitions. It would help if you used its overdrive's Faster level to help with this issue, but it cannot completely clean the screen of persistence. You have to deal with this downside to enjoy the high contrast, and we think it's a fair trade unless you play competitive titles.
The LG 35BN75C-B is compatible with both FreeSync and G-Sync, so you don't have to worry about losing VRR if you have a GPU from either brand. This duality is crucial now since GPUs are scarce and expensive, so getting a specific unit from Nvidia or AMD might not always be doable or even practical. Input lag sits at 5ms at 100Hz, so it is reasonably fast and responsive enough for competitive gaming.
Thoughts on the LG 35BN75C-B
Thanks to its performance and specifications, the LG 35BN75C-B is an excellent choice for dual-purpose setups. Its 94-watt USB-C slot makes it ideal for professional use since it allows modern laptops like MacBooks to dock while transmitting video signals and data. It's not the fastest ultrawide at this price range since you can buy 144Hz options now, but 100Hz is enough to enjoy immersive games without worrying about tearing and stuttering.
However, it isn't perfect since it's still bound by the limitations of VA panel technology, like the slow pixel response time. But overall, it's a superb choice for those who want to save money without sacrificing usability for a range of applications and situations.
Pros:
Vibrant and Accurate
Great Contrast
Excellent Build Quality
USB-C with 94 Watts
Affordable
Cons:
Prone to Blurring
Backlight Leaks and Clouding Issues
Competing Against 144Hz at the Same Price
About the Author: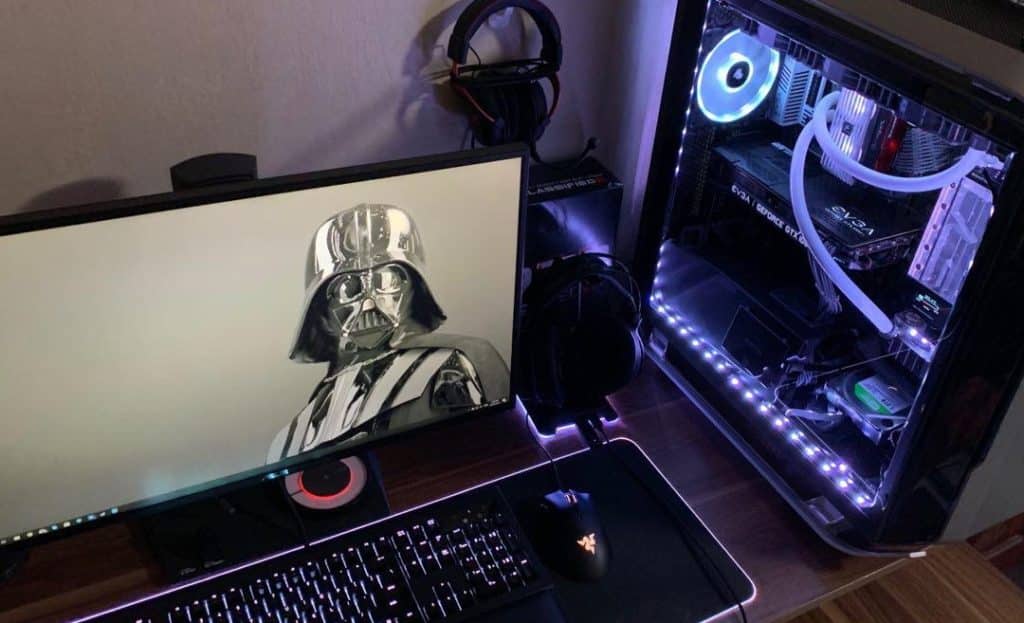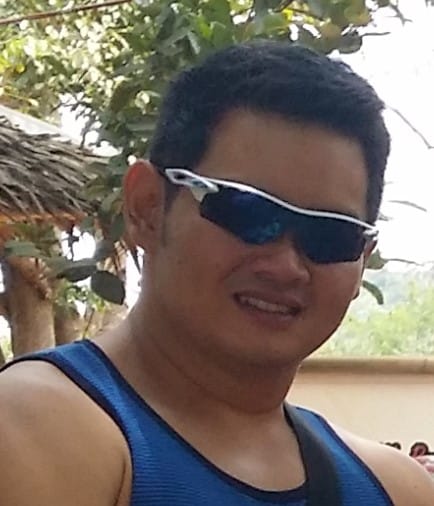 Paolo is a gaming veteran since the golden days of Doom and Warcraft and has been building gaming systems for family, friends, and colleagues since junior high. High-performance monitors are one of his fixations and he believes that it's every citizen's right to enjoy one. He has gone through several pieces of hardware in pursuit of every bit of performance gain, much to the dismay of his wallet. He now works with Monitornerds to scrutinize the latest gear to create reviews that accentuate the seldom explained aspects of a PC monitor.