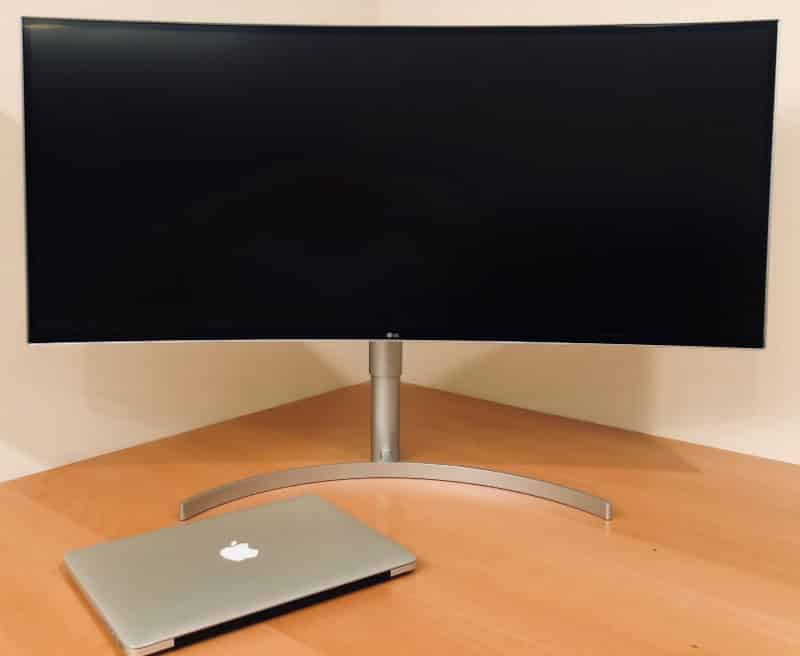 The LG 38WK95C satisfies the demand for a broader view of the battlefield or canvass with its 38-inch screen which is augmented by HDR. This new monitor combines today's most wanted characteristics into a package finished with LG's unique touch in both design and performance. The LG 38WK95C is a behemoth.  It towers over your setup like a giant billboard.

LG 38WK95C Specifications
Screen Size: 38 Inches
Resolution: 3840 x 1600  UW-QHD
Aspect Ratio: 21:9
Panel Technology: In-Plane Switching (IPS)
Refresh Rate: 75Hz
Response Time: 5ms
Contrast Ratio: 1000:1 (Static)
Brightness: 300 cd/m²
Built-in Speakers: Yes 2 x 10 Watts With Bluetooth
Stand: Height – Yes (4 Inches)
Stand: Tilt – Yes (-5°/+15°)
Stand: Swivel – No
Stand: Pivot – No
VESA Compatibility: Yes
Connectivity: DisplayPort 1.2 x 1, , HDMI 2.0 x 2, USB-C x 1, USB 3.0 x 2, 3.5mm Audio Jacks
Dimensions (WxHxD): 35.3″ x 19.5″ x 9.3"
Weight: 19.8lbs

Design and Features
The LG 38WK95C sports a minimalist aesthetic composed of the signature ArcLine design and thin bezels all throughout the massive screen. The slender dual stage borders are flush with the screen, giving the impression of an infinity edge monitor even when the device is in use. Like all LG products, the 38WK95C is as Avante Garde as any monitor can get.
It takes a minute to assemble the LG 38WK95C right out of the box if you can handle its massive chassis by yourself. Build quality is solid and precise, so we can guarantee that each model is crafted with expertise. The box includes every bit you will ever need, including a USB-A to USB-C adapter for accessories, displayport cable, and HDMI cable.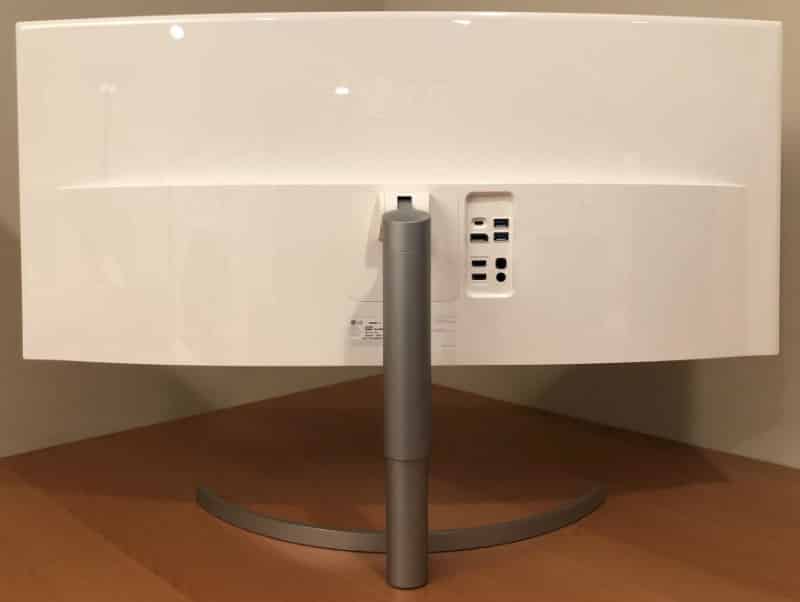 What we like about the LG 38WK95C is despite its imposing size, it only takes up 9.3 inches of depth on a desk. This advantage is significant for those with shallow tables or keyboards with wrist pads, but do take note that you need three feet of space if you want to accommodate the total width of this device.
The ArcLine stand with a silver finish offers decent ergonomics for something as large as the LG 38WK95C. Users get to enjoy a 20-degree tilt and around 4 inches of height adjustments, but there is no swivel or pivot since these are impossible and unnecessary for a 38-incher. The mechanism attaches and detaches via a one-click switch which will reveal VESA holes for an aftermarket armature.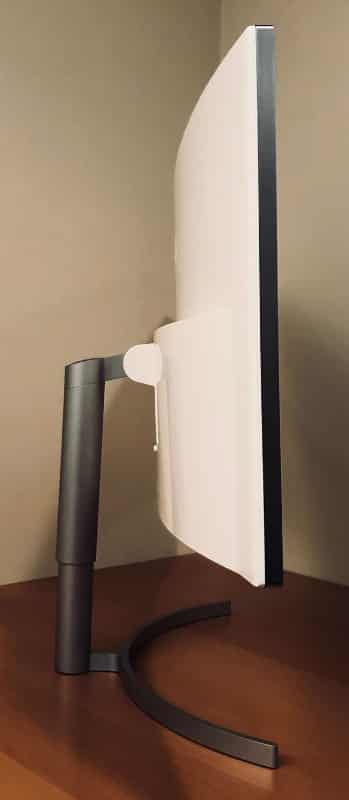 Another pleasing aspect of the LG 38WK95C is its modern functionality layout which includes all the essential features. The I/O layout comprises DisplayPort 1.2 and HDMI 2.0 for video inputs, but you also get a USB-C slot for the latest laptops. We also like that the OSD can be tinkered with via a multi-directional joystick on the center of the bottom bezel.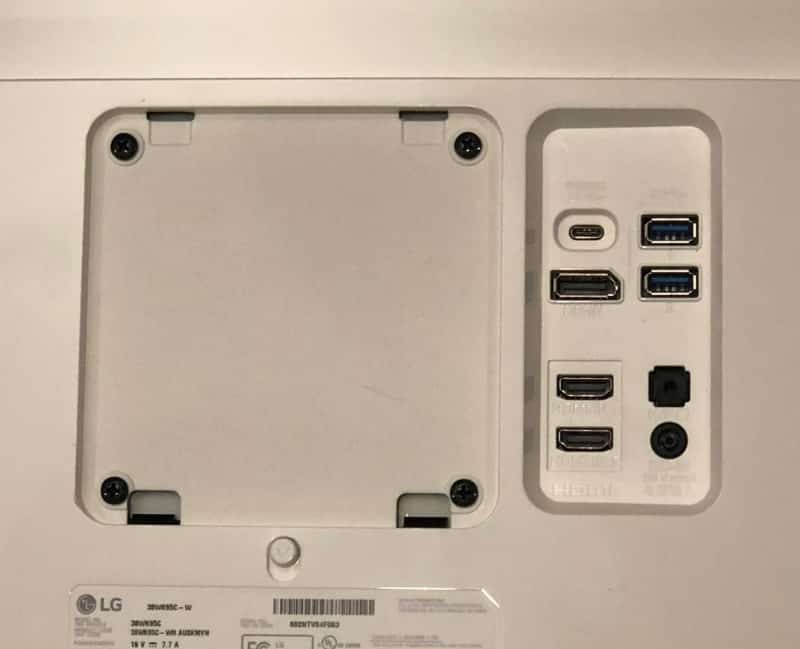 We mentioned that we are looking forward to the LG 38WK95C's pair of 10-watt speakers. The built-ins have a decent output making them comparable to some 2.0 sets we've tested that offered sufficient clarity and bass response. They are also Bluetooth-compatible, allowing users to play music from mobile devices.
Display and Performance
The LG 38WK95C sports a 38-inch IPS panel with a 3840 x 1600 resolution, 60Hz refresh rate, and 5ms response time. You can overclock the refresh to 75Hz if you have FreeSync activated, but its a hit or miss for Nvidia users. The massive screen is supported by a 300cd/m2 backlight and a 1000:1 contrast ratio which is too low for any level of VESA HDR certification.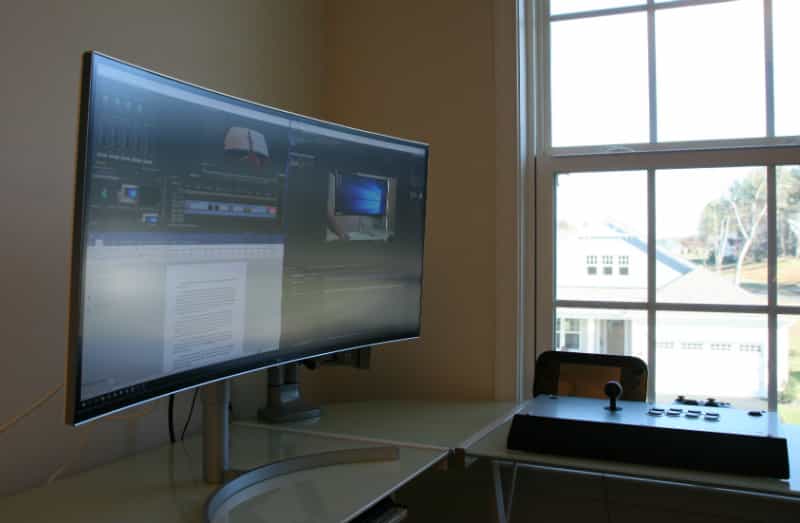 The screen on the LG 38WK95C is simply beautiful and gripping. The borderless design makes the images more profound, while the pixel density which is comparable to the smaller models provide fantastic sharpness and detail. The gentle curve on this model doesn't feel intrusive while helping to avoid distortion when viewed at an odd angle.
The LG 38WK95C impresses once scrutinized with our DataColor Spyder Elite V, posting professional grade results. The monitor can reproduce 100% of the sRGB gamut with ease plus a few extensions in some shades. Accuracy is fantastic as well, with a DeltaE average of 1.55 which enables lifelike color representation.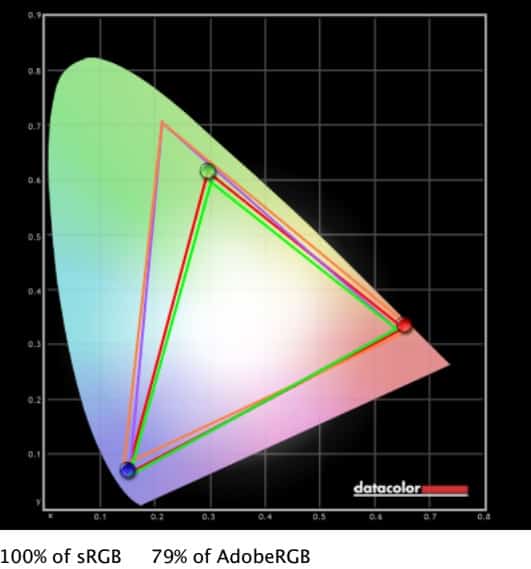 Contrast is also exceedingly superb, garnering a 5 out of 5 average from the colorimeter results. Gamma could use some improvements since it sits at 2.3 which is slightly off (but still acceptable) against the ideal score. We were able to correct it to 2.23 with a colorimeter, putting the LG 38WK95C's color temp closer to the ideal D65 standard.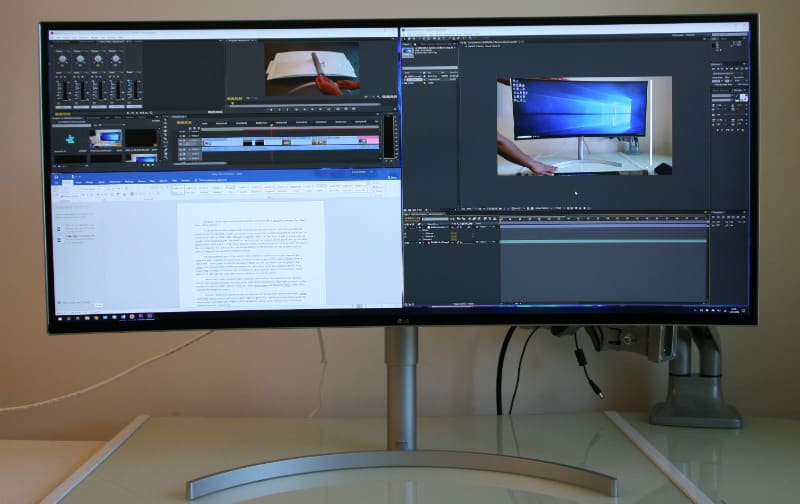 The only aspect the LG 38WK95C missed to perfect is its brightness uniformity which is average when compared to the brand's other ultrawides. The deviations are noticeable when viewing a plain black image, but it shouldn't bother most users. Take note that this may vary from unit to unit, so consider the IPS lottery concept.
On a positive note, the brightness flaw did little to affect the screen's color uniformity. The variances between the quadrants are minuscule since most stay within Delta E 3.0, so most users will not be disturbed by it. It would take a bit of effort to look for flaws in the shades, especially when gaming.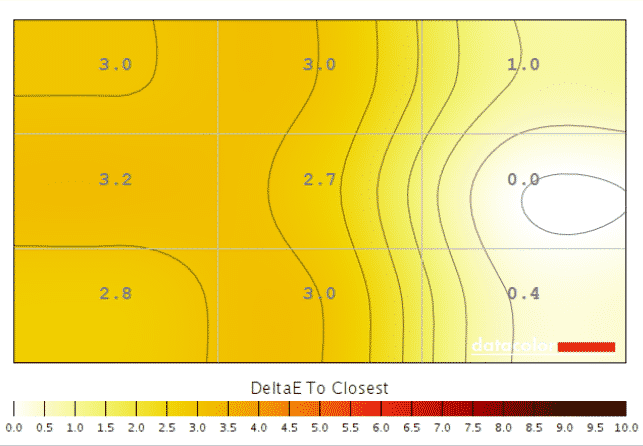 The LG 38WK95C is also HDR10 compatible, meaning it will respond to an HDR signal and apply a filter or visual emulation. Compatible games like Battlefield 1 received slight improvements in lighting and environmental effects, but they are marginal at best. We still think that the LG 27UK650 performs better in this regard.
At least, the firm added custom HDR presets which include HDR Vivid, HDR Cinema, HDR Game, and HDR Standard. We recommend users to try each of them to see what feels more natural. This capability is a bonus considering how good the LG 38WK95C performs in image quality in SDR mode.
Despite the bias towards professional use, the LG 38WK95C is still pretty decent for gaming. The monitor is FreeSync compatible and is able to push its refresh rate to 75Hz when paired with an AMD GPU. Nvidia GPU users can try to set this as a custom resolution via NCP, but we cannot guarantee that there will be no issues.
Input lag for the LG 38WK95C averages at 10.2ms, so there are no delays or "de-synced" instances between your inputs and the picture. Playing FPS games like BF1 are enjoyable, but the monitor's size and specifications make it suitable for immersive titles.
Thoughts on the LG 38WK95C
The LG 38WK95C is a fantastic monitor if you are after a jaw-dropping screen that's larger than the usual and accurately vibrant. The monitor is suitable for color-critical work and content creation, so long as you do not require more comprehensive gamuts like Adobe RGB. Its HDR compatibility isn't as profound as we'd like, but it is a nice bonus to a one-grand display.
We also love the LG 38WK95C's minimalist aesthetic which is a natural and welcome characteristic of the brand's monitors. The Bluetooth-compatible speakers are a great surprise as well since they are part of the few that sounded more than decent. If you have the cash to spend on a large monitor for productivity or immersive gaming, this ultrawide display is a great buy.