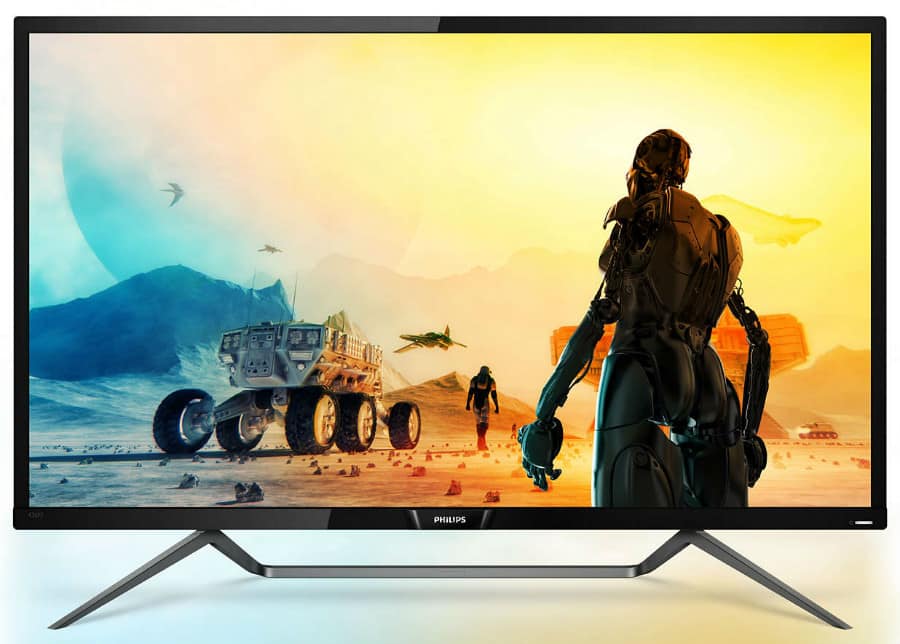 The Philips 436M6VBPAB provides a TV-sized screen that includes HDR capabilities and fantastic performance for gamers who prefer a couch over a desk. This model already is a TV at a glance, but it doesn't come with a tuner and the associated input lag. The Philips 436M6VBPAB is an attractive alternative as a display for your PC and console gaming, but let's check its numbers first before deciding.

Philips 436M6VBPAB Specifications
Screen Size: 43Inches
Resolution:3840 x 2160 UHD
Aspect Ratio: 16:9
Panel Technology: Vertical Alignment (VA)
Refresh Rate: 60Hz
Response Time:4ms
Contrast Ratio: 4000:1
Brightness: 720cd/m² (1000cd/m2 Peak)
Built-in Speakers: Yes (2 x 7Watts DTS)
Stand: Height – No
Stand: Tilt – Yes
Stand: Swivel – No
Stand: Pivot– No
VESA Compatibility: Yes (200 x 200)
Connectivity: DisplayPort 1.2 x 1, Mini DP 1.2 x 1, HDMI 2.0x 1,USB 3.0 x 2, USB-C x 1, 5mm Jack (In/Out)
Dimensions With Stand(WxHxD):43″ x26.02″ x 10.39″
Weight: 43lbs

Design and Features
The Philips 436M6VBPAB looks like a full-sized TV once you first see it due to its massive size. The product utilizes a minimalist design that drifts away from standard PC monitor appearances and closer to a look that feels more like a living room centerpiece. The glossy bezels surrounding the panel are thicker than most, but they are easy to ignore against the expanse of the display area.
The most viable option we see in setting up the Philips 436M6VBPAB is to mount it to a wall due to its size. The depth including the bulge isn't too profound so that the device will sit almost flush for a clean look. Take note that you have to use a VESA mount with a larger 200 x 200 bolt pattern to support this massive device.
We recommend mounting the Philips 436M6VBPAB since it's included stand can only offer tilt. We don't consider this a deal-breaker since the monitor is huge, so there is little need for swivel and height adjustments. Most would probably use this monitor for couch gaming or at least sit at a considerable distance to be able to take in the whole screen.
But for pure desktop use, the included stand does a good job at holding up the massive Philips 436M6VBPAB. We also like the metallic gun-metal finish and the geometric shape, adding a modernist touch to the product. Tilting the display is smooth, and there are no creaks, indicating that the build is robust and reliable.
There are two ways to control the Philips 436M6VBPAB's functions for calibrating or switching between input devices. There is a JOG button at the rear for desktop users and a full-sized remote for couch gamers. We prefer the remote for both setups since it is always more comfortable to sit back and point a gadget than reaching all the way to the rear.
The included I/O layout for the Philips 436M6VBPAB includes DisplayPort 1.2, MiniDP 1.2, and an HDMI 2.0 slot for consoles and TV boxes. You also get a USB-C receptacle and two USB 3.0 downstream ports with fast charging for your gadgets. It would have been nice if Philips added a second HDMI slot to accommodate both a console and a video player/TV box which would make the device a better alternative to a similar-sized TV.
Another aspect of the Philips 436M6VBPAB we love is the included Philips Ambiglow lighting system which can be configured in several ways. It can be synchronized to the images on the screen to extend the immersive properties of the display, or it can be set to a preferred color. This add-on is valuable as a bias light or an added decorated feature which owners will be glad to utilize.
The Philips 436M6VBPAB is rounded up by a pair of DTS-tuned 7-Watt speakers which are just as good as a regular TV's built-ins. For most purposes, it should be decent enough, but we still recommend a separate speaker set or headphones.
Display and Performance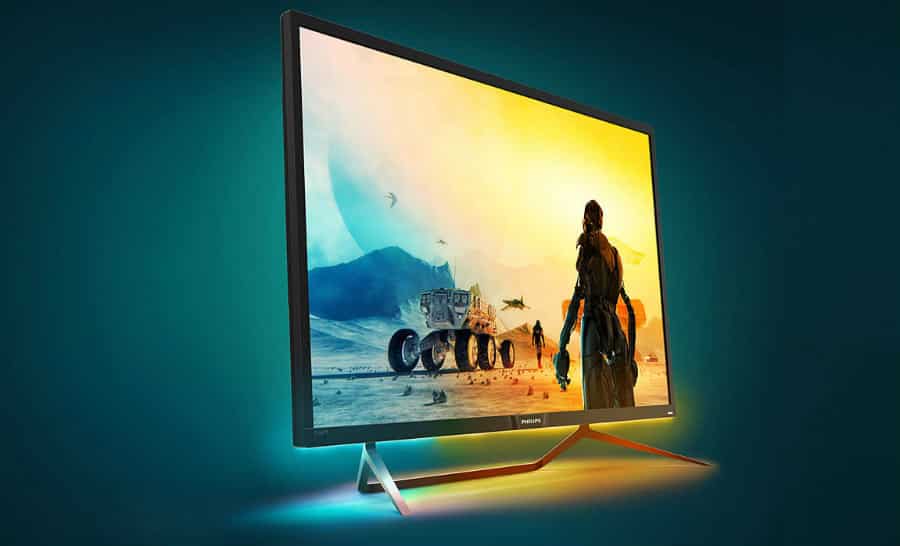 The Philips 436M6VBPAB boasts a 43-inch VA panel with a 3840 x 2160 resolution, 60Hz refresh rate, and 4ms response time. The specified contrast extends a bit at 4000:1 for SDR, but what stands out is the edge-lit array backlight that has 32 zones and a Quantum Dot film. The typical output of the unit reaches 720cd/m2, but it can also pulse to 1000cd/m2 for HDR content.
One of the first things you notice is the Philips 436M6VBPAB's looser pixel density than the typical 4K monitors we are used to. If used within normal desktop distance, the pixels become visible along with some graininess. We recommend sitting further away, or using this entirely for couch gaming.
This feature makes the Philips 436M6VBPAB qualify for VESA's HDR1000 specification which only a handful of products have reached. The device itself even comes with a certificate that it is fully capable of HDR1000, as proven with the results below.
By default, the Philips 436M6VBPAB can produce a vibrancy that surpasses most monitors, reaching up to 145% sRGB. This coverage equates to 107% DCI-P3 coverage which provides the screen with the ripeness required by HDR. Accuracy, however, is a bit disappointing with the DeltaE average reaching 3.8, and the color temperature that adds a bluish tint.
You can correct these errors with a colorimeter, enabling the Philips 436M6VBPAB to reach an extreme accuracy of DeltaE .5. The color temp can be easily corrected with the included controls in the OSD. We recommend selecting the 7500K setting as it results in an output that's closer to the D65 standard.
The Philips 436M6VBPAB is also capable of extreme contrast levels at 4100:1 for SDR output for deeper blacks and colors. When an HDR production kicks in, the screen can go beyond 10000:1 comfortably, creating the HDR effect we crave for games and movies. A performance like this at less than a grand isn't available anywhere else unless you buy an HDR TV that's on sale.
We also noticed that light blooms and clouding where kept to a minimum in games like Shadow of the Tomb Raider and Destiny 2. The small details and flares in the scenes are well-detailed, along with the contrasts between dark and illuminated objects are clearly defined. The Philips 436M6VBPAB meets every requirement of the VESA HDR1000 standard, so this kind of output is expected.
One downside of the Philips 436M6VBPAB is it does have a slight backlight leak at the bottom corners. Panel uniformity also suffered from an average of 13% deviance, but it's only noticeable when viewing an all-black image. We think this is forgivable since the screen is large and it utilizes individual LEDs instead of a single unit.
The gaming experience on the Philips 436M6VBPAB is superb since it handles motion quite nicely. The monitor has a feature called Smart Response to compensate for the ghosting, but we don't think it's necessary to even turn it on. We recommend experimenting with its different levels and choose one that suits your taste.
Finally, the Philips 436M6VBPAB is capable of FreeSync at 40Hz to 60Hz that makes it a perfect display for AMD systems and the Xbox One X. Input lag is also irrelevant with an average of 5ms, ensuring that the screen is always responsive and spot on.
Thoughts on the Philips 436M6VBPAB
The Philips 436M6VBPAB is the perfect choice for PC and console gamers who want a high-performance, dual-purpose display for HDR gaming. The monitor's capabilities which perfect VESA's HDR1000 requirements are one of the best we have tested, especially at this price range. This product handles like an E-Sports monitor minus the higher refresh rate, thanks to its excellent response time and input lag results.
We have a few complaints such as the middling panel uniformity and the limited flexibility, but these are forgivable thanks to the Philips 436M6VBPAB's HDR performance. The product's resemblance to a TV and its tidbits such as the remote is a huge plus, but we recommend viewing this monitor from a reasonable distance. But all in all, only the 4K 144Hz models like the Asus PG27UQ or an OLED TV like the LG C8 are better when it comes to HDR gaming.