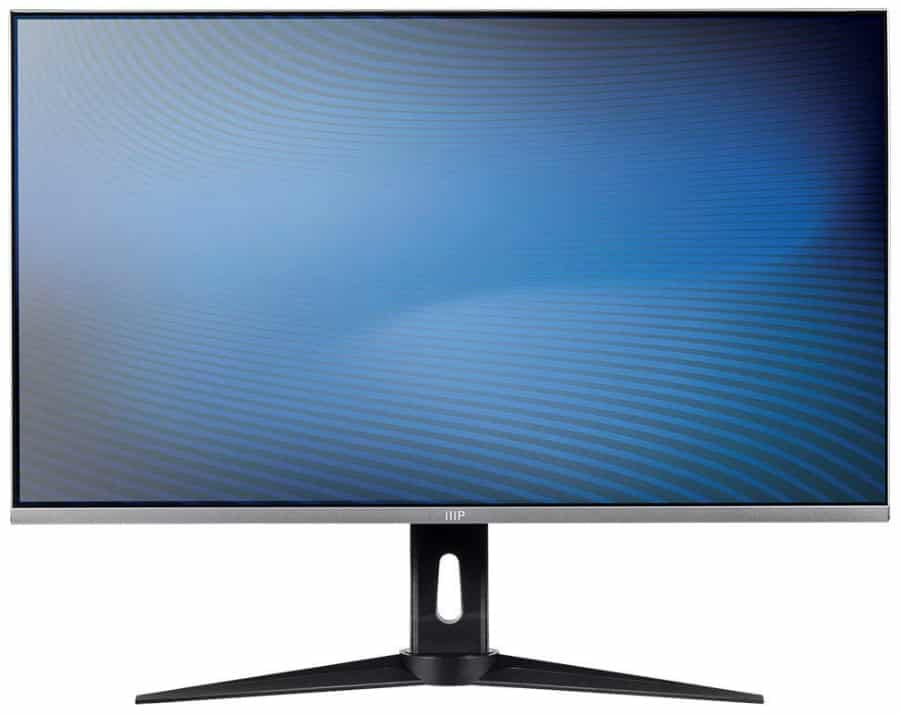 The Monoprice 33822 is a budget QHD gaming monitor that offers surprisingly excellent value and quality despite asking for less cash than its closest competitor. Monoprice isn't a popular brand in this category, but they have always offered great deals which many have considered a great alternative to premium offerings. The Monoprice 33822 ticks all the requirements of a fantastic screen for our favorite hobby, but does it perform where it matters most?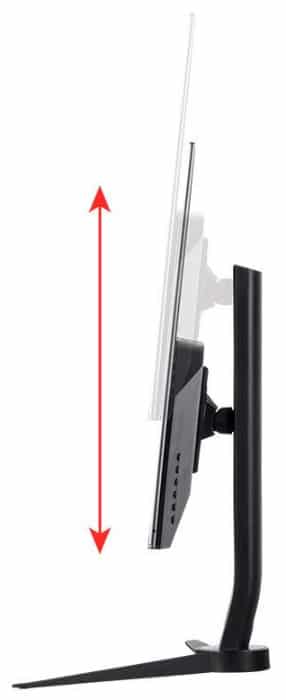 Monoprice 33822 Specifications
Screen Size: 32 Inches
Resolution: 2560 x 1440 QHD
Aspect Ratio: 16:9
Panel Technology: Vertical Alignment (VA)
Refresh Rate: 144Hz
Response Time:5ms
Contrast Ratio:3000:1
Brightness: 200cd/m²
Built-in Speakers: No
Stand: Height – Yes
Stand: Tilt – Yes
Stand: Swivel – Yes
Stand: Pivot– Yes
VESA Compatibility: Yes 100 x 100
Connectivity: DisplayPort 1.2 x 1, DP 1.2 Mini x 1, HDMI 0 x 2,3.5mm Jack
Dimensions With Stand(WxHxD):28″ x 22.4″ x 8″
Weight: 3lbs

Design and Features
The Monoprice 33822 sports a subtle design that is striking instead of boring due to a lot of aspects that would fit modern tastes. The 32-inch display is bigger than the typical desktop screen, but the proportions are sleek and slim where they count. The face is bezel-free due to a dual stage design except for the bottom strip which has a matte silver appearance.
The chassis for the Monoprice 33822 is built like an OLED TV with a super-thin panel and a minimal rear bulge that occupies the lower half. This gives the monitor an aesthetic advantage over its competitors which have bulkier bodies due to more gamer-centric add-ons such as RGB lighting. The whole device occupies less than eight inches of depth on a desk, so placement shouldn't be a hassle.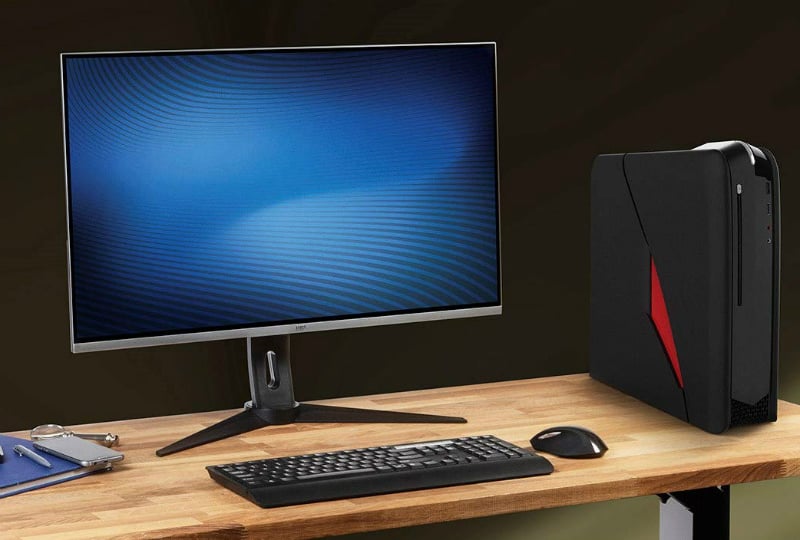 It's also surprising that the brand managed to squeeze in the power supply in the Monoprice 33822's rear bulge. Assembly takes a bit of effort since there are some screws required, but setting up the device once you've connected all three pieces is easy. We like that Monoprice even managed to include a screwdriver in the package to make things a bit easier for the user.
Build quality for the Monoprice 33822 certainly exceeded our expectations despite the budget pricing. The monitor's materials feel sturdy despite a little wobbling from the central hinge, but the solid aluminum base more than makes up for it. There are no uneven seams or burrs on the edges of the chassis which proves that Monoprice is upping their manufacturing game.
The Monoprice 33822's included stand offers a complete range of ergonomics despite its size. You can use it in portrait mode, plus you can tilt, swivel, and adjust the height of the display. The mechanism feels stiff but manageable, indicating that it will be able to hold the big screen in place for quite some time.
The Monoprice 33822's I/O panel is decently equipped for your everyday needs and more. The layout includes DisplayPort 1.2, Mini DP 1.2, and two HDMI 2.0 slots, all of which support 1440p at 144Hz and FreeSync. There are no speakers or USB slots, but that's expected from a budget monitor of this type.
Display and Performance
The Monoprice 33822 sports a 32-inch VA panel from Samsung with a 2560 x 1440 resolution, 144Hz native refresh rate, and a 5ms response time. The backlight with a 200cd/m2 output is a bit weak for a screen of this size, but contrast is specified to reach as much as 3000:1. The panel used supports 8-bit color for maximum sRGB coverage which enables great vibrancy in games and movies.
The immediate characteristic that's noticeable on the Monoprice 33822 is it's less sharp than a 27-incher like the Asus PG278QR. However, the resulting defects such as jagged or soft edges aren't as noticeable on this screen, and there is still plenty of detail. 4K UHD is much more suited for a 32-inch screen, but most users will do just fine with 1440p QHD, especially for games.
Out of the box, the Monoprice 33822 looks slightly off due to some grayscale errors and a color accuracy that sits at DeltaE 3.4. You can, however, massively improve this with a colorimeter, pushing the DE average to 1.9. sRGB coverage hits 107% of the standard as expected from a VA panel, although we've seen better specimens in the market.
One thing the Monoprice 33822 is impressive at is its contrast, which reaches a maximum of 2500:1 This would have given the monitor excellent range if its color quality and gamma followed suit. There is no preset available to improve the latter which sits at 2.05 which is too low to pump up the vibrancy and increase the black levels.
The Monoprice 33822 looks great despite these flaws, but sitting the monitor against a better model like the LG 32GK850G will reveal the disadvantages. However, the price difference is nearly double while the results mentioned above aren't horrendous, but we can't treat it as near perfect either.
Panel uniformity for the Monoprice 33822 test unit is decent since backlight variance doesn't exceed 15% which is our threshold of noticeability. The discrepancy in brightness between each quadrant are there, but they are difficult to notice once game graphics or movies are on screen. Colors on display are mostly unaffected by this characteristic, and we think the lower gamma level is the more significant concern.
Another complaint we have for the Monoprice 33822 is its slower than most pixel response time which affects motion handling. The screen suffers from blurs and ghosting in fast-paced action, although the display has an Overdrive function in the OSD. Setting the feature to its fast setting is recommend to avoid overshoot and other motion-related issues.
The Monoprice 33822 is a gaming display unlike most of the brand's mixed-use offerings, so it has a few tech goodies up its sleeve. The monitor is FreeSync compatible from 48Hz to 144Hz on all of its video inputs, so AMD GPU and Xbox One X users can enjoy buttery smooth graphics. Input lag is limited to 15ms when low input lag is activated, making the display a compelling and affordable option for entry into competitive play.
Thoughts on the Monoprice 33822
The Monoprice 33822 provides excellent value if you can look past its limitations as a budget 144Hz QHD display. The image quality of the VA panel requires a colorimeter to maximize, but we think most users can get away with a few tweaks to get a decent output. Gaming performance isn't the best in the business, but its tough to beat a 32-inch screen with this kind of performance at $400.
Monoprice 33822 is proof that the brand has improved in its monitor business drastically, especially since build quality has improved. We think this model is just missing minor adjustments to its firmware to make it even more remarkable for gaming and movies. If you are looking for a large screen with reasonable gaming performance, the Monoprice 33822 is a great value option despite its limitations.