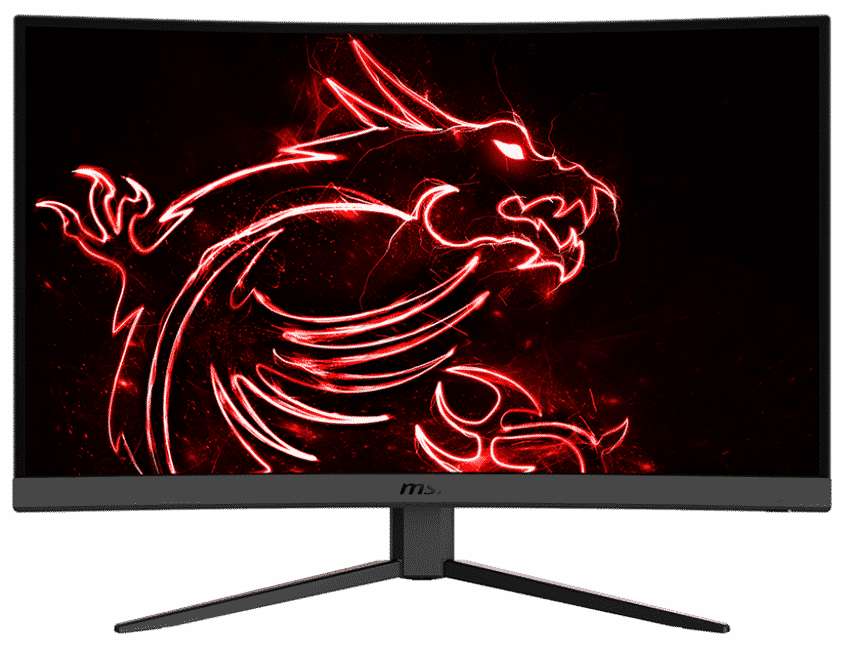 The MSI G27C4 is the latest upgrade offered by the brand's budget segment of curved gaming monitors with very attractive specs and price tags. The first upgrade you will see aside from the reworked and more attractive design is the slight boost in refresh rate. Let's find out if the MSI G27C4 offers tangible improvements compared to its predecessors and not just another redesign.

MSI G27C4 Specifications
Screen Size: 27 Inches
Resolution: 1920 x 1080 Full HD
Aspect Ratio: 16:9
Panel Technology: Vertical Alignment (VA)
Refresh Rate:165Hz
Response Time: 4ms
Contrast Ratio:3000:1
Brightness: 250cd/m²
Connectivity: DisplayPort 1.2 x 1, HDMI 1.4 x 2, 5mm Jack x 1
Speakers: No
VESA: No
Stand: Height – No
Stand: Tilt – Yes (-5°/+15°)
Stand: Swivel – No
Dimensions: 24.1" x 12" x 8.9"
Weight: 9 lbs

Design and Features
The MSI G27C4 sports a more sophisticated aesthetic compared to its predecessors without racing the price considerably. The matte gunmetal and black make the monitor look less gaudy, making it more enticing to a wider audience. The display area is bezel-free on three sides, making this model an affordable and viable solution for triple head setups.
One of the recognizable improvements on the MSI G27C4 is its build quality. The plastics used are noticeably smoother and more rigid, while the monitor wobbles less compared to older variants. There are no cosmetic defects as well, giving you the impression that this product belongs in the premium segment.

The weight of the monitor isn't much once assembled, plus it won't take up a lot of depth or space on your desk. The MSI G27C4 also has a sharper 1500r radius, but it isn't as pronounced since its still just a 16:9 variant. Placement should be easy, but multiple units might become a problem for standard desk sizes.
You also don't have to deal with pesky OSD buttons like so many budget gaming monitors out there. The MSI G27C4 has an OSD joystick at the rear of its chassis, making it easier to access menus and settings. Power has a dedicated switch on the bottom bezel so it's not possible to accidentally turn off the display while tweaking it.
The biggest downside of the MSI G27C4 is its tilt-only stand which severely limits your viewing angle options. However, you only need to sit at dead-center to enjoy the curved display's benefits, so there is little need for rotating or swivel. Height adjustment is the most important ergonomic of all, but the monitor is tall enough not to cause problems for most user's postures.
Another great improvement is the inclusion of VESA mounting holes, which lets you upgrade the display for more flexibility. Buying a separate armature will add to the cost, but its ideal if you want to build a triple-display array to surround your visual senses.
The MSI G27C4 has more connectivity features compared to its predecessor as well, but you don't get valuable extras such as USB receptacles. There is now a pair of HDMI 1.4 slots on this model along with DisplayPort 1.2 as the primary. Older models only had one of each, so this makes the newer variant more flexible if you are a cross-platform user.
There are no speakers on the MSI G27C4, but those are rarely missed by gamers since the majority prefers headsets. It also helps to make the chassis thinner, so there is a perceivable benefit to not having them.
Display and Performance
The MSI G27C4 sports a 27-inch VA panel with a 1920 x 1080 resolution, 165Hz refresh rate, and 4ms response time that can be boosted to 1ms MPRT. The backlight is limited to 250 cd/m2, but the contrast ratio sits at 3000:1. The 1500r curve is tighter than most, so it makes the monitor look slightly bigger than it actually is.
One of the first complaints many users express is the lower pixel density on 27-inch 1080p monitors like the MSI G27C4. It's not a big of a problem as many say since the image still looks enjoyable from a normal sitting distance. Pixels will be noticeable in some instances, but at least you won't need scaling and an ultra-powerful GPU to get 165FPS.
The MSI G27C4 offers a well-saturated image that looks great for gaming thanks to its 120% coverage of the sRGB gamut. Color accuracy is slightly off at DeltaE 2.89, but it isn't a noticeable flaw for the product's intended purpose. Color temperature is slightly warmer, but it makes reds in explosions and the like much more compelling.
Gamma needs some improvements at 2.09, especially since it adds errors to grayscale and raises the black luminance. The contrast ratio of the MSI G27C4 reaches as much as 2950:1 at 50% brightness, but you will still see some grayish-looking scenes in rare instances. The monitor doesn't have gamma locks, so you will need a colorimeter to correct this issue.
Uniformity for the MSI G27C4's panel is excellent with variances sitting low at between 7% to 20%. Only a colorimeter can reveal the flaws in the test unit, so there will be no noticeable clouding or leaks while playing games. This aspect will, of course, vary between unit to unit, so make sure you buy from a retailer that won't give you trouble for returns and exchanges.
The MSI G27C4 is still prone to blurring like all VA panels, especially in fast-paced scenes. Setting the overdrive to its medium strength will cure most of the ghosting, but some very minor flaws such as pixel persistence can appear at times. We don't think that its enough to ruin the monitor's fantastic performance in image quality, but pro-gamers should go with a TN variant instead.
The MSI G27C4 is a FreeSync gaming monitor, but it's also G-Sync compatible. This kind of flexibility makes the monitor ideal for all kinds of gamers. Input lag sits at 11ms at 60Hz, so you won't notice any delays or de-synced instances during gameplay.
Thoughts on the MSI G27C4
The MSI G27C4 is a fantastic choice if you want a vibrant and immersive display for our favorite hobby. The VA screen isn't perfect or color-accurate, but the bump in vibrancy helps it produce eye-popping visuals and effects. It's also great that you can use both AMD and Nvidia cards with the monitor, so you won't need to chase one brand while building or upgrading your PC.
We can say that the MSI G27C4 offers considerable improvements when compared to its predecessor. Even the design and functionality of the product offer some new things, with the tilt-only stand as the lingering limitation for the brand's budget offerings. This model is fantastic if you don't want to over-spend but wish for gaming-grade goodies that will upgrade your visual experience.
About the Author: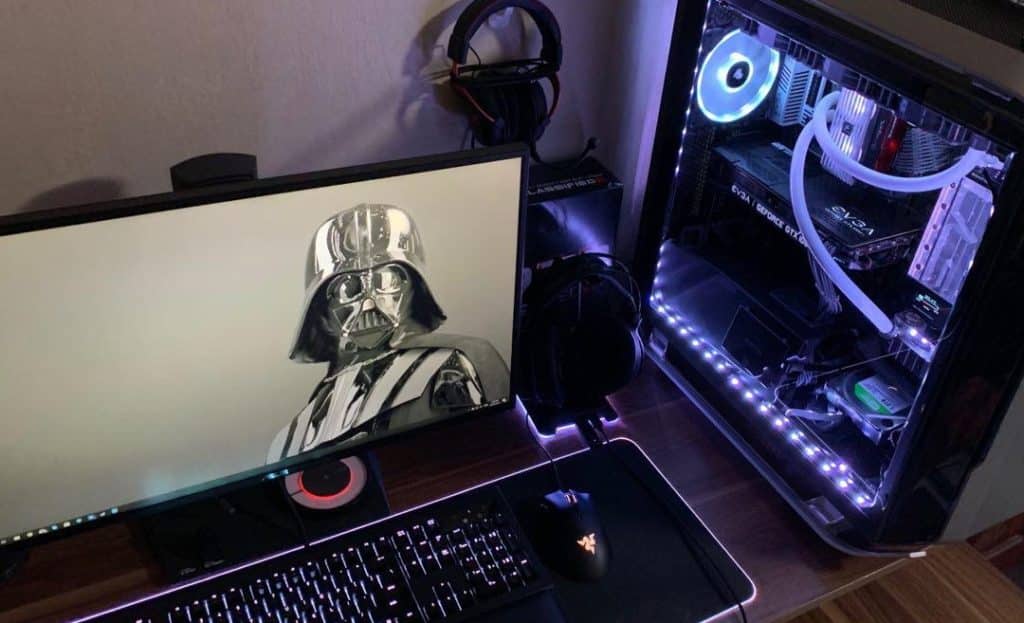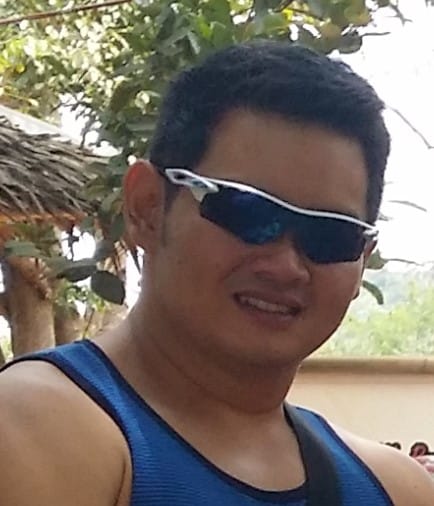 Paolo is a gaming veteran since the golden days of Doom and Warcraft and has been building gaming systems for family, friends, and colleagues since his junior high years. High-performance monitors are one of his fixations and he believes that it's every citizen's right to enjoy one. He has gone through several pieces of hardware in pursuit of every bit of performance gain, much to the dismay of his wallet. He now works with Monitornerds to scrutinize the latest gear to create reviews which accentuate the seldom explained aspects of a PC monitor.