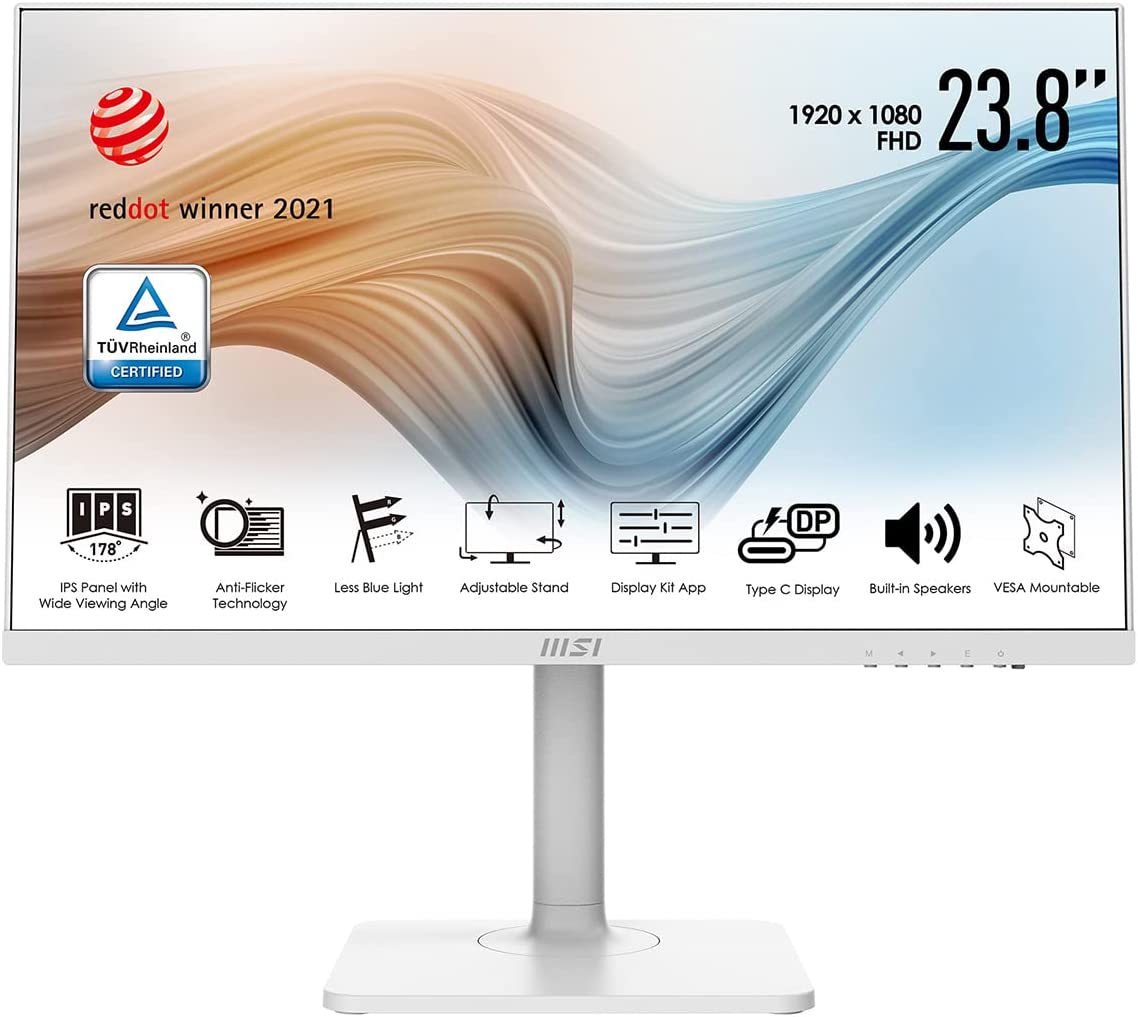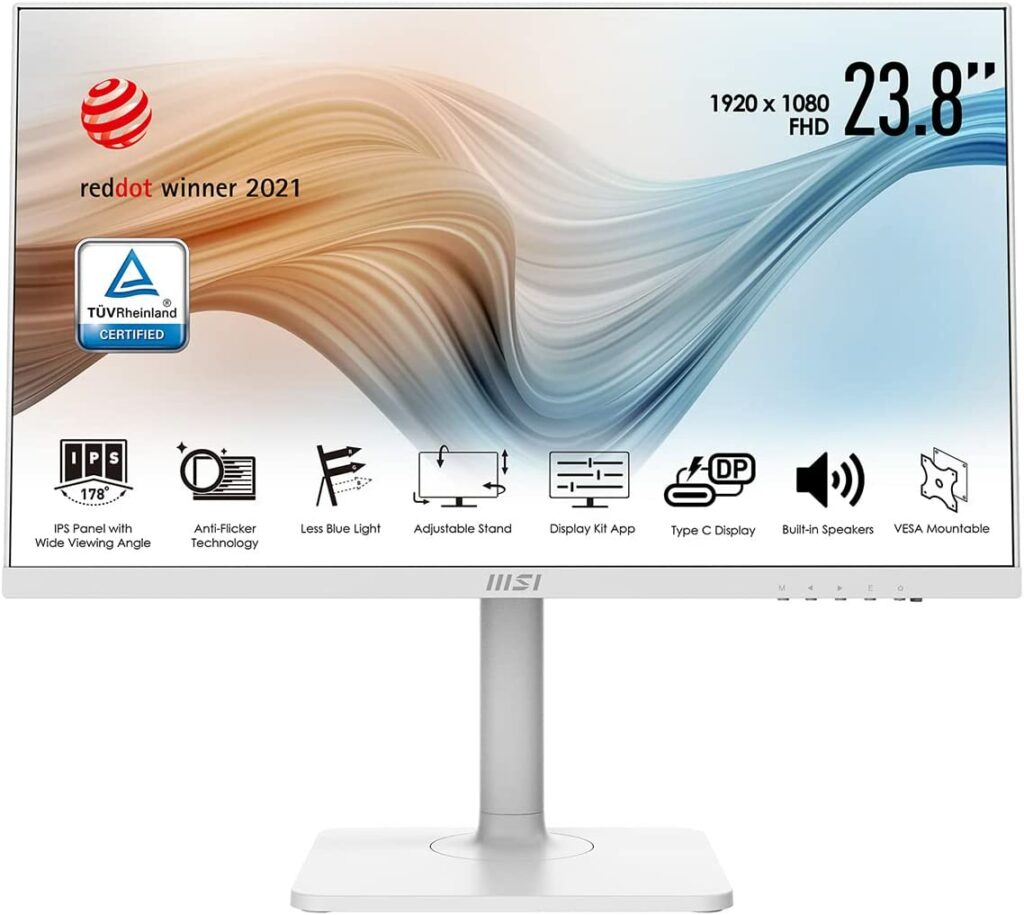 The MSI Modern MD241PW is dressed to impress with its attractive design and features that cater to the modern professional. It also comes in black and white, so you can choose which fits your workstation or gaming setup's style. It's a bit pricier than a regular 1080p monitor, but let's see if the extra moolah the MSI Modern MD241PW needs is worth it.

MSI Modern MD241PW Specifications
Screen Size: 24 Inches
Resolution: 1920 x 1080 FHD
Aspect Ratio: 16:9
Panel Technology: In-Plane Switching (IPS)
Refresh Rate: 75Hz
Response Time: 5ms
Contrast Ratio: 1000:1 (Static)
Brightness: 250 cd/m²
Speakers: Yes (2 x 1 Watt)
Stand: Height – Yes
Stand: Tilt – Yes
Stand: Swivel – Yes
Stand: Pivot – Yes
VESA Compatibility: Yes (75 x 75)
Connectivity: HDMI 1.4 x 1, USB-C x 1, 3.5mm Jack x 1
Dimensions with Stand (WxHxD): 21.3″ x 15″ x 7.9″
Weight 10.4 lbs

Design and Features
The MSI Modern MD241PW has a minimalist aesthetic, making it suitable for high-end offices and gaming setups. The W variant has a white finish, while the MD241P is in matte black. The screen has thin bezels, so the user has fewer distractions.
This model is only 24 inches, so it's more compact than the first Modern and Summit monitors we reviewed previously. It needs less than 8 inches of depth, so it should easily fit on most workstations and cubicles. It only weighs a little over 10 pounds, so it's portable enough and easy to move around or rearrange as needed.
Its build quality is great, unlike some business models that felt cheap and oversimplified to create a lower MSRP. The plastics used are thick and sturdy, plus there were no cosmetic defects on any of its parts. The included stand is firm and stable, so the screen won't sag or shake while you are busy with work or schoolwork.
One downside of the MSI Modern MD241PW is its use of OSD buttons instead of a more functional joystick. The keys are located under the bottom bezel, and they are labeled, but it takes more keystrokes and time to get to a specific setting. We think all monitors should include joysticks in this day and age, but it's not a terrible deal breaker.


The MSI Modern MD241PW has USB-C connectivity, but the downside is it doesn't have enough power to charge a full-sized laptop. The monitor leaves DP out and only includes HDMI 1.4, so it's a bit limited if you don't have a USB-C-equipped computer. There are no USB slots on it as well, and I think those are a must-have for business or productivity-oriented products.
You also get a pair of speakers and a 3.5mm jack for headphones with the panel layout. The former only has 1 watt of power per channel, so they sound tinny and without any semblance of bass response. It's nice to have them as backups, but we think headsets or desktop USB speakers will be better.
Display and Performance
The MSI Modern MD241PW sports a 24-inch IPS panel with a 1920 x 1080 resolution, a 75Hz refresh rate, and a 5ms response time. The backlight has a 250 cd/m2 while the contrast is listed at 1000:1 like most IPS monitors. This model doesn't have entertainment features like HDR, but that's acceptable since it's for productivity and business.
24-inch 1080p monitors are still popular and common in schools because they are comfortable to use and we are used to them. They won't strain your eyes while reading or processing documents, and most media and games will run comfortably on them. It's not the sharpest or most spacious, but it still gets the job done, especially if you need a cost-effective solution.
The MSI Modern MD241PW renders 99% sRGB and around 79% DCI-P3, which are decent for a daily-use display. Its default accuracy isn't the best, but the default accuracy of d.13 means it is balanced and natural looking. Most users won't need to do advanced calibration with it.
Using a colorimeter on the monitor improved its dE average to 1.29, which is considerably better than the default setting. We've seen better results on some alternatives that were intended for prosumer use. However, a colorimeter won't be necessary for most since this is an office display and the gadget itself is more expensive than the monitor.
The MSI Modern MD241PW's backlight reached 245 cd/m2 at 100%, so you might need shade if your room has a lot of windows. It is not a big issue, but you might find yourself bumping that brightness setting up too often. The monitor's contrast reached 979:1 at 80% brightness, so it's incapable of deep blacks like its VA counterparts.
Panel uniformity for the test sample had some backlight leaks at the top and bottom edge of the screen. They added some clouding in dark scenes but are unnoticeable on white or full-colored backgrounds. This can change with every monitor since manufacturing tolerances are in play, so you can still get a unit without symptoms.
It's also not the most responsive monitor since it's prone to blurring in fast-paced or contrasting screens. The 75Hz refresh and its basic overdrive can help, but it is not enough to reduce the persistence ultimately. However, that's only going to be an issue for E-Sports gamers, so they should take a look at MSI's deep gaming lineup instead of this.
The MSI Modern MD241PW doesn't have Adaptive Sync since it is not a gaming variant. That's fine in most cases since 1080p doesn't take a lot of GPU horsepower anyway. Its input lag sits at 8ms at 75Hz, so it's snappy and responsive enough for daily use.
Thoughts on the MSI Modern MD241PW
The MSI Modern MD241PW looks promising if you read its description and marketing material. We think it's OK for a daily or mixed-use monitor, and we like that it doesn't look like its bland counterparts in the office monitor segment. USB-C is a must-have feature since USB-C laptops are widely used in the same market.
However, this monitor has some disappointing aspects, starting with its lack of potent USB-C charging. There are also some limitations, like the OSD buttons and the lack of Adaptive Sync, but we don't consider them deal-breakers for low-priced monitors. It's an excellent buy for school and remote work setups, but gamers will want something faster and more responsive.
Pros:
Great Imaging Quality
Attractive Design
USB-C Connectivity
Affordable
Cons:
USB-C Charging is Limited
Poor Contrast and Low Brightness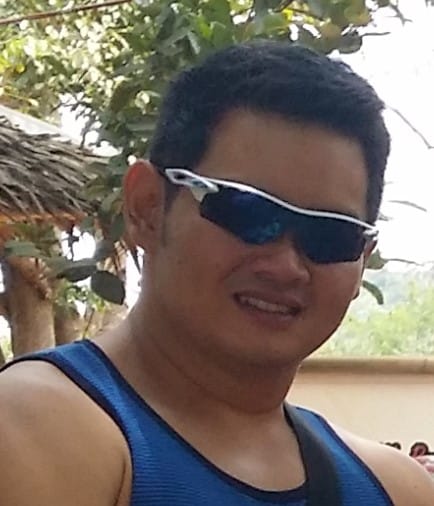 Paolo is a gaming veteran from the golden days of Doom and Warcraft. Since junior high, he has built gaming systems for family, friends, and colleagues. High-performance monitors are one of his fixations; he believes that every citizen's right to enjoy one. He has gone through several pieces of hardware in pursuit of every bit of performance gain, much to the dismay of his wallet. He has also spent half a decade researching, reviewing, and writing about these products and now has over 1400 articles about the best gaming tech under his belt.