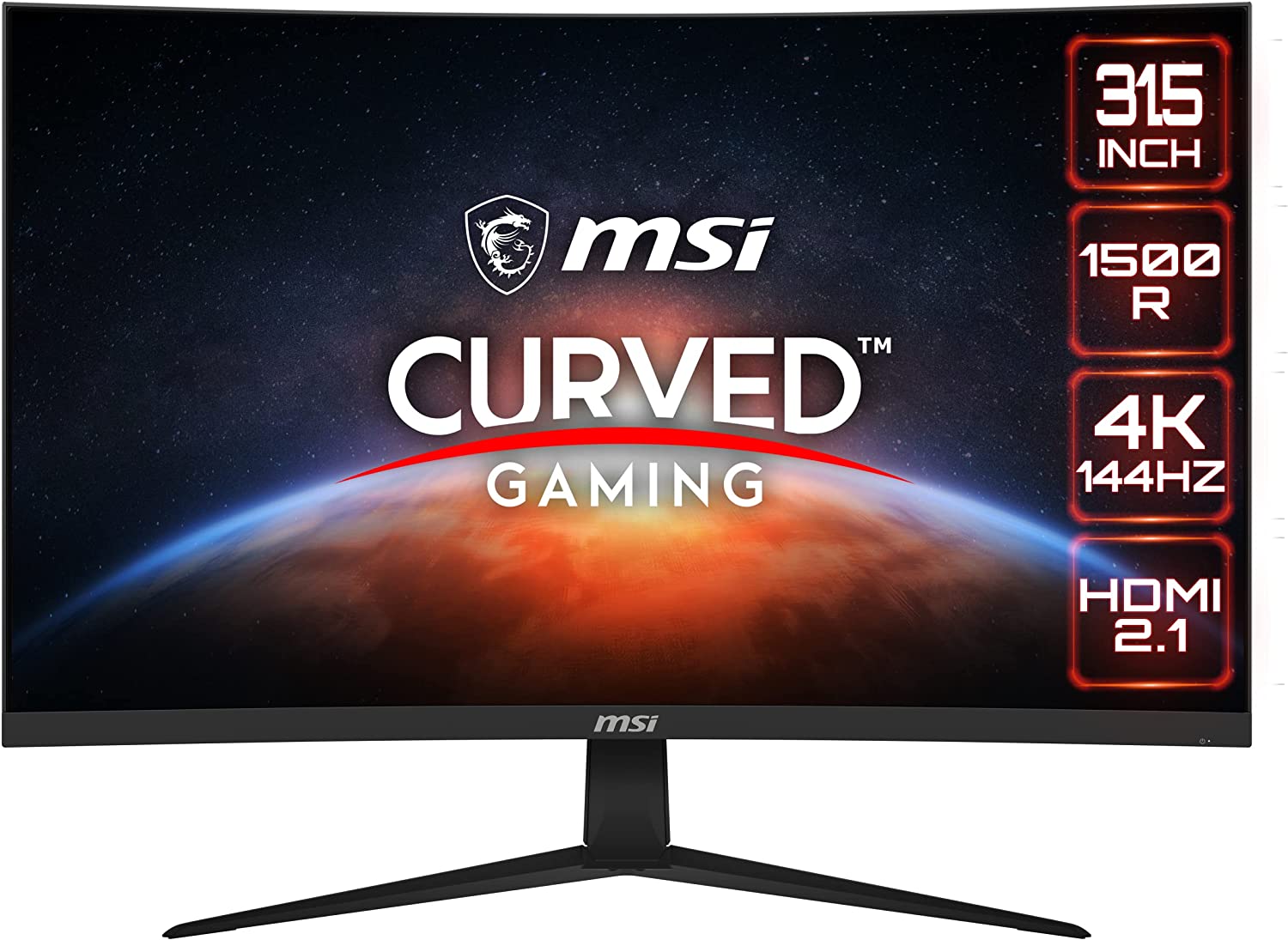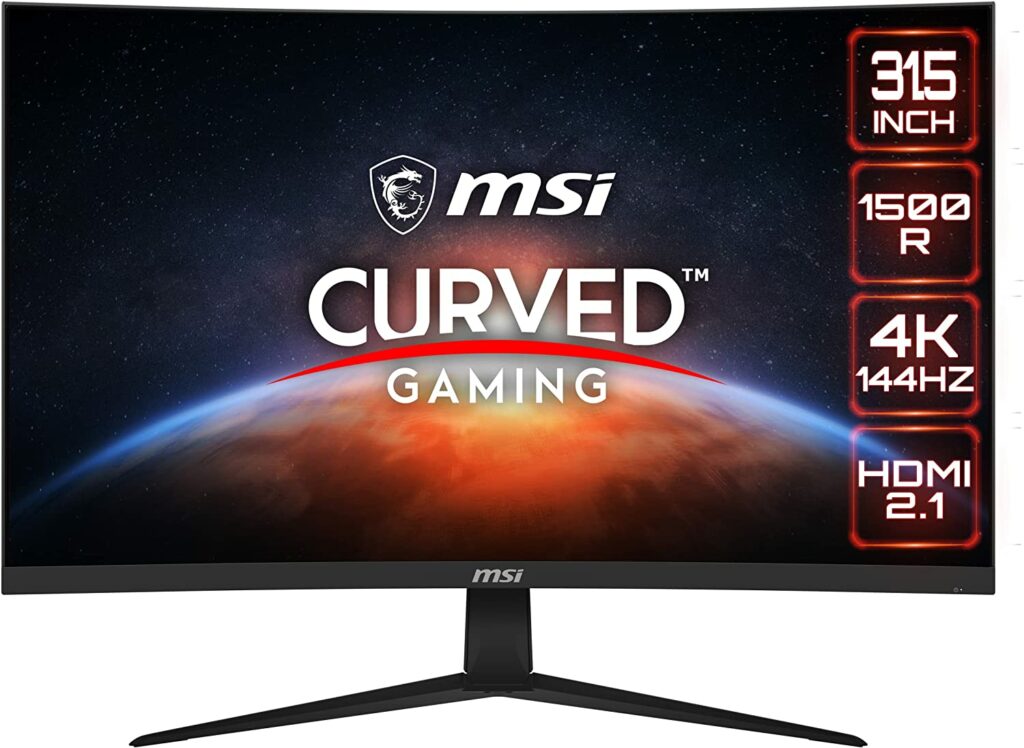 The MSI Optix G321CU offers immersive 4K gaming at a price that makes it available to the masses and the budget-conscious. It's one of the few 4K 144Hz models out there that have a VA panel instead of Fast IPS, so it instantly has better contrast and dark scene rendering. Let's look closer at how it compares to more expensive IPS counterparts like the Gigabyte M32U.

MSI Optix G321CU Specifications
Screen Size: 32 Inches
Resolution:3840 x 2160 UHD
Aspect Ratio: 16:9
Panel Technology: Vertical Alignment (VA)
Refresh Rate: 144Hz
Response Time: 1ms MPRT
Contrast Ratio: 3000:1
Brightness: 300 cd/m2
Built-in Speakers: None
Stand: Height – No
Stand: Tilt – Yes
Stand: Swivel – No
Stand: Pivot– No
VESA Compatibility: Yes (200 x 200)
Connectivity: DisplayPort 1.4 DSC x 1, HDMI 2.1 x 2, USB-C PD15W x 1, USB 3.1 x 3, 3.5mm Jack x 1
Dimensions With Stand (WxHxD): 28″ x 20.8″ x 9.8″
Weight: 19.01 lbs

Design and Features
The MSI Optix G321CU isn't as flashy as the brand's MEG variants, so minimalist fans will like it better. The monitor has a matte black finish that looks clean and very easy to maintain. It has a bezel-free design, although it still has inner borders like most modern monitors.
It's a large monitor, so you might need a bigger desk if you have large peripherals like bookshelf speakers. It's a bit deep since it requires almost 10 inches, but that's understandable since it's a curved display. The device, when fully assembled only weighs 19 pounds, but extra care is necessary when lifting it since it can easily tip over due to its size.
The MSI Optix G321CU is built mostly of plastic, but that's okay since it is built like a premium display. Its overall build quality is decent since the plastics are thick and flush with each other. The included stand is stable despite the size and weight of the cabinet, so users won't see any wobbling except in extreme circumstances.
It also has an OSD button at the back, unlike so many budget models that revert back to mushy buttons. The tool is located at the back near the right side edge of the display, so you might have to lean in to reach it. It's also impossible to power the monitor down since it has a dedicated button under the bottom bezel for that.
The stand with the MSI Optix G321CU only offers tilt, unlike the Gigabyte M32UC, which has height adjustments. It is not a deal-breaker for this model since the display rides tall and you only have to center it anyway to enjoy the curved display. It's VESA compatible as well, so you can just go out and buy a compatible arm if more flexibility is necessary.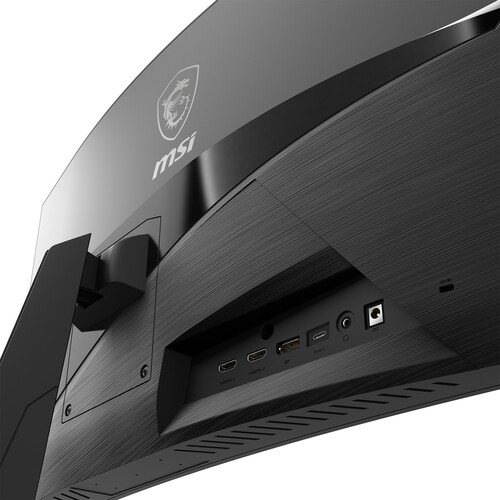 Its connectivity layout includes DisplayPort 1.4 and two HDMI 2.1 slots it can handle your PC and 4K 120Hz gaming consoles. It even has a USB-C port with DP Alt Mode, but that only offers up to 15 watts of charging power. There are no other extras other than the 3.5mm jack, but that's understandable due to the very competitive price.
You also don't get speakers with the G321CU, but that's okay since built-ins won't usually sound good anyway. We've been pretty spoiled with monitor speaker quality ever since we experienced the Dell U3224KB. It had a nice built-in soundbar which was perfect for movies and even some gaming.
Display and Performance
The MSI Optix G321CU boasts a 32-inch curved VA panel with a 3840 x 2160 resolution, a 144Hz refresh rate, and a 1ms boosted MPRT response time. The backlight has a 300 cd/m2 output, while the contrast ratio is listed at 3000:1, like most VA monitors. MSI did not advertise VESA HDR certification for this model, but it is HDR Ready.
We'd rather get a 32-inch monitor if it's a 4K screen since the pixel density isn't too tight. Visibility and legibility are much better, but you don't lose out on sharpness and details since the higher pixel count is still there. Not a lot of systems can stably run up to 144Hz, so an upgrade in the GPU department might be necessary as well.
The MSI Optix G321CU covered 100% of the sRGB gamut and 88% of the DCI-P3 color space. Its default accuracy had a deltaE average of 3.21, so its not accurate out of the box like some models we've seen. However, gamers will like the extra saturation in some instances, so calibrating isn't immediately necessary.
Using a colorimeter improved the G321CU's accuracy by reducing the deltaE average to a respectable 1.03. Doing this makes it usable for editing work and content creation, besides multi-platform gaming. However, you will need a colorimeter which is only considered practical if you are into color-critical work.
The MSI Optix G321CU's backlight reached 303 cd/m2 at 100%, with a slight raise to 311 cd/m2 when it's fed an HDR signal. Its contrast reached 2202:1 at 40% brightness, so it's considerably better at black luminance and showing dark scenes. IPS, even if it has new variants that offer improved contrast, still has a long way to go before it can catch up to VA panels.
Its panel uniformity had some issues in the form of clouding or backlight leaks at the top edge of the screen. This is common on curved monitors, but they are not permanent. It is still possible to get a unit without issues like this since it most likely got through manufacturing tolerances that deemed the final product to be acceptable for sale.
The monitor's pixel response time isn't the best in the market, but it is not as bad as the older VA gaming monitors. Some trails and smudges can show up in contrasting transitions, like when a jet blasts through the night sky. Using its overdrive's Fastest level is your best choice, although it adds a little overshoot in some instances.
The MSI Optix G321CU is compatible with both FreeSync and G-Sync, so you don't have to worry about tearing and stuttering. Having dual compatibility is a must-have if you plan to keep your monitor through several GPU upgrade cycles. Input lag sits at a little over 4ms at 144Hz, so it is fast and responsive enough for competitive play.
Thoughts on the MSI Optix G321CU
The MSI Optix G321CU  is a suitable choice for users who want top-end gaming performance for as little money as possible. You get a large 4K 144Hz curved display with useful features for under half a grand. Close competitors like the Gigabyte M32UC or IPS-equipped alternatives cost at least a hundred bucks more.
There is still some room for improvement, such as its stand, which severely limits your options. It is also inaccurate out of the box, unlike the other MSI gaming monitors we've seen in the past. However, all of these are forgivable based on the very low price.
Pros:
Low Price for 4K 144Hz (Summer 2023)
Large and Immersive Screen
FreeSync and G-Sync Compatible
Excellent Build Quality
HDMI 2.1 and USB-C Connectivity
Cons:
Tilt-Limited Stand
Prone to Blurring
Poor Default Color Accuracy
USB-C Limited to 15W
About the Author: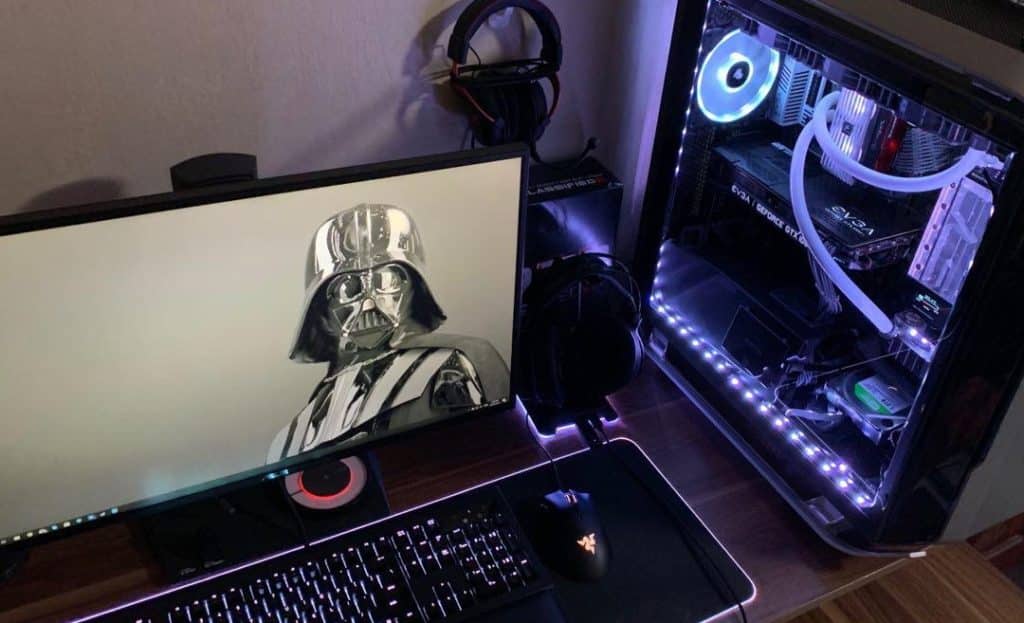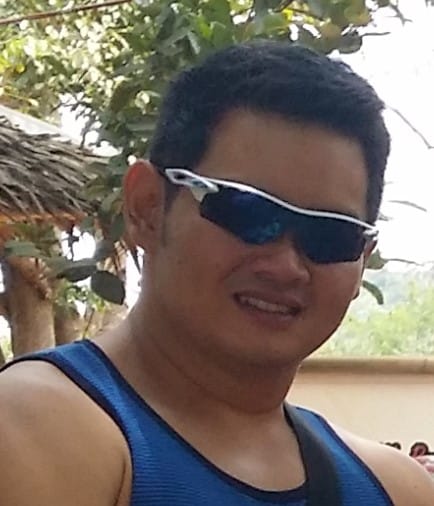 Paolo has been a gaming veteran since the golden days of Doom and Warcraft and has been building gaming systems for family, friends, and colleagues since junior high. High-performance monitors are one of his fixations; he believes that every citizen's right to enjoy one. He has gone through several pieces of hardware in pursuit of every bit of performance gain, much to the dismay of his wallet. He now works with Monitornerds to scrutinize the latest gear to create reviews that accentuate the seldom explained aspects of a PC monitor.