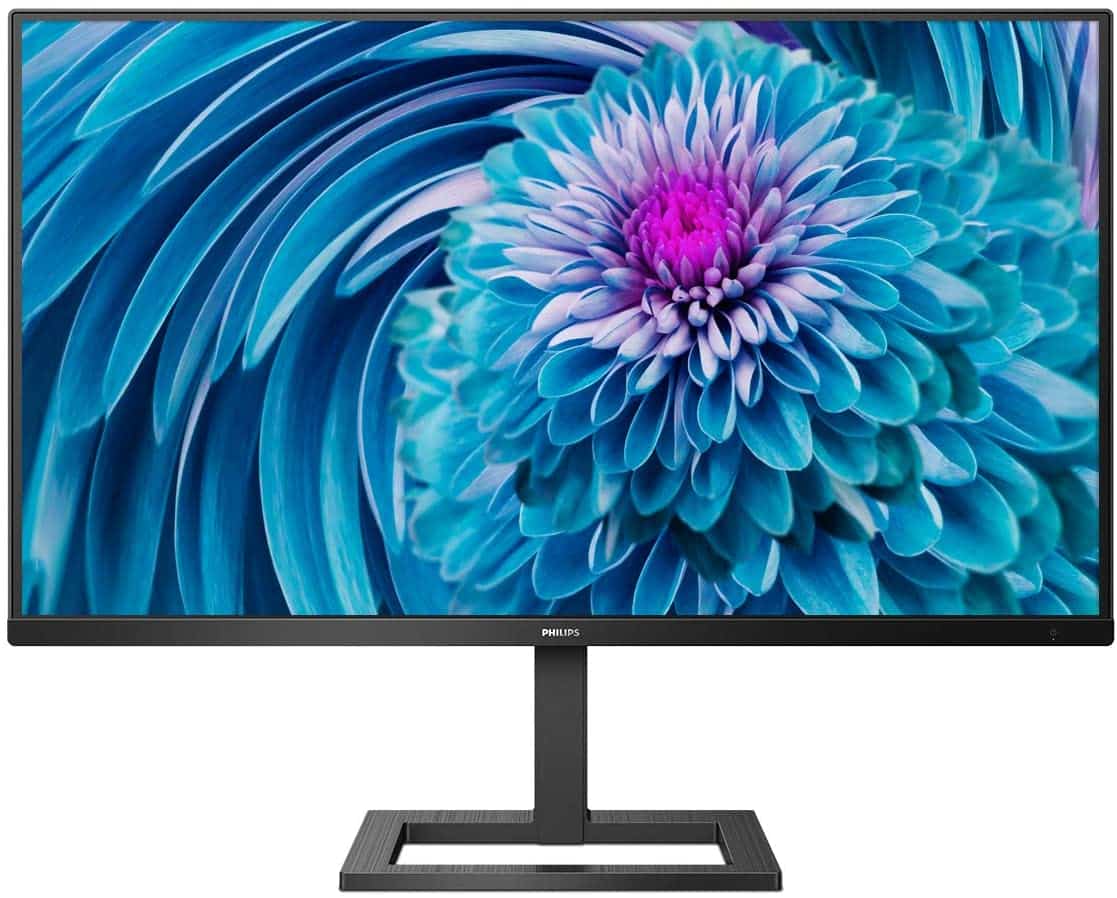 The Philips 288E2E offers a crisp 4K IPS display with excellent color quality at a reasonable and economy-oriented price point. It's a mixed-use monitor for daily tasks, but it's also suitable for gaming and content creation. Let's see if the Philips 288E2E can be the new value king against its predecessors in the 4K IPS category.

Philips 288E2E Specifications
Screen Size: 28 Inches
Resolution: 3840 x 2160 4K
Aspect Ratio: 16:9
Panel Technology: In-Plane Switching (IPS)
Refresh Rate: 60Hz
Response Time: 4 ms
Contrast Ratio: 1000:1
Brightness: 300 cd/m²
Built-in Speakers: No
Stand: Height – Yes
Stand: Tilt – Yes
Stand: Swivel – Yes
Stand: Pivot– Yes
VESA Compatibility: Yes (100 x 100)
Connectivity: DisplayPort 1.2 x 1, HDMI 2.0 x 2, 3.5mm Audio Jack x 1
Dimensions: (W x H x D): 25.1" x 19.4" x 8.8"
Weight: 13.22 lbs

Design and Features
The Philips goes with an edgy, minimalist design that looks clean and sophisticated no matter where you use it. The monitor has a matte black chassis with brushed texture accents, so it manages to look classy without clashing with any type of setup. The display is bezel-free on three sides, but you will still see minimal inner borders when it's in use.
We like how its frame slimmed down since its bulge is located at the lower half of the rear. The squarish base takes up a bit of depth, but it's hollow in the middle, so it can hold small items like phones or stream decks. The monitor weighs just right, thanks to some metal materials on its stand, so it doesn't feel cheap or flimsy when it's held.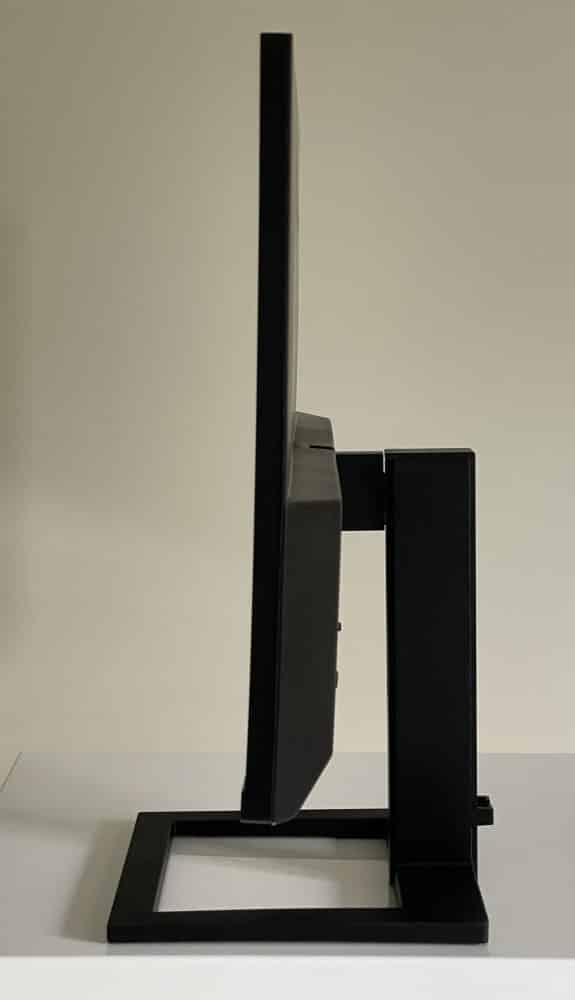 Build quality for the Philips 288E2E is great, and the monitor feels durable and reliable even if it belongs to the budget segment. The plastics used don't feel thick, but they are sturdy, and they don't flex or warp easily. The stand offers excellent stability, so there is very limited wobbling on the display when it is on your desk.
This model also has an easy-to-use joystick with a larger, square knob for easy access and navigation through the OSD. Other monitors in the same price range often have buttons that are at times confusing to use. You have to reach for it behind the Philips 288E2E, but it's still accessible since this model isn't too wide.
The stand included with the Philips 288E2E only offers tilt and height adjustment for ergonomics. That's fine for most users since it's all you will ever need to get a comfortable view angle. You can also use VESA mounts with this model, but it is only necessary for multi-display setups.
Philips probably had to cut down on the 288E2E's connectivity to help lower its suggested retail price. The layout at the rear includes DisplayPort 1.2, two HDMI 2.0 slots, and a 3.5mm analog jack for your host devices and headphones. It doesn't have USB ports, but at least it can accommodate your PC plus two 4K gaming consoles on the side.
The Philips 288E2E also doesn't have speakers included, but that's ok since desktop sets or headphones usually sound and perform better. They would enhance the product's value, but it's hard to argue if you're only paying more or less $300 for a 4K product.
Display and Performance
The Philips 288E2E sports a 28-inch IPS panel with a 3840 x 2160 resolution, a 60Hz refresh rate, and a 4ms response time. The backlight has a 300 cd/m2 maximum, while the contrast ratio is limited to 1000:1 like most IPS panels. This model doesn't have special features like HDR, but it advertises wide color coverage with pre-calibrated accuracy.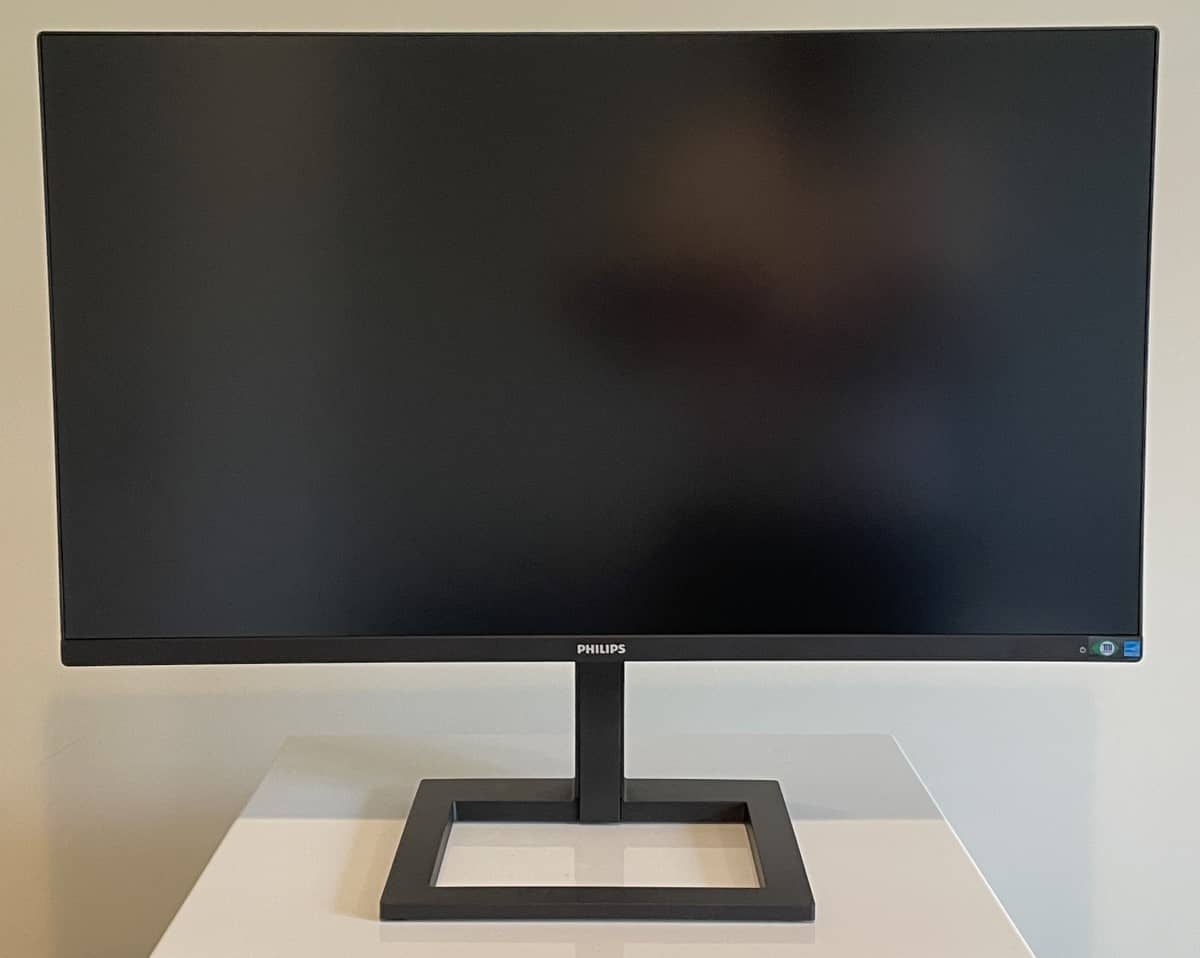 4K monitors at this size can sometimes appear too sharp for productivity use such as reading or document processing. Some users might feel the need to wear glasses or use scaling to help text become more legible. However, it will look fantastic for games and movies since the extra crispness will enhance the cleanliness of objects despite the performance hit on the GPU.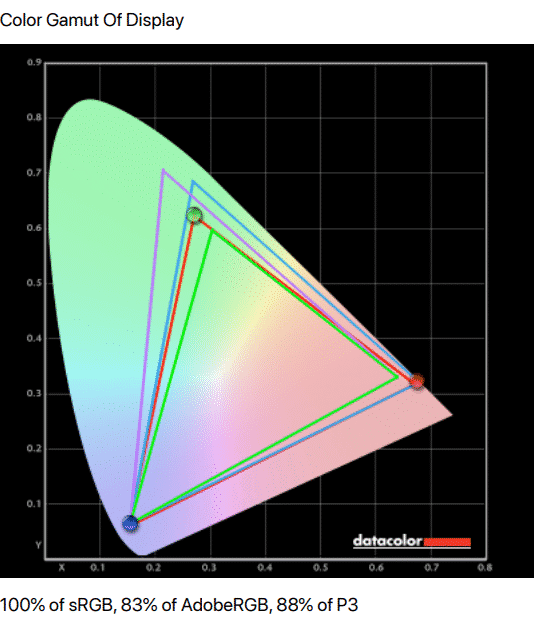 The Philips 288E2E exceeds 100% sRGB and reaches around 88% DCI-P3, which more than enough for daily use. It's not as wide as the company claims, but the deltaE average of 1.83 using its default profile is great. Most users will be happy with the monitor right away, although some tweaks to the backlight are necessary.
Calibrating the Philips 288E2E with the help of a colorimeter lowered the dE average to 0.79, which is already within prosumer standards. This makes the monitor usable for photo editing and content creation. However, most users won't need to buy the colorimeter to enjoy balanced saturation levels in games or movies.
The monitor reached a peak brightness of 328 cd/m2, but its contrast failed to impress at 1035:1 at 40% brightness. The panel's black luminance isn't low enough to allow it to produce true blacks, so it can look grayish or washed out in some instances. Take note that this is an accepted weakness of IPS tech, so VA is your only pick if it bothers you.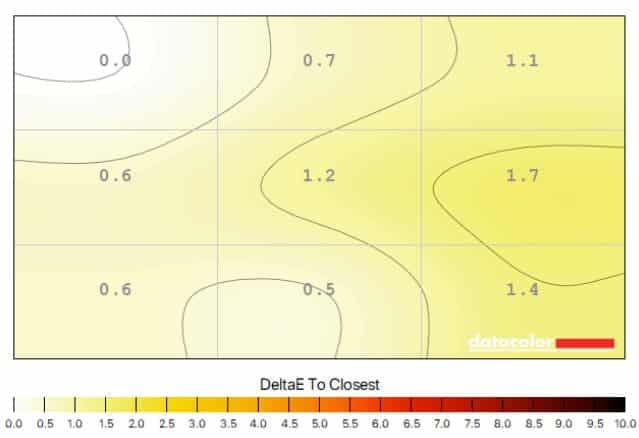 Panel uniformity for the Philips 288E2E  is great since there were no major backlight leaks on the screen's quadrants. Some clouding or blooms can be seen in an all-black or dark picture, but it's not intense enough to disturb the viewer. This aspect can vary due to the nature of IPS panels, so there are better and worse units out there.
The Philips 288E2E  has a decent pixel response time, so it can handle some motion sequences without massive blurring. Fast-paced scenes from games like Call of Duty Warzone can reveal some smudges in contrasting transitions, but we don't consider it a deal-breaker. We recommend using the Faster setting of its SmartResponse feature to help clear up the screen and minimize blurring.
The Philips 288E2E  is a FreeSync monitor, but it also works with Nvidia's G-Sync Compatible mode. You have to force it via the Nvidia Control Panel since the monitor isn't certified, but it works flawlessly in tests. Input lag sits at 9ms at 60Hz, so you won't feel any delays or "de-synced" instances while playing.
Thoughts on the Philips 288E2E
The Philips 288E2E is a fantastic pick for users who want a high-quality 4K IPS monitor that doesn't cost a small fortune. You get a well-tuned and balanced display that doesn't need calibration at a very low price point. It lacks a few creature comforts, but we think it's decently equipped for daily usage.
What's great about the Philips 288E2E is it doesn't have true-blue deal-breakers even if it's considerably more affordable. However, it is far from perfect, and it does have a few omissions that may sway others to look for alternatives. However, it's a great buy, and we highly recommend it for anyone who wants to upgrade to 4K.
Pros:
Affordable 4K IPS Monitor
Great Default and Calibrated Accuracy
FreeSync and G-Sync Compatible
Attractive and Functional Design
Cons:
Stand is Limited to Height and Tilt
No USB Ports
Middling Motion Handling Performance
About the Author: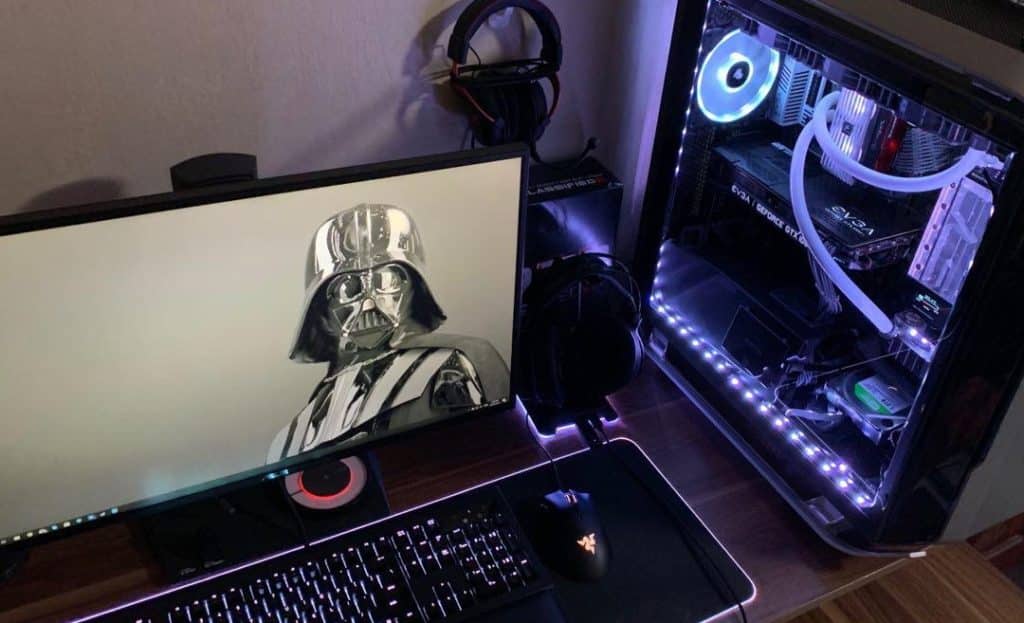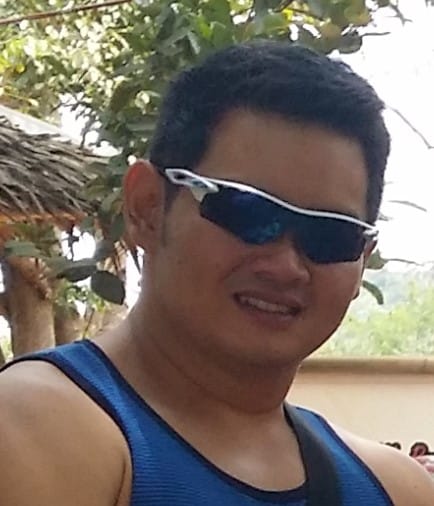 Paolo is a gaming veteran since the golden days of Doom and Warcraft and has been building gaming systems for family, friends, and colleagues since junior high. High-performance monitors are one of his fixations and he believes that it's every citizen's right to enjoy one. He has gone through several pieces of hardware in pursuit of every bit of performance gain, much to the dismay of his wallet. He now works with Monitornerds to scrutinize the latest gear to create reviews that accentuate the seldom explained aspects of a PC monitor.