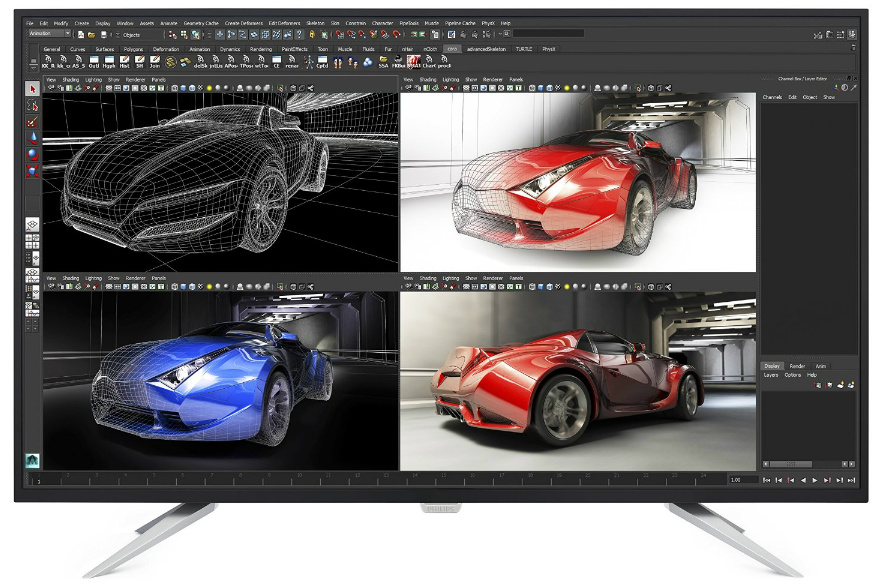 Philips BDM4350UC Review
MonitorNerds

Newegg Customers
Now that 4K monitors are affordable to the general population, manufacturers are experimenting with different types of features, screen sizes, and panel. The Philips BDM4350UC is a behemoth of a monitor, standing at 43 inches. It is an overhaul of its predecessor, the BDM4065UC which stood at 40 inches. This time, Philips opted for an IPS panel instead of a VA, a choice that naturally comes with advantages and drawbacks too.
Review of Philips BDM4350UC: Design and physical features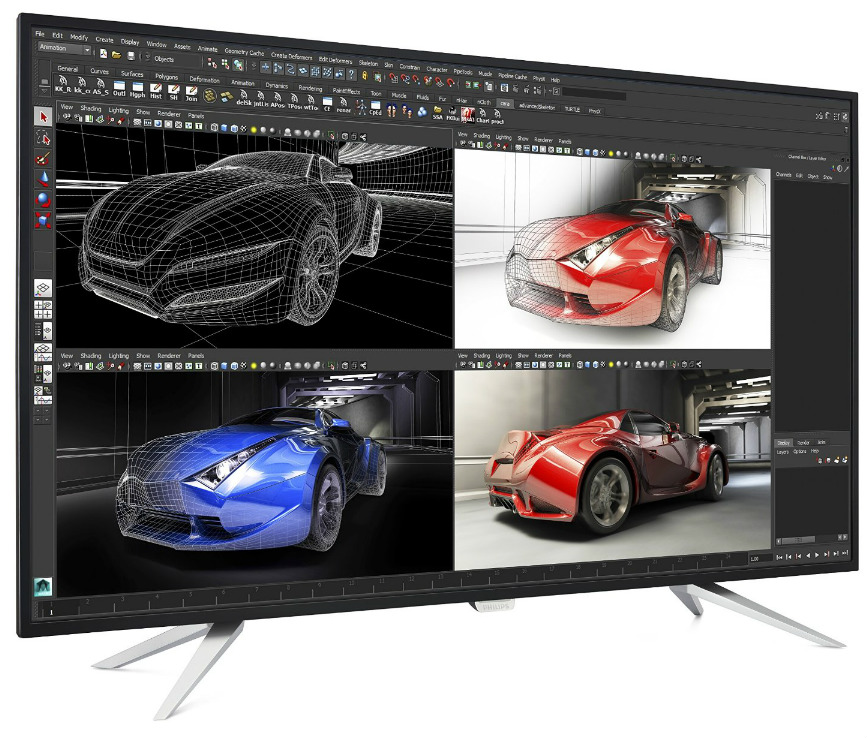 If you have not used such a big monitor before then, the first thing you will notice about the BDM4350UC is how huge it is. In reality, it looks more like a smaller version of the 4K TVs out on the market right now than a PC monitor. The bezel is quite small, and the Philips logo at the bottom of the screen is not just unobtrusive but also functional as it houses the power LED which glows or flashes accordingly. The included stand is quite basic, and it is not flexible at all. However, you can take advantage of the VESA holes and attach a different stand.
The back of the screen houses several ports. These include two HDMI 2.0 ports, two DisplayPort 1.2 ports, four USB 3.0 ports (with one supporting fast-charging) and a USB 3.0 upstream port, VGA, 3.5mm audio input, and a 3.5mm headphone jack. The HDMI and DP ports are necessary for the maximum resolution of 3840 x 2160 at 60Hz. Finally, there are two speakers which offer surprisingly good audio quality. Though they will not impress any audiophile, the speakers are fine enough that you could watch a movie without sacrificing too much.
Display – features and modes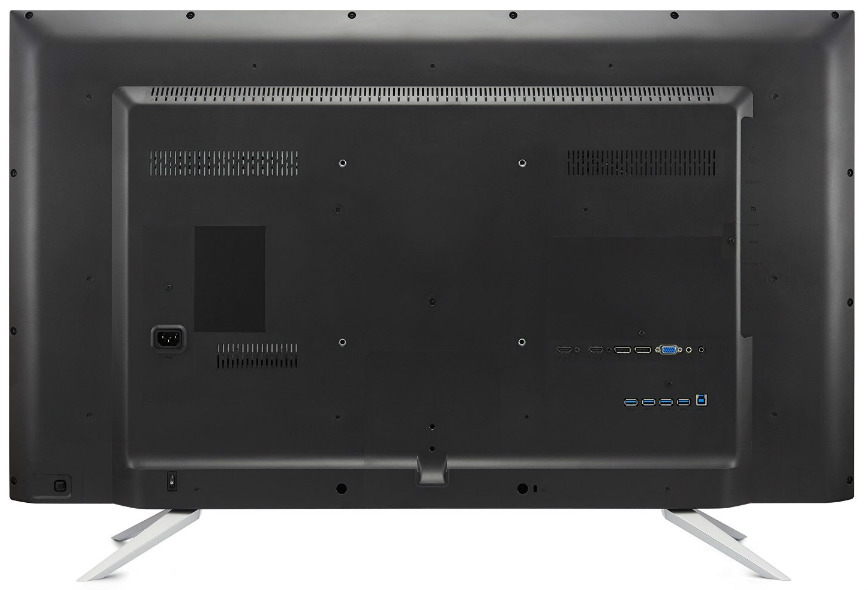 As is the case with many modern monitors, Philips has a joystick controller at the back of the screen which is used to navigate the On-Screen Display. The company's SmartImage presets are all present including SmartUniformity, Economy, Game, Movie, Office, and Photo. Some calibration will be required to get the most out of the screen though its default state is not too shabby. Reducing the brightness is certainly recommended, particularly because the glossy screen reflects too much light. Using this monitor in front of a window is definitely not recommended so make sure to keep that in mind before committing.
Backlight bleeding is not a concern at all though the dreaded IPS glow is definitely visible from some angles. However, the effect is certainly not strong or noticeable enough to make a difference, and this should not put you off at all. If you have seen the BDM4065UC in action, you might also expect a fantastic contrast ratio, but the BDM4350UC is slightly disappointing in that regard. Slightly is the keyword here, however, because the monitor still manages fantastic displays in spite of the weak contrast ratio.
Performance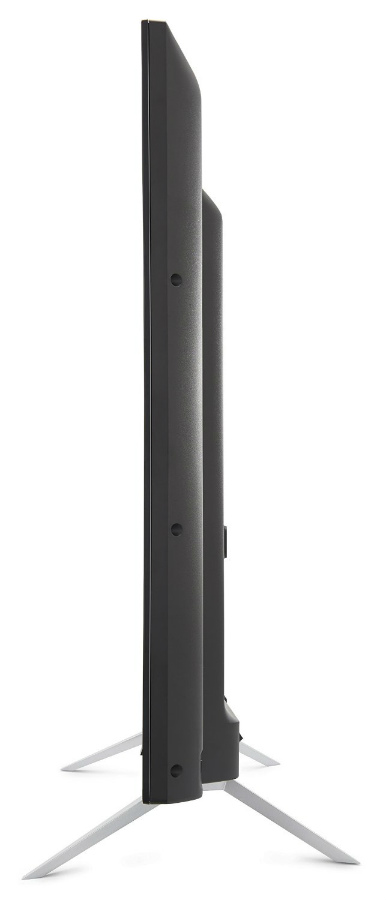 Image editing, movie watching, and video gaming are all possible on this monitor though some interactions are better than others. The pixel density of about 103 PPI is quite decent, and everything looks smooth and detailed. The display offers a lot of real estate for multitasking which will be certainly appreciated by image editors and coders alike.
When watching movies, the performance of the 43 ″ display is phenomenal. Color reproduction is excellent, and the images look absolutely vivid. In action movies, the explosions and gunfire are extremely intense. In sci-fi movies, both the neutral and bright colors look stunning. For video games, the response time is not all that great but as long as you are not a competitive gamer then the display will be more than enough. Operating UHD at 60FPS allows for a lot of details while the sheer size of the screen makes everything feel more immersive. Finding the right spot to sit in front of the screen can be a challenge, but your efforts are surely rewarded.
Conclusion
Those of you who do not care much about the contrast ratio or having a competitive gaming screen will find a lot to like in the Philips BDM4350UC. The monitor's features and performance more than justify the asking price. If you have the hardware to support it, then I would definitely recommend this monitor as a good investment. Note that while lower resolutions are supported, the monitor is way too big for Full HD, for instance, and images will most likely appear too 'soft.'
The one thing I would like to note is that many users have reported poor QA from Philips in regards to this monitor. If you do decide to purchase the BDM4350UC, make sure that you check it for any faults right away. Replacing the monitor can be a hassle, but your warranty should cover any issues. At the end of the day, you will have a huge screen with a very decent display that should keep you entertained for quite a few years.