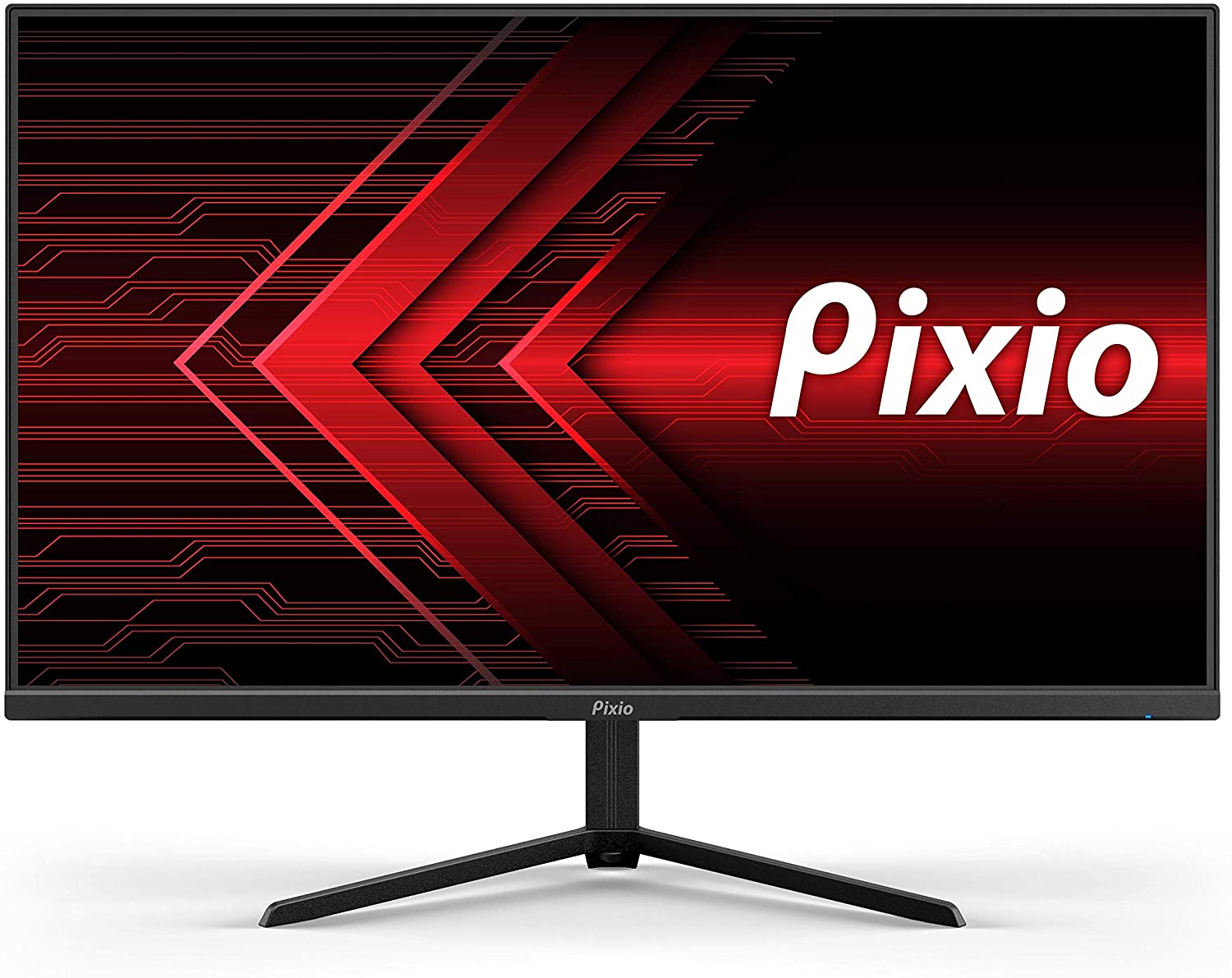 The Pixio PX248 Prime is an inexpensive gaming monitor that costs as much as a budget TN model but instead, includes a capable IPS panel. Pixio has a reputation for offering the most affordable monitor deals, giving those who want more bang for their buck an enjoyable visual experience that usually costs a tier or two higher. The Pixio PX248 Prime's potential in image quality versus the TN-based PX247, but let's see first how it performs.
Pixio PX248 Prime Specifications

Screen Size: 24 Inches
Resolution:1920 x 1080 FHD
Aspect Ratio: 16:9
Panel Technology: In-Plane Switching (IPS)
Refresh Rate: 144Hz
Response Time: 4ms (1ms MPRT)
Contrast Ratio: 1000:1 (Static)
Brightness: 400 cd/m²
Speakers: Yes (2 x 2 Watts)
Stand: Height – No
Stand: Tilt – Yes
Stand: Swivel – No
Stand: Pivot – No
VESA Compatibility: Yes (100 x 100)
Connectivity: DisplayPort 1.2 x 1, HDMI 1.4 x 1, HDMI 2.0 x 1, 3.5mm Jack x 1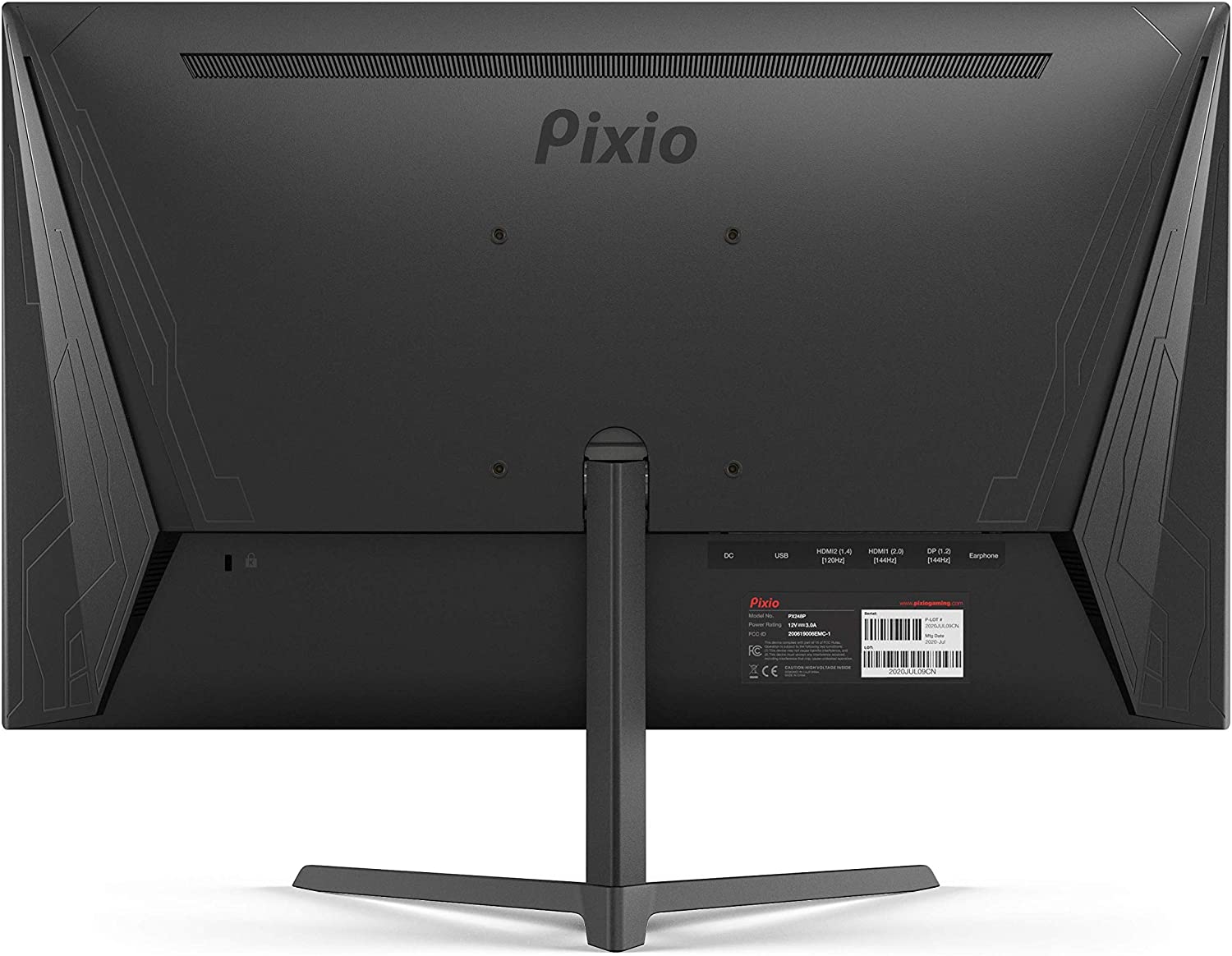 Design and Features
The Pixio PX248 Prime doesn't change a lot when it comes to aesthetics, but that's acceptable since it looks clean and functional. The monitor has a matte black chassis with no decorative attachments, so it looks neat and subdued which many will like. The monitor is bezel-free on three sides, but you will still see panel borders which are expected.
What's great about the Pixio PX248 Prime is it's lightweight and it doesn't take up a lot of space on your desk. The floating design of the stand means it consumes a smaller area on your desk, so you can pass your cables underneath the base or use the areas around it for your peripherals. These also mean that the monitor is portable so it will be easy to move around or bring with you to LAN parties or anything similar.
There are some noticeable improvements on the Pixio PX248 Prime compared to its predecessor, but you will still know that it's a budget offering. The monitor lightly wobbles and the plastic panels can at times feel thin compared to other brands. The device isn't fragile or weak, but it doesn't feel as solid as premium brands if you hold up both and compare them.
One significant improvement we found for the Pixio PX248 Prime is it now has an OSD joystick instead of buttons which are more common on budget monitors. Pressing it opens the joystick and it's pretty much smooth sailing from there. Buttons are typically more difficult to use since you need multiple keystrokes to get to a specific sub-menu, so wrong inputs are quite common unless you've already memorized their functions and positions.
The stand included with the Pixio PX248 is solidly built, and it does a good job of keeping the monitor upright even if there is a bit of wobbling. Its biggest limitation is it only offers tilt adjustments, so getting a preferred view angle will always be limited. You can swap it out for a VESA mount, but that adds more to the total cost which could get you a better-equipped variant if you look around.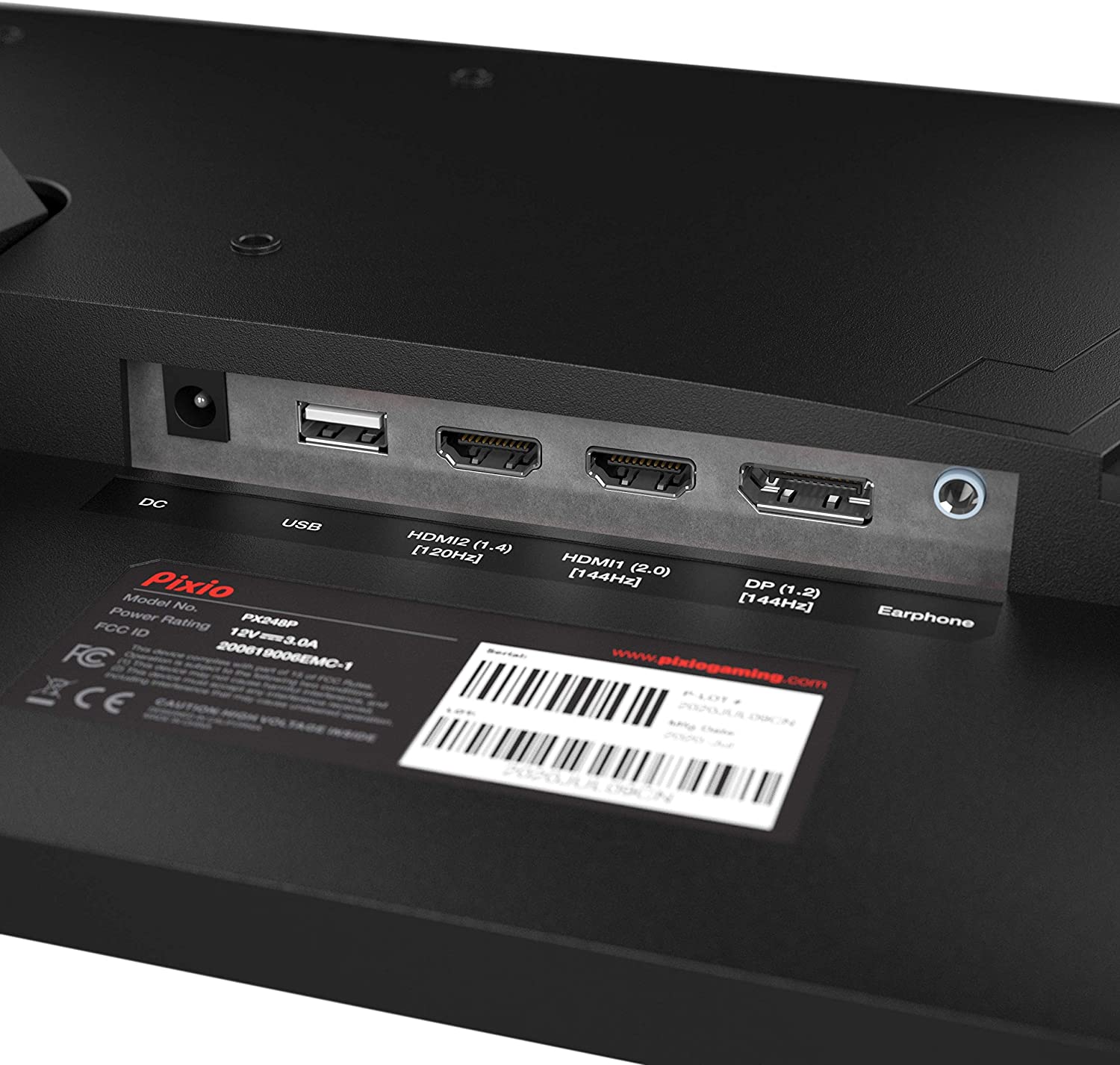 The I/O panel for the Pixio PX248 Prime includes DisplayPort 1.2 and two HDMI slots with versions 1.4 and 2.0. There are no usable USB ports, but what's offered is enough for daily use even if you have other platforms like the PS5 on your gaming setup. You will also find a 3.5mm jack for headsets, but we think most would rather use the motherboard's ports so the audio device would be directly connected to the sound card.
You also get a pair of speakers with the Pixio PX248 Prime which is always nice to have, especially at this price point. They don't sound ground-breaking or capable for gaming and entertainment purposes, but we always like functional extras which can come in handy in some instances. We've seen an uptick in work-from-home use, so you could delegate the pair for video conference calls or background music while crunching the numbers.
Display and Performance
The Pixio PX248 Prime sports a 24-inch IPS panel with a 1920 x 1080 resolution, a 144Hz refresh rate, and a 1ms boosted response time. The backlight gets upgraded to 400 cd/m2 while the contrast ratio is listed at 1000:1 like most IPS panels. The previous version used a TN panel, so there is a noticeable improvement in color quality and vibrancy on this variant when both are compared side by side.
24-inch 1080p are very common, so most users won't struggle to adjust with the Pixio PX248 Prime which looks just like any of the models used for offices and schools. You don't get the extra virtual space of 1440p and 4K monitors, but visibility is excellent and scaling won't be used. Games aren't as crisp as well, but the good news is it will be easier for any GPU to run games at high refresh rates with this monitor.
The Pixio PX248 Prime is capable of 105% sRGB coverage and around 70% DCI-P3 by default. These aren't the highest we've seen in the 144Hz IPS category, but it's already great for gaming since the screen looks rich and full. Default accuracy, on the other hand, could be better since the DeltaE average sat at a disappointing 5.63 using the monitor's default settings.
However, manually calibrating the Pixio PX248 Prime will not disappoint since it will correct the noticeable errors and reduce the dE average to a more decent 2.83. Using a colorimeter will further improve that score to 2.17 but buying the gadget just to tweak a budget 144Hz monitor isn't worth it. Colorimeters typically cost as much as this product if not more, so you might as well invest in a more premium offering if you want better fidelity.
The backlight on the Pixio PX248 Prime reaches 410 cd/m2 at its maximum level, so turning it down to around 40-50% will better for your eyes. Doing so will also result in a 1250:1 contrast ratio which is generally better than what other IPS monitors manage. The screen doesn't give inky blacks like VA panels, but it looks richer compared to other models, especially when it is used in the dark.
The Pixio PX248 Prime sample showed decent panel uniformity with very minimal variances and backlight leakage. The latter is limited to the upper corners of the screen, and they aren't noticeable while playing games. Viewing an all-black image will reveal some clouding issues, but do take note that this varies between every unit due to the nature of IPS tech.
The Pixio PX248 Prime performs just as well as the AOC 24G2 when it comes to pixel response time, so blurring won't be an issue. You might need to use some of the monitor's overshoot feature, but maxing it out isn't necessary to clean up the already minor persistence and smudges on the screen. We've seen this performance on most 144Hz IPS monitors, proving that this budget option doesn't lag behind in competitive gaming.
The Pixio PX248 Prime is a FreeSync gaming monitor, but it also works with Nvidia's G-Sync Compatible mode using the latest drivers. This duality is great for gamers since you won't be stuck with one GPU brand for as long as you are using it for gaming. Input lag is slightly slower at 6ms, but you won't notice a difference while playing competitive titles.
Thoughts on the Pixio PX248 Prime
The Pixio PX248 Prime brings 144Hz gaming with vibrant colors even closer to the masses with its considerably lower price point. It lacks a few creature comforts and some fine-tuning, but it works quite well for fast-paced games like Valorant and CSGO. Pixi0 has been improving its new releases in recent years, and we can't wait to see how good their future products will be.
However, the price advantage of the Pixio PX248 Prime might not be as competitive as most would think since its competitors from big-name companies are only 20% more expensive. Money saved is still money in the bank unless you are doing a complete build where every dollar counts. The Pixio PX248 Prime is a great choice if you want to spend less, but great alternatives like the MSI G241 are already similarly priced.
Pros:
Affordable
Great Pixel Response Time and Low Input Lag
Full sRGB Coverage
FreeSync/G-Sync Compatible
Cons:
Limited Features
Default Accuracy Needs Improvement
About the Author: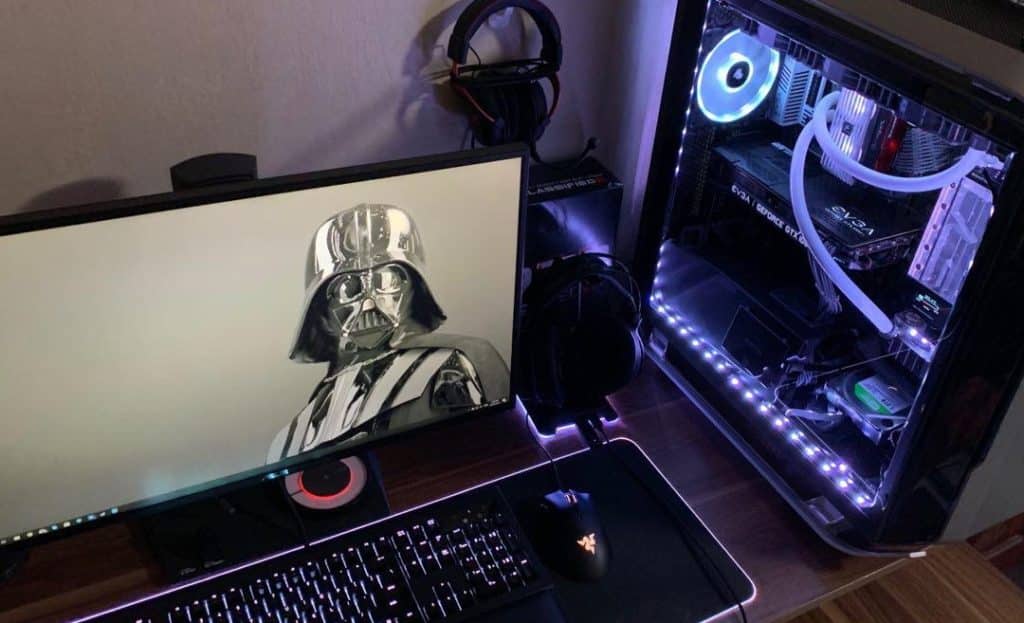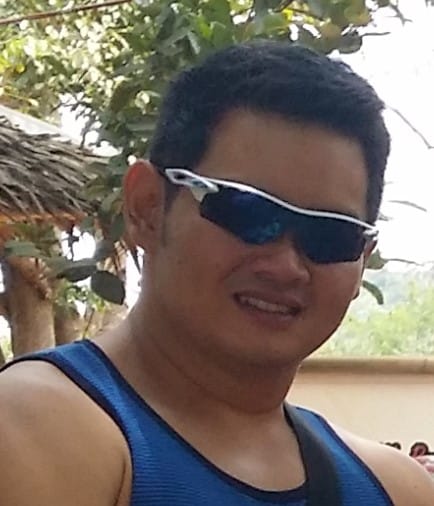 Paolo is a gaming veteran since the golden days of Doom and Warcraft and has been building gaming systems for family, friends, and colleagues since his junior high years. High-performance monitors are one of his fixations and he believes that it's every citizen's right to enjoy one. He has gone through several pieces of hardware in pursuit of every bit of performance gain, much to the dismay of his wallet. He now works with Monitornerds to scrutinize the latest gear to create reviews that accentuate the seldom explained aspects of a PC monitor.