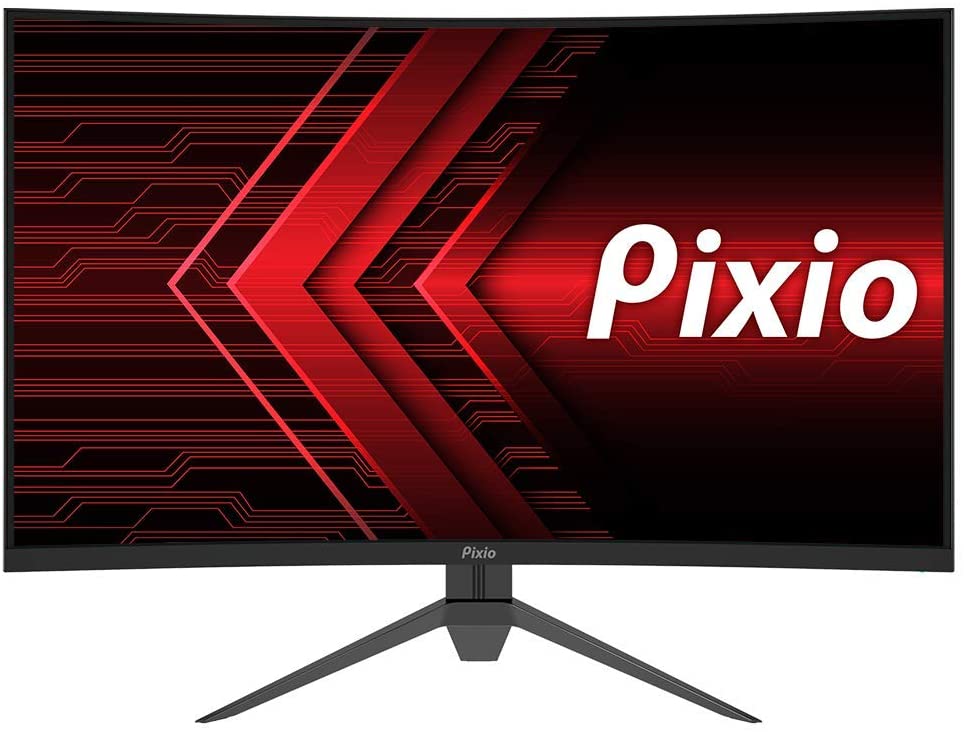 The Pixio PXC327 is an affordable gaming monitor with a large and immersive screen that offers great contrast and colors. Its priced to compete against superb value-oriented options like the Gigabyte G32QC, so it has big shoes to fill when it comes to performance. Let's find out if the Pixio PXC327 is the new value king on the block.

Pixio PXC327 Specifications
Screen Size: 32 Inches
Resolution: 2560 x 1440 QHD
Aspect Ratio: 16:9
Panel Technology: Vertical Alignment (VA)
Refresh Rate: 165 Hz
Response Time: 1ms MPRT
Contrast Ratio: 3000:1
Brightness: 350 cd/m²
Built-in Speakers: No
Stand: Height – No
Stand: Tilt – Yes
Stand: Swivel – No
Stand: Pivot– No
VESA Compatibility: Yes 100 x 100
Connectivity: DisplayPort 1.2 x 2, HDMI 2.0 x 1, 3.5mm Jack x 1
Dimensions With Stand(WxHxD): 28.5″ x 16.7 x 7.5″
Weight: 12.1 lbs

Design and Features
The Pixio PXC327 resembles many of its siblings so it sports a simple and sleek design that won't go out of style. The monitor has a matte black finish all over which will not overpower the aesthetics of your build. The display is bezel-free on three sides, so the screen seems larger than it already is upfront.
You need to save some space for the Pixio PXC327 since it's going to be bigger than most monitors we're used to. It needs almost 30 inches of width, so it can interfere with large bookshelf speakers if you have a pair on your desk. What's great about it, however, is it only needs 7.5 inches of depth so it should fit nicely above your full-sized keyboard.
The Pixio PXC327 is quite big, but it's terribly lightweight at 12.1 pounds, so it may feel cheap or fragile for some. The plastics used, however, are decently durable so they won't crack or flex that easily. The stand has a bit of wobble, so lighten your touch on your desk to avoid making the screen shake while gaming or typing.
We like that the Pixio PXC327 and other latest variants from the brand now have OSD joysticks instead of the usual buttons. It also doubles as the power switch, but it's not easy to accidentally turn off the display since it's properly laid out. This model's submenus has also grown a bit, so a quick and painless navigation tool will come in handy for those quick tweaks while gaming.
The stand included with the Pixio PXC327 is limited to tilt, so you don't get a lot of options when it comes to ergonomics. You only need to sit at the center of a curved display, but height adjustments are crucial since users don't have identical anthropometrics. You can opt for VESA mounts, but that adds cost that can offset the product's money-saving appeal.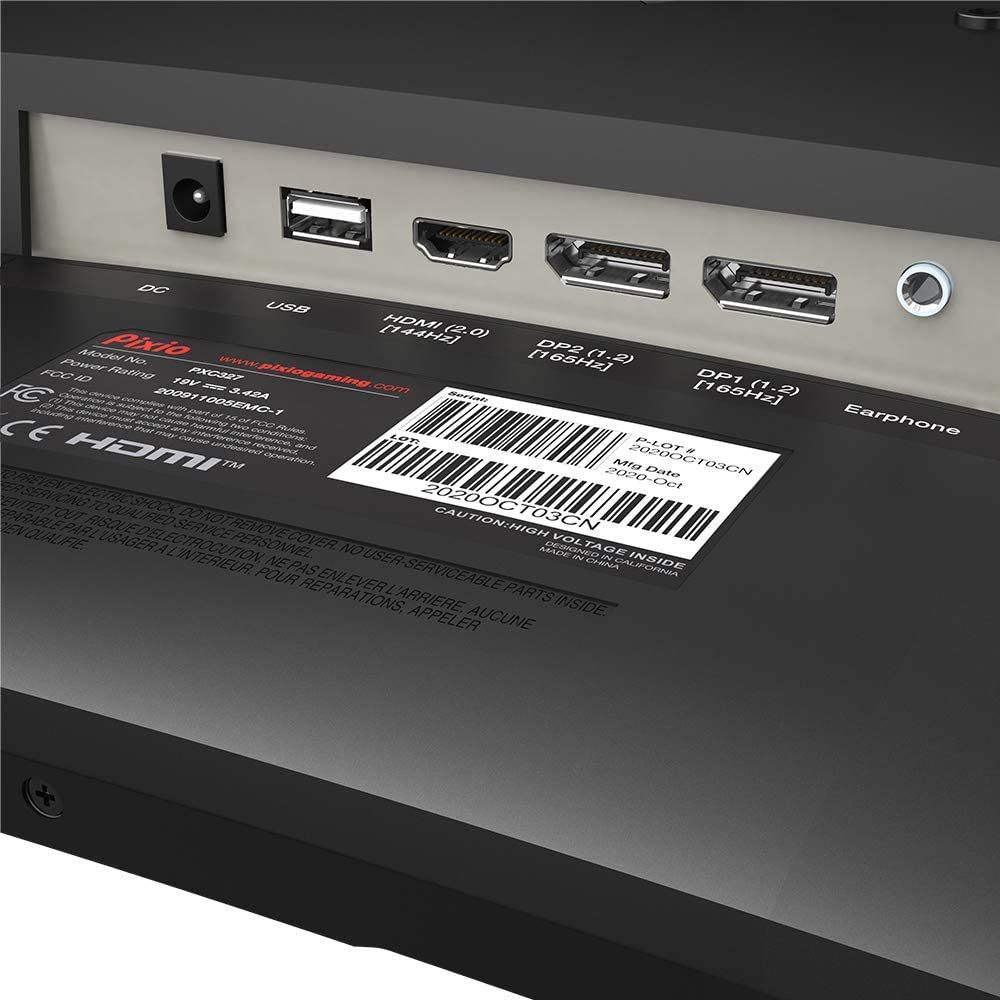 Connectivity for the Pixio PXC327 is pretty standard, but it does have two DisplayPort 1.2 slots unlike many models in the same range. You also get an HDMI 2.0 port for consoles and a 3.5mm jack, but there are no other extras like USB ports. That's ok for budget monitors, but we'd love to have another HDMI slot as well for those who own multiple platforms.
The Pixio PXC327 doesn't have speakers, but that's ok since it's geared towards affordability so it's understandably lacking a few extras. It's also worth noting that headsets are way better for immersive gaming since they will help deepen the experience by enclosing your hearing as well.
Display and Performance
The Pixio PXC327 boasts a 32-inch curved VA panel with a 2560 x 1440 resolution, a 165Hz refresh rate, and a 1ms MPRT response time. The backlight is listed at 350 cd/m2 while the contrast ratio is specified at 3000:1 like many VA panels. This model has a gentler 1800r curve and it's compatible with HDR10 signals even if it's not equipped for extended dynamic range.
32-inch 1440p screens aren't very sharp or crisp, but they still provide more details and virtual space compared to lower-level variants. Games will need less post-processing tricks to look clean and slick, but productivity will also improve since it's easy on the eyes. However, you are going to need a more powerful GPU for the former if you want to stay close to the 165Hz limit.
The Pixio PXC327 renders around 125% sRGB and around 84% DCI-P3 so it looks extra vibrant with punchy bright colors. However, color accuracy out of the box is dismal since the deltaE average reached 3.89 in tests. It looks like Pixio didn't calibrate this monitor from the factory, so you might have to do some tweaking.
Calibration with a colorimeter produced a deltaE average of 1.59 for the Pixio PXC327 which resulted in a more balanced look. The noticeable oversaturation will tone down, but it still isn't suitable for editing work, especially since it doesn't have an sRGB filter. Spending on a colorimeter isn't practical to calibrate a budget monitor, but if you already have one, then you are in luck.
The Pixio PXC327's backlight barely reached its rating since it maxed out at 320 cd/m2 in SDR. Feeding it an HDR10 signal can boost the maximum to 395 cd/m2 which almost puts it in HDR 400 territory, while its contrast reached 2805:1 and 3405:1 respectively. That's pretty good for gaming if you want deep blacks and rich saturation, but don't expect true HDR performance from the monitor.
Panel uniformity for the Pixio PXC327 could better since there are backlight leaks along the top and bottom edges of the screen. These flaws created clouding issues in some instances such as dark scenes. Do take note that this varies between every unit due to tolerances, so not all that are out there suffer the same fate.
Responsiveness for the Pixio PXC327 is decent since blurring and smudging won't be as noticeable at 165Hz. It also has a backlight strobing feature, but it induces some trailing issues and persistence instead of tightening the motion clarity so it's not recommended.
The Pixio PXC327 is a FreeSync gaming monitor, but it also works with Nvidia's G-Sync Compatible mode if you manually activate it. Both GPU companies have compelling 1440p options, so it's nice to be free of exclusivity this time around. Input lag sits at around 5ms at 165Hz, so there is no need to worry about delays while gaming.
Thoughts on the Pixio PXC327
The Pixio PXC327 offers excellent gaming performance since it has a fast and immersive curved screen. It's not perfect since it's not tuned from the factory, but it's an affordable monitor so a lot of these limitations are understandable. However, many like the Gigabyte G32QC are rising to the occasion, offering more features for better value.
The biggest fault of the Pixio PXC327 would be its dismal color accuracy which leaves plug-and-play users out of enjoying accurate hues. That's not entirely necessary for gaming, but as mentioned, many brands are already pushing for better quality at lower price points. The good news for this model is it usually goes on sale for around $300 which makes it a great buy if you catch it at the right time.
Pros:
Wide sRGB Coverage
Simple Design
Very Low Price
Gentle Curve with Low Distortion
Responsive 165Hz VA Panel
Cons:
Dismal Color Accuracy
Strobing Feature Performs Worse
Limited Features
About the Author: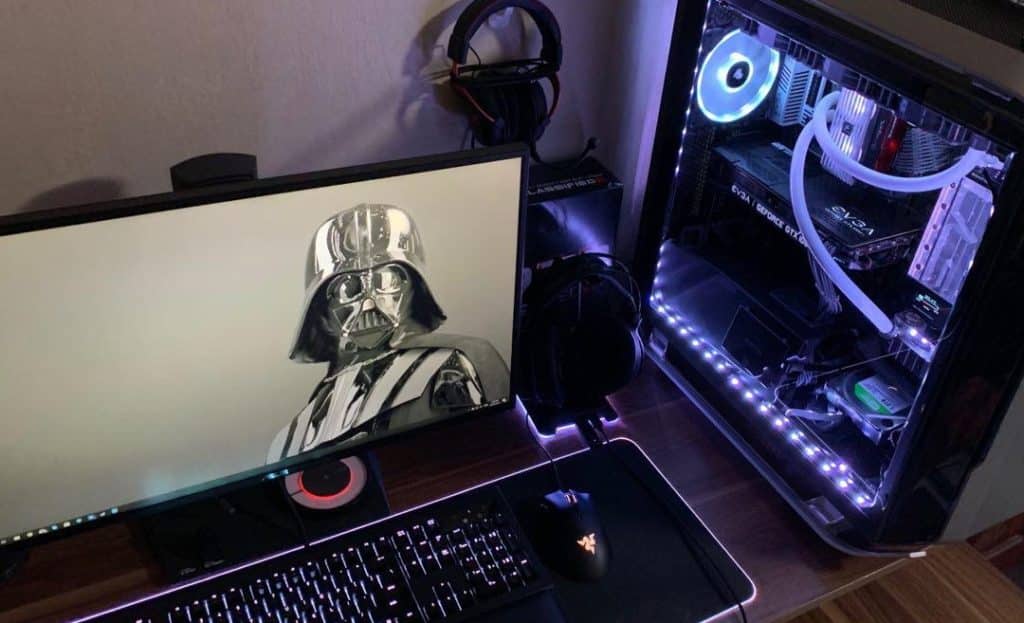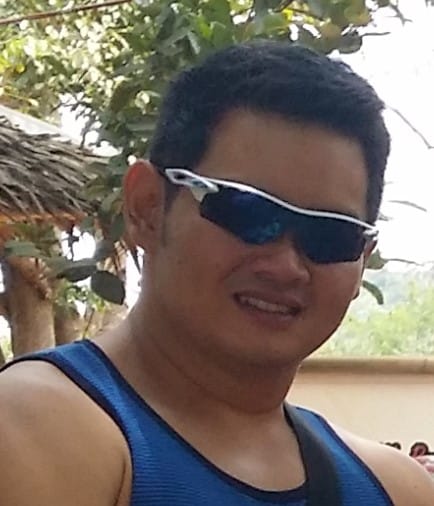 Paolo is a gaming veteran since the golden days of Doom and Warcraft and has been building gaming systems for family, friends, and colleagues since junior high. High-performance monitors are one of his fixations and he believes that it's every citizen's right to enjoy one. He has gone through several pieces of hardware in pursuit of every bit of performance gain, much to the dismay of his wallet. He now works with Monitornerds to scrutinize the latest gear to create reviews that accentuate the seldom explained aspects of a PC monitor.