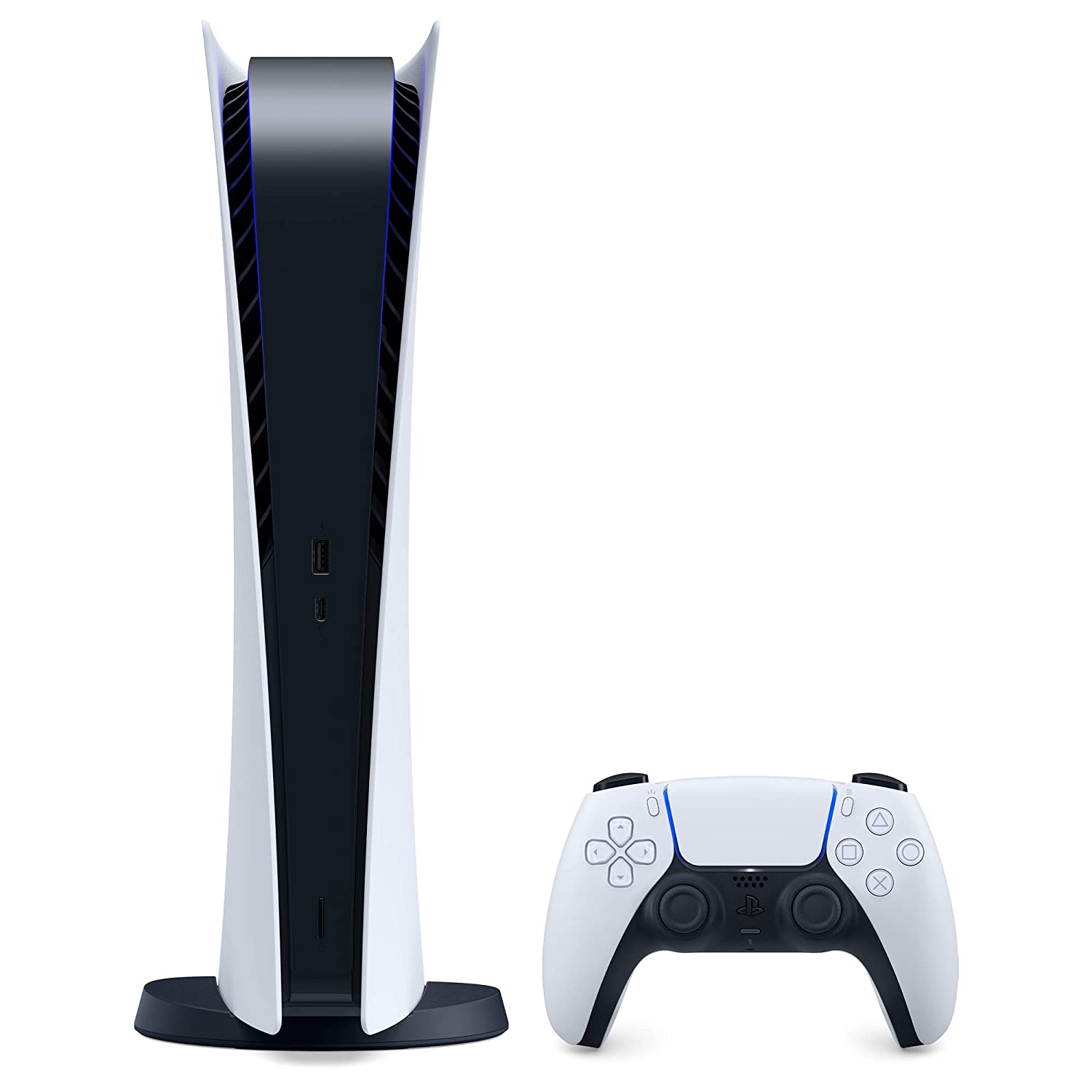 PS5 or PlayStation 5
by Sony is finally here (more or less) to upgrade your gaming experience with its next-generation capabilities.  It features a complete revamp of everything about the previous models, but we do have a few nitpicks aside from the things we love about it. Let's find out if it is worth diving into the battle of trying to get a unit for yourself amidst the shortage versus the massive demand. The PS5 is priced at $499 for the disc version and $399 for the digital version which we have here. But as we all know by now, there aren't enough units to go around since there are some shortages in the tech industry that you don't regularly hear about in the news. There's also the bots and the scalpers who seem to be one step ahead of everyone else when the elusive device becomes available. We have to admit that we used StockX which is popular in the sneaker game just to secure a review sample. Their pricing is a bit better versus various sellers on E bay and they do take longer to ship, but your PS5 is guaranteed if ever you decide to get one. Please don't take this as a nod to scalping and overpricing, but we felt that we needed to secure a unit and share our thoughts on it with you.
PS5 Design and Features
The PS5 goes with a more futuristic design this time around versus the PS4 Pro's industrial and monolithic look. The piano black chassis is sandwiched between two polar white panels with geometric curvatures that will not sit well if you want to lay it flat on its belly or if you have an all-black setup. Many thought twice about the new design since most of the PlayStation iterations start with black, but it looks good in an ultra-modern kind of way.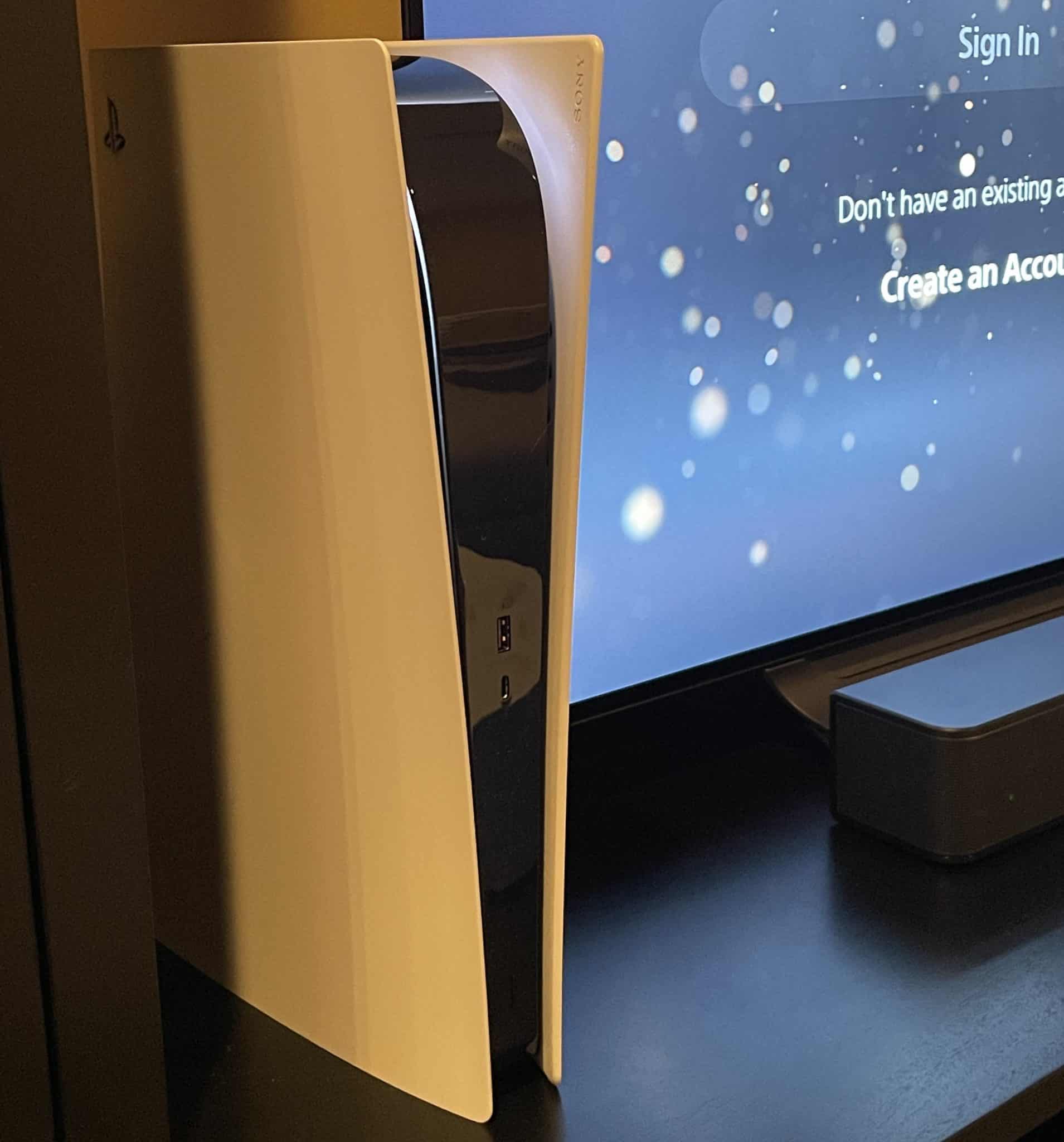 The plastic panels are removable to give way to cleaning and customization in the long run such as custom painting them or even replacing them with aftermarket panels in the future. We can't wait to see the limited edition bundles and check out how this design feature plays out in making the specific model unique. An independent company even went ahead and designed custom panels for the PS5 before its release, but Sony shut them down immediately indicating that they might have some plans for customized panels in the future. However, we do think that the Xbox Series X is better when functionality is concerned simply because it's a simple rectangular block that will fit into most entertainment setups. We're still struggling on how to integrate the PS5 into our
TV
stand since it's quite big and is currently the largest gaming console ever made to date. You have to factor in its 15.4" x 10.2" x 4.1" size if it will fit on your setup, but you can also dedicate an end table for it.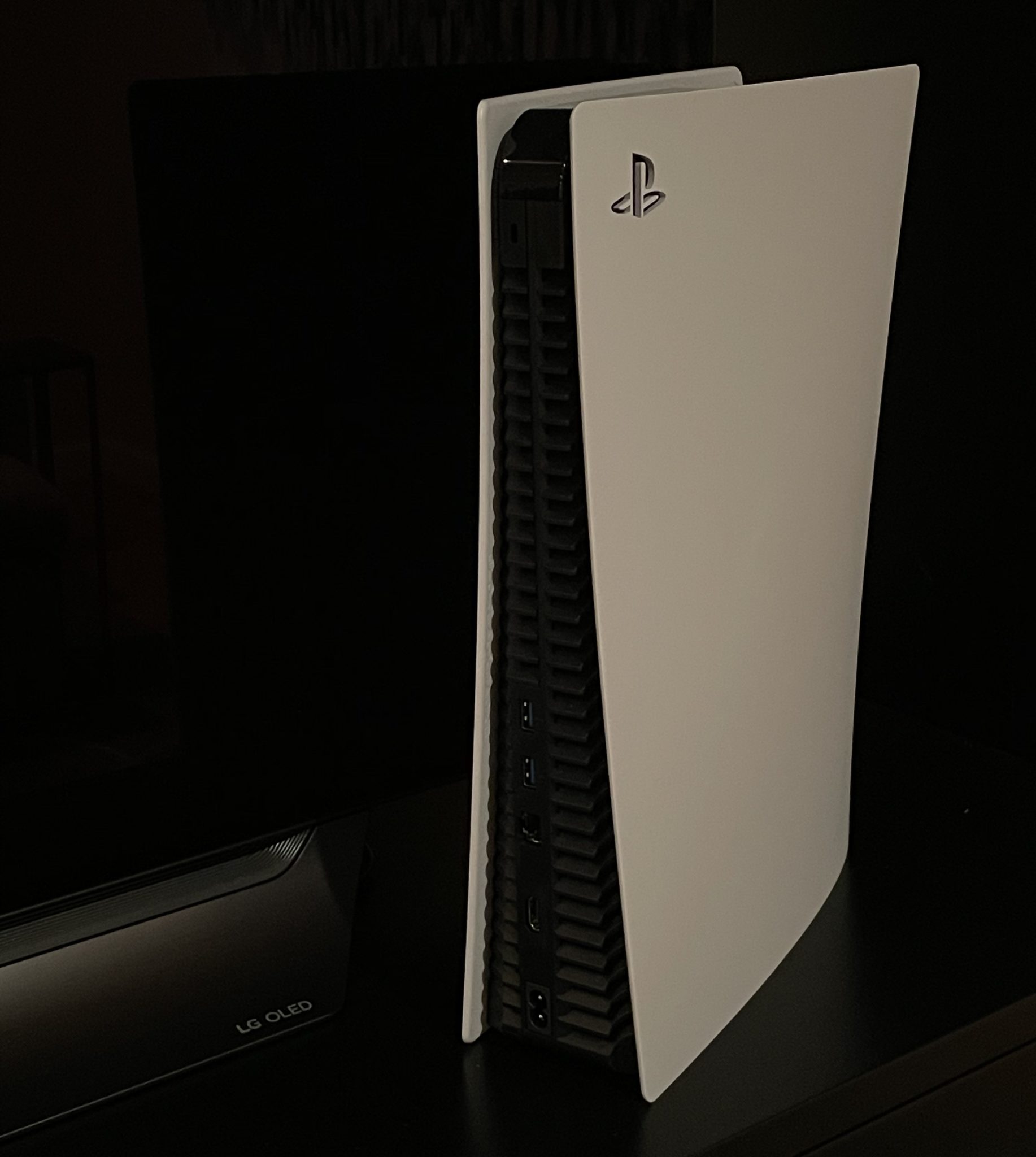 But what's beneficial from the PS5's size and the reason behind its engineering is a more potent cooling solution compared to its predecessors. You could hear the PS4 Pro's fan whirr away when its being taxed by the newer games, but that isn't the case with the new model since it has a bigger fan and heatsinks. The PS5 ran quietly while we tested with the Spiderman: Miles Morales game, but that could also mean that the title is not coded yet to fully maximize the console's innards and bring the heat on. Another important add-on from Sony for the PS5 is a proprietary stand designed to support it in both horizontal and vertical mode. You need to screw it in for vertical mode using a coin or a flat head, while it clamps on to the chassis in horizontal mode. We think that the former is better since the fit and locking feel more secure because the clamps for horizontal mode are finicky.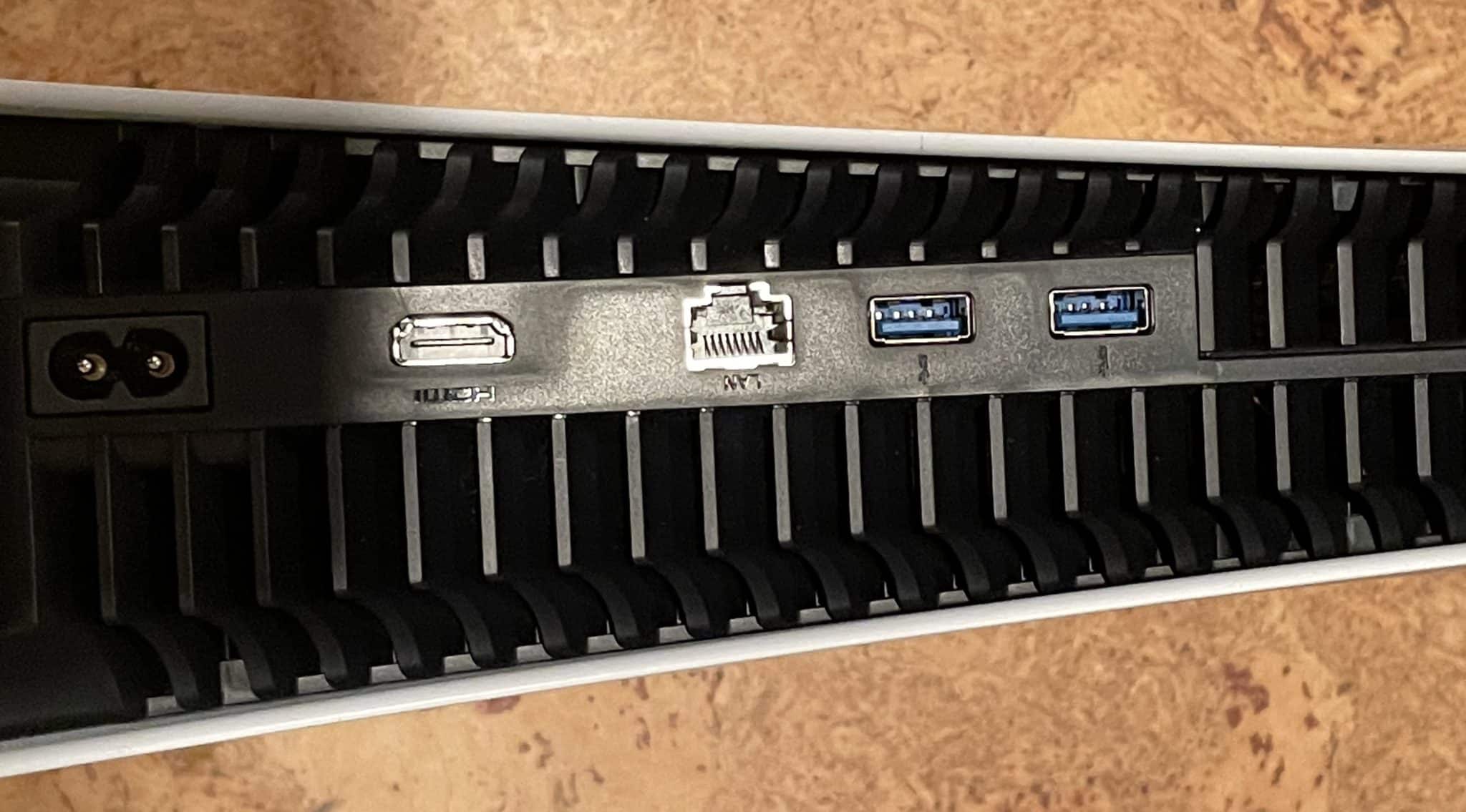 The PS5's ports are almost identical to the older variant since it includes two fast-charging USB slots, a LAN port, and the HDMI port. However, this model now has a version 2.1 of the latter which has more bandwidth that can support its maximum 4K 120Hz or 8K 60Hz output. You will also find a  USB-C connector on the device, but it doesn't support DP Alt mode for monitors since its only designed for accessories like external drives.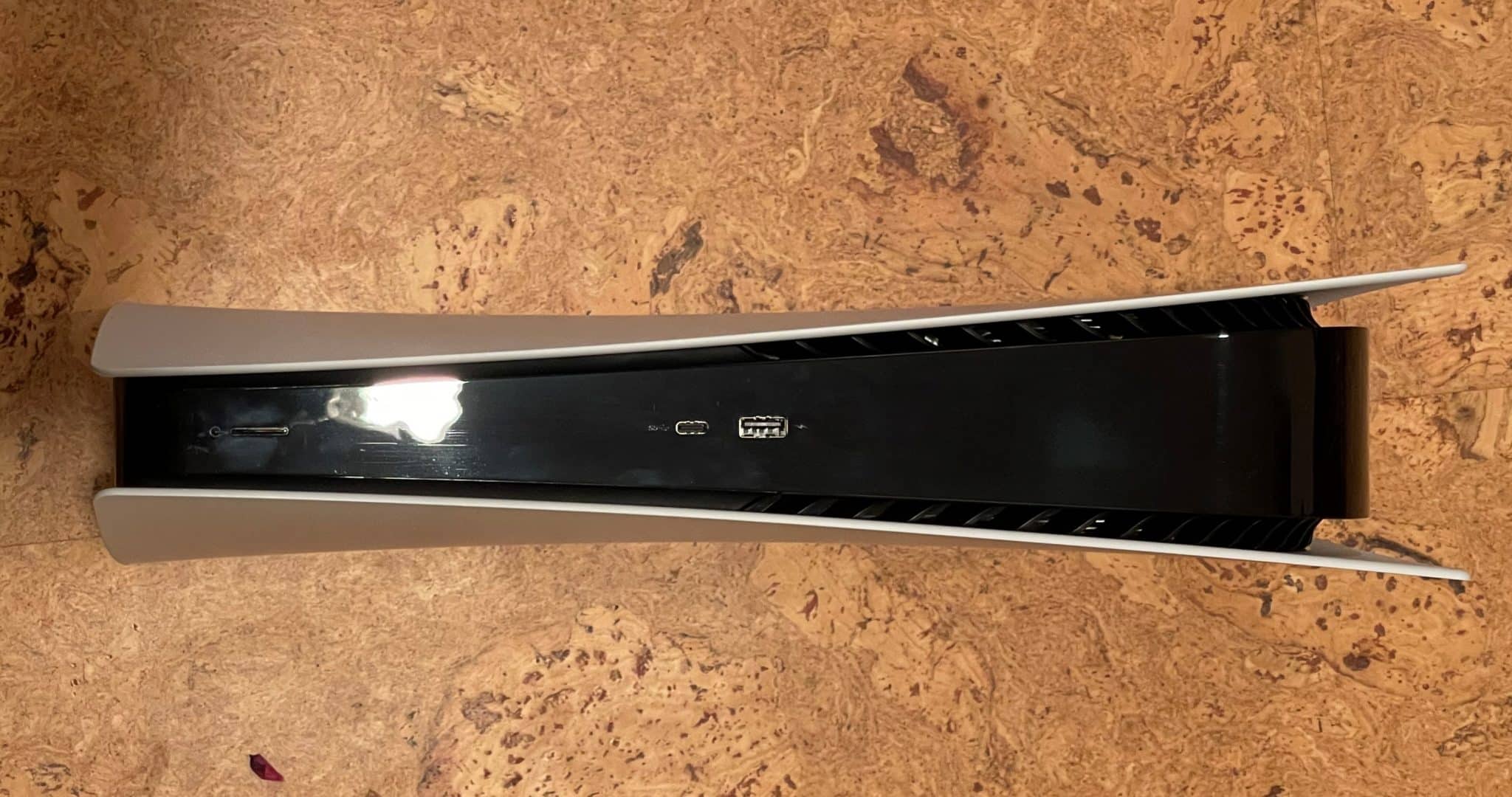 Our main complaint with the PS5's layout is the omission of the optical or TOSLINK port which becomes useful for those with hi-fi setups. You are going to need an HDMI Audio Extractor to use the standard, or you can simply use the TV's instead. The PS5 does have a unique audio treatment with its Tempest Engine which is designed for headsets instead of home theaters.
PS5 Controller – What's New?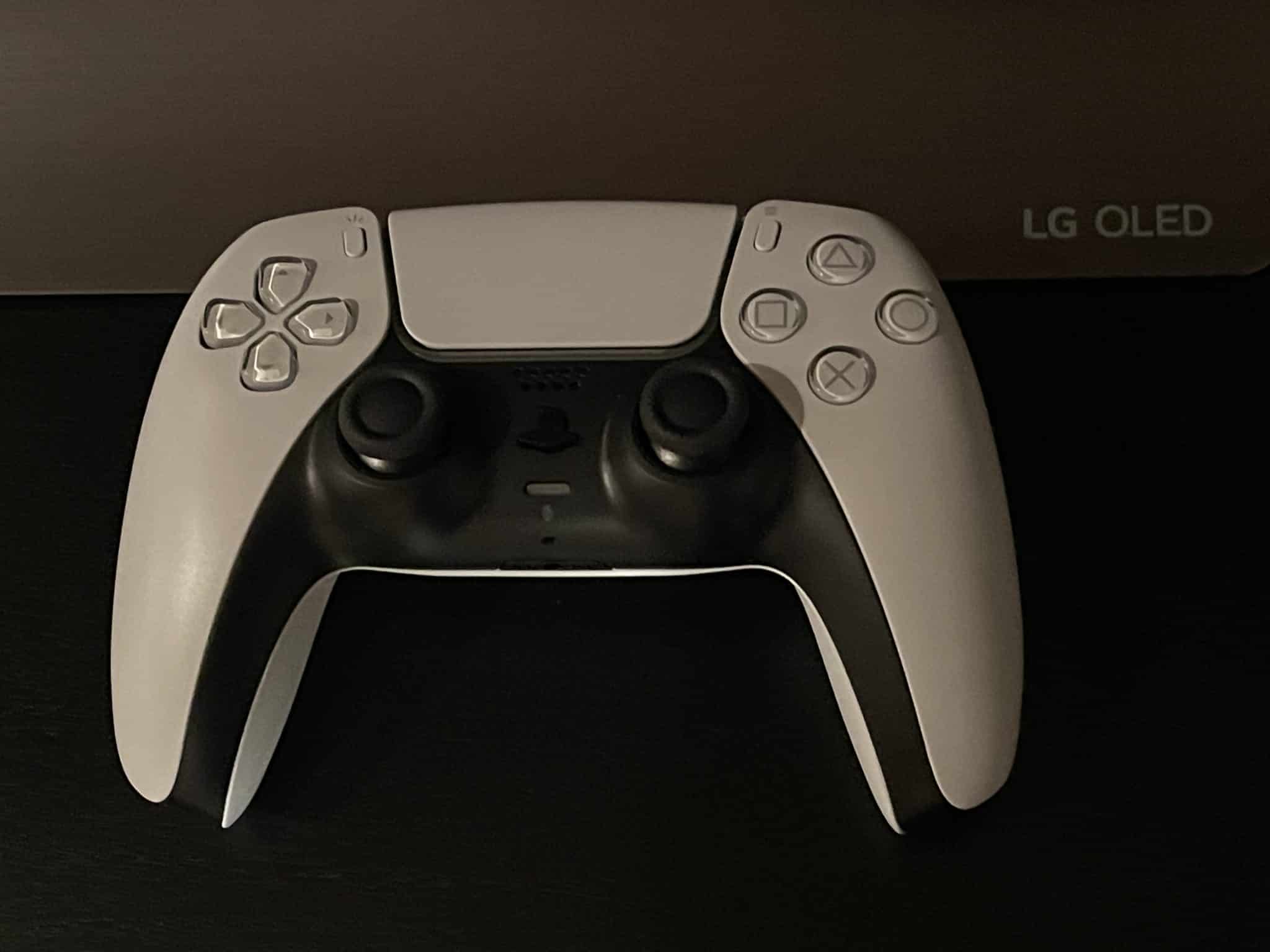 The PS5's DualSense controller offers new tricks aside from the revamped design which has received mixed feedback from the crowd. The first upgrade is the use of USB-C which is better since it is more flexible and powerful than the previous standard. You also won't see a share button since Sony changed it to the Create button. But the biggest change with the PS5 is in its haptic feedback capabilities and the new adaptive trigger. The DS4 controller only had a single-stage rumble motor while the DualSense controller has two actuators with varying levels of vibration. It also has Adaptive Triggers that have varying levels of tension so bowstrings, sensitive triggers, and brakes on a race car will all have different levels of resistance. Another important aspect of the PS5's DualSense controller is its battery which has been improved to lessen its downtime. We got more or less a solid 11 hours out of the stock controller, and we think that's more than enough for most gaming sessions. Charging takes more or less three hours, so getting an extra controller and the official charging dock is highly recommended for those weekend gaming marathons. You will also find familiar features with the DualSense controller such as the LED lighting, the speakers, and the headset ports. However, the main keys are now in transparent crystal and the symbols aren't colored. It looks cleaner, but a lot of the PlayStation's signature characteristic rides on the green, pink, blue, and red logos.
PS5 Performance
The PS5's generational leap lies in its performance brought about by the new AMD Zen 2 architecture it uses and it is custom NVMe SSD which is massively faster than the previous HDD-toting models. The device is rated to produce 4K at 120Hz and 8K at 60Hz, although that remains to be seen at a time where exclusive PS5 games are produced and developed. The first few titles do not run at the max refresh rate yet and they are limited to 4K at 60Hz, but that's still an improvement over the PS4 Pro's limitations. Another mode to consider is the PS5's Ray Tracing mode which improves the lighting features, reflections, and sun rays of a game. It did make the digital world in Spider-Man: Miles Morales more immersive and almost comparable to some PC graphics we've seen in the past years, but it has its limits. Choosing Ray Tracing instead of the PS5's Performance Mode will drop your framerate to 30fps, but we think that it's a worthy sacrifice for the gamers who aren't FPS snobs. You also get to enjoy faster load times with the PS5 thanks to its customized NVMe SSD which is even faster than some of the lower-tiered NVMe SSDs on PC. We didn't see a change in the bootup time of Spider-Man: Miles Morales, but the loading time only took 3 seconds versus 20 on the PS4. The Last of US 2, which is a PS4 title, only took 15 seconds to start and 1 minute to load versus 30 seconds and 1 min 30 seconds respectively on the PS4. TLOU2's waiting time between sessions is a big bummer every time I played it, and it feels great that it has been reduced by half. We're also expecting to see improvements in this regard as developers get more accustomed to the PS5 with their future games. You can also boost this further since the NVMe drive in the PS5 is easily replaceable but do take note that you must use a faster model since slower variants will not be compatible with the console. Our issue with the SSD is its limited size which equates to around 670GB left after you've booted it up and updated its firmware. We only have the digital version at the moment, and that limited space will take a toll on the game library since you can't install a lot of games. Take note that Warzone takes up more than a hundred gig already, so we're scared to see how big future games will be. The PS5 has sound processing called the Tempest Engine which delivers 3D audio for compatible games. It's sort of like Dolby Surround used by Razer and the like, but it's custom-tuned for this console. The best thing about it is you won't have to buy a new headset since it should work with the existing pairs that are designed for the PS5. Tempest Engine is surprisingly good at spatial and directional sound outputs since we could hear the game's audio in the right spots. The feature does sound a bit faint compared to 3D sound used on PC, but it's a relatively new technology so there is room for improvement. We will likely see better utilization once more PS5 games come out since their benefits are also dependent on the developers and how they implement it for their specific titles. The PS5's interface also gets updated versus the one used on the PS4 Pro which was a bit sluggish and bland. The new OS feels snappier and more responsive, plus it looks cleaner and more modernized to suit the product. Pressing the PlayStation button has also changed since it brings up a mini command center which lets you switch apps or access the PS5's other features. It's a stark difference compared to the older function since it is customizable so you can quickly access some settings instead of browsing through every tab and sub-menu. Tapping the PS5 button while you are in-game will instead bring up the Activities menu which tracks your mission progress, trophies, and game activities which you can select and jump to. This could be a game-changer if it is implemented correctly since it puts you directly in the game where you want to e. Jumping through to where you left off is a big time-saver that lessens the annoyances of the previous generation's loading times and other delays. Our final observation on the PS5 is it is much quieter and cooler to the touch compared to the PS4 Pro after hours of gaming pleasure. The oversized design does have its benefits since the HSF was able to handle the Zen 2's thermals with ease. However, we will see more heat from it once more intense games that can maximize the console become available.
Thoughts on the PS5
The PS5 is indeed a considerable upgrade over its predecessor in just about every important aspect you need to consider. It's got fast loading times, better sound and visuals, and arguably a better design that accommodates important characteristics like its thermals while gaming. We like how the DualSense controller was designed, and we would love to see how it is utilized by developers in the future. We also recommend getting the Bluray version instead of the digital variant for many reasons. The SSD in the PS5 is a bit limited by today's standards, so you won't be able to have a wide selection of games installed and ready. Everything is digitized now so discs are obsolete but is always nice to have a bit more space and an appreciable disc collection on your setup. The only caveat with the PS5 aside from slightly slower read and write times over the
Xbox Series X
is its availability. There isn't any to buy at retail shelves at this time, and we're unsure if Sony is taking extra steps to address this shortage and the scalping issue. It's a great upgrade if you can get it at retail pricing, but we think you could afford to wait for it to become available since only a select few can start to use its abilities as a gaming platform.
Pros:
Excellent 4K and HDR Performance
Detailed Aesthetics
Fantastic DualSense Controller and OS Interface
Removable Panel Covers
Upgradable SSD
Cons:
Very Limited Availability
Build Quality Could Use Some Improvements
Available Games Can't Maximize its Power
-About the Author: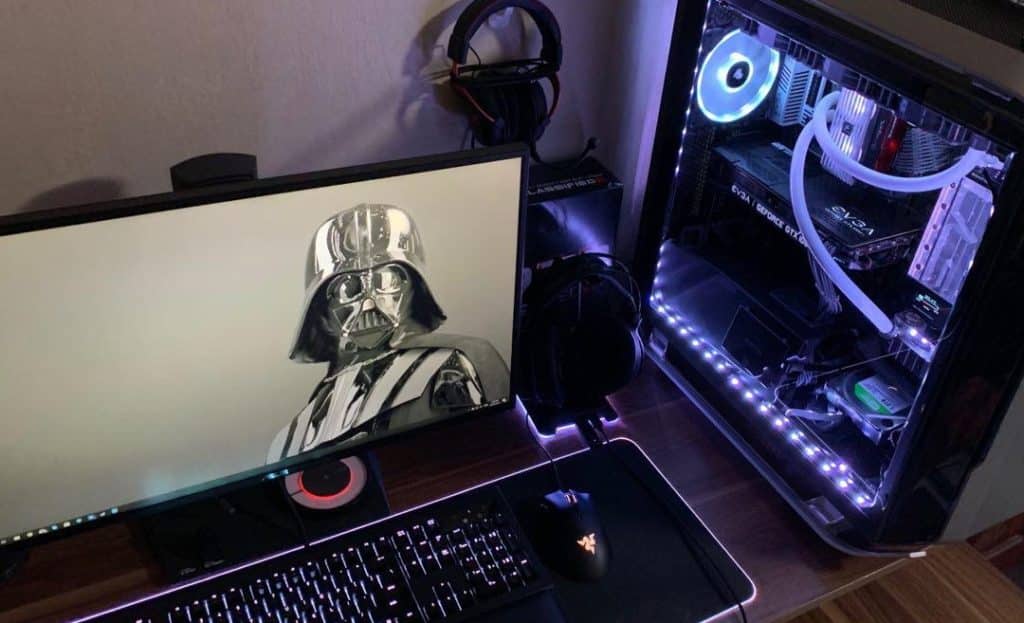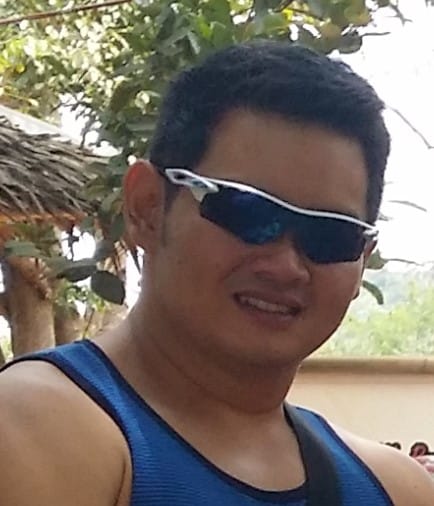 Paolo is a gaming veteran since the golden days of Doom and Warcraft and has been building gaming systems for family, friends, and colleagues since his junior high years. High-performance monitors are one of his fixations and he believes that it's every citizen's right to enjoy one. He has gone through several pieces of hardware in pursuit of every bit of performance gain, much to the dismay of his wallet. He now works with Monitornerds to scrutinize the latest gear to create reviews that accentuate the seldom explained aspects of a PC monitor.