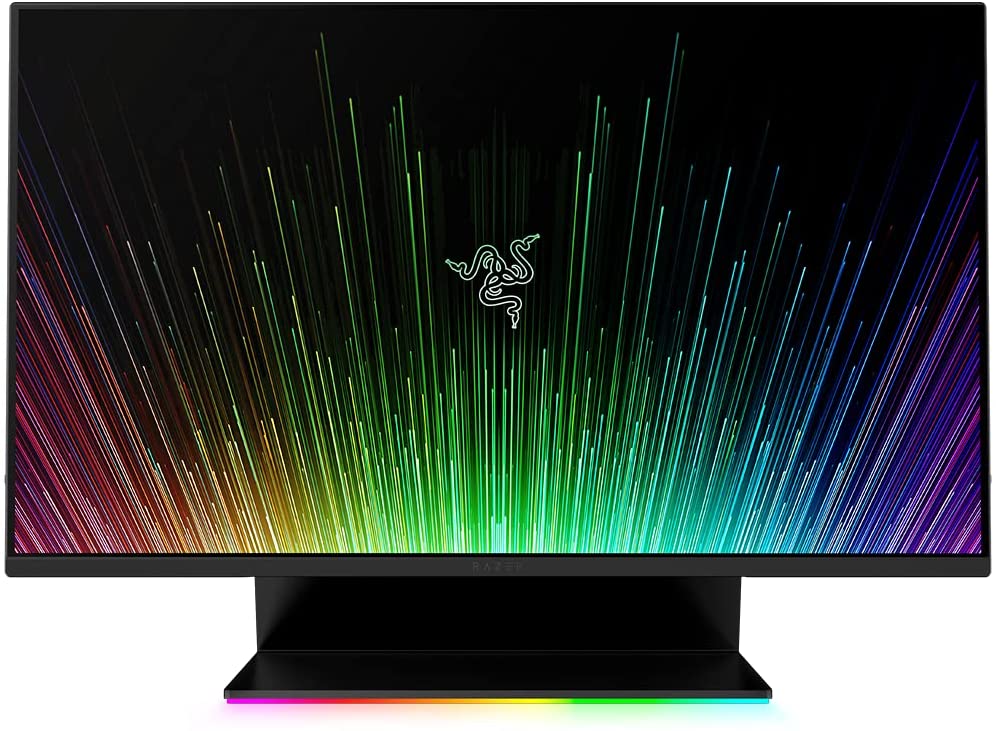 The Razer Raptor 27 165Hz brings back everything we loved about it plus a new and improved IPS panel with better speeds. It's pricey for its category, but Razer has always justified its premium pricing with incredible and functional designs. Let's see if the Razer Raptor 27 165Hz is as good as it looks to help us decide if it's a worthy investment.

Razer Raptor 27 165Hz Specifications
Screen Size: 27 Inches
Resolution: 2560 x 1440 QHD
Aspect Ratio: 16:9
Panel Technology: In-Plane Switching (IPS)
Refresh Rate: 165Hz
Response Time: 4ms(1ms MPRT)
Contrast Ratio:1000:1
Brightness: 420 cd/m²
Built-in Speakers: No
Stand: Height – Yes
Stand: Tilt – Yes
Stand: Swivel – Yes
Stand: Pivot– Yes
VESA Compatibility: Yes (100 x 100)
Connectivity: DisplayPort 1.4 x 1, HDMI 2.0 x 1, USB 3.0 x 2, USB-C x 1, 5mm Headphone jacks
Dimensions (W x H x D): 24.15" x 15.29" x 7.3"
Weight: 25.35 lbs

Design and Features
The Razer Raptor 27 165Hz is one of the best-looking gaming monitors we've seen in recent years thanks to the brand's unique design philosophy. The monitor has a matte black finish which looks sleek and is easy to maintain for years to come. The display is bezel-free on three sides, but thin inner borders can still become visible while it's in use.
It is bigger than your average office monitor, but this model manages to stay with modest dimensions even if it has a different stand. It only requires 7.3 inches of depth on your desk, plus its base is flat so it can be used as a pedestal for small peripherals. However, it's heavier than other 27-inch monitors simply because its stand is made of aluminum instead of reinforced plastic.
Build quality for the Razer Raptor 27 165Hz is impressive thanks to its solid stand and high-quality plastics. The chassis doesn't flex and it doesn't seem like it will crack easily with modest pressure. It doesn't wobble as well and it remains in position when you've set a preferred viewing angle.
The Razer Raptor 27 165Hz uses an OSD joystick located at the back for easy access to its functions and features. It's located at the very edge of the right lower corner, so you don't have to feel around for it in the heat of battle. We're hoping Razer will add OSD functionality in its Synapse software in the future for better control like with its other peripherals.
Synapse 3.0 recognizes the Razer Raptor 27 165Hz since it has RGB lighting on its base just like their Nommo Chroma speakers. It adds a nice gentle glow to your desk and it can be synchronized with your other Razer peripherals for a themed look. It's quite dim, but the good news is will not blind or distract you while gaming at night.
The stand for the Razer Raptor 27 165Hz is probably its best characteristic, although it is limited to tilt and height adjustments. the large aluminum chunk is CNC-processed with channels for cable management, plus you can tilt the monitor all the way until lays flat so you can access its ports conveniently. There are no VESA mounts, but you can buy an adapter from Razer if you insist on wall mounting it.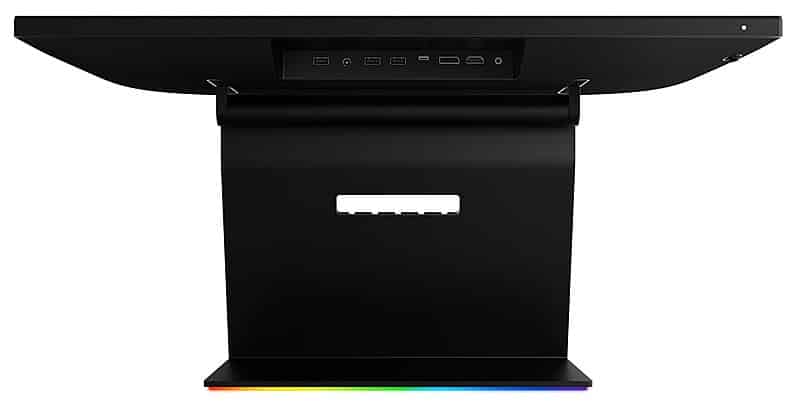 The Razer Raptor 27 165Hz has the same connectivity layout as its predecessor, although we think there is very little that needs changing here. You will find a slot each for DisplayPort 1.4 and HDMI 2.0, two USB 3.0 ports, and a USB-C slot with DP Alt Mode. The only downgrade here is that it doesn't support power delivery which is essential in today's modern market.
It still doesn't have speakers since it doesn't have the space for it inside its slim chassis. However, we'd like to them included in feature iterations, especially at this premium price range. The only audio solution it offers is a 3.5mm jack, but we know many will use the motherboard's ports for less interference and better cable management.
Display and Performance
The Razer Raptor 27 165Hz sports a 27-inch Fast IPS panel with a 2560 x 1440 resolution, a 165Hz refresh rate, and a 1ms MPRT response time. The backlight has a 420 cd/m2 maximum output while its contrast ratio is at 1000:1 like most IPS panels. This model is certified for HDR 400 performance, but we all know that it's not enough to create a substantial HDR experience.
27-inch 1440p monitors are still selling light hotcakes even if 4K is the trend because of many reasons like its balanced pixel density. It looks sharp and detailed for games and movies, but legibility doesn't suffer so it is still quite easy to read and digest a wall of text. You don't get the extra space 4K provides, but it is still a 60% increase versus older 1080p models.
The Razer Raptor 27 165Hz renders more than 100% sRGB and around 91% DCI-P3 for rich colors in games and movies. It's pre-calibrated with a default accuracy of 2.56 which is far from perfect, but still within an acceptable range. The screen looks good to go despite a few color errors which most will not be able to notice unless they have a better monitor to compare it with.
Calibrating the Razer Raptor 27 165Hz resulted in a stunning dE average of only 0.41 which makes it suitable for editing work. This irons out the minor errors, although it is wholly unnecessary for gaming purposes. Colorimeters are expensive by themselves, so we can only recommend them for professionals who need the least amount of variances for color-critical work.
Its backlight reached 381 cd/m2 in SDR with a surprising peak of 478 cd/m2 in HDR. However, its contrast only managed to reach 1104:1 at 60% backlight so it still cannot produce deep blacks. You need to spend more on a higher-tiered model if you want true HDR performance or go with other panel types for deeper black luminance.
Panel uniformity is exceptionally good for an IPS panel that is always prone to backlight bleeding. There are some variants from the center towards the sides of the screen in brightness, but it is not noticeable unless you scrutinize the screen. Take note that this varies between every monitor made so there are better and worse units out there.
Responsiveness and motion handling on the Razer Raptor 27 165Hz is great, unlike older IPS panels which were prone to blurring. Setting the overdrive to its Weak or Strong setting helped in improving this facet, although the latter has very mild overshoot in some scenes. The monitor works great for fast-paced games just like the rest of the Fast IPS monitors in the market today.
The Razer Raptor 27 165Hz works with both FreeSync and G-Sync so both Nvidia and AMD GPU users can enjoy VRR. This is an essential feature to have since there is no certainty with GPU stocks and pricing in the current market. Input lag sits at 4ms at 165Hz, so there is no need to worry about delays while gaming.
Thoughts on the Razer Raptor 27 165Hz
The Razer Raptor 27 165Hz is an excellent gaming monitor when it comes to performance and overall design. The IPS panel performs as advertised like its competitors when it comes to both speed and image quality. We love the unique design of the monitor, although we wish Razer added in some improvements instead of rehashing the older model.
Again, the biggest issue with the Razer Raptor 27 165Hz is its price which isn't competitive in a market where you can get a 240Hz variant for the same amount. We understand that its parts like its CNC aluminum stand aren't cheap, but reusing a design means there should be discounts. It's a worthy purchase for Razer fans who already have the brand's gear, but otherwise, there are more practical options out there.
Pros:
Attractive and Functional Design
Excellent Calibration Results
Fast and Responsive
Solid Build Quality
Cons:
Expensive
Limited Contrast
Poor HDR Performance
About the Author: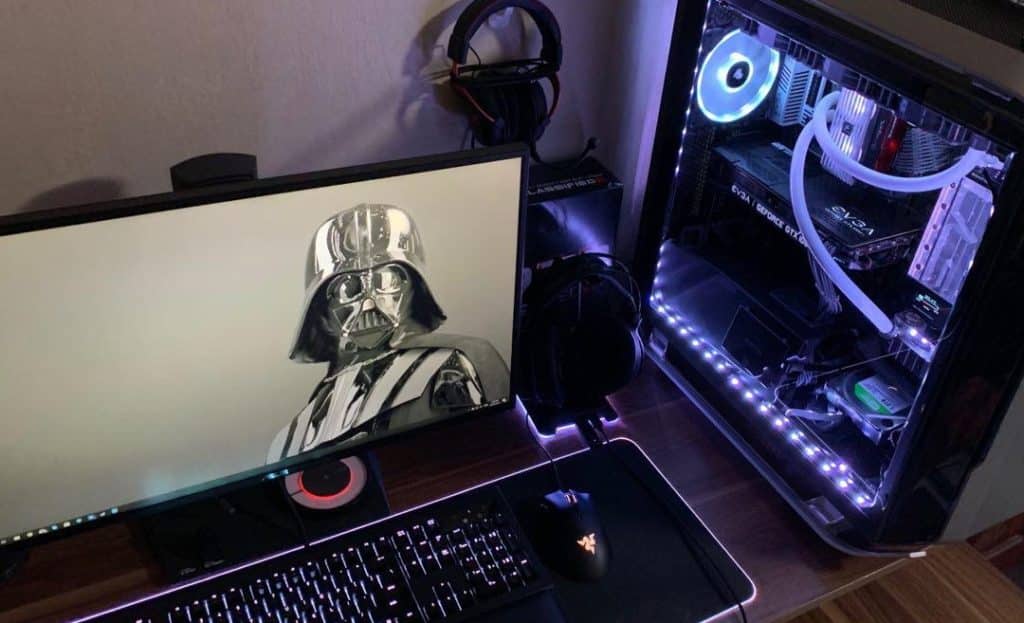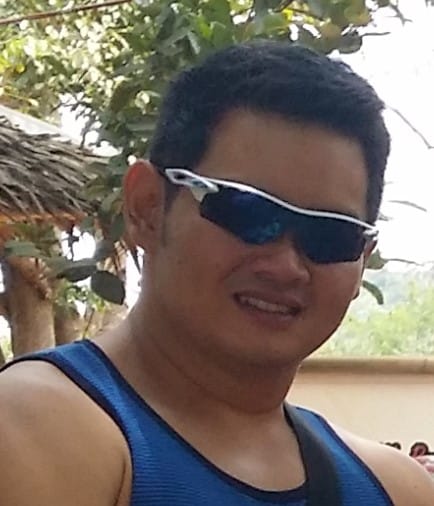 Paolo is a gaming veteran since the golden days of Doom and Warcraft and has been building gaming systems for family, friends, and colleagues since junior high. High-performance monitors are one of his fixations and he believes that it's every citizen's right to enjoy one. He has gone through several pieces of hardware in pursuit of every bit of performance gain, much to the dismay of his wallet. He now works with Monitornerds to scrutinize the latest gear to create reviews that accentuate the seldom explained aspects of a PC monitor.