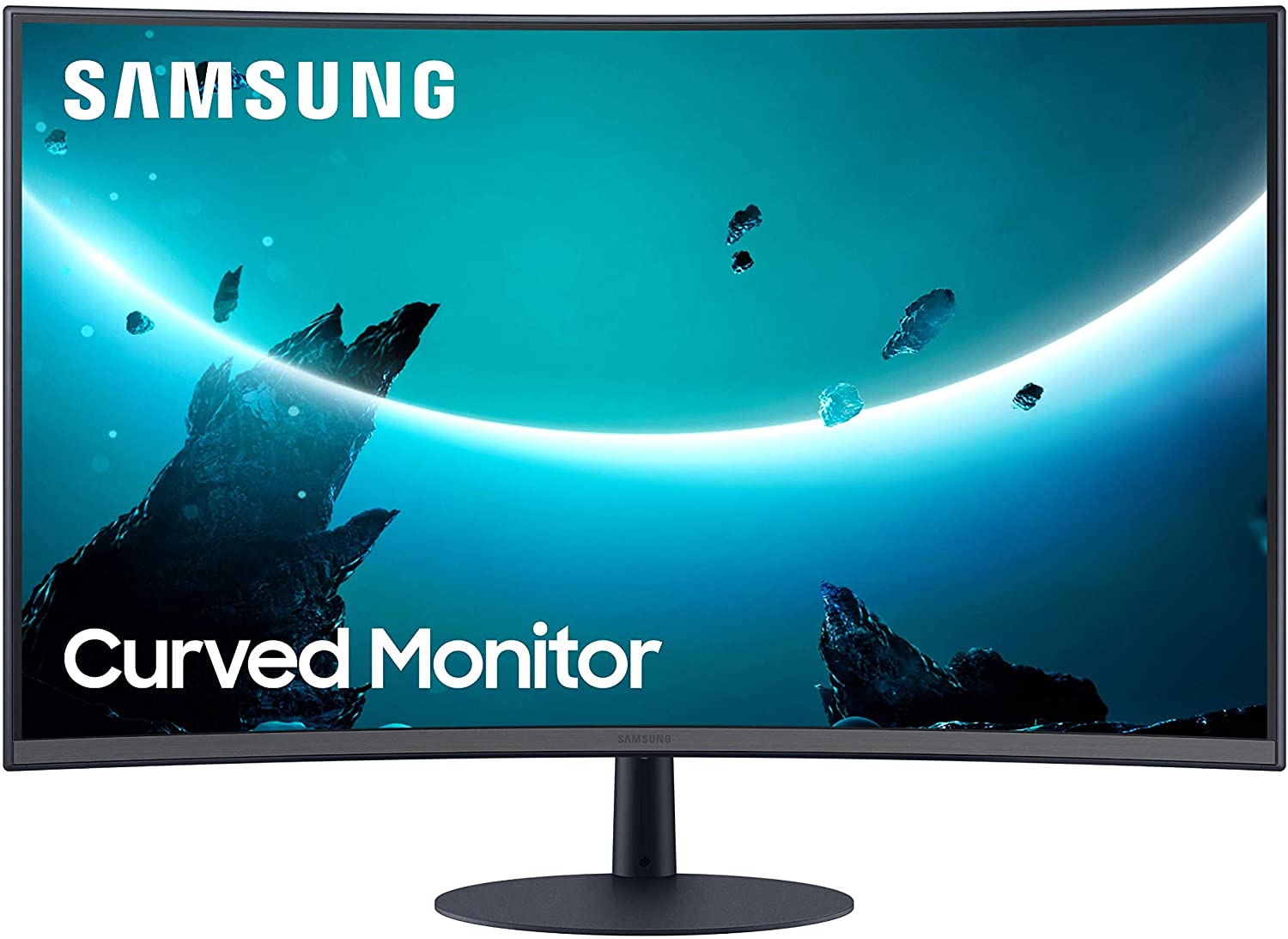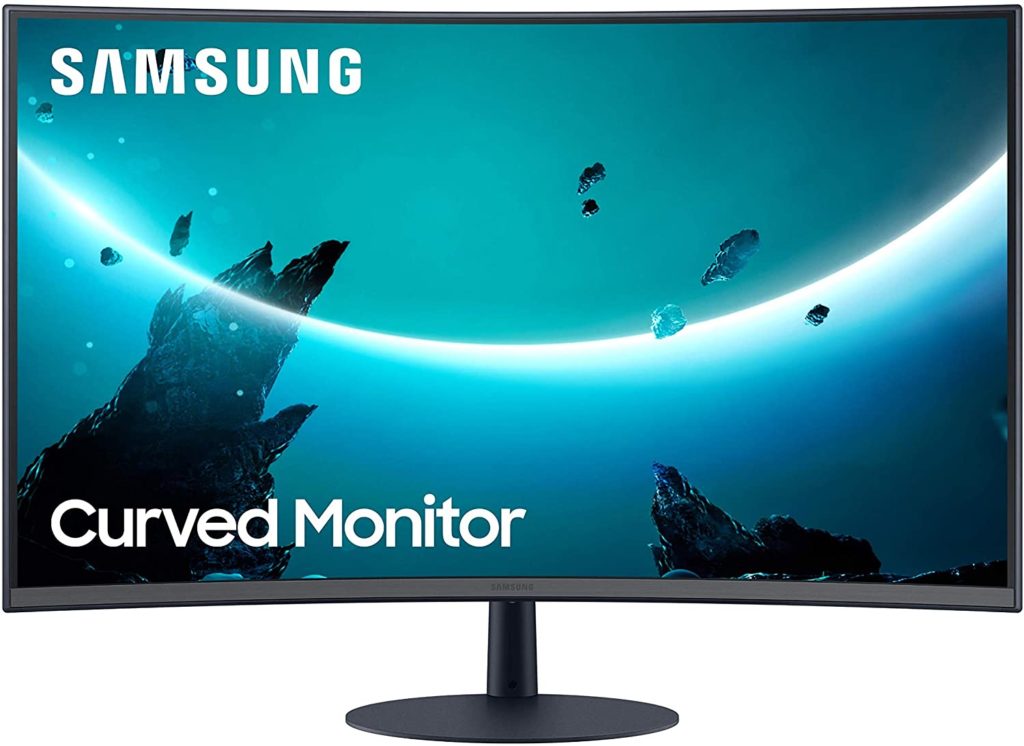 The Samsung C32T55 is a likely candidate if you want a large and immersive screen that's suitable for both work from home use and entertainment. Its also quite affordable for its size, but you always expect limitations because of that fact. The Samsung C32T55 is a decent choice if you want an all-arounder, but let's check first if it's worth your hard-earned bucks for the most typical uses.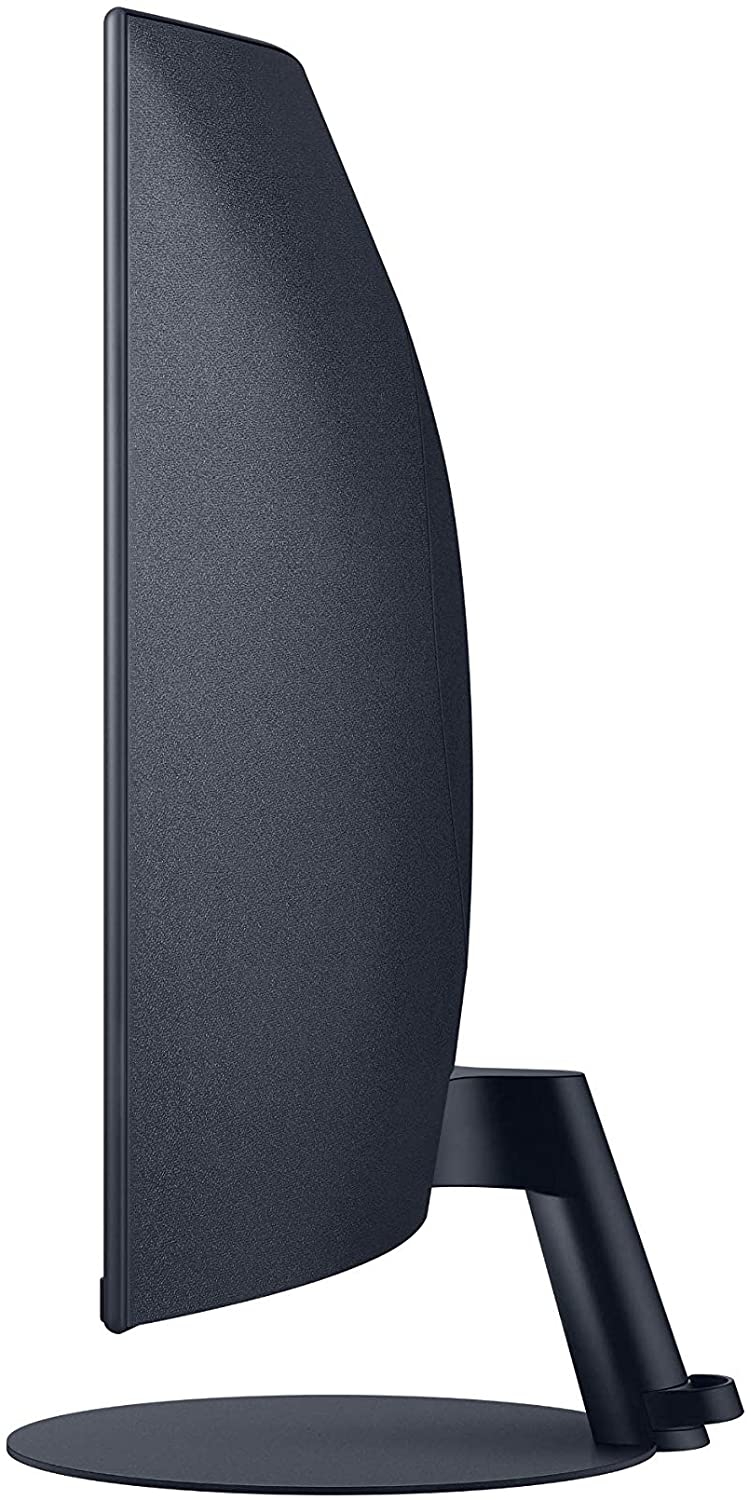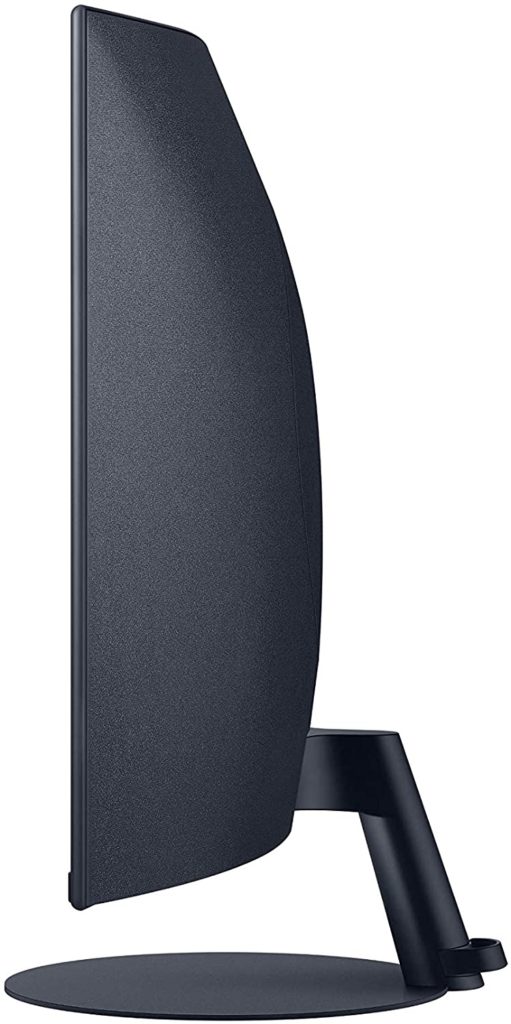 Samsung C32T55 Specifications
Screen Size: 32 Inches
Resolution: 1920 x 1080 Full HD
Aspect Ratio: 16:9
Panel Technology: Vertical Alignment (VA)
Refresh Rate: 75 Hz
Response Time:4ms
Contrast Ratio: 3000:1
Brightness: 250cd/m²
Connectivity: DisplayPort 1.2 x 1, HDMI 1.4 x 1, D-Sub x 1 3.5mm Jack x 2
Speakers: Yes (2 x 5 Watts)
VESA: No
Stand: Height – No
Stand: Tilt – Yes
Stand: Swivel – No
Dimensions(W x H x D): 27.91" x 20.25" x 10.70"
Weight: 14.11 lbs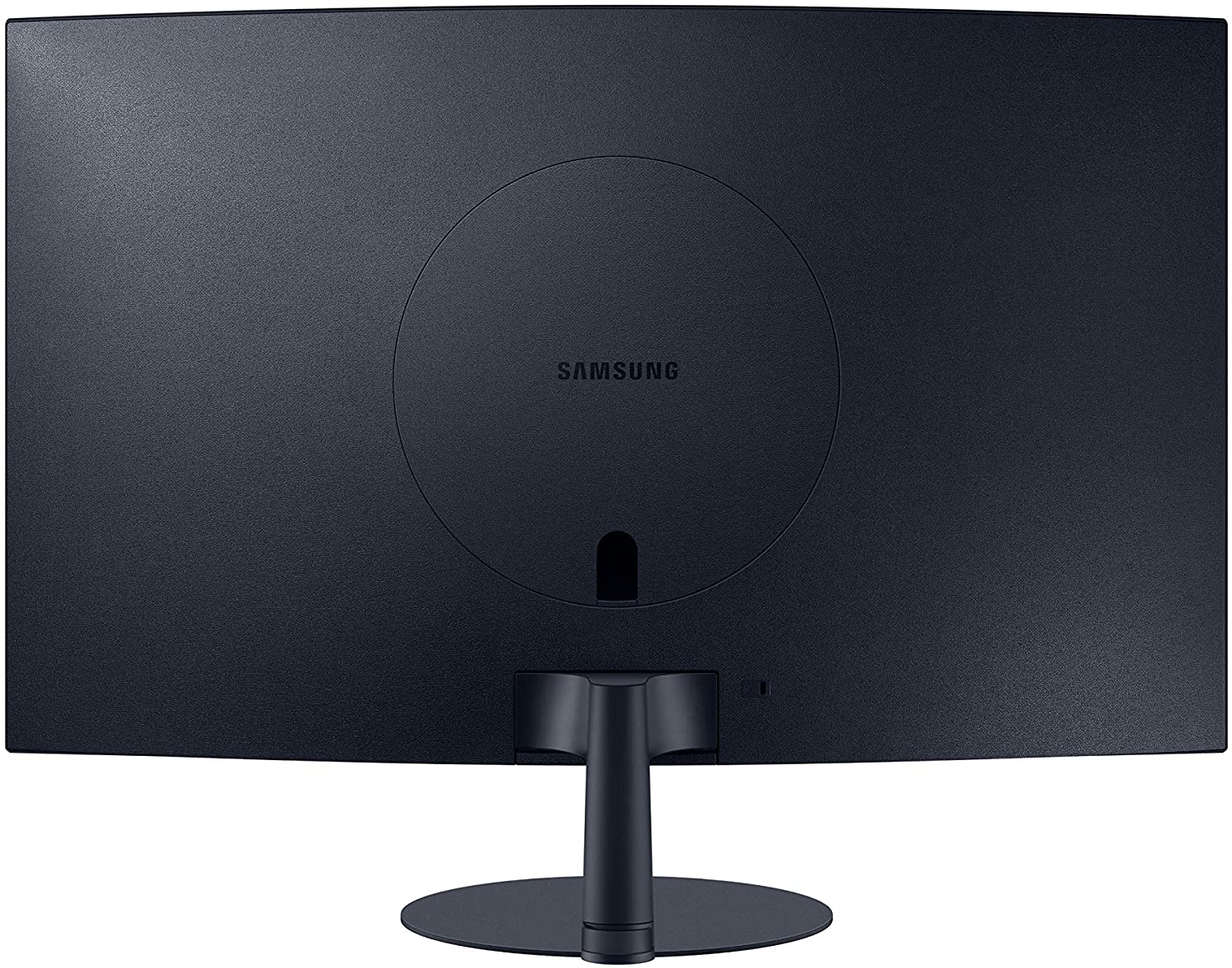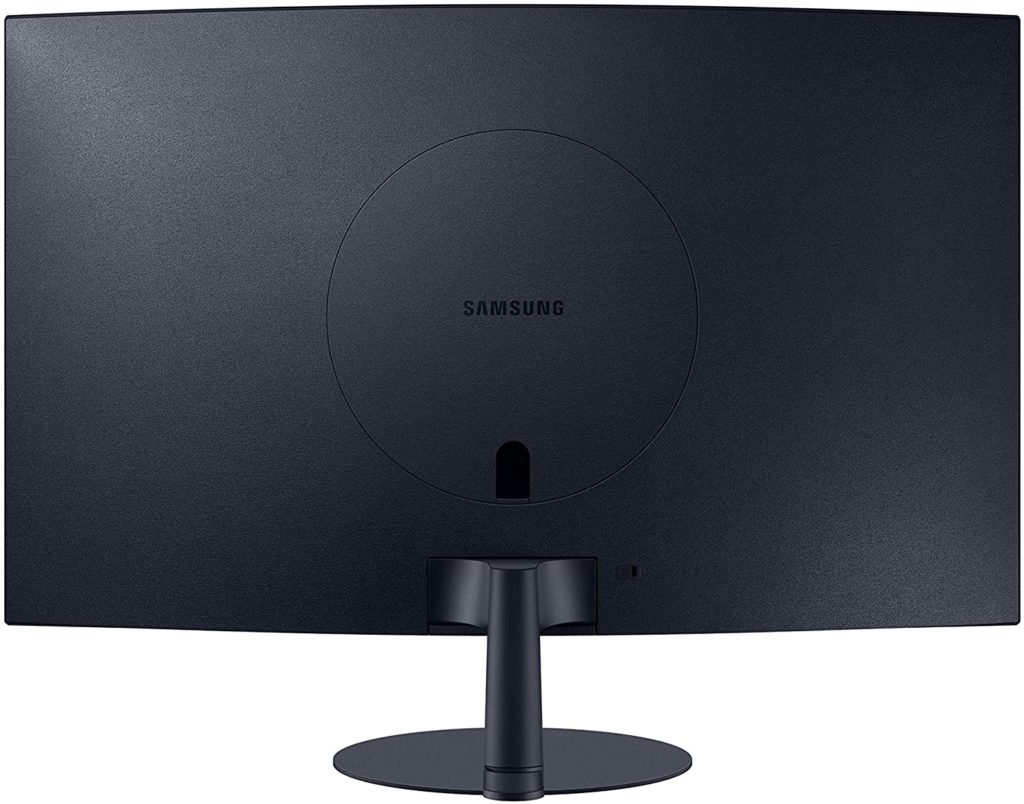 Design and Features
The Samsung C32T55 uses two of the brand's signature design characteristics that you will find on its latest monitors. The first is it's signature dark blue-gray color on the chassis accented with a gunmetal strip on the front. The second quality is the steep 1000r radius used by the panel that is bezel-free on three sides.
The curvature of the Samsung C32T55 is what makes it look or appear slightly chunky, but its housing is actually slim if you follow its curve with your hand. However, the circular base with an angled pillar takes up more depth than necessary. It needs almost 11 inches of depth, but the flat base means you can tuck it under your keyboard or use it as a spot for your other peripherals if your space is tight.
The build quality for the Samsung C32T55 is decent, but the plastics can feel a bit cheap since they feel thinned out compared to the brand's premium models. However, we did not find any cosmetic defects such as uneven gaps or flexing on the plastics. The stand is slightly dubious if it can fully support the stand since it has a slight wobble which becomes even more visible if you touch the chassis.
What we like about the Samsung C32T55 is its use of a joystick for the OSD instead of the usual buttons which can be confusing. The gadget is located at the middle bottom of the chassis so it is easily accessible and you won't have to reach towards the back from the sides. Other brands are already using software for this aspect, but jog buttons are already good enough for us since they are user-friendly.
The stand included with the Samsung C32T55 only offers tilt, so you have to position yourself optimally instead if you want to maximize the view. This model also doesn't offer VESA mounting options, so you are stuck with its default configuration unless an aftermarket adapter comes around. The base eats up a lot of space, but it's very thin and flat so it can go under your keyboard or even your work laptop if necessary.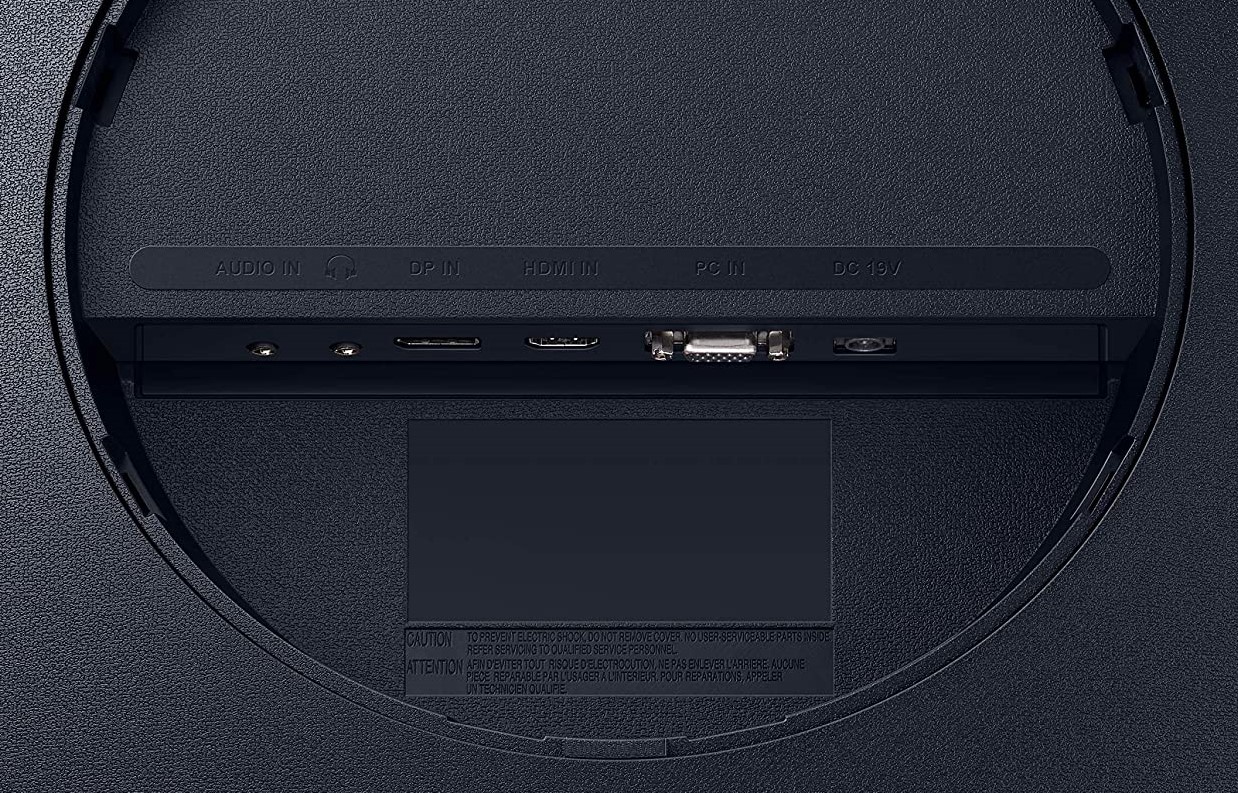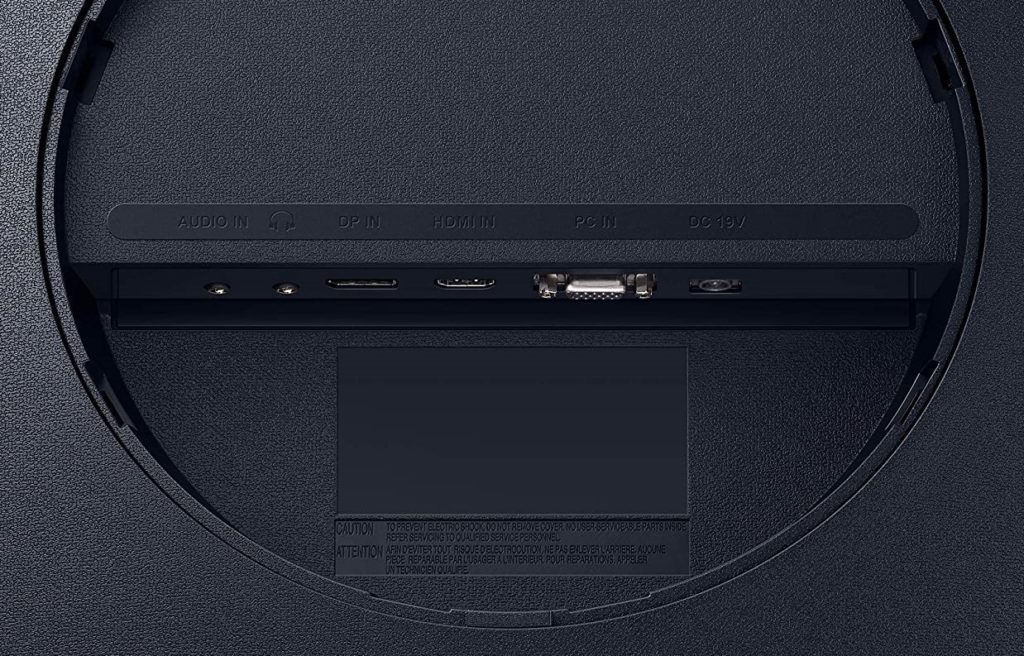 Connectivity isn't plentiful for the Samsung C32T55, but it already includes all that you will need for daily use. The layout at the rear offers a slot each for DisplayPort 1.2, HDMI 1.4, and VGA along with two 3.5mm jacks for audio input and output. There are no extras with this monitor such as USB ports which would come in handy for its intended users.
It's fantastic that the Samsung C32T55 includes a pair of 5-watt speakers that have a decent output for music or even movies. Its also nice to have for teleconferencing in work from home setups, since you don't have to buy a separate set. Headsets will be more widely used, but it is nice to have the option to sit back and relax if you are watching videos or in listen mode during your calls.
Display and Performance
The Samsung C32T55 boasts a 32-inch curved VA panel with a 1920 x 1080 resolution, 75Hz refresh rate, and 4ms response time. The backlight has a typical brightness of 250 cd/m2, while the contrast ratio is rated at 3000:1 due to the panel type. The screen's 1000r curvature is unique to the brand at this time and its great for immersive gaming, but images with straight lines or geometric files such as CAD drawings can appear distorted.
The Samsung C32T55's pixel density isn't great and many will immediately complain that it looks pixelated. However, visibility is excellent even sometimes the small objects like text appears jagged or unrefined. It's easy to read documents or excel files, while the screen size and GPU-friendly resolution make it ideal for relaxed PC or console gaming and movies.
The VA panel on the Samsung C32T55 offers great color quality with its sRGB coverage that exceeds 100% or around 81% in Adobe RGB. However, the default accuracy isn't acceptable since the deltaE average reached 3.98, making color errors and deviances more noticeable. The color temperature is also too warm, so daily tasks such as browsing can look jaundiced.
Tweaking the settings on the Samsung C32T55 can lower the dE drastically while correcting its overall temperature. You can get a more reasonable dE average of around 0.94 which is excellent and already usable for editing work. Take note that measurement and calibration results can vary between every unit, but this baseline means the T55 series is capable of good color representation.
Another great aspect of the Samsung C32T55 is its backlight which reaches 320 cd/m2 at 100% that will enable it to fight off glare while giving you more room to adjust. The screen's contrast sits a 3087:1 at 50% brightness enabling it to provide low black luminance levels. Some black crush can happen in darker scenes, but that's a well-documented limitation of VA panels.
The Samsung C32T55 test unit had some light leaking at the top and bottom bezels near the corners which in turn added some clouding. It's not noticeable in full-colored images or white backgrounds, but darker ones can reveal the flaws. This aspect also varies between every unit due to tolerances, so it is best to buy from a seller that will allow returns and exchanges without any questions if yours exhibits these symptoms.
The Samsung C32T55's 75Hz refresh rate adds a bit more headroom for motion handling, but its slower pixel response time makes it prone to blurs and persistence. Setting the overdrive to its Faster level helps in reducing the trails, but you will still see some if you pan the screen to quickly or in highly contrasting transitions. It is not the worst we've seen, but only a 144Hz option will be better in this regard.
The Samsung C32T55 is a FreeSync monitor, but it also tested to work with Nvidia's G-Sync Compatible Mode. This duality is nice to have so you don't have to buy another monitor if you switch GPU sides even if its not completely necessary for 1080p gaming. Input lag sits at 8ms at 75Hz, so there is no need to worry about delays while gaming.
Thoughts on the Samsung C32T55
The Samsung C32T55 is a decent option if you need a monitor for work, console gaming, and general entertainment. Its reasonable price makes it attractive, but some of the limitations such as the tilt-only stand can be a deal-breaker. We like the overall design of the monitor, but our favorites have to be the 5-watt speakers and the convenient joystick at the bottom.
The screen quality for the Samsung C32T55 isn't so great by default, but it gets considerably better with a little effort in tweaking the OSD settings. However, if you are looking for a detailed or sharper screen, you might want to consider the 27-inch variant which will look less-pixelated without losing the speakers like its 24-inch sibling.
Pros:
Attractive Minimalist Design
Wide Gamut Coverage and Contrast Ratio
Great Calibration Results
Low Input Lag
5-Watt Speakers
FreeSync/G-Sync Compatible
Cons:
Low Pixel Density
Dismal Default Image Quality
Build Quality and Stand Could Be Better
No VESA Mounts
-About the Author: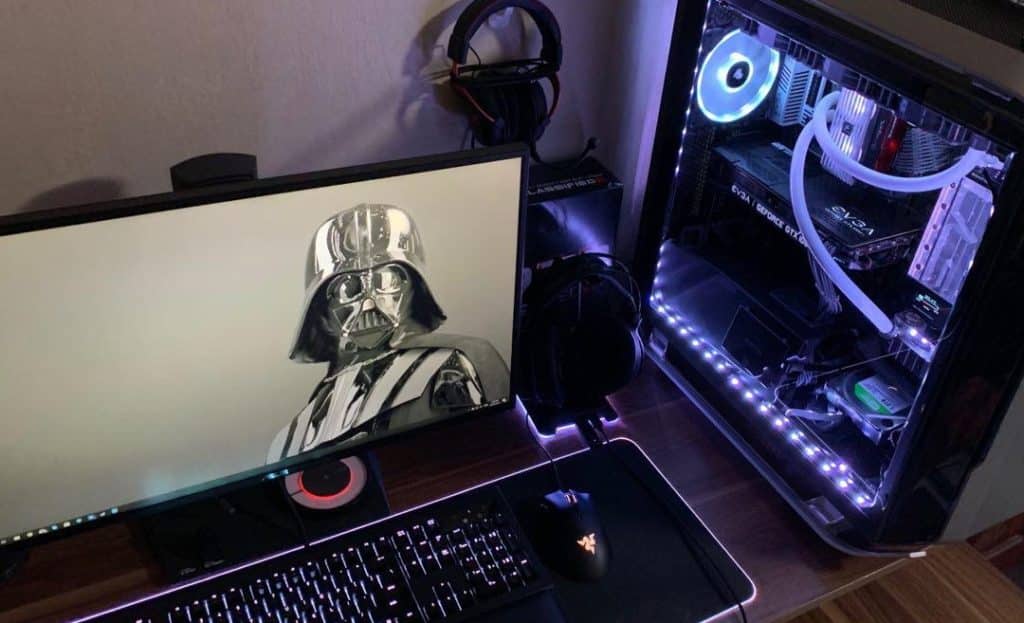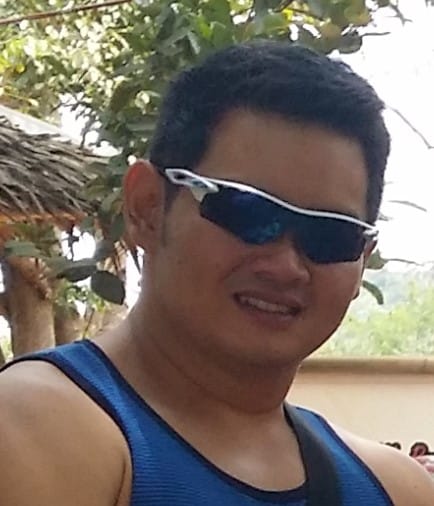 Paolo is a gaming veteran since the golden days of Doom and Warcraft and has been building gaming systems for family, friends, and colleagues since his junior high years. High-performance monitors are one of his fixations and he believes that it's every citizen's right to enjoy one. He has gone through several pieces of hardware in pursuit of every bit of performance gain, much to the dismay of his wallet. He now works with Monitornerds to scrutinize the latest gear to create reviews that accentuate the seldom explained aspects of a PC monitor.