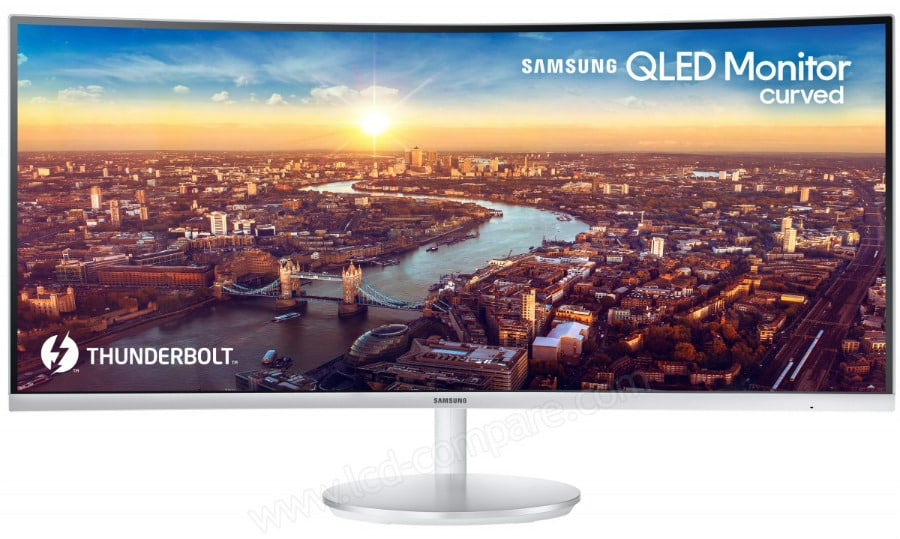 The Samsung C34J791 adds Thunderbolt 3 connectivity to its breathtaking 34-inch curved screen which is perfect for both professionals and entertainment.  The screen is enhanced with the firms QLED technology which pumps up the vibrancy and definition range to create fantastic images. The Samsung C34J791's 85-Watt USB-C connectivity with Intel's Thunderbolt 3 technology could make it the perfect ultrawide monitor for your MacBook Pro.

Samsung C34J791 Specifications
Screen Size: 34 Inches
Resolution: 3440 x 1440 UW-QHD
Aspect Ratio: 21:9
Panel Technology: Vertical Alignment (VA)
Refresh Rate: 100Hz
Response Time: 4ms
Contrast Ratio: 3000:1 (Static)
Brightness: 300 cd/m²
Built-in Speakers: Yes
Stand: Height –Yes
Stand: Tilt – Yes
Stand: Swivel – No
VESA Compatibility: Yes
Connectivity: USB-C Thunderbolt 3 x 1, DisplayPort(?), HDMI (?)
Dimensions with Stand(WxHxD): 31.8" x 20.3" x 12.2"
Weight: 16.8lbs

Design and Features
The Samsung C34J791 adopts its aesthetics from the C34F791 which is an ultrawide gaming monitor that also utilizes the brand's quantum dot technology. The white and silver scheme is well-loved by consumers who want something refreshing such as an all-white build. The display's front is mostly bezel-free apart from the slim panel borders on three sizes and the thicker bottom strip with a metallic finish.
We love the implementation of a clickable OSD joystick on the Samsung C34J791 and the rest of the brand's products. This design helps to prevent fumbling with several buttons and easy access to an OSD's sub menus. This gadget is located at the far corner on the right, so accessing it can become difficult for petite users.
What sets the Samsung C34J791 apart from its gaming sibling is its USB-C slot with Thunderbolt 3 technology which allows single cable operation. This connector will handle the 3440 x 1440 at its full refresh rate while transferring 85 Watts of juice to a Thunderbolt 3 compatible laptop like the latest MacBook Pro. What else is included is still undefined, although we can safely speculate that DisplayPort and HDMI will be present.
The massive cabinet is then supported by one of Samsung's signature stand designs comprised of a circular base with a metallic surface accent and a slim upright. Pivot and swiveling are not included in the ergonomics of trhe product, although you can tilt and adjust the height according to your needs.
If the stand is too limiting for your tastes, you can opt for a VESA compatible aftermarket mount for the C34J791. The downside is you have to use an adapter for this setup to work, although you will find that among the accessories in the box.
Display and Performance
The Samsung C34J791 sports a 34-inch VA panel made by the brand itself with a 3440 x 1440 resolution, a 100Hz refresh rate, and 4ms response time. A 300cd/m2 backlight along with a 3000:1 contrast ratio are specified for excellent visibility, saturation, and grayscale performance.
The curve on the Samsung C34J791 is noticeably tighter at 1500r when compared to 1800r displays. The brand's engineers intended this monitor to enhance the immersive feel when playing games or watching movies. The edges also feel closer to your face, making the peripherals easier to see or notice.
The Samsung C34J791 is a Quantum Dot-equipped monitor, but its color performance falls short of our expectations. The sRGB gamut coverage reached an average of 99% or 75% in Adobe RGB. Samsung specified a 125% gamut volume for this monitor, but the screen still looked saturated correctly and vibrant enough for a mix of uses.
Despite that shortcoming, the accuracy of the color representation for the Samsung C34J791 hits an average Delta E of only 1.5. This aspect makes the monitor suitable for photo editing RGB files, but higher-grade media will require something more substantial. The contrast ratio is fantastic at 2260:1 which is made possible by the backlight that has a max output of 320cd/m2.
Since the Samsung C34J791 is a Thunderbolt 3-equipped monitor, most would think that it is only suited as a dock for professionals who use MacBooks or other laptops with USB-C. But during the press release for this model, Samsung already mentioned that there are gaming-friendly features built into the device.
For starters, the Samsung C34J791 is FreeSync compatible so AMD GPU users can enjoy stutter-free and lag-free gaming at 100Hz. The monitor's latency clocks in at more or less 10ms, so there are no delays or desynced instances. The only noticeable issue is the minor ghosting and blurring noticeable when actions are too quick.
But thankfully, the Samsung C34J791 includes a Response Time feature which has a Standard, Fast, and Fastest mode. Setting it to the Fastest level made pixel transitions better without introducing overshoot on the objects on-screen. There will still be a few artifacts here and there, but we don't think it will bother most users during gameplay.
Thoughts on the Samsung C34J791
The Samsung C34J791 is an excellent all-around monitor for productivity, gaming,  or even home and office use. Sure, the price is a bit steeper than the usual, but the flexibility of the monitor and its dual Thunderbolt 3 connectors make it worth every penny. The aesthetics of the product was recycled from the C34F791, but the attractiveness of a white and silver chassis doesn't easily expire.
The only glaring issue with the Samsung C34J791 is it failed to reach the gamut volumes advertised on its spec sheet. However, the superb accuracy and contrast ratio of the display salvaged the performance and made it a great buy for mixed use. If you need an ultrawide monitor for gaming, productivity, or single-cable operation with your USB-C laptop, this product is a must buy.