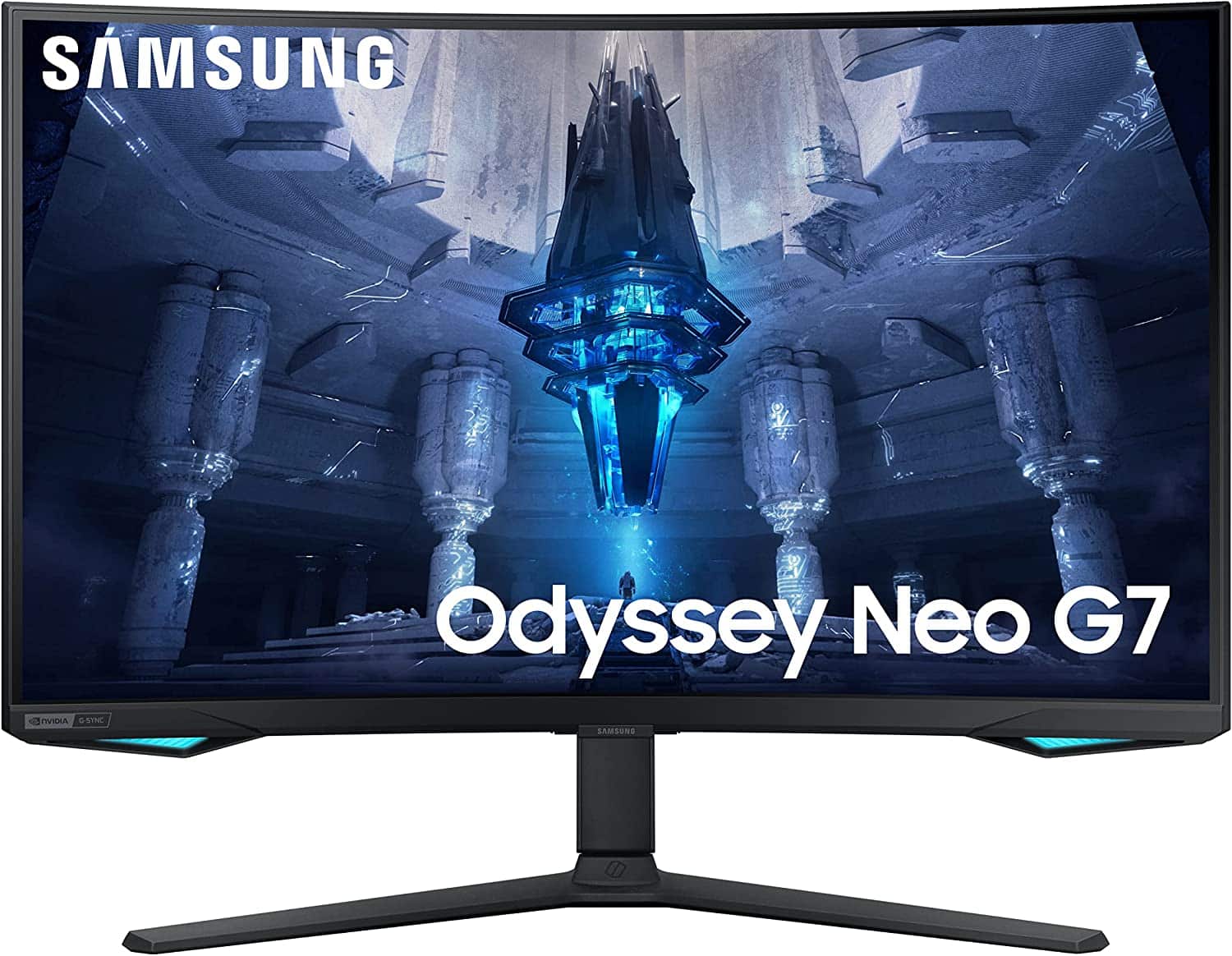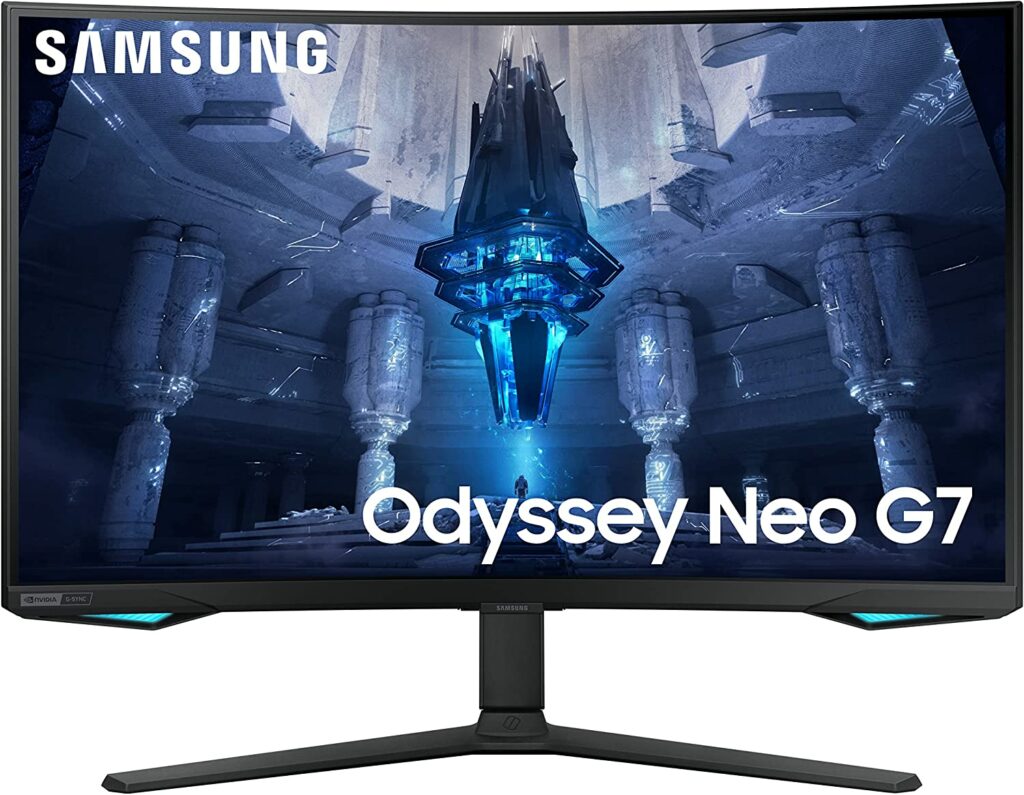 The Samsung odyssey Neo G7 S32BG75 offers a large and immersive 4K screen with extended refresh rates and HDMI 2.1 connectivity for the latest consoles. It now sports a higher 165Hz refresh rate in addition, and it replaces the outgoing LC32G75T we reviewed a while ago. Let's see what the Samsung Odyssey Neo G7 S32BG75 can do to know if it should be your next ultimate gaming monitor upgrade.

Samsung Odyssey Neo G7 S32BG75 Specifications
Screen Size: 32 Inches
Resolution:3840 x 2160 UHD
Aspect Ratio: 16:9
Panel Technology: Vertical Alignment (VA)
Refresh Rate: 165Hz
Response Time: 1ms MPRT
Contrast Ratio: 1000000:1
Brightness: 350 cd/m2 (1000 cd/m2 Peak)
Built-in Speakers: None
Stand: Height – Yes
Stand: Tilt – Yes
Stand: Swivel – Yes
Stand: Pivot– Yes
VESA Compatibility: Yes (100 x 100)
Connectivity: DisplayPort 1.4 DSC x 1, HDMI 2.1 x 2, USB 3.0 x 2, 3.5mm Jack x 1
Dimensions With Stand (WxHxD): 28.1″ x 23.9″ x 12.2″
Weight: 19 lbs

Design and Features
The Samsung Odyssey Neo G7 S32BG75 has a simpler aesthetic than the Neo G8, but it still has the distinct design elements of the Odyssey lineup. The monitor has a matte black finish that looks sleek and simple so it should fit in with any setup. The display is bezel-free on three sides, but you still get inner borders like all modern monitors.
It also has decorative LEDs at the back and on the bottom edges of the screen for your aesthetic builds. The downside is it doesn't sync with existing ecosystems like Asus Aura, so you have to manually configure the light's colors to suit your build. It's a nice gamer-centric add-on, but the front lights can be distracting while gaming.
Its build quality is noticeably better than the predecessor which can be seen in the details of its distinct aesthetic features. It's mostly made from plastic, but every piece feels durable and looks like they were molded with precision. The stand is solid and steady thanks to the metal base so it won't sag or shake while you are enjoying your favorite titles.
It's a big display, so you might be in for a surprise when you finally get it without considering the desk space that will be available for it. It needs over a foot depth thanks to its sharp curve and large stand and it's almost as wide as an ultrawide variant. It's not too heavy at 19 pounds, so it should be fairly easy to move it around.
One noticeable downgrade with the Samsung Odyssey Neo G7 S32BG75 is its use of a directional pad for its OSD controls instead of using a joystick. It's a bit easier to use compared to the usual button layout, but it still takes multiple key presses to get to a specific setting. It is easy once you get the hang of it, but a tactile joystick would have been better.
The stand included with the Samsung Odyssey Neo G7 S32BG75 offers tilt, swivel, and height adjustment so you can maximize its immersive benefit. Pivoting isn't necessary since curved monitors are not suitable as portrait displays. You can use a VESA mount if you need more flexibility, but the extra spend will only become necessary in select circumstances.
One of the biggest upgrades this monitor received is its connectivity layout which now includes two HDMI 2.1 ports alongside its DisplayPort 1.4 DSC slot. That combination lets you run a PC and the two latest consoles on it, and it even switches automatically to the port that has an active device. It also has two USB 3.0 ports and a 3.5mm jack for your peripherals, although we think that it could use a USB-C slot as well.
The Samsung Odyssey Neo G7 S32BG75 also doesn't have speakers like its siblings in the 2022 product lineup. We get those immersive monitors like this are better when used with properly tuned headsets, but it is inexcusable for a product at this price range to cut corners. We think Samsung should have paid it forward by adding a decent set, but it's a minor complaint that most will be able to live with.
Display and Performance
The Samsung Odyssey Neo G7 S32BG75 boasts a 32-inch 1000r curved VA panel with a 3840 x 2160 resolution, a 165Hz refresh rate, and a 1ms response time. The mini LED backlight has a 350 cd/m2 typical output and a 2000 cd/m2 peak while the contrast is listed at 3000:1. This model is advertised with Samsung's Quantum HDR 2000 feature which simply denotes incredible HDR imaging performance.
4K is more comfortable when viewed on a 32-inch screen compared to the more common 27-inch variants. The pixel density is spread out over a bigger area, but it is still sharp since the higher pixel count is still there. It is great for games and movies, and your eyes won't suffer as much with microscopic text as it might on the smaller variants.
The Samsung Odyssey Neo G7 S32BG75 renders more than 100% sRGB and 91% DCI-P3 for great colors in games and movies. Its default accuracy could be better since the default setting had a deltaE score of 3.15. However, that's still usable if we're talking about a highly saturated display for gaming, and we know many will appreciate the extra punchy colors.
Calibrating it reduced the dE average to 0.91 which is an excellent result for a dedicated gaming display. However, you will need to spend the extra on that colorimeter, which by the way, isn't necessarily cheap. It will only be practical if you also plan to use the monitor for editing or content creation, but otherwise, the default setting plus a few tweaks of your own will be fine.
Its backlight stayed at 361 cd/m2 in SDR, but it peaked at 1152:1 when the mini LED backlight and its HDR feature kicked in. The contrast ratio peaked at 3665:1 at 60% brightness, but the various mini LED zones expanded that as needed. The monitor is fantastic for HDR gaming and entertainment, but it is Quantum HDR 2000 specification is a bit of a tall order.
What's great about curved displays with mini LED FALD backlights is that they are not as susceptible to backlight leaks as a normal WLED variant. The Samsung Odyssey Neo G7 S32BG75's screen looked even in both dark and colored scenes. There were some light blooms in highly contrasting instances, but we think it's a minor issue that doesn't happen as often.
The Samsung Odyssey Neo G7 S32BG75's pixel response time is excellent, unlike some high-end VA monitors. You don't need to change its overdrive from its standard setting, since doing so will induce overshoot.  The key here is to optimize your IPS so it doesn't drop too low, but we can understand that achieving that will be a challenge since it's a 4K screen.
The Samsung Odyssey Neo G7 S32BG75 is compatible with both FreeSync and G-Sync so you don't have to worry about losing VRR. Both GPU brands are doing well in the 4K gaming business, so it would be nice not to be stuck with one brand when it's time to upgrade. Input lag sits at 5ms at 165Hz, so there is no need to worry about delays while gaming.
Thoughts on the Samsung Odyssey Neo G7 S32BG75
The Samsung Odyssey Neo G7 S32BG75 is not perfect, but it's a great gaming monitor if you are willing to invest over a grand. It's capable of great HDR and gaming performance, so it will be a treat to use for your PC, PS5, or Xbox Series X. It's well-designed with a robust chassis, but it could use the addition of USBD-C to make it more flexible.
There are some issues with it such as minor flickering when the screen is dimming and running at high refresh rates. However, it is easy to get over that with a monitor that has a special backlight like this, unless you have sensitive eyes. It is excellent since you get mini LED capabilities below $1500, but that's still a bit steep for many gamers.
Pros:
Wide Gamut Coverage
Superb HDR Performance
Fast and Responsive for PC and Console Gaming
HDMI 2.1
Cons:
Expensive
Flickering Issues at Low Brightness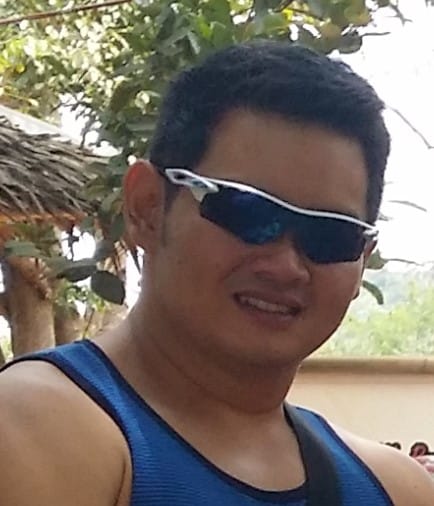 Paolo is a gaming veteran from the golden days of Doom and Warcraft. Since junior high, he has been building gaming systems for family, friends, and colleagues. High-performance monitors are one of his fixations; he believes that every citizen's right to enjoy one. He has gone through several pieces of hardware in pursuit of every bit of performance gain, much to the dismay of his wallet. He has also spent half a decade researching, reviewing, and writing about these products and now has over 1400 articles about the best gaming tech under his belt.