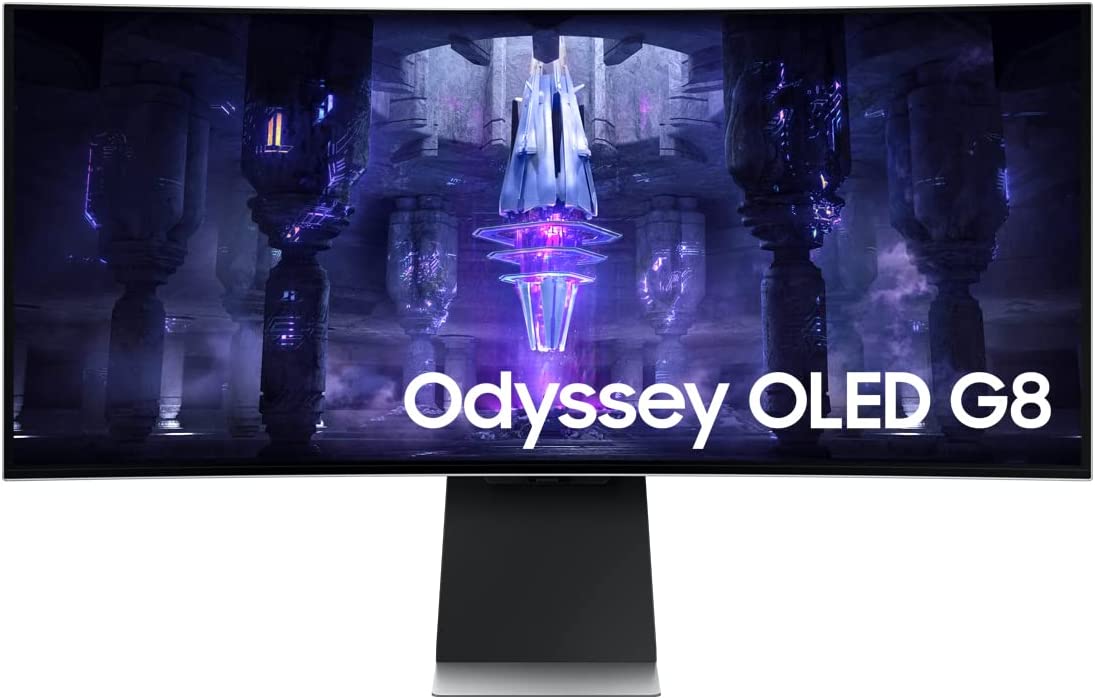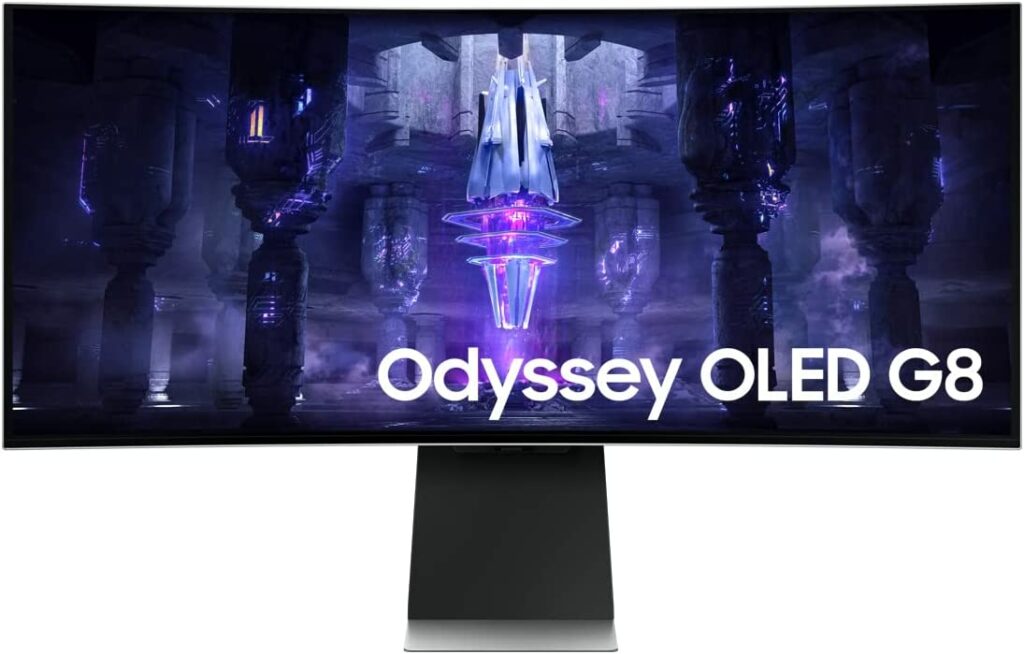 The Samsung Odyssey OLED G8 offers an eye-popping QD OLED panel similar to the Alienware AW3423DW and AW3423DWF. It's currently the best monitor in the Odyssey lineup for us, since nothing can match its imaging qualities like contrast and pixel response time. However, it deserves a deeper look to know if its steep price is worth it.

Samsung Odyssey OLED G8 Specifications
Screen Size: 34 Inches
Resolution: 3440 x 1440 UW-QHD
Aspect Ratio: 21:9
Panel Technology: QD-OLED
Refresh Rate: 175Hz
Response Time: 0.1ms
Contrast Ratio: 1000000:1
Brightness: 250 cd/m²
Built-in Speakers: Yes 2 x 5 Watts)
Stand: Height – Yes
Stand: Tilt – Yes
Stand: Swivel – Yes
Stand: Pivot – Yes
VESA Compatibility: Yes (100 x 100)
Connectivity: Micro DisplayPort 1.4 x 1, Micro HDMI 2.1 x 2, USB-C PD65W x 2, Bluetooth and WiFi5 Wireless, Bixby and Amazon Alexa, 3.5mm Audio Jack x 1
Dimensions (W x H x D): 32.03" 20.56" x7.59"
Weight: 16.53 lbs

Design and Features
Samsung Odyssey OLED G8 adopts some aesthetic elements from the Odyssey Ark, so it looks more mature than most of its siblings. The monitor has a matte black and silver combination, so it looks more like a prosumer display if it weren't for the Sphere lighting LEDs at the back. The display is virtually bezel-free, making it gorgeous and free from distractions.
It's sized like a regular ultrawide, so you won't struggle with accommodating it like the gigantic Odyssey Arc. The new stand takes up less space since it needs less than 8 inches of depth, plus the base is thin and flat. The monitor is rather light for its size, so it should be easy to move around in case you want to reorganize your setup.
Its build quality is as good as it looks, so the monitor won't feel cheap or flimsy once you unbox and assemble it. The panels are molded perfectly, and there were no cosmetic defects like gaps or sharp edges. The included stand is firm and stable, so the screen doesn't wobble or sag while it's in use.
The Samsung Odyssey OLED G8 has an OSD joystick, but it also includes a full-sized wireless remote. The latter is much easier to use since its control layout is simplified and effective. It also compliments the monitor's other main feature, its built-in Bixby smart TV OS.
Bixby means that you can pretty much use the monitor on its own, like a standalone display or a modern TV. You can use built-in streaming apps and even watch some free channels courtesy of Samsung. The monitor is also compatible with Amazon Alexa so that it can be controlled with voice commands using the mic on the remote.
The stand included with the Samsung Odyssey OLED G8 isn't something you'll commonly see on a regular ultrawide. The slim L-shaped mechanism offers tilt, swivel, height adjustments, and a little room for pivoting. It's easy to get a comfortable angle with it, but you can also use a monitor arm with the included VESA  adapter in case you need more flexibility.
Its connectivity layout isn't like most as well since the monitor uses micro versions of DisplayPort 1.4 and HDMI 2.1. You also get two USB-C slots with 65 Watts of charging power and DP Alt Mode for laptops like the MacBook Pro. Some USB-A ports are missing from it, but that's okay since your PC will most likely have them.
The Samsung Odyssey OLED G8 also has Bluetooth and WiFi5 wireless connectivity. Its just like the brand's smart TVs, so you can directly watch Netflix or Hulu on it without using a PC. It's a handy feature if you want to sit back, relax, and watch some movies or shows.
The monitor also has a pair of 5-watt speakers, which are decent enough for basic use. They sound decent with a bit of bass response, so they can be used for watching videos at nearfield position. However, they are not as good as those with subwoofers, so most will most likely rely on headsets on desktop speakers instead.
Display and Performance
The Samsung Odyssey OLED G8 boasts a 34-inch ultrawide OLED panel with a 3440 x 1440 resolution, a 175Hz refresh rate, and a 0.1ms response time. It is rated for 400 cd/m2, while the contrast is listed at 1000000:1. This model is certified for DisplayHDR 400 True Black, which you will usually only find on OLED displays.
3440 x 1440 monitors are stills wildly popular because they are versatile and great for immersive gaming. The increased sharpness and level of detail are there, but it's not as demanding as a 4K monitor. The extra horizontal space is great for expanding game FOVs and multitasking without being too overbearing.
The Samsung Odyssey OLED G8 renders 100% sRGB and 90% DCI-P3 for decent vibrancy in games and movies. It's calibrated from the factory, so the deltaE average is only at 0.98 without any tweaks to its settings. The monitor is good to go right away once you unbox and assemble it.
Calibrating the monitor reduced that dE average to 0.63, which is even better for editing and content creation. However, you will need a colorimeter for that, so it might not be practical unless you need absolute money-making accuracy. It's impractical for most applications, so we recommend reserving the extra spend for when it's truly necessary.
The Samsung Odyssey OLED G8 doesn't have a backlight since it has an OLED panel with individually local-dimming pixels. It reached 381 cd/m2 in SDR but peaked at 415 cd/m2 when its HDR mode was active. That isn't a lot, but the individually dimming pixels created an infinite contrast ratio for true blacks and deep vibrancy.
It offers fantastic HDR performance, but it does have a flaw in the form of fringing on static edges and objects. Text can become jagged, while straight edges can have some bright green or red outlines when they are stationary. All QD OLED panels have this, apparently, but it's a minor flaw, and it is not noticeable while gaming or watching movies.
Panel uniformity for the test sample did not have major issues like backlight leaks simply because it doesn't have a backlight. There can be some haloing at times, but it is rare for a monitor like this. The only issue with OLEDs is burn-in, but it can be prevented if you take the necessary precautions.
The Samsung Odyssey OLED G8's pixel response time is excellent, thanks to the natural capabilities of its OLED panel. Fast-paced games barely show any blurring or trailing, so it's great for games like Warzone 2. Fast panels can't catch up to it, but that's also one of the reasons behind the pricing disparity.
The Samsung Odyssey OLED G8 is compatible with G-Sync and FreeSync, so you can prevent tearing and stuttering. Having the option to switch between the two is a must-have since the GPU market can get crazy, and you might not always get your preferred brand at a good price. Input lag sits at 4ms at 175Hz, so it's responsive enough for fast-paced gaming.
Thoughts on the Samsung Odyssey OLED G8
The Samsung Odyssey OLED G8 is an excellent choice for gamers who want the best in color and contrast. The monitor's design is immaculate, plus it's loaded with features like HDMI 2.1 and USB-C, which allows you to make the most out of it. Its gaming performance is great and beats even the most expensive Fast-IPS monitors out there.
However, the Samsung Odyssey OLED G8 has a glaring flaw in the form of fringing on static objects. There are solutions like MacType, but the panel's unique pixel layout causes it, so it can't be fixed. There's also the higher price versus its main competitor, so we recommend waiting or a discount to make the purchase more reasonable.
Pros:
Attractive and Functional Design
USB-C and HDMI 2.1 Connectivity
Excellent Color and Contrast
Fast and Responsive
Cons:
More Expensive
Fringing Issues
Prone to Burn-in
About the Author: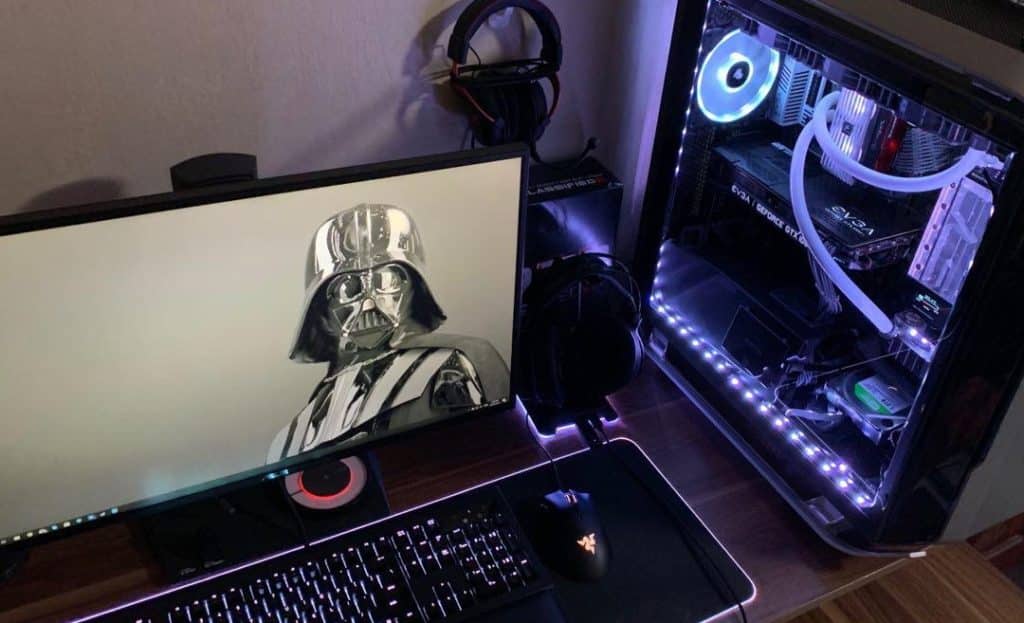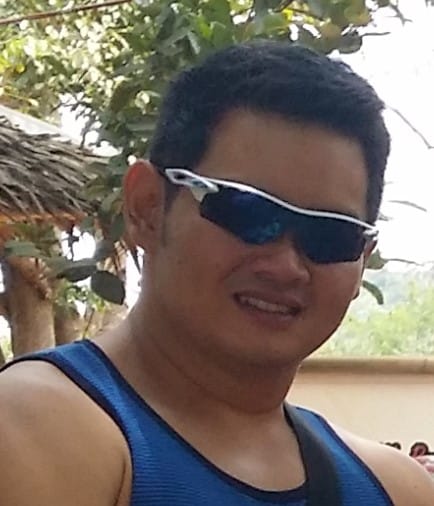 Paolo has been a gaming veteran since the golden days of Doom and Warcraft and has been building gaming systems for family, friends, and colleagues since junior high. High-performance monitors are one of his fixations; he believes that every citizen's right to enjoy one. He has gone through several pieces of hardware in pursuit of every bit of performance gain, much to the dismay of his wallet. He now works with Monitornerds to scrutinize the latest gear to create reviews that accentuate the seldom explained aspects of a PC monitor.