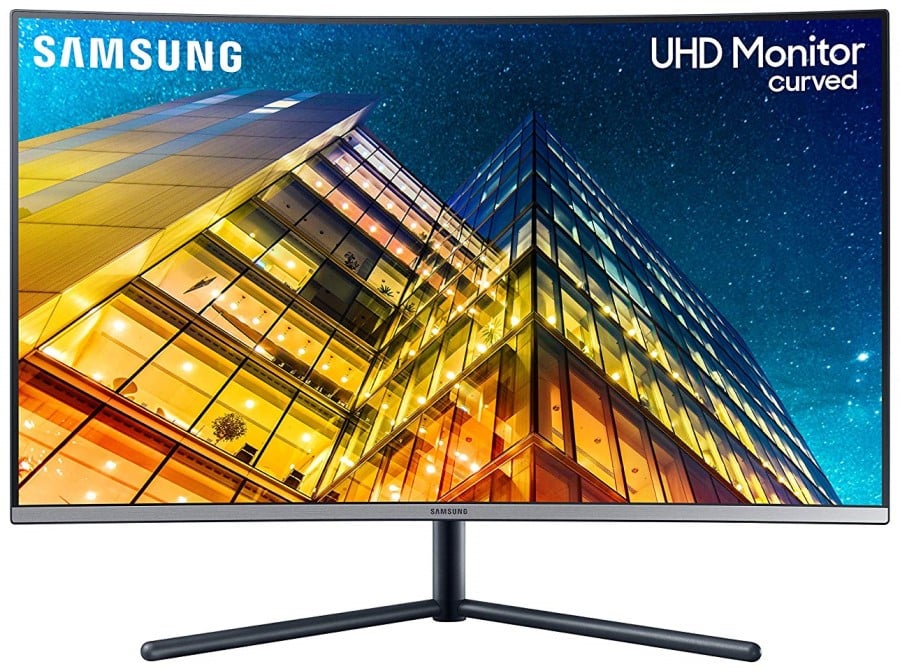 The Samsung U32R590 offers a compelling and easy to own package if you want a comfortably sized 4K monitor for everyday use. The benefits of a 4K screen feel more natural on a 32-inch display, while the curved shape adds a cinematic appeal for your visual experience. 4K monitors have come down in pricing as attested to by the Samsung U32R590, but will its image fidelity impress?

Samsung U32R590 Specifications
Screen Size: 32 Inches
Resolution: 3840 x 2160 4K
Aspect Ratio: 16:9
Panel Technology: Vertical Alignment (VA)
Refresh Rate: 60Hz
Response Time: 4 ms
Contrast Ratio: 2500:1
Brightness: 250cd/m²
Built-in Speakers: No
Stand: Height – No
Stand: Tilt – Yes
Stand: Swivel – No
Stand: Pivot– No
VESA Compatibility: Yes (100 x 100)
Connectivity: DisplayPort 1.2 x 1, HDMI 2.0 x 1, HDMI 1.4 x 1, 5mm Audio Jack
Dimensions: (W x H x D): 28.1" x 20.3" x 9.4"
Weight: 12.3lbs

Design and Features
The Samsung U32R590 sports a clean and streamlined aesthetic that makes the device looks like it was meant for a design studio. Samsung's version of matte black plastics looks timeless and classy, while the silver accent at the front adds a luxurious and unique appeal. The monitor is bezel-free, but slim panel borders will still be visible when the screen is in use.
It's great that you don't have to deal with plastic borders on the Samsung U32R590 compared to the U32J590. This treatment gives the device a cleaner look which makes it more attractive for modern tastes. However, we're still wondering when panel OEMs will be able to make a truly edge-to-edge module.
Build quality for the Samsung U32R590 is considerably better than some budget models we've seen. There is no wobble unless you hit the screen with a decent amount of force, and there is no sign of warping on the plastics. The seams are perfectly matched, indicating that the manufacturing process and quality control was clean all the way.
One of the biggest downsides of the Samsung U32R590 in its physical design is the lack of a VESA mount. You are stuck with the stand which only offers tilt, severely limiting your adjustments to get a perfect view angle. However, the trick to curved monitors is to centrally position it along the axis of your seat so you can enjoy the benefits of the curved display.
The display's height should also be sufficient for many users, but the taller individuals might need a stand to go with the Samsung U32R590. It's also worth noting that tilting the screen upward will move the upper corners further due to the swivel's low attachment or apex.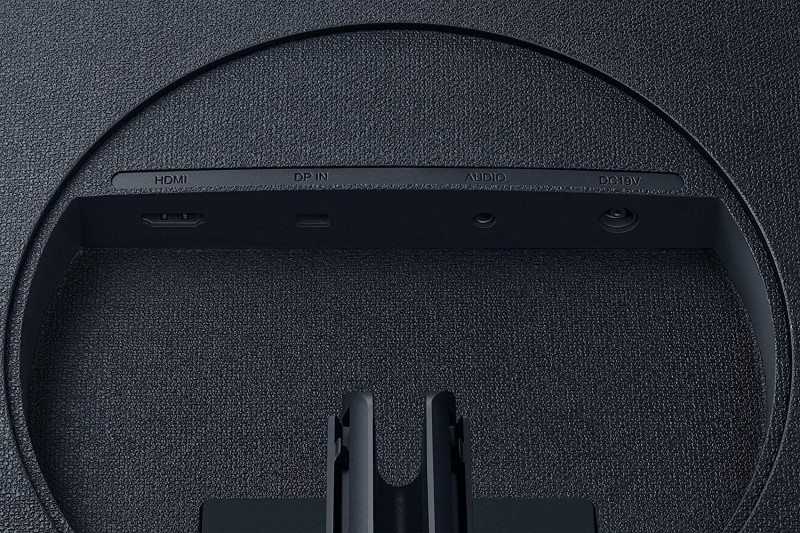 The Samsung U32R590's screen is ideal for various UHD devices, but its connectivity options will limit you to a PC and a console or a Blueray player. The I/O panel at the rear only offers DisplayPort 1.2 and HDMI, along with a 3.5mm jack for audio passthrough. This aspect is lacking by our standards, but the circular panel cover which lets you organize and conceal the connectors is a nice touch.
There are no speakers with the Samsung U32R590, but most are inclined to use a separate set or headphones for better audio quality. You can use the 3.5mm at the rear for the latter and control the volume via the OSD. However, we think that's troublesome even if the device has an OSD joystick since you can access volume sliders in Windows or OS X much faster.
Display and Performance
The Samsung U32R590 utilizes a 32-inch VA panel with a 3840 x 2160 resolution, 60Hz refresh rate, and 4ms response time. The backlight is limited to 250 cd/m2, while contrast is also lower than the usual for VA screens at 2500:1. This model's 1500r curvature is tighter than many to increase its immersive value for entertainment and gaming.
The Samsung U32R590's size feels perfect for 4K since the pixels don't look too sharp to the point of requiring scaling. Walls of text can be more difficult to read for users in some cases, but that isn't the case here. The benefits of having more pixels is also more visible in this format, especially if you sit at the proper viewing distance.
The Samsung U32R590 isn't impressive in its default state when it comes to color quality. The VA module covers 105% of the sRGB color space, but its errors reach a Delta E of 3.4 which means some miscolorations will be noticeable. Gamma is also off at 1.9, washing out some of the imaging properties of the display.
Thankfully, the monitor is responsive to calibration, so you can bring down its color deviances to reduce the DE average to around 1.2. Gamma will also improve to 2.17 if you lower the brightness to around 50%. Color temperature will sit closer to the ideal 6500K, lessening the bluish tinge of the display which is more prominently visible in gray images.
What's fantastic about the Samsung U32R590 is its backlight and contrast which exceed the listed specifications. The WLED unit can exceed 330 cd/m2 at full blast, while contrast peaks at 2600:1 if you turn to recommended levels. Its also advisable to lower the latter, since anything over 200 cd/m2 can strain your eyes during extended usage.
The Samsung U32R590's panel uniformity is within acceptable limit since deviances maxed out at 14%. Most of the variances are concentrated on the corners as is typical for curved displays, but the changes in blacks or contrast are not readily noticeable for most users. Games and movies are mostly unaffected, but you will see some minor differences in the backlight spread towards the corners if you stare at these spots closely.
The Samsung U32R590 doesn't have FreeSync or G-Sync compatibility, so you have no defense against tearing or stuttering. We recommend using a powerful GPU or some in-game settings optimization to stabilize the framerates and avoid these problems. Input lag sits at around 12ms, so there should be no delays or "de-synced" instances.
Thoughts on the Samsung U32R590
The Samsung U32R590 is attractively priced as far as 32-inch 4K monitors go, especially if you consider that it is a curved variant. The screen looks superb once calibrated, while the form factor takes care of the product's value for entertainment purposes. The device is a suitable choice if you want a display for PC and console gaming, but there are few missing features such as FreeSync.
What's bad about the Samsung U32R590 is its missing a lot of creature comforts which we reckon helped to lower its MSRP. The I/O panel could use a few additions, while something as simple as VESA mounting holes should be mandatory if the stand isn't fully adjustable. This monitor is a decent 4K solution for all sorts of use, but we feel that it's extremely limited in this regard.
About the Author: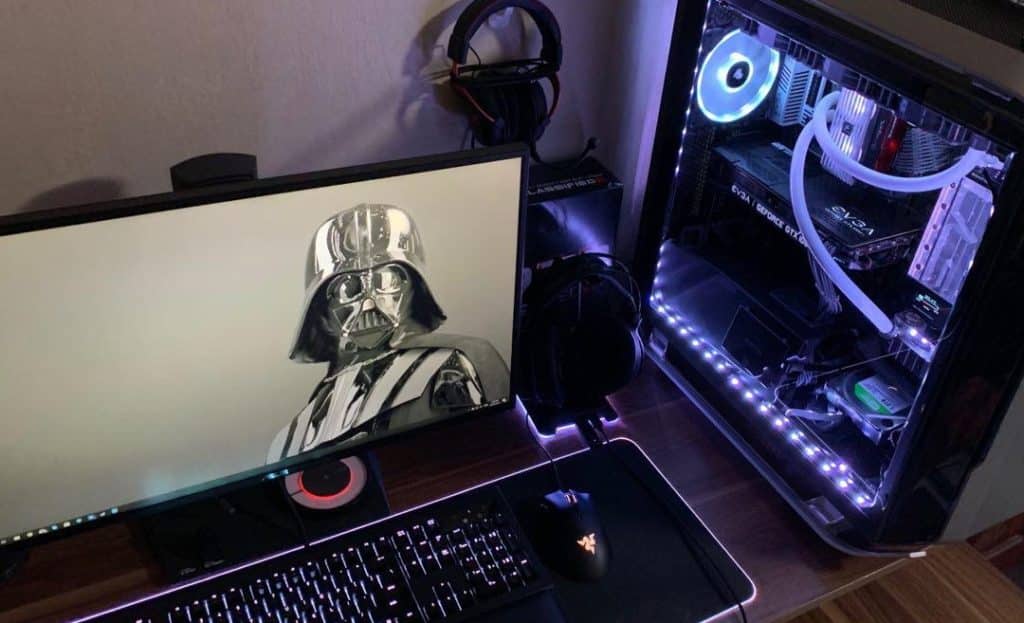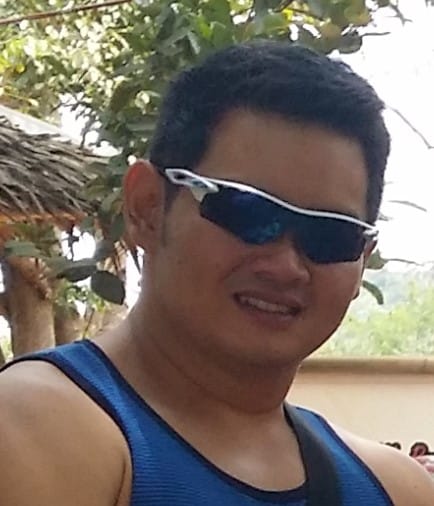 Paolo is a gaming veteran since the golden days of Doom and Warcraft and has been building gaming systems for family, friends, and colleagues since his junior high years. High-performance monitors are one of his fixations and he believes that it's every citizen's right to enjoy one. He has gone through several pieces of hardware in pursuit of every bit of performance gain, much to the dismay of his wallet. He now works with Monitornerds to scrutinize the latest gear to create reviews which accentuate the seldom explained aspects of a PC monitor.