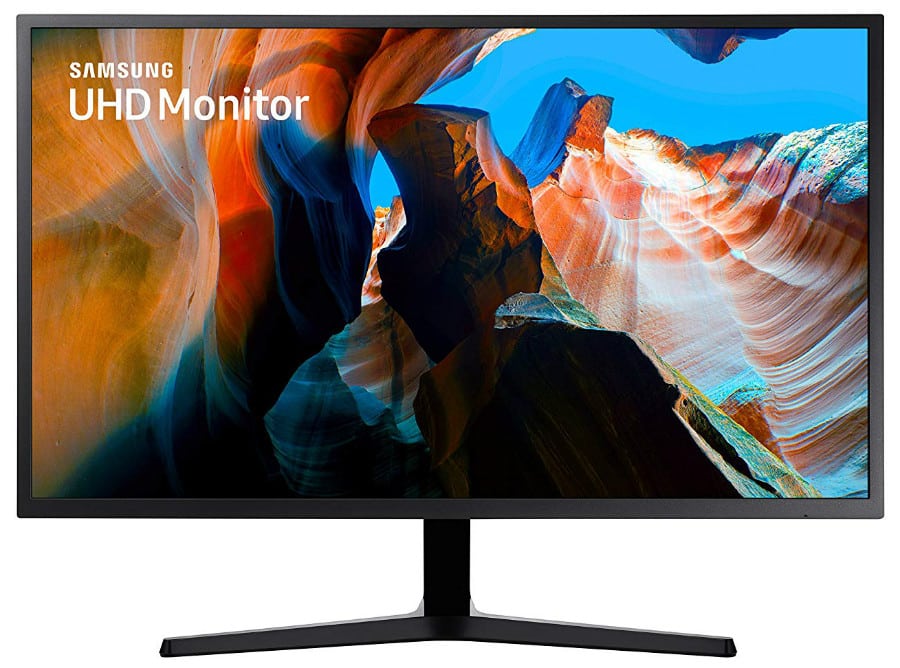 The Samsung U32J590 is a reasonably priced 4K monitor with a decent performance which makes it an attractive solution for mixed-use requirements. Samsung takes pride in prioritizing VA panels with extreme contrast ratios and more vibrancy for their displays so each model can offer the best possible experience. The Samsung U32J590 is one of the cheapest 4K monitors of this size, making us extra curious what kind of pros and cons are included in the package.

Samsung U32J590 Specifications
Screen Size: 32Inches
Resolution: 3840 x 2160 4K
Aspect Ratio: 16:9
Panel Technology: Vertical Alignment (VA)
Refresh Rate: 60Hz
Response Time:4 ms
Contrast Ratio:3000:1
Brightness: 270cd/m²
Built-in Speakers: Yes
Stand: Height – No
Stand: Tilt – Yes
Stand: Swivel – No
Stand: Pivot– No
VESA Compatibility: Yes (100 x 100)
Connectivity: DisplayPort 1.2 x 1, HDMI 2.0 x 1, HDMI 1.4 x 1, 5mm Audio Jack
Dimensions: (W x H x D): 28.72" x 21.04" x 9.86"
Weight: 13.89 lbs

Design and Features
The Samsung U32J590 adopts the brand's current design trend of minimalist aesthetics finished in matte bluish gray. Despite its size, the monitor feels and looks sleeker than similar models from other brands such as LG. The premium feel isn't missing from the J590 series, despite its position as a budget-friendly mixed-use monitor.
One of the downsides to using VA modules is the need for thicker than most bezels on all sides. VA screens have notoriously more extensive panel borders than IPS or TN, so manufacturers are forced to add these plastic strips despite the dismay of many customers. However, the Samsung U32J590's frame isn't that distracting due to the size of the viewable area.
The Samsung U32J590 is a sleek, 32-inch monitor making it suitable for wall-mounting or limited space desks. The included stand is wider than the usual squarish variants, but the Y-shaped base doesn't have a humongous footprint. The total depth of the monitor sits below ten inches, so we imagine that placement shouldn't be an issue for most.
Buyers should automatically consider getting an articulated VESA stand if the Samsung U32J590 is in the list. The stand, no matter how good it looks, is sorely limited to tilting in the ergonomics department. The angle limits are also narrower than previous models, so adding the cost of a VESA arm with a 100 x 100 will be a good idea.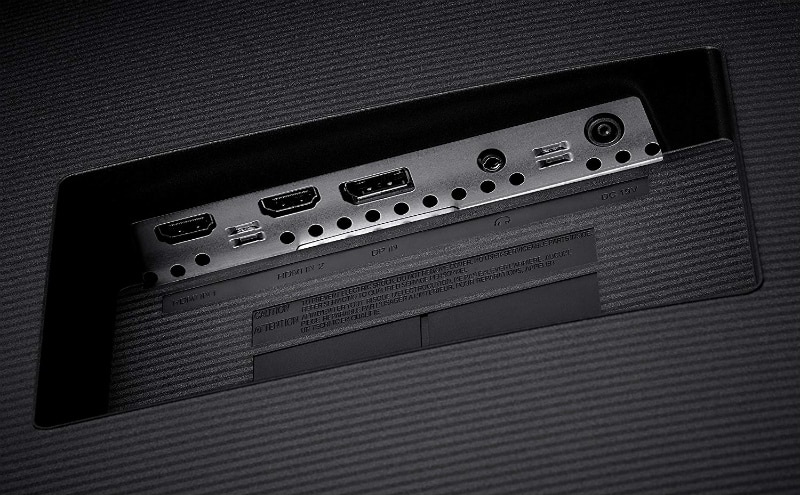 The Samsung U32J590's I/O panel sits flush on the rear panel giving some room to hide cables when they are rolled and zip-tied. The layout includes DisplayPort 1.2, HDMI 2.0, and HDMI 1.4, and a 3.5mm audio jack. The only issue we see is it would be next to impossible to reach the ports if you wall mount the display, but that's easily solvable with a bit of effort.
The Samsung U32J590 managed to squeeze in a pair of built-in speakers in the slim and budget-oriented monitor. It's a great addition for basic audio appreciation but is too tinny for entertainment purposes such as gaming and watching movies.
Display and Performance
The Samsung U32J590 sports a massive, 32-inch VA panel with a 3840 x 2160 resolution, 60Hz refresh rate, and 4ms response time. A typical 3000:1 contrast ratio is also specified, along with a 270cd/m2 WLED backlight. The brand advertises excellent color coverage due to the 10-bit color interface and superb grayscale performance that comes with the panel tech.
Viewing the Samsung U32J590 is perfectly comfortable for the eyes since 4K is more suited to this size. The pixel density of the 32-inch screen doesn't degrade or soften the edges and details of images, retaining the sharpness and clarity associated with UHD screens. This size is also perfect for PC and console gaming, striking the ideal balance between an LCD TV and a desktop monitor.
The Samsung U32J590 is capable of a decent output, starting with 99% sRGB coverage which also translates to 87.5% Adobe RGB. Color accuracy out of the box sits at DeltaE 3.1 and color temp is slightly off at 6900K due to the Cool 1 preset of the RGB temp control. The default look of the screen should be good enough for menial tasks such as browsing all the way up to watching movies.
However, we recommend tweaking the monitor to get the most out of its budget-friendly value. Lowering the brightness and manually adjusting the RGB controls can improve Color DE to 0.8 along with an ideal 6500K temperature. Doing this will reduce the screen's slightly bluish tint, creating an appearance that's even suitable for basic photo editing.
Visibility and black depth are superb on the Samsung U32J590 since its contrast ratio reaches up to 2800:1 when brightness is adjusted to around 20% to 30%. Eerie scenes are much more immersive, and games with high contrast hues such as Vermintide 2 look more convincing. This aspect enables the device to surpass its TN-equipped predecessor, the UE590, in imaging quality and visual value.
However, one flaw of the Samsung U32J590 is its backlight which is too dim for well-lit environments. Browsing or document processing isn't affected, but games and movies are difficult to appreciate when the monitor is used in bright areas. Another downside from the U32J590 is its use of a PWM backlight which can instigate nausea or headaches for sensitive users.
Despite the screen size, the Samsung U32J590 still manages to do well in panel uniformity tests. Deviations in brightness rarely go beyond 5% while color looks almost perfectly balanced on all of the quadrants. Take note that this characteristic may vary from unit to unit, so buying from a seller with excellent exchange policies is a must.
Surprisingly, the Samsung U32J590 can handle motion relatively well compared to other VA monitors. Fast-paced games such as Overwatch will reveal some amount of ghosting or blurs, but we feel it still is within acceptable limits since the device is a 60Hz VA variant. The OSD in this model also includes an Overdrive feature, but we recommend staying at the Standard mode since the faster levels will add overshoot instantly.
The Samsung U32J590 is excellent for gaming on AMD-based rigs and the Xbox One X due to its FreeSync functionality. The range is short at 40Hz to 60Hz, but that's where frames will dip and dive the most while gaming in 4K. Input lag is also limited to 10ms, eliminating the possibility of delays and "de-synced" instances.
Thoughts on the Samsung U32J590
The Samsung U32J590 is a well-rounded, large display that is affordable and suitable for many uses. The screen is capable of decent imaging quality right out of the box, but tweaking it properly enhances it to a level that's comparable to higher-tiered models. The monitor's capabilities and its size make it a great option for PC and console gaming.
But what defeats the Samsung U32J590's excellence is its backlight which is too dim and is PWM-controlled. Gamers and movie fanatics may have to limit their enjoyment for evenings since the display cannot outmatch normal ambient lighting. But despite this limitation, we still think that the Samsung U32J590 is an excellent buy if you are in the market for a value-oriented, do it all 4K display.