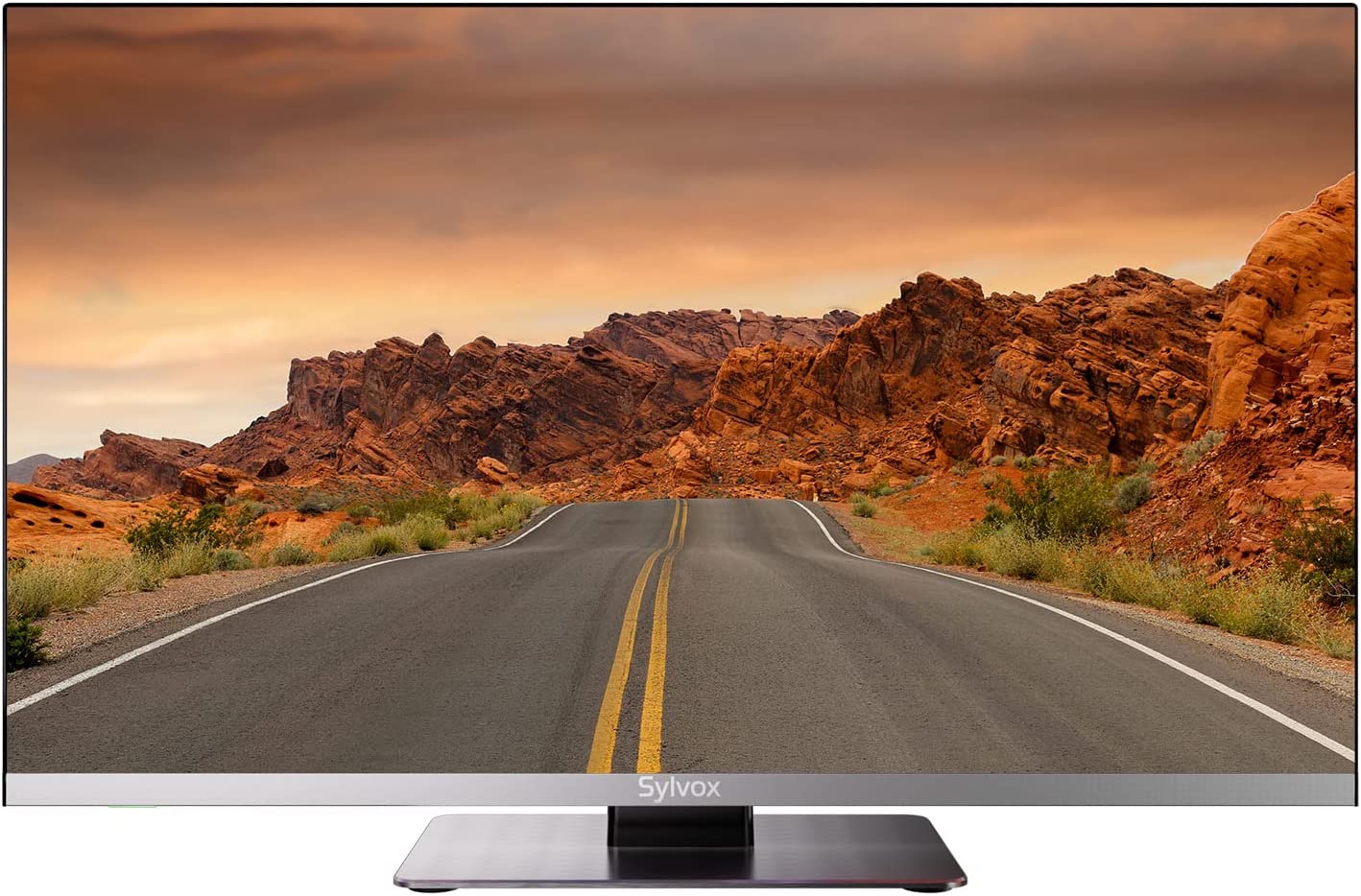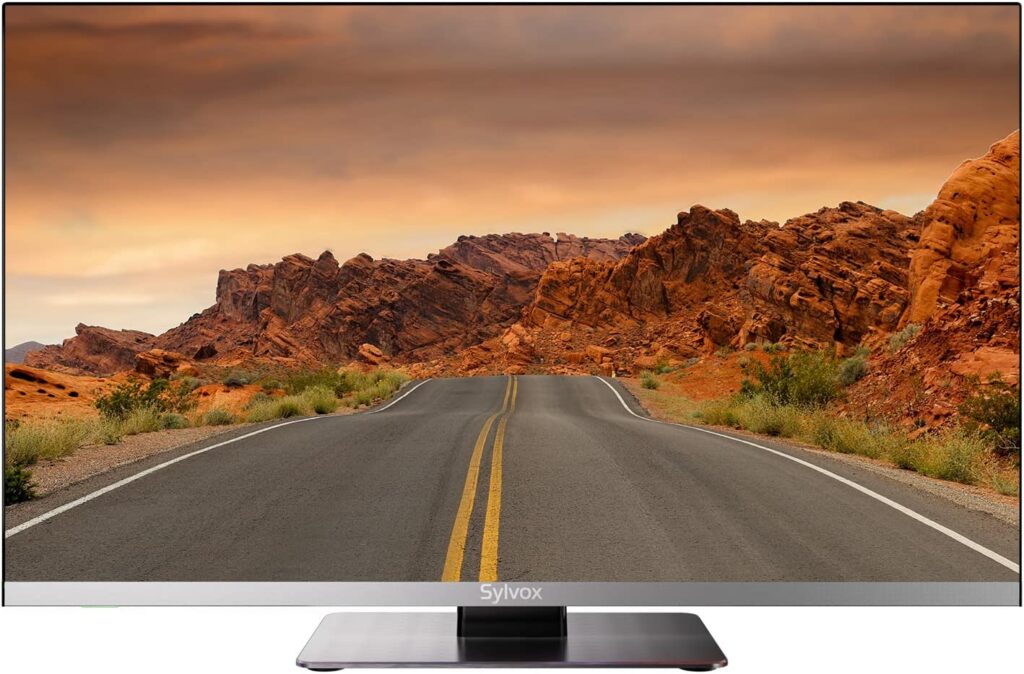 The SYLVOX Smart RV TV is a very interesting product that caters to digital nomads who want a functional TV on the go. It's designed to work inside a vehicle without an inverter, and it also has Android TV functionality for convenience. It's priced attractively, so let's check it out to see if it's worth the price.
SYLVOX Smart RV TV Specifications
Screen Size: 43 Inches
Resolution:3840 x 2160UHD
Aspect Ratio: 16:9
Panel Technology:?
Refresh Rate: 60Hz
Response Time: 5ms
Contrast Ratio: 3000:1
Brightness: 250 cd/m2
Built-in Speakers: Yes (2 x 5 Watts)
Stand: Height – No
Stand: Tilt – No
Stand: Swivel – No
Stand: Pivot– No
VESA Compatibility: Yes (100 x 100)
Connectivity: HDMI x 2, TOSLINK Optical x 1, USB 2.0 x 2, AV Connection x 1, RJ45 x 1, TV Tuner x 2, Bluetooth 5.0 and WiFi Wireless, 3.5mm Jack
Dimension With Stand (WxHxD): 19.41″ x 12.2″ x 1.85″
Weight: 9.38 lbs

Design and Features
The SYLVOX Smart RV TV looks sleek and modern thanks to its clean design with a metallic bottom strip and base. It has a matte black finish similar to what you would typically see on TVs, so it won't easily get scratched. The display has a nice bezel-free design but still has minor panel borders like any regular display.
It's a compact TV, and it is sometimes hard to believe that it has a DVD player inside if you've seen the older DVD receivers I had as a student. The monitor when fully assembled, only takes a modest amount of depth, and it's lightweight at under 10 pounds. It's designed to be placed in small nooks you would normally find in an RV or headrest mounts for SUVs or vans.
It feels solid and built to withstand vibrations while your vehicle is in transit. Some bits on the chassis are slightly creaky or loose, but it is not a big issue. The stand screws securely to the metal base so it's stable and firm.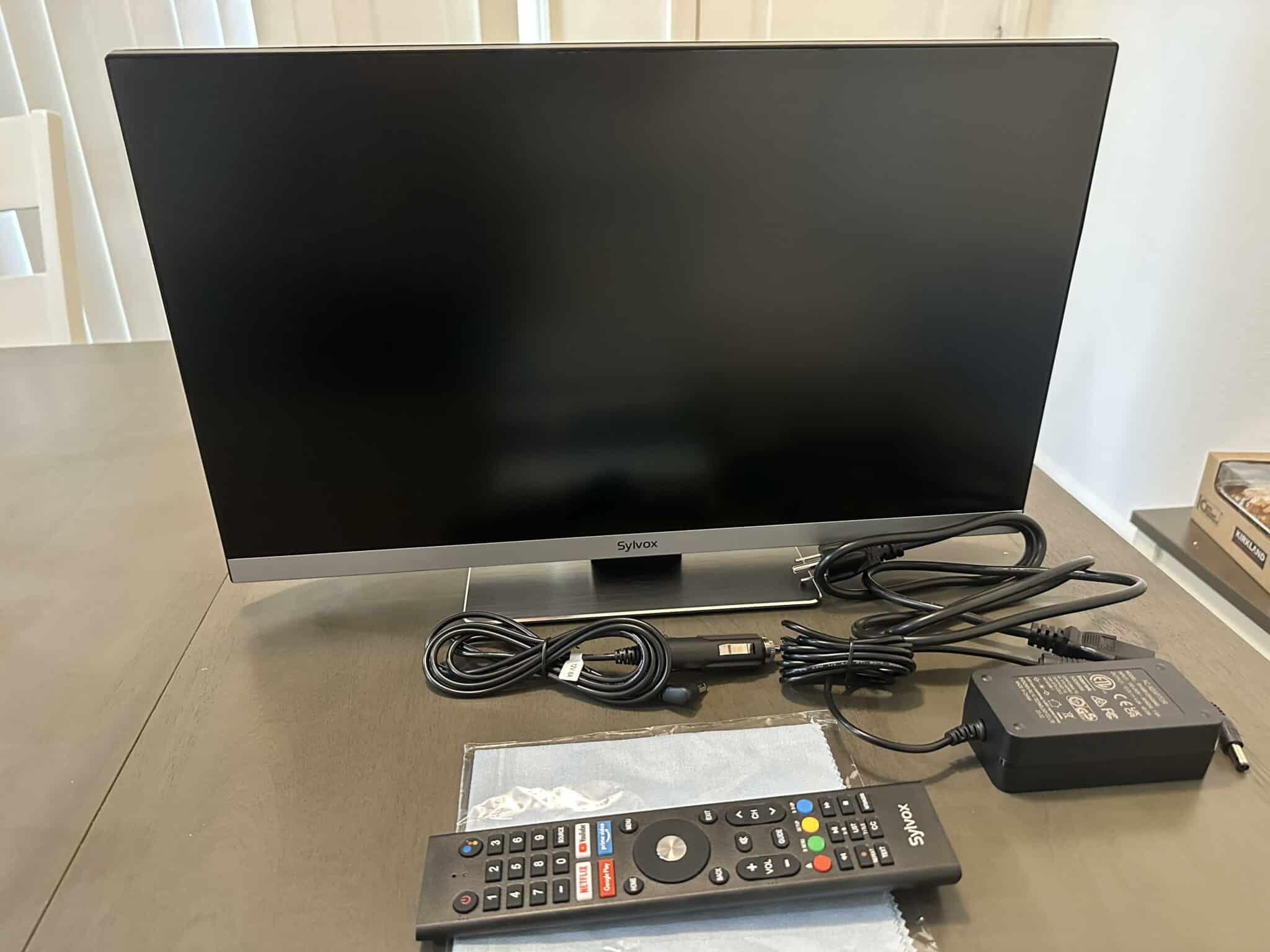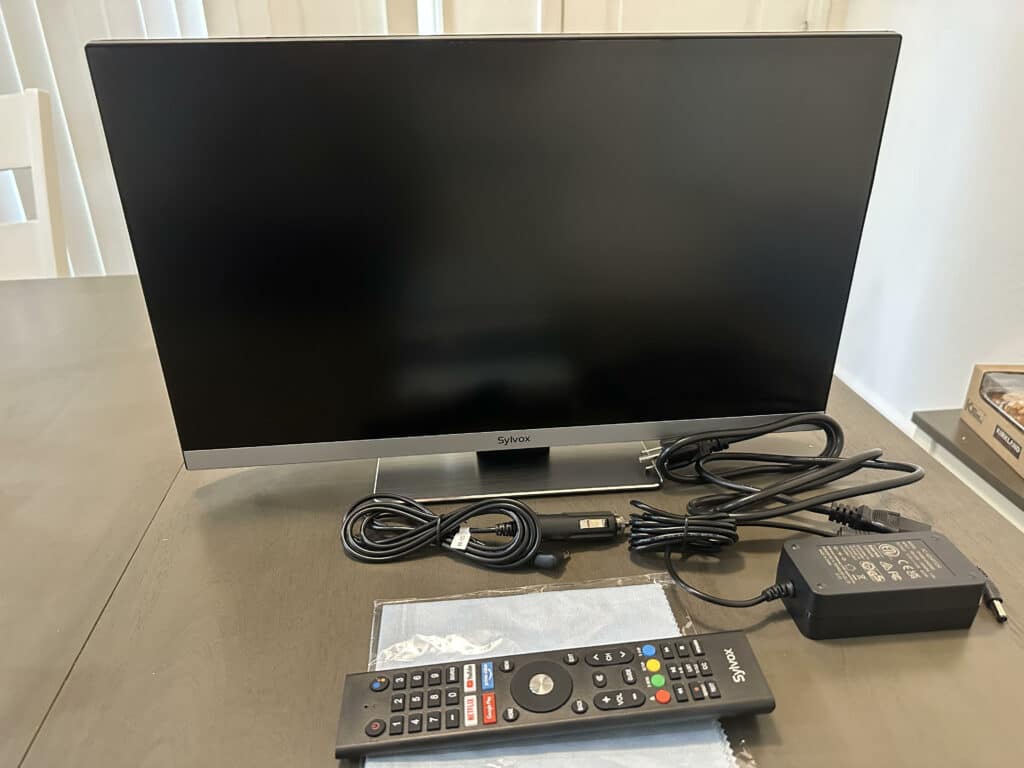 The SYLVOX Smart RV TV includes a full-sized TV remote that would shame the ones included in budget TVs. The keys feel nice to press, and it even includes a mic for Google Assistant voice commands. It feels light, but it is not flimsy at all, just like the other tiny remotes we've come across on multiple display products.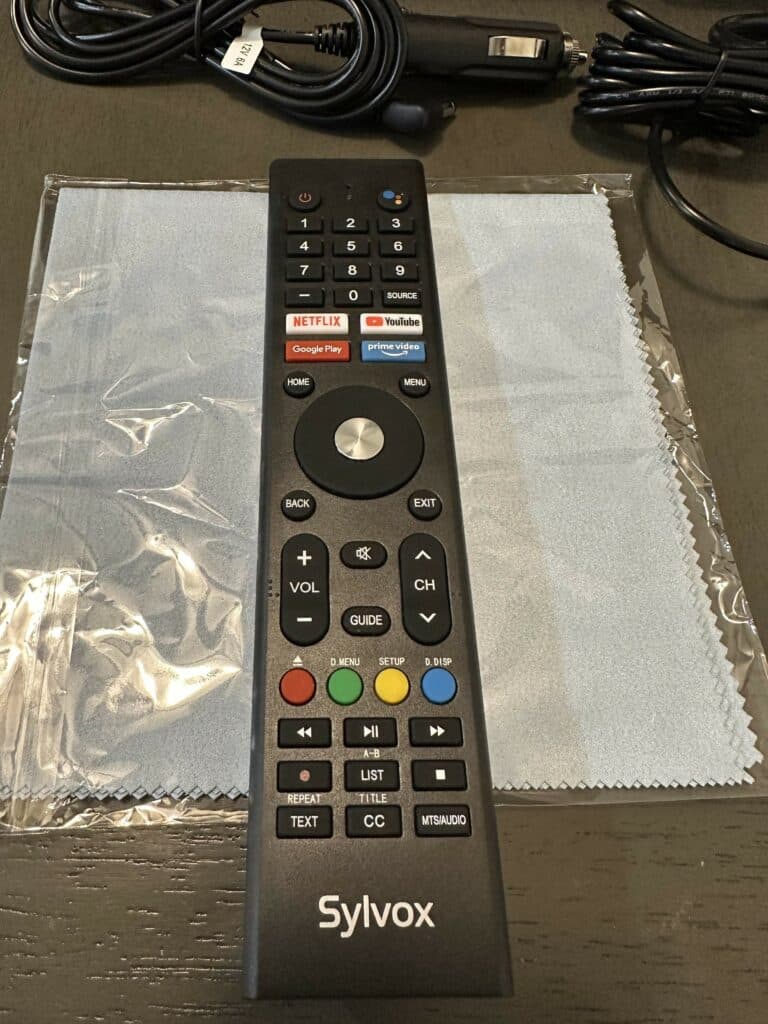 The TV still has an OSD keypad at the back, like some classic TV models. The layout includes dedicated buttons for channel and volume, inputs, and power, but they are confusing to use. The number of keys you must press makes it a challenge since you can't really see the layout from the front, so the remote is a much better option.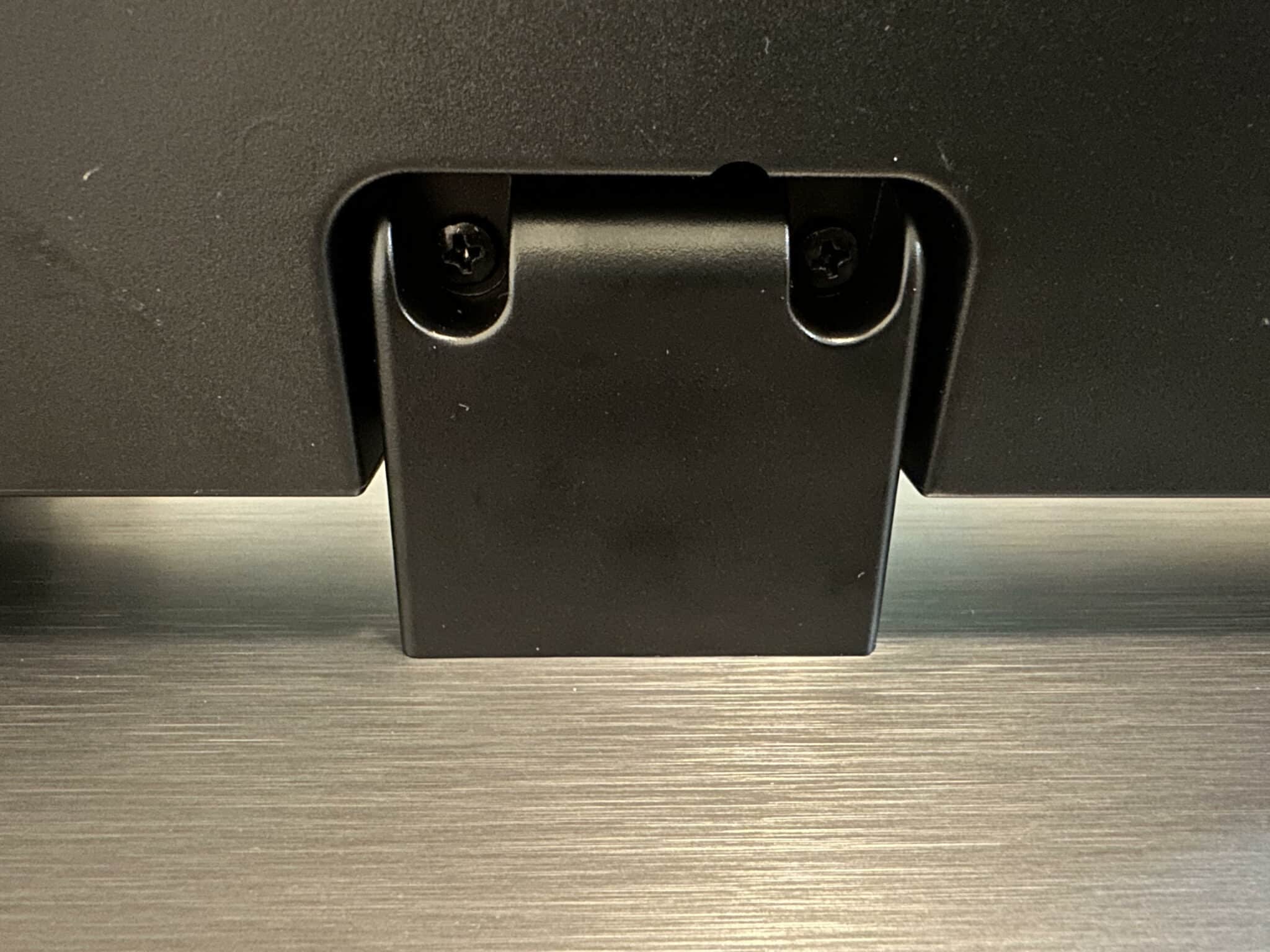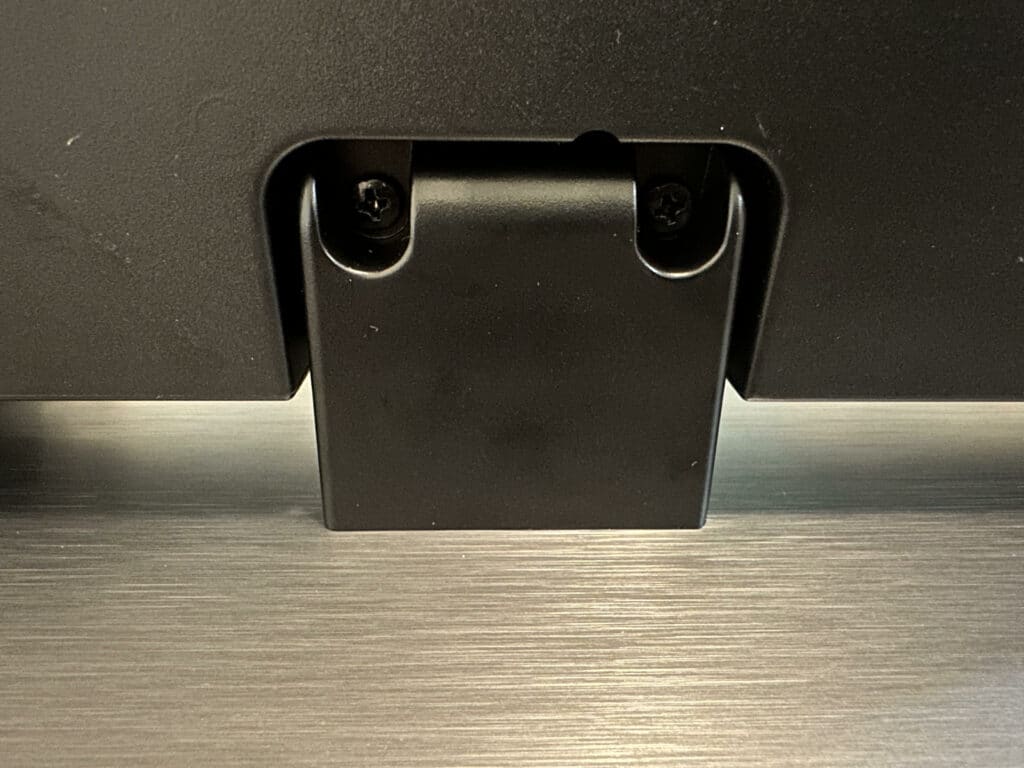 The stand included in the package doesn't offer any kind of adjustment, so you will be stuck with the screen's angle if you don't spend more on a mount. its stable, but it comes in two separate pieces which you need to screw in with a Philips driver. The monitor is compatible with 100 x 100 mounts, but we'd prefer if it had tilt, at least.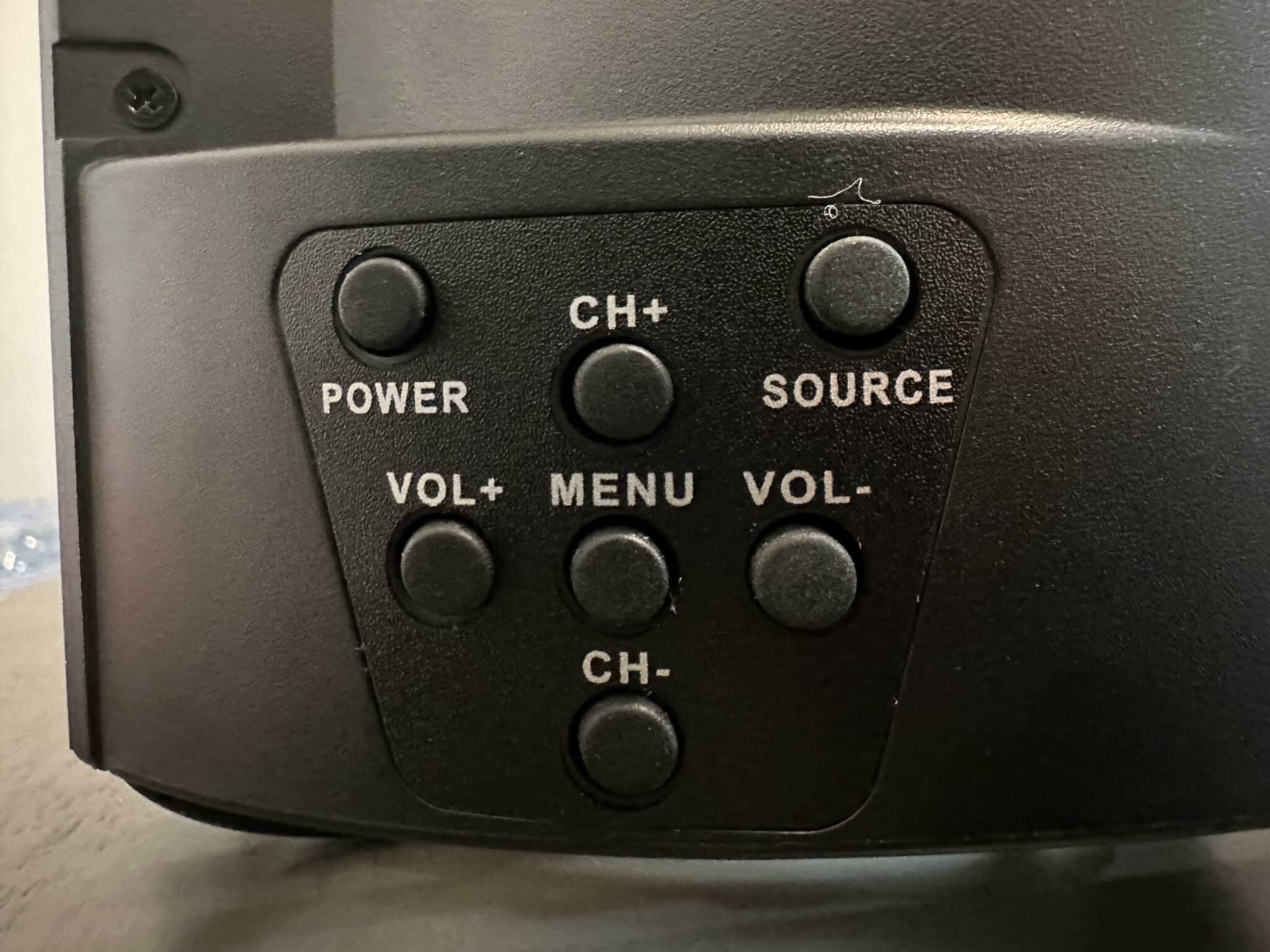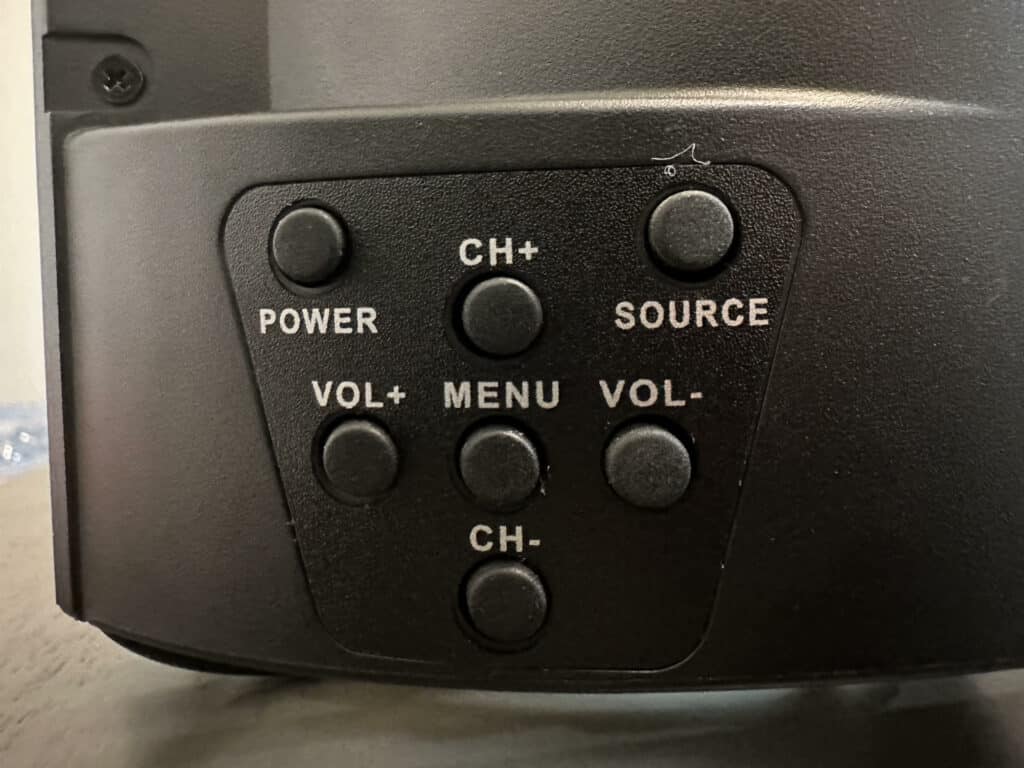 Another distinct feature of the SYLVOX Smart RV TV is its 12-volt power capability. It is designed to primarily use your vehicle's lighter outlet, but it also includes a wall socket and power brick combo for home use. This makes the product very flexible and suitable for your glamping or road trip kit without sacrificing usability for home small home spaces like kitchens.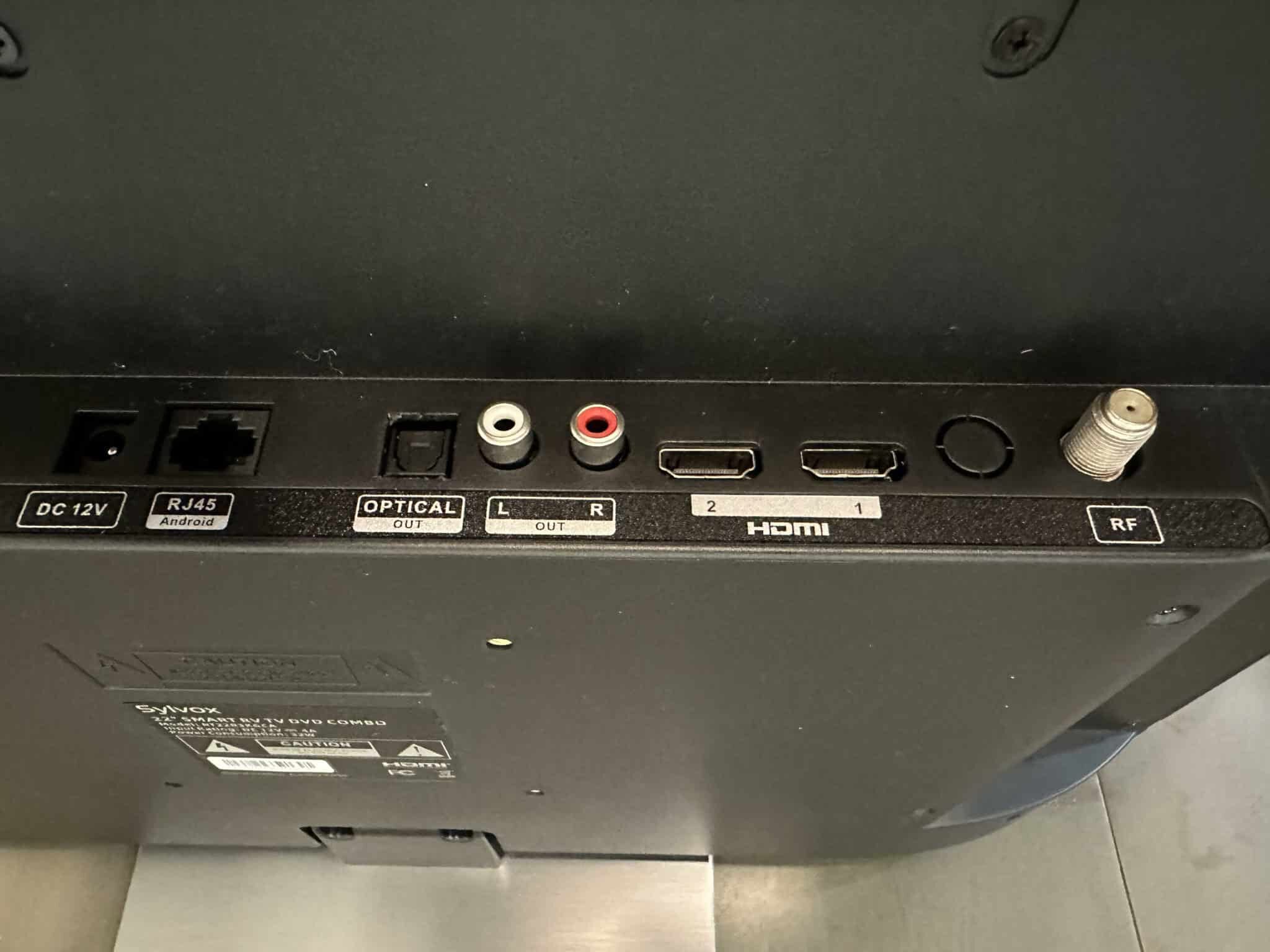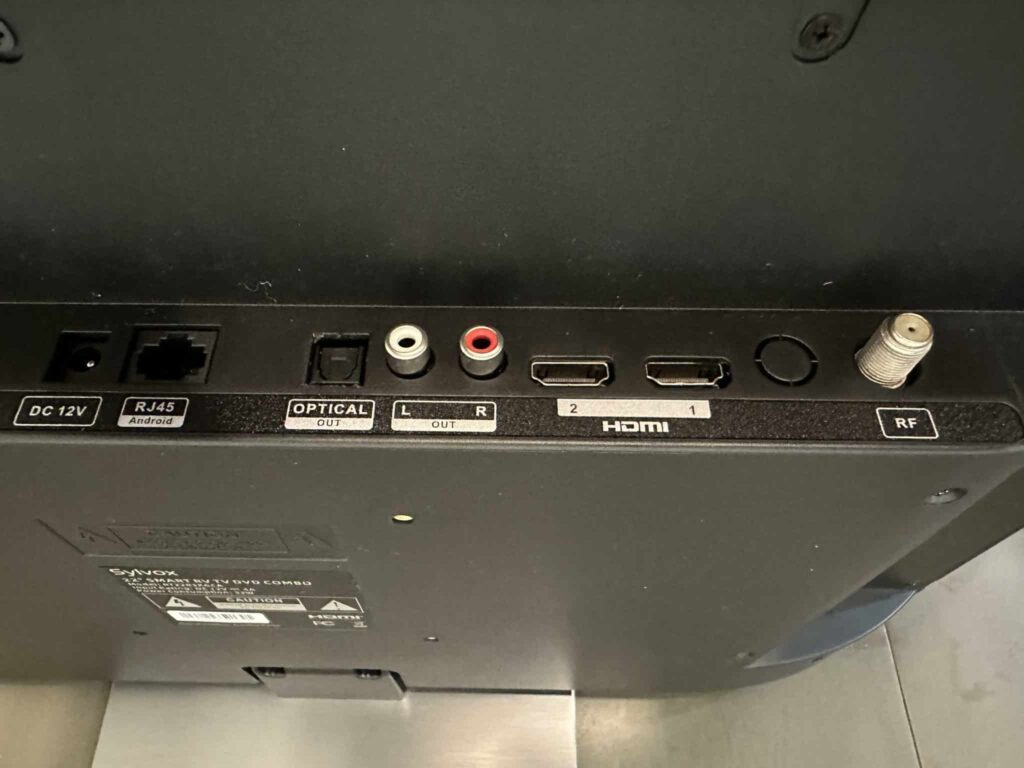 Its connectivity layout is also decently equipped, so you can use it for anything involving a panel. It has two HDMI slots, TV tuners, Bluetooth, and WiFi connectivity for streaming. It also includes an analog audio layout and an optical slot for your speakers, a 3.5mm jack for headphones, and two USB slots that you can use for thumb drives with movies.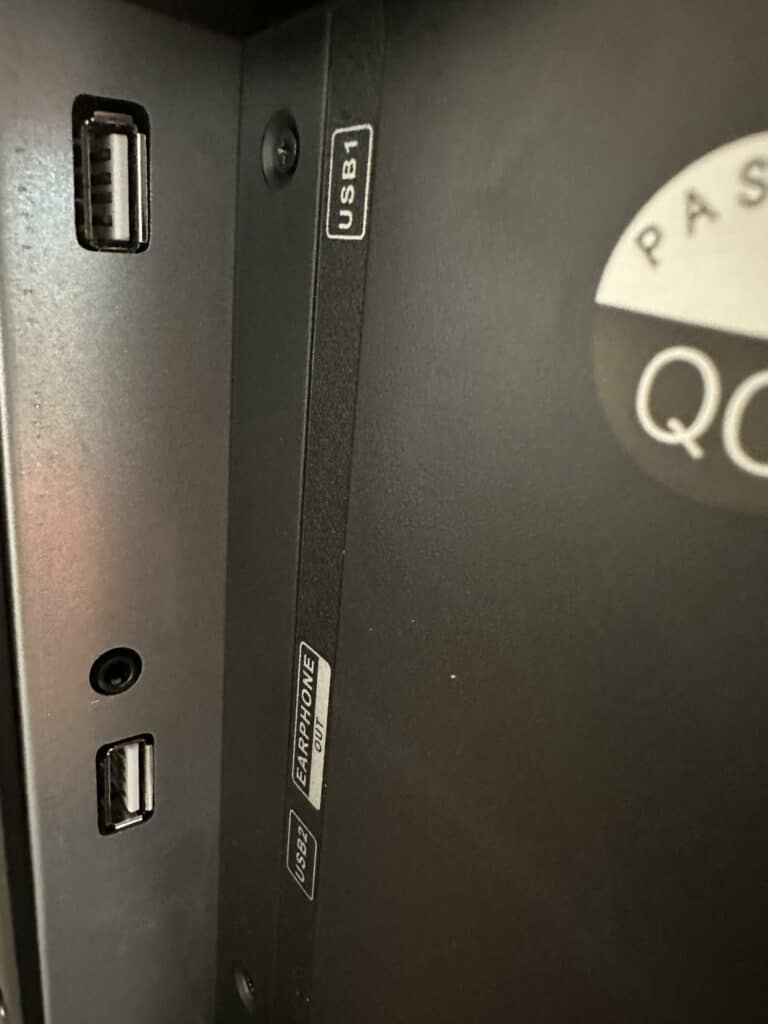 It also has a DVD player in the chassis so that you can slip in a few discs for those long road trips. DVD players are basically fossils now, but you'd be surprised at how easy it is to get good movies for five bucks, more or less. It's a cheap and easy-to-use solution if you want to enjoy movies at home or in your vehicle.
The device also has a pair of 5-watt speakers which are surprisingly loud for its size. It's not well-defined like a soundbar or a dedicated set, but it can fill a decent-sized room or van with sound. It's not home-theater grade, but it will get you through boredom during long hours on the road.
Display and Performance
The SYLVOX Smart RV TV has a 1920 x 1080 panel, but the company's website does not disclose what type of panel it is. They listed a 3000:1 contrast ratio indicating a VA panel, but the low contrast readings and wider viewing angles tell us that it's an IPS module. The backlight has a 250 cd/m2 limit, so it's unsuitable for outdoor use like its larger cousin, which was designed for deck or patio use.
It's also worth noting that this RV TV uses our favorite television OS which is Google TV. It has a very easy-to-use and understandable UI, plus it's snappier and faster compared to other systems like Tizen. This particular TV has a longer boot-up time than other Android TVs, but that's understandable since it doesn't have a high-end processor like Sony or TCL products.
It also has TV tuners, AM/FM radio reception, and the usual smart TV features you could use, such as a built-in video player. You can also use DVDs with it, so it gives you quite a number of options for movie enjoyment while on the go. It's pricey if we rate it as a 22-inch display, but the tools it has at its disposal justify the price.
It is not the sharpest screen since it's limited to 1080p, but it is small enough to prevent it from looking fuzzy. 1080p is well-suited for 20-24-inch screens when used in desktops, so it's also good for small spaces like the inside of an RV. It is easy to read and see all the tiny bits like subtitles, even when you are on the move.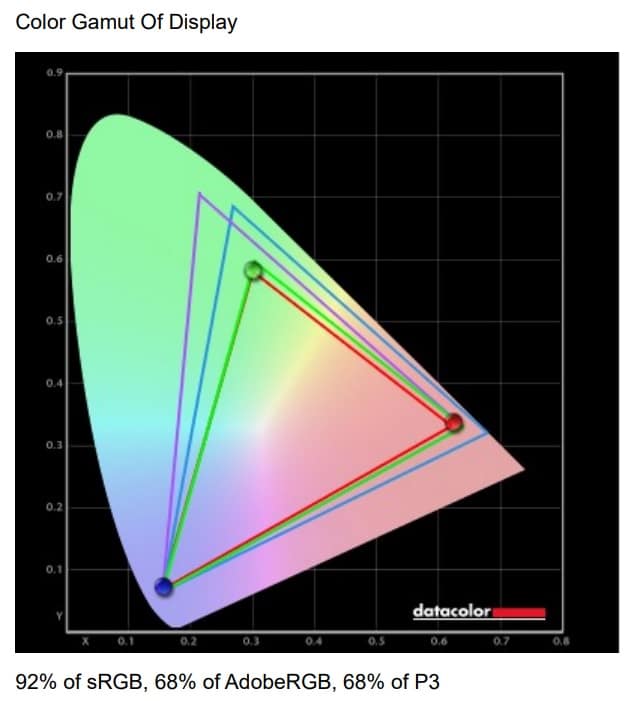 The SYLVOX Smart RV TV covers 92% of the sRGB gamut and around 68% of the DCI-P3 color space. It's not the most vibrant screen out there, but it actually looks decent for movies up close. However, its accuracy is dismal, with a deltaE average of 6.90, so it is not going to be great for computer or work use.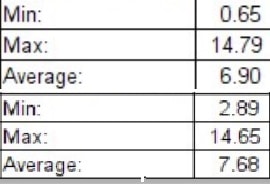 Calibrating the monitor with the SpyderV and Display Plus colorimeters did not help. In fact, using them made the dE average worse to around 7.68. The TV doesn't have RGB sliders like a monitor, so your only choice is to use its standard mode. It has other filters, but they don't offer improvements in our eyes.
However, it's unfair to rate the SYLVOX Smart RV TV like a desktop monitor and compare it with a prosumer model like the Dell U4323QE. It is tuned like most TVs on retailer shelves with that cool, almost bluish hue that helps make the movie colors pop.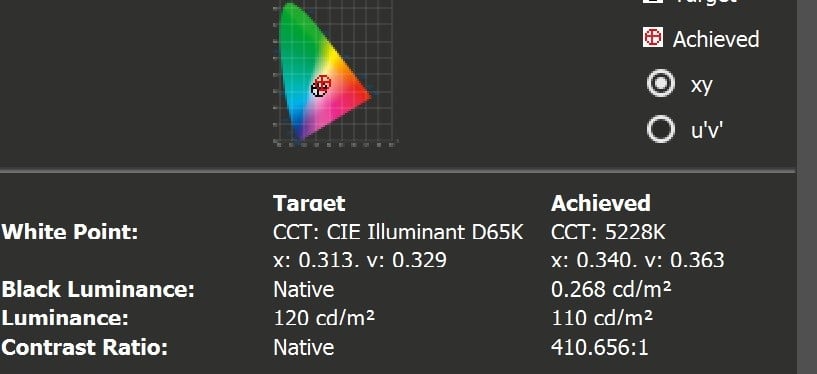 However, the biggest downside we see to it is its dismal contrast ratio which only reached 410:1 according to our Calibrite Display Plus. We have no reason to doubt it since the Android home screen, which has a dark gray background, looked lighter than usual. Dark scenes and movies are washed out, so the 3000:1 contrast claim is inaccurate.
Panel uniformity could also be improved since all the screen edges have noticeable backlight bleeding. They did not expand the brightness or color variances on the adjacent quadrants, but it has a thin halo around the screen when viewed in the dark. This varies with every TV made, so getting a better unit is possible.
Its pixel response time is decent for a TV since blurring and ghosting are minimal in fast-paced scenes. Movies barely show any, so it only becomes visible when you use the screen for gaming. The TV doesn't have a functional overdrive feature to counter this, but this is understandable considering the nature of the product.
The SYLVOX Smart RV TV doesn't have FreeSync or G-Sync compatibility, but that's obvious since it's not a PC monitor. VRR is only usually found on high-end displays like LG's OLED TVs which are also designed for that purpose. Input lag is at 15ms at 60Hz, so the screen itself isn't laggy when it is used for consoles or computers.
Thoughts on the SYLVOX Smart RV TV
There aren't many options that can say they are competing with the SYLVOX Smart RV TV. It's a heavily-equipped multi-purpose display solution catering to various use cases. Its rich features justify its pricing, although there is still some room for improvement.
The biggest letdown with the TV is its imaging quality which suffers from its dismal contrast and color consistency. TV shows and movies will look good, but dark scenes look washed out, while some lighter backgrounds can look too cool or bluish. However, the product is fantastic at what it's intended to do, so it's a good buy for travelers who want to bring digital entertainment along.
Pros:
Functional Features
12-Volt Compatibility
Easy to Use Android UI
Plenty of Connectors
Cons:
Dismal Contrast
Stiff Two-Piece Stand
Poor Color Quality
About the Author: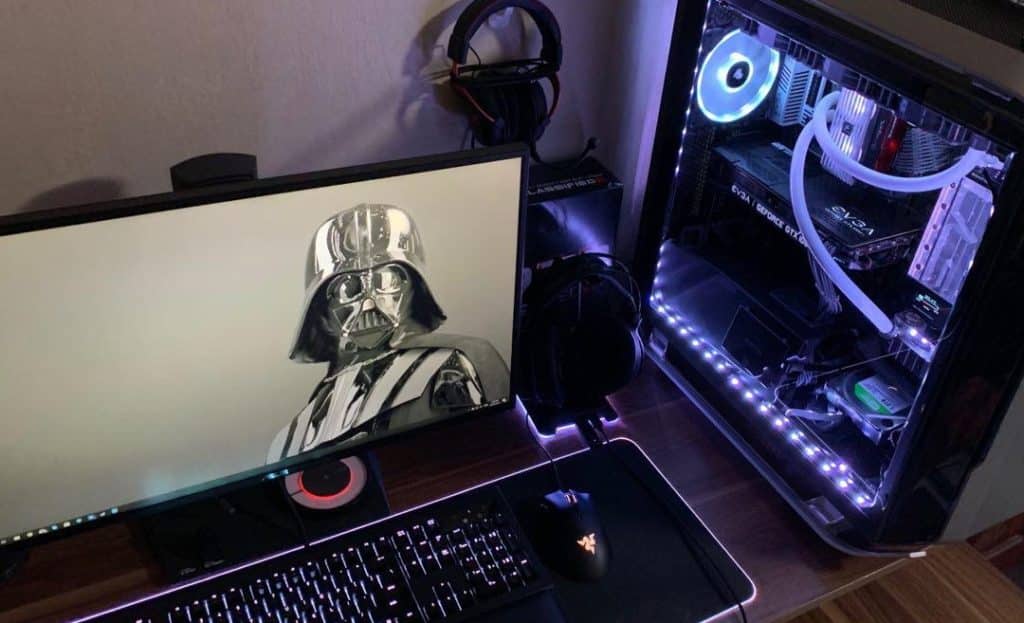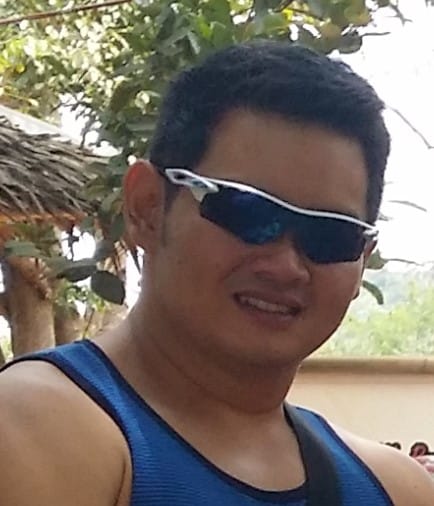 Paolo has been a gaming veteran since the golden days of Doom and Warcraft and has been building gaming systems for family, friends, and colleagues since junior high. High-performance monitors are one of his fixations; he believes that every citizen's right to enjoy one. He has gone through several pieces of hardware in pursuit of every bit of performance gain, much to the dismay of his wallet. He now works with Monitornerds to scrutinize the latest gear to create reviews that accentuate the seldom explained aspects of a PC monitor.