Generally, a person spends a third of a day staring at a computer monitor. It's a device which profoundly affects our lives, including our health, so it wouldn't be strange if users wanted the best. Screens with sharper resolutions or awe-inspiring sizes can do wonders for both work and play.
If that's the case, spending the extra cash isn't so bad after all. Once the upgrade itch or the need hits, most buyers would admit they usually check out bigger monitors. But as always, there are two sides to a story. There are a few points to consider before pulling the trigger, so it is best to read on and learn all about bigger monitors.
Bigger Monitors Size Equals More Productivity
Much like how a dual or triple display works to your advantage, a single screen with a 2K or 4K resolution makes the everyday grind easier since it can display more data. Usually, larger models like ultrawides or those with 27-inches or higher sizing come with increased resolutions, so the digital viewing real estate also grows.
If you have a device like that, it would be easier to process documents since you can maximize the space with multiple windows of related media such as resource or help guides or materials with similar data. Comparing two or more separate files will never be as easy since you can place each one side by side.
If your work involves multi-tasking, a bigger monitor is one of the best time-saving gadgets you can get. Alt-tabbing or going back and forth between several programs should be minimized because as mentioned above, you can place them side by side. If you are working as an outsourced employee, having your company's communications program on the side is handy since you won't miss updates while typing or designing away.
A bigger monitor shortens these mundane actions in working on a computer because the concept of having more windows on display is similar to the strategy of single-tasking. Instead of swapping between apps and documents, you can focus better on your primary goal by having everything you need for a given instance, therefore saving time, energy, and money.
The University of Utah has a study on this phenomenon, which states that some users can finish tasks up to 52% faster than their counterparts with smaller displays. By having a bigger monitor on your workspace, you save time because you perceive and process more data, which in turn shortens your turn-around time for tasks and lowers stress. The saved effort ultimately sums up to around 2.5 hours, and this helps keep employees happy and stress-free, enabling an active and energetic atmosphere at work.
Bigger Monitor Features That Will Enrich User Experience and Improve Productivity
Bigger monitors come with increasing resolutions and some features that can help you maximize this benefit. For example, a 27-inch 1440p screen has an advantage of 70% more space than a typical 1920 x 1080 model with an increase in sharpness and level of detail. This upside gives users an edge with an almost similar ratio for productivity because of the facts mentioned above.
For example, take a look at these two screenshots of a 100% scaled word document and a browser placed side by side. One is at 2560 x 1440 resolution and the other at 1920 x 1080. Notice the difference in space?
1440p Desktop Screenshot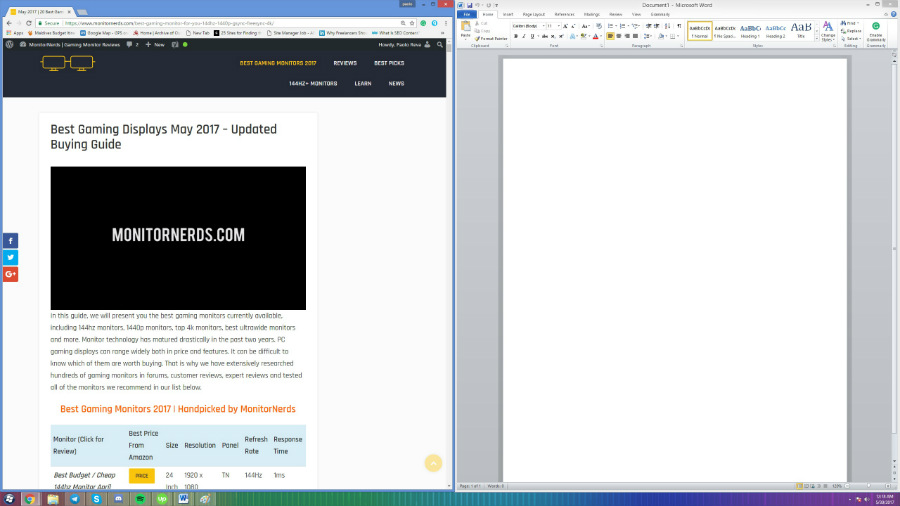 1080p Desktop Screenshot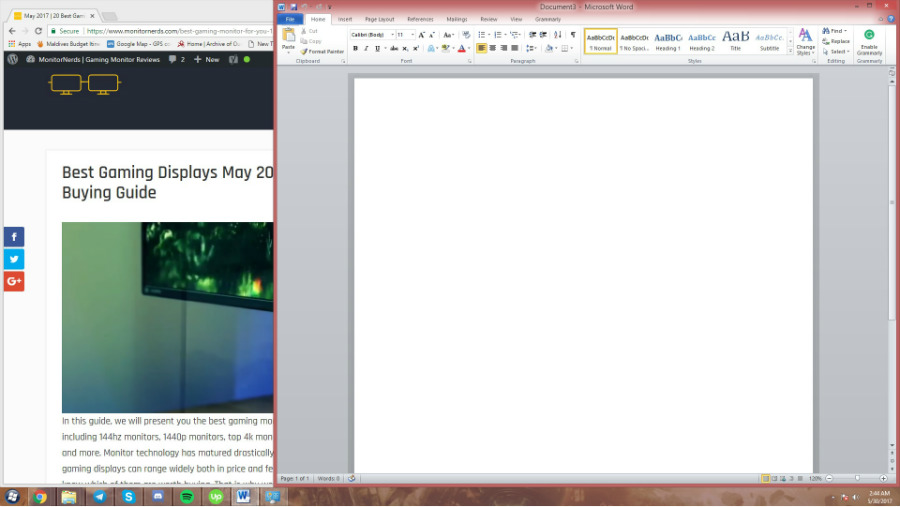 Of course, manufacturers have to include intuitive features to utilize this main advantage to increase the value and usefulness of their products. The best example of this aspect is LG's Split Screen 2.0 which gives users an in desktop menu which can split a widescreen in up to fourteen configurations.

Dell, on the other hand, creates professional monitors with Picture in Picture or Picture by Picture modes that can utilize the larger screen real estate and the device's multiple signal inputs. One of their products, the Dell P4317Q 4K display, can split the UHD screen into four separate 1080p panels with signals from different host devices.

Of course, after these techy additions, you also get premium physical attributes such as advanced ergonomics with height, tilt, swivel and pivot, USB convenience hubs and possibly, more. Manufacturers added these design considerations to enhance the productivity value of their professional products by ensuring users have a comfortable and flexible experience.
Bigger Monitors for Gaming
It's no secret that the first aspect you notice when upgrading to larger, bad-ass gaming model is that the screen instantly looks better. Images are brighter and more vibrant thanks to the advanced panel technologies, and then objects and texts appear sharper and cleaner. But what about the gains you achieve with the upgrade regarding games?
All of the attributes mentioned above will translate to gaming and the eye-candy involved in each title. The jump to a higher resolution is instantly noticeable since environments and objects appear cleaner and crisp even if you reduce anti-aliasing and post-processing effects.
But aside from the visual fiesta, the biggest change you will notice is the farther, and wider field of view. FOV is the extent of the viewable game environment you can witness on screen at any given second. The horizontal and vertical axes of most titles should increase along with your resolution, therefore adding an advantage which allows you to see an event or an opponent before he notices or acts upon you.
Asus' Depiction of the Advantages of an Ultrawide Gaming Monitor; The Asus PG348Q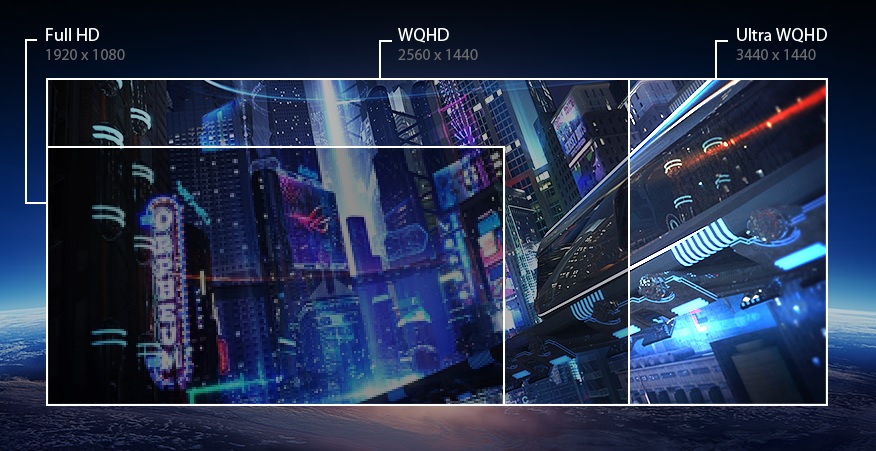 Similarly, draw distance is also affected since the sharper screen will allow your game's engine to display further objects and environments in the game world. Similar to the FOV's advantages, you can see wider, further and better than most of your opponents with smaller screens, enabling faster reaction times and mechanical movements in your controls.
Much like how bigger monitors affect work productivity, the advantages you get are afforded by displaying more data for your eyes and brain to process. The extra ground sharpens mental and mechanical skills in time, possibly making the user a better player in the long run.
Another instance a bigger monitor is most useful for gamers is when they stream or chat with viewers while gaming. Streaming has risen in popularity over the past year, and multimedia companies have released several program-based platforms like Twitch.TV, Youtube Live, and even Facebook. Using an app on the side to interact with viewers while duking it out with online opponents is now easier, thanks to the extra viewing space you get with bigger monitors.

Thoughts
Bigger monitors can increase productivity, reduce stress and adjustment time, and create happy and healthy users for increased production. The perks listed above are difficult to ignore if you are serious about your business or competitive gaming, so apart from budget constraints, upgrading your aging display is critical to your success and health.
Processors and graphics cards become faster as each generation reaches retailer shelves, but the human factor in computer usage mostly remains constant. We can't increase our efficiency as much as manufacturers can improve their product's capabilities, so choosing a product like a bigger monitor which augments our abilities is much more important. It can incur some costs, but the benefits should pay for itself in time as production and skills increase safely, and profoundly.