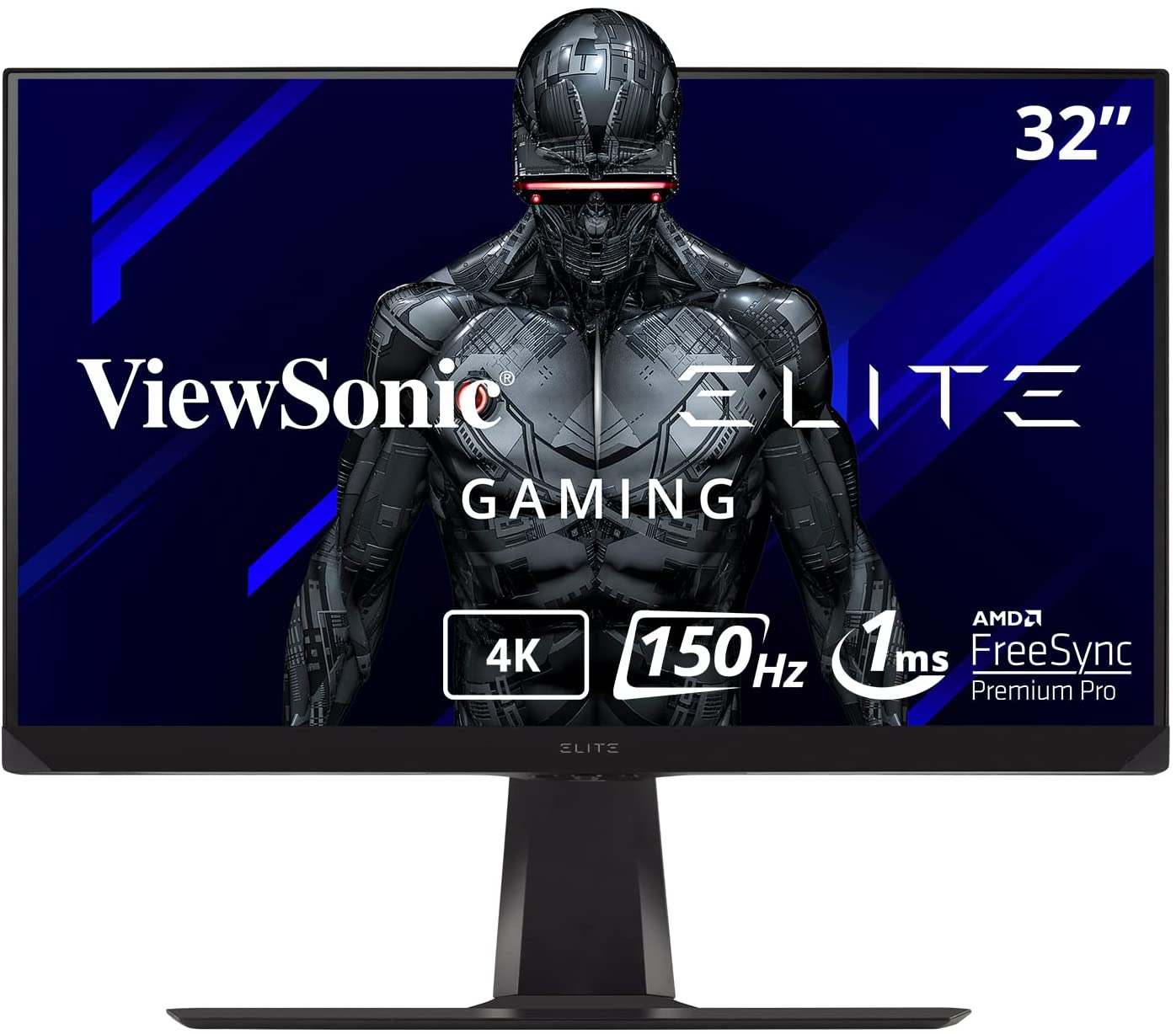 The ViewSonic Elite XG320U is a 4K 150Hz monitor designed for powerful gaming PCs and next-gen consoles like the PS5. It's an HDMI 2.1 monitor, but it doesn't have the sophisticated backlight solution of its upcoming sibling, the XG321UG. Let's see if the ViewSonic Elite XG320U can offer top-notch performance that makes it high price seem like a good investment.

ViewSonic Elite XG320U Specifications
Screen Size: 32 Inches
Resolution:3840 x 2160 UHD
Aspect Ratio: 16:9
Panel Technology: In-Plane Switching (IPS)
Refresh Rate: 150Hz
Response Time: 1ms MPRT
Contrast Ratio: 1000:1
Brightness: 350 cd/m2
Built-in Speakers: Yes (2 x 5 Watts)
Stand: Height – Yes
Stand: Tilt – Yes
Stand: Swivel – Yes
Stand: Pivot– No
VESA Compatibility: Yes (100 x 100)
Connectivity: DisplayPort 1.4 DSC x 1, HDMI 2.1 x 1, HDMI 2.0 x 1, USB 3.2 x 4, Micro USB x 1, 3.5mm Jack x 1
Dimensions With Stand (WxHxD): 28.6″ x 23.71″ x 10.4″
Weight: 22.2 lbs

Design and Features
The ViewSonic Elite XG320U basically looks like any Elite monitor from the brand such as the XG270, but it's slightly bigger than most. It has a matte black aesthetic which makes it look like an office variant instead of a decorated gaming model. The large screen is bezel-free on three sides so users can enjoy a distraction-free visual experience while gaming.
It's bigger than the usual monitor, so you must ready your setup to accommodate it. Its width might interfere with desktop speakers, plus it has a deep base that eats up almost eleven inches when it's fully assembled. Its 22.2-pound heft isn't a lot, but it's easy to get outbalanced so it would be wise to ask for help during assembly and setup.
Another notable feature of the ViewSonic Elite XG320U is its RGB LED ring at the back of the chassis and at the bottom of the screen. it adds a nice bias glow to the screen, but it can be distracting at times so some users will turn it off. However, its always nice to have gamer-centric features that allow you to personalize your gaming build.
Its build quality is excellent thanks to its premium nature and durable materials. the plastic panels won't flex or crack under moderate pressure, plus there are no cosmetic defects on the monitor when it was unboxed. The included stand with a metal base supports the large cabinet so well since it doesn't wobble and sag once you've set the screen's angle.
The ViewSonic Elite XG320U has an OSD joystick under the logo for easy access to its well-laid-out OSD. You also get headset hangers on the side and a mouse bungee under the screen so you can neatly organize your rig when it's not in use. These tiny add-ons are minor compared to the display's performance, but they are welcome additions that make a premium variant more enticing.
The included stand is equally massive, but it's flexible and stable enough so gamers won't feel the need to replace it. You can tilt, swivel, and adjust the height of the screen, so you can get a comfortable angle all the time. You can use VESA mounts, but it is only necessary if your desk space is limited or if you have multiple displays on deck.

What's special about the ViewSonic Elite XG320U is its connectivity layout which includes DisplayPort 1.4 DSC and HDMI 2.1 These sockets are meant to allow high refresh rates for PC and next-gen consoles. You also get a more common HDMI 2.0 plus four USB 3.2 ports and a micro USB slot for accessories.
You also get a pair of 5-watt speakers to complete the XG320U package. They can get decently loud, but gaming headphones or speakers will most definitely sound better in every way. The set can be used for basic tasks like background music, but its fact that the monitor will be best enjoyed with immersive audio equipment.
Display and Performance
The ViewSonic Elite XG320U boasts a 32-inch IPS panel with a 3840 x 2160 resolution, 150Hz refresh rate, and a 1ms MPRT response time. The backlight has a 400 cd/m2 SDR and 600 cd/m2 HDR output, while its contrast ratio is listed at 1000:1 like most IPS variants. This model is HDR 600 certified, that's why it's a bit more expensive than the Gigabyte M32U which is almost identical.
4K is more comfortable at this size when it comes to monitors since the pixel density isn't too tight. That doesn't mean that it is less crisp, but it's definitely better to read and browse with it since letters aren't microscopic. 4K takes a lot of GPU power, so you are going to need a flagship card to maximize this screen's 150Hz maximum output.
The ViewSonic Elite XG320U covers more than 100% sRGB and 95% DCI-P3 as advertised. Its default accuracy is excellent as well since its deltaE average is only at 2.07, so you won't have to calibrate it. The screen looks balanced so you only need to adjust the brightness setting or activate some features before using it.
Calibrating the screen lowered the deltaE average to 0.79 which is excellent for a gaming variant. ViewSonic spared no expense in choosing the panel for this variant and it's usable for both high-end gaming and some professional work. However, colorimeters aren't particularly cheap, so we can only recommend buying them if you are into editing or content creation.
Its backlight reached 379 cd/m2 in SDR but it peaked at 601 cd/m2  when it's HDR mode is active. Its contrast ratio reached 1109:1 at 50% brightness with a bit of expansion when it hits its HDR peak. However, it doesn't have specialized backlight features like the upper-tier variants, so it cannot produce true HDR.
Panel uniformity for the review sample is excellent since there were no backlight leaks or clouding issues. There is some variance in the backlight's spread, but it is only noticeable if you measure it with a colorimeter. Note that not all IPS panels are identical, so there are better and worse units out there.
The ViewSonic Elite XG320U has an excellent pixel response time so it doesn't produce blurring and smudges in fast-paced games. You don't have to overdo its overdrive or use backlight strobing as long as you hit more than 100 fps. This makes it ideal for competitive gaming, but it's a challenge to play those games in 4K.
The XG320U is compatible with both FreeSync and G-Sync so you don't have to worry about losing VRR. This is a must-have feature now since GPUs are scarce with skyrocketing prices so the card you prefer might not always be accessible. Input lag sits at 7ms at 150Hz, so there is no need to worry about delays while playing.
Thoughts on the ViewSonic Elite XG320U
The ViewSonic Elite XG320U is a well-thought-out monitor with great features, creature comforts, and an attractive and simple aesthetic. It performs great in image quality and speed, so it's a great buy even if it is slightly pricier. It's one of the best upgrades you can get today since it also supports next-gen consoles and their 4K 120Hz outputs.
However, it is still too expensive at a grand, considering it has competitors that are at least a hundred bucks cheaper.  We wouldn't pay extra for HDR features unless it's for HDR 1000 which is more expensive but offers a profound upgrade over its lower tiers.
Pros:
Attractive Design with RGB and Gaming Bits
Great Price
Excellent Image Quality
FreeSync and G-Sync Compatible
HDMI 2.1
Cons:
Expensive
No Pivot
Limited Backlight Capabilities
Only One HDMI 2.1 Slot
About the Author: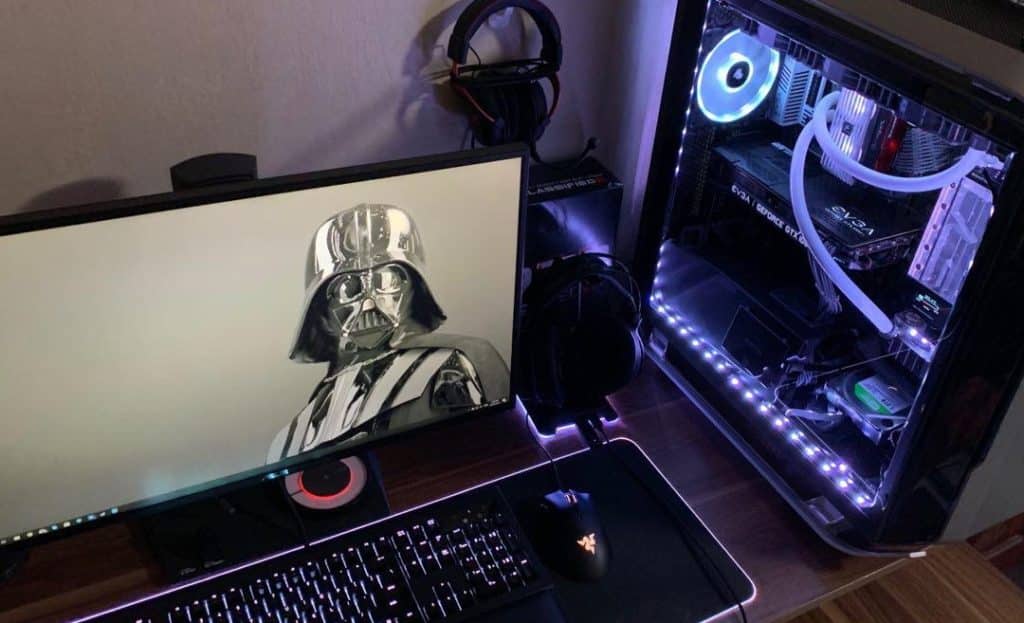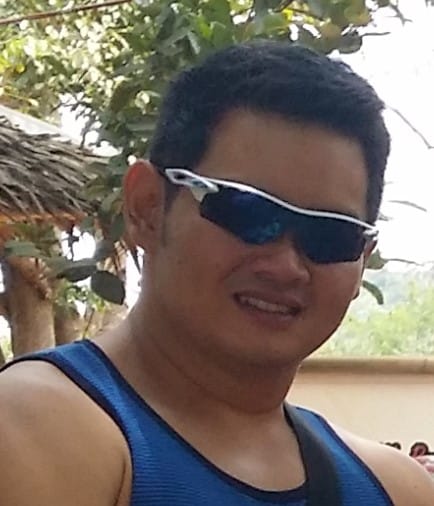 Paolo is a gaming veteran since the golden days of Doom and Warcraft and has been building gaming systems for family, friends, and colleagues since junior high. High-performance monitors are one of his fixations and he believes that it's every citizen's right to enjoy one. He has gone through several pieces of hardware in pursuit of every bit of performance gain, much to the dismay of his wallet. He now works with Monitornerds to scrutinize the latest gear to create reviews that accentuate the seldom explained aspects of a PC monitor.