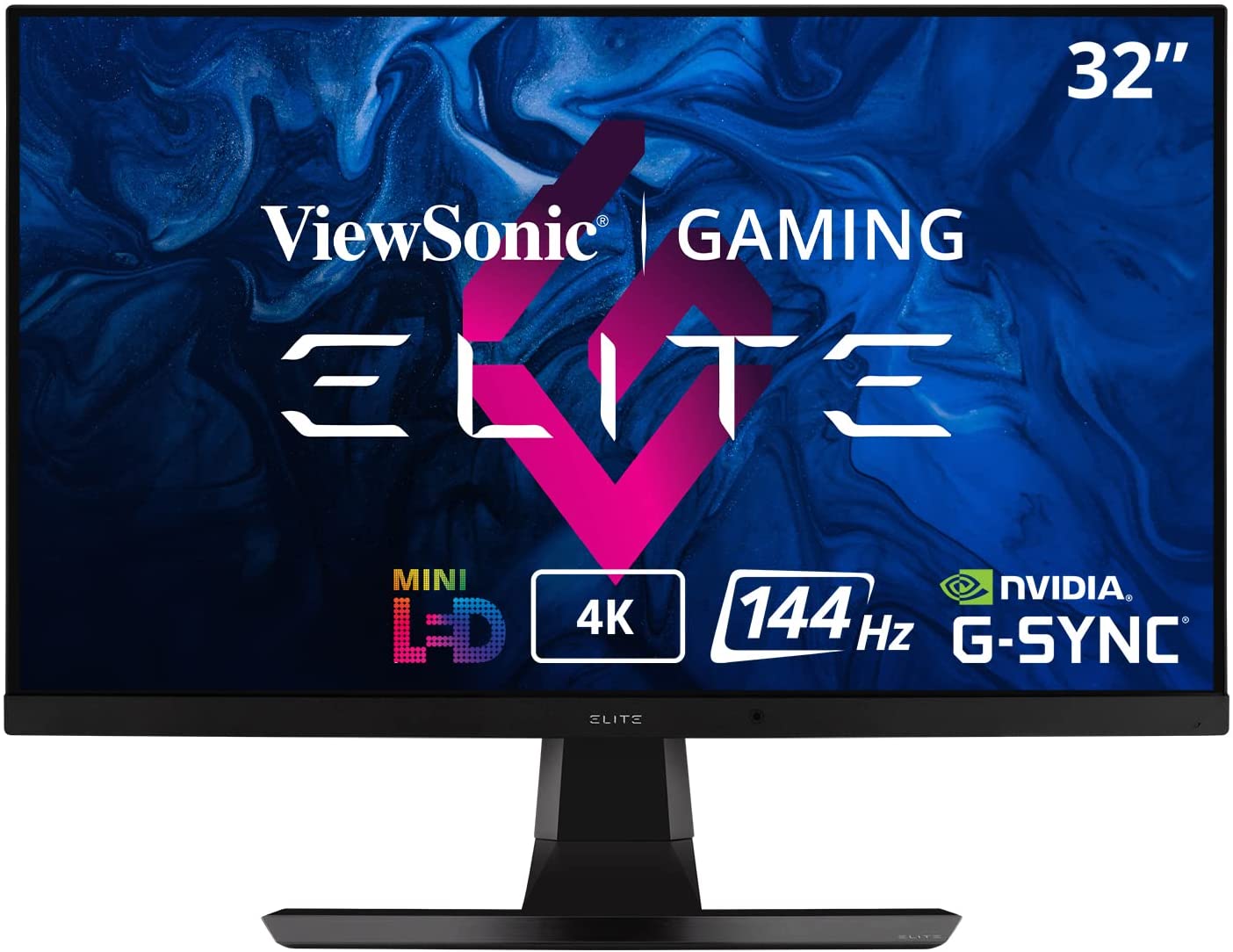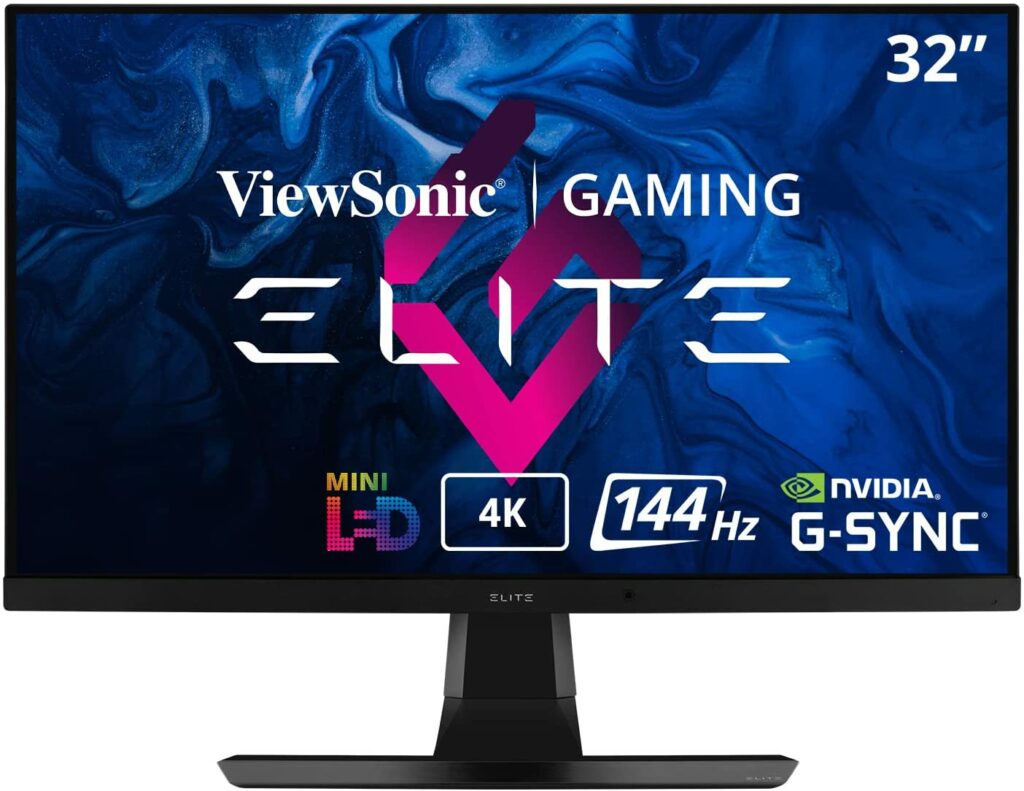 The ViewSonic Elite XG321UG is a high-end gaming display that is capable of excellent image quality at 4K 144Hz. It sports flagship-level features, but it doesn't include HDMI 2.1 like the XG320U which an essential for modern high-end gaming monitors. The ViewSonic Elite XG321UG isn't cheap like many of the brand's excellent offerings, so let's check it out to see if it's a great investment.

ViewSonic Elite XG321UG Specifications
Screen Size: 32 Inches
Resolution:3840 x 2160 UHD
Aspect Ratio: 16:9
Panel Technology: In-Plane Switching (IPS)
Refresh Rate: 144Hz
Response Time: 3ms
Contrast Ratio: 1000:1
Brightness: 400 cd/m2 (1400 cd/m2 Peak)
Built-in Speakers: Yes (2 x 5 Watts)
Stand: Height – Yes
Stand: Tilt – Yes
Stand: Swivel – Yes
Stand: Pivot– No
VESA Compatibility: Yes (100 x 100)
Connectivity: DisplayPort 1.4 DSC x 1, HDMI 2.0 x 3, USB 3.1 x 3, USB 2.0 x 1, 3.5mm Jack x 1
Dimensions With Stand (WxHxD): 28.6″ x23.5″ x 10.4″
Weight: 24 lbs

Design and Features
The ViewSonic Elite XG321UG looks identical to the XG320U, so you'd have to check out its screen characteristics or its connectivity layout to know the difference. The device has a matte black finish all over so it is easy for anyone to think that it's just a large office monitor. It has a three-sided bezel-free design, but it still has panel borders.
It's a massive monitor, so you might want to consider the space you have for it before buying one to avoid unseen costs. It's almost as expansive as an ultrawide and it needs more than 10 inches of depth from your desk. It's quite heavy at 24 pounds so extra care will be necessary if you want to move it around.
It's one of the brand's flagship offerings, so it is safe to assume that it has an excellent build quality that will outlast many alternatives. The plastics used for the chassis are thick and durable and it is reinforced in the right spots to avoid breakage. The included stand is firm and stable so the screen won't sag or wobble while you are playing your favorite titles.
The ViewSonic Elite XG321UG has an RGB LED ring at the back and at the bottom edge of the chassis. The rear LEDs add a nice bias light to the screen while the bottom strip adds a gentle ambient glow to your setup. Some might turn them off since they can be distracting at times, but it's always nice to have another degree of customization from a premium product.
It also has a joystick and two buttons below the Elite logo on the bottom bezel for easy access. The OSD itself isn't too stylized or heavily equipped, but it's always nice to have a quicker and easier tool to navigate it and accomplish the tweaks conveniently. Some competitors like BenQ and its EX3210U even have a dedicated remote, but it's not necessary unless you will use the display for couch gaming.
The stand included with the XG321UG's package offers tilt, swivel, and height adjustments for your comfort and convenience. Pivoting wasn't included since this monitor wasn't intended as a secondary portrait display on the side. You can use VESA mounts if you want more flexibility but it's an unnecessary spend if you ask us.

The underwhelming aspect of the ViewSonic Elite XG321UG is its connectivity layout which doesn't include HDMI 2.1 or USB-C. You only get DisplayPort 1.4 with DSC, three HDMI 2.0 ports, and four USB-C ports just like the Asus PG32UQX. ViewSonic didn't cheapen out on this, and this is mostly because of the G-Sync module inside the monitor.
It also has built-in speakers that are more powerful than the usual due to their 5-watts per channel rating. They can get a bit loud, although you can't expect gaming or entertainment-grade clarity and bass response from them. It's better to use headsets or desktop speakers for gaming, although it is always nice to have backups for basic tasks like conference calls or even background music.
Display and Performance
The ViewSonic Elite XG321UG sports a 32-inch IPS panel with a 3840 x 2160 resolution, a 144Hz refresh rate, and a 3ms response time. The backlight has a 400 cd/m2 SDR brightness and a 1400 cd/m2 HDR peak, but the contrast is still listed at 1000:1. This model also has the DisplayHDR 1400 rating like the PG32UQX, although the certification only became official recently.
4K is more comfortable to view on a 32-inch screen since the pixel density isn't too tight just like it is with the more common 27-inch variants. Its easier to read and browse since letters and numbers do not become microscopic. But on the other hand, you don't lose the sharpness and level of detail from the resolution since the extra pixels are still there.
The ViewSonic Elite XG321UG renders more than 100% sRGB and DCI-P3 for stunning vibrancy and saturation in games and movies. It has a deltaE average of 2.16 by default, so most users won't need to calibrate it. It also has a tuned sRGB filter which only has a dE average of 0.66 for users who want to use it for content creation.
Calibrating it with a monitor reduced that dE average to 0.88 which is considerably better and more balanced.  However, it is unnecessary even if you are a content creator since the monitor already has a very accurate sRGB mode. The only instance where buying a colorimeter will be smart is if you need to edit in DCI-P3 for your work, but that's an uncommon requirement.
The ViewSonic Elite XG321UG's backlight reached 601 cd/m2 in SDR but it reached a whopping 1688 cd/m2 peak when it's HDR mode is working its magic. It's SDR contrast ratio sits at 1211:1 at 35% brightness, but it exponentially increases when the 1152-zone mini LEDs work as intended. It's capable of brilliant HDR effects, and only OLEDs will be better in this regard.
Panel uniformity for the ViewSonic Elite XG321UG was great since there were no considerable backlight leaks on the screen's edges. We didn't see any clouding issues except when the FALD backlight skips a beat and hits its limitations. This can change between every unit due to tolerances so there are worse units out there.
The ViewSonic Elite XG321UG is responsive enough for competitive play thanks to its refresh rate and superb panel characteristics. It's still prone to blurring in some instances, but unfortunately, its overdrive cannot help that much. You can only use its lowest setting since anything higher will add noticeable overshoot in fast-paced scenes.
The ViewSonic Elite XG321UG is a G-Sync Ultimate gaming monitor, but it's still compatible with FreeSync. The monitor has the G-Sync module inside, and it is compatible with the brand's Reflex Latency Analyzer. Input lag is slightly higher at 6ms at 144Hz, but it is still very responsive and smooth even for competitive titles.
Thoughts on the ViewSonic Elite XG321UG
The ViewSonic Elite XG321UG is a fantastic flagship gaming monitor when it comes to imaging and HDR performance. Its 1152-zone FALD backlight gives it a massive boost in contrast and brightness, while its color performance is tough to match. It's well-designed and equipped with beneficial features, so it is a good investment for enthusiasts.
The ViewSonic Elite XG321UG isn't perfect, but its biggest limitation is its $2499 price tag which is a bitter pill to swallow. It is also difficult to find since it is very limited and it sells out quite fast when it pops up in retailers. It's a fantastic gaming monitor and it is worth the investment based on its performance, but the challenge is finding a unit for sale.
Pros:
Wide Gamut Coverage with Excellent Accuracy
Robust and Functional Design
Fantastic HDR Performance
G-Sync Ultimate with FreeSync Compatibility
Cons:
Expensive
Hard to Find
Limited Overdrive Effectiveness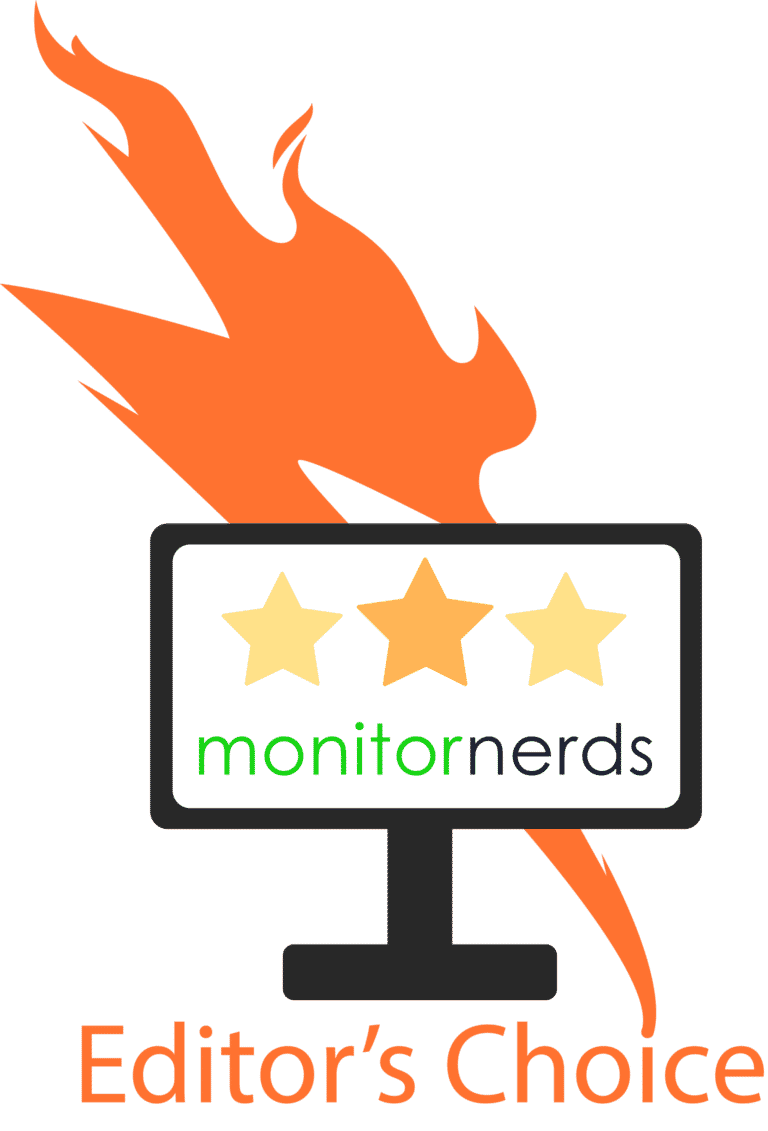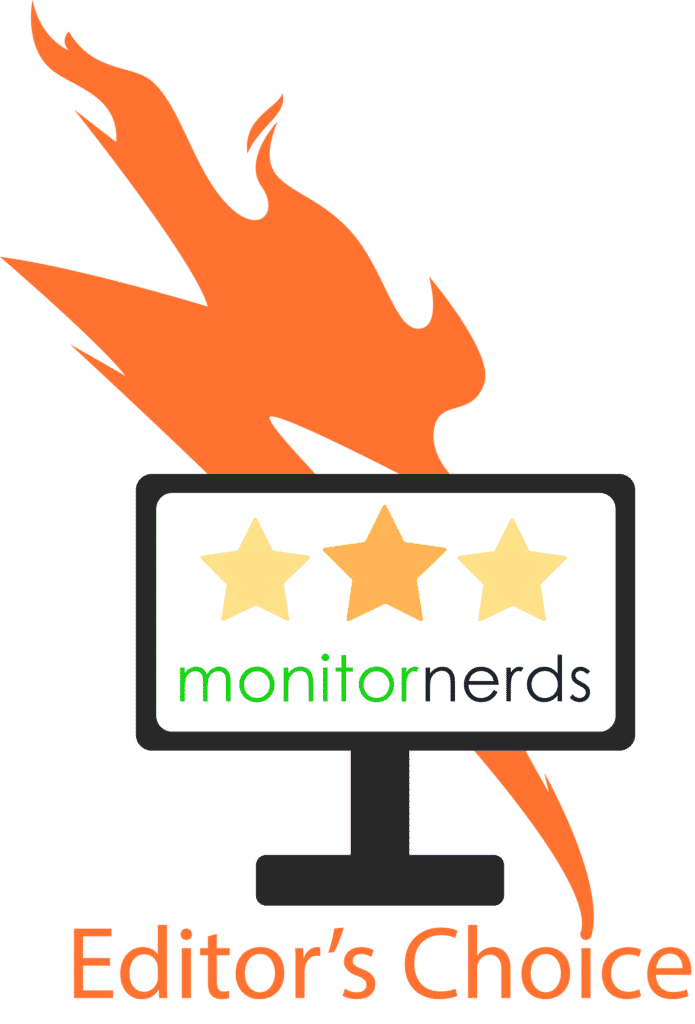 About the Author: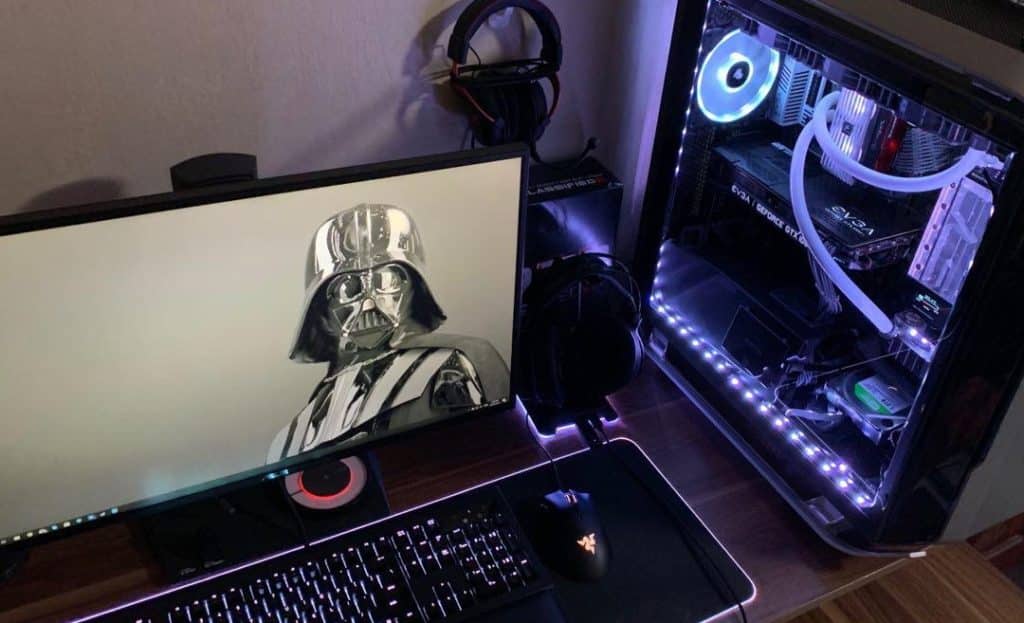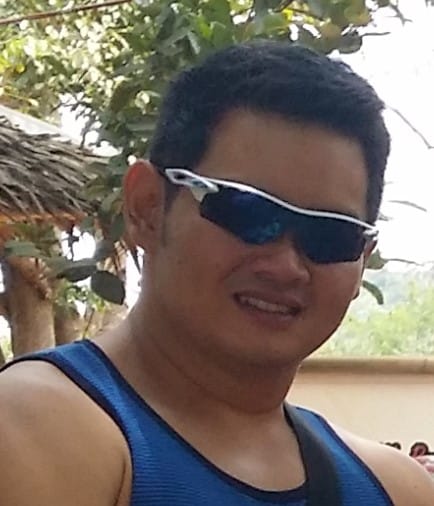 Paolo is a gaming veteran since the golden days of Doom and Warcraft and has been building gaming systems for family, friends, and colleagues since junior high. High-performance monitors are one of his fixations and he believes that it's every citizen's right to enjoy one. He has gone through several pieces of hardware in pursuit of every bit of performance gain, much to the dismay of his wallet. He now works with Monitornerds to scrutinize the latest gear to create reviews that accentuate the seldom explained aspects of a PC monitor.