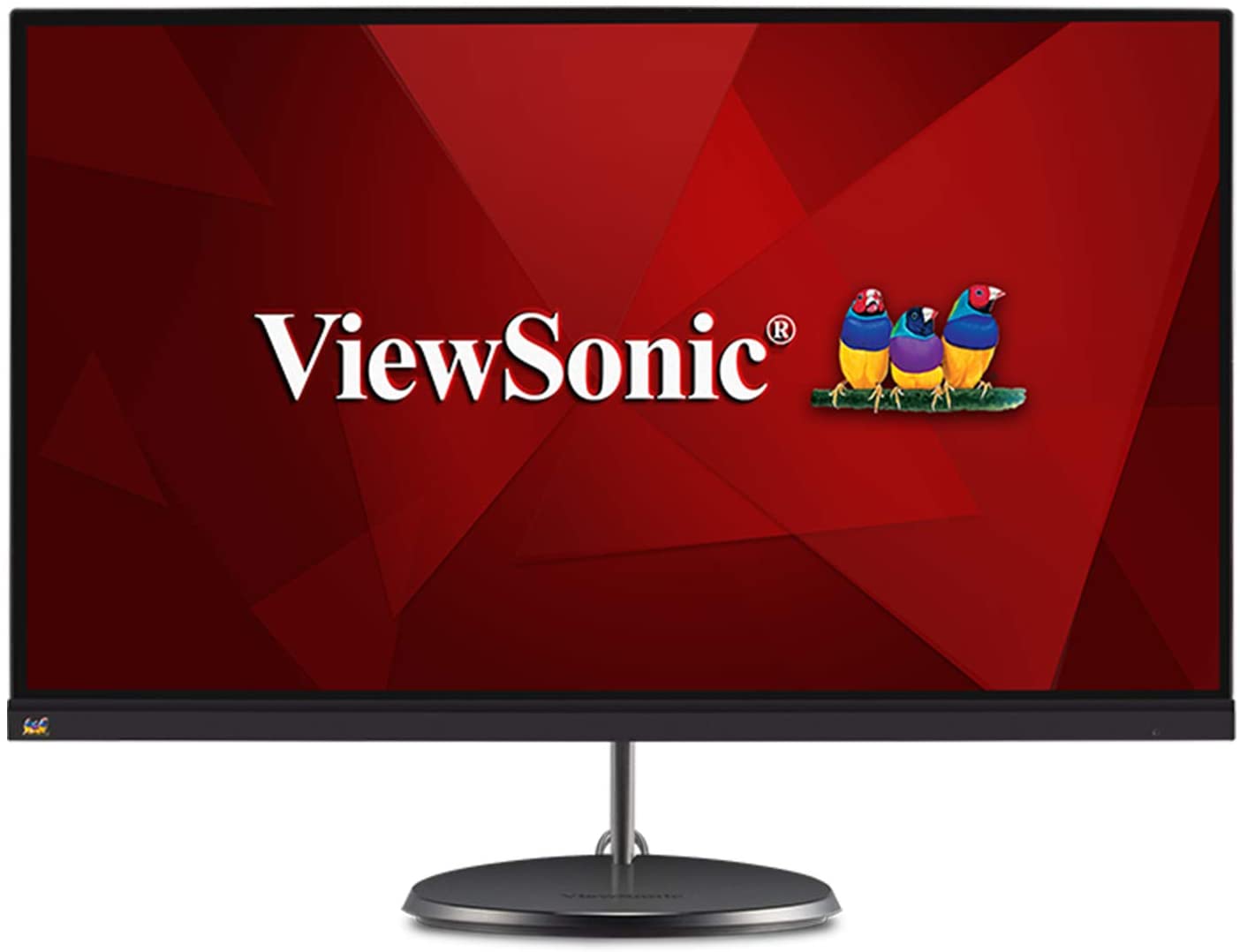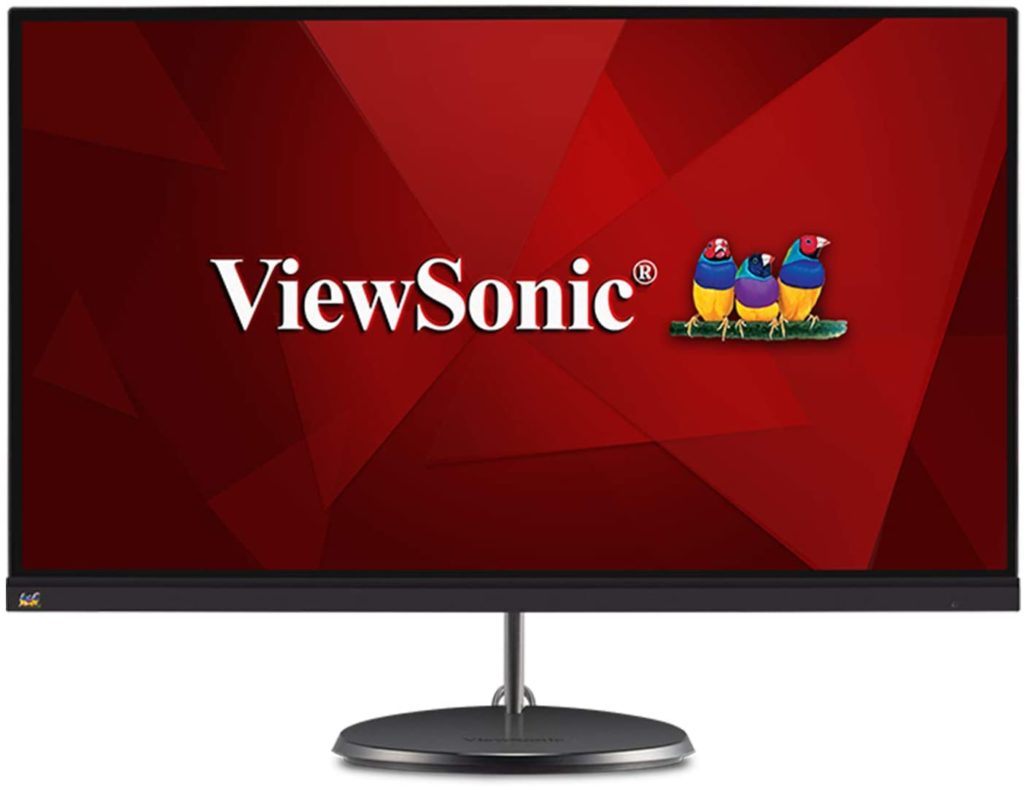 The ViewSonic VX2485-mhu is a high-quality IPS monitor that's made stylish and sleek to help it complement your home or office environment. It's priced slightly higher than identical offerings, but this model has a few aces up its sleeve. Let's check if the ViewSonic VX2485-mhu is the top choice for all-around use in both your home and office.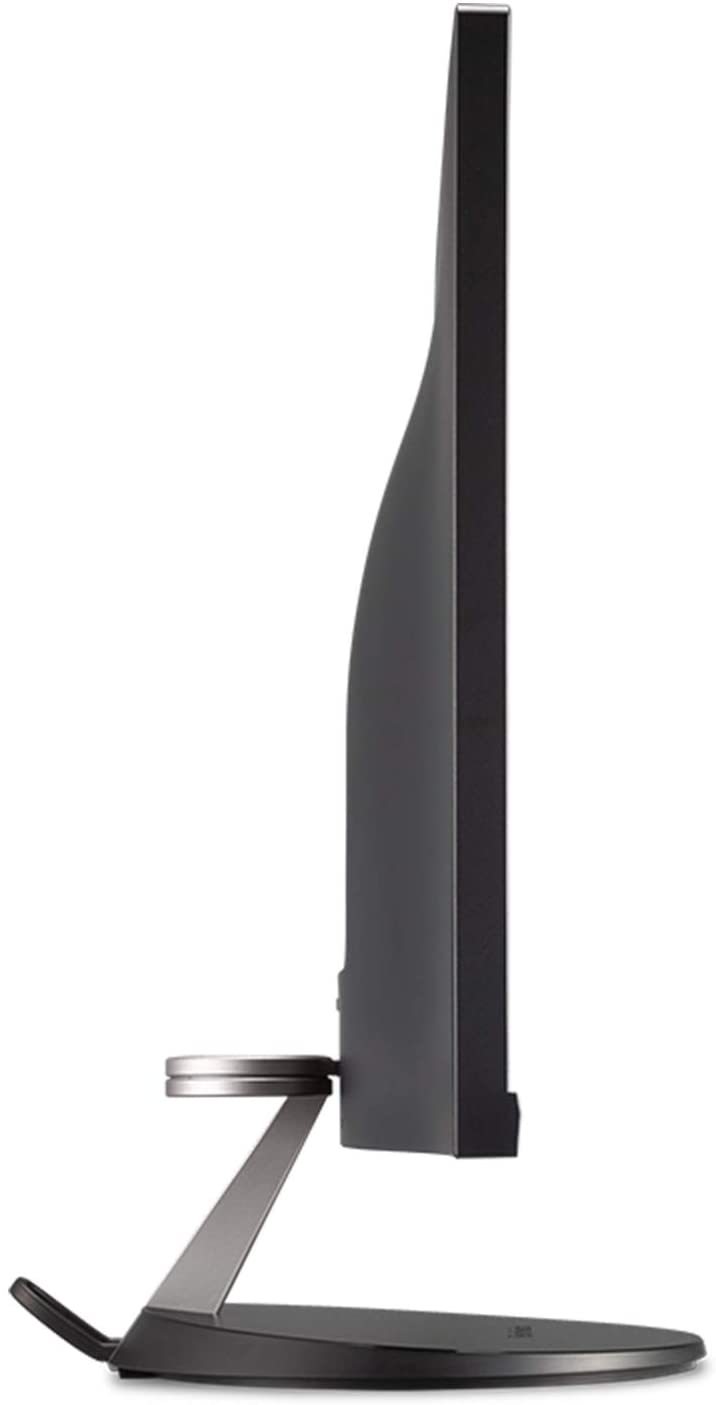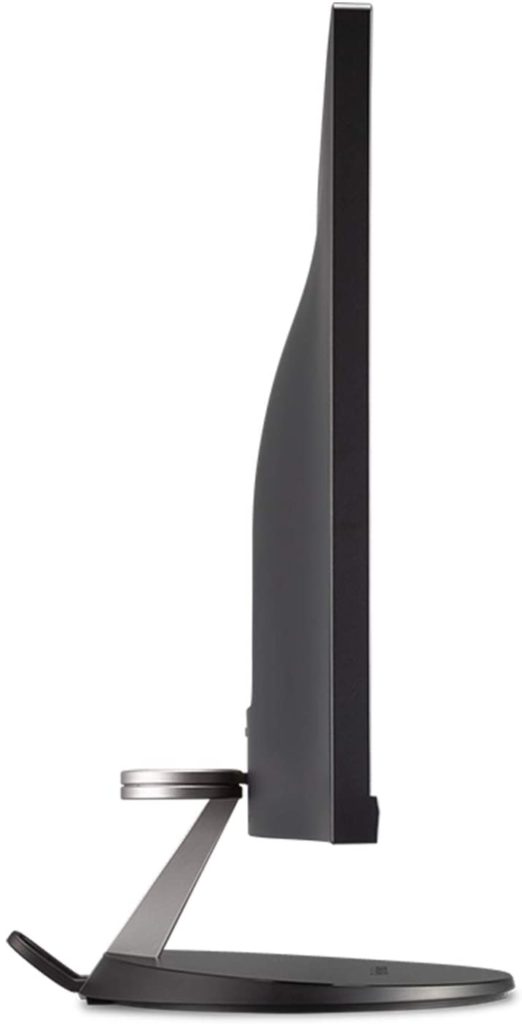 ViewSonic VX2485-mhu Specifications
Screen Size: 24 Inches
Resolution: 1920 x 1080 FHD
Aspect Ratio: 16:9
Panel Technology: In-Plane Switching (IPS)
Refresh Rate: 75Hz
Response Time: 4ms
Contrast Ratio: 1000:1 (Static)
Brightness: 250 cd/m²
Built-in Speakers: Yes 2 x 3 Watts
Stand: Height – No
Stand: Tilt – Yes
Stand: Swivel – Yes
Stand: Pivot – No
VESA Compatibility: Yes
Connectivity: USB-C 3.2 x 1, HDMI 1.4 x 1, VGA x 1, 3.5mm Jack x 2
Dimensions with Stand (WxHxD): 21.2" x 15.9" x 9.8"
Weight: 9.3 lbs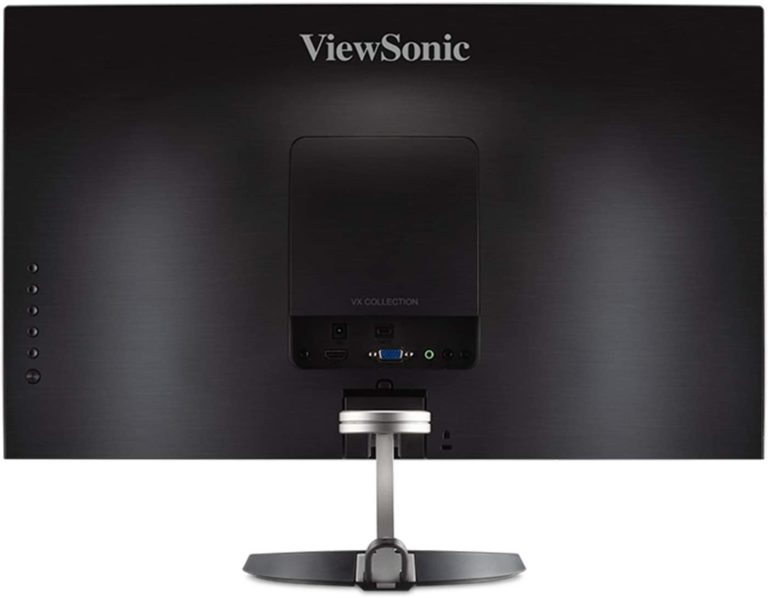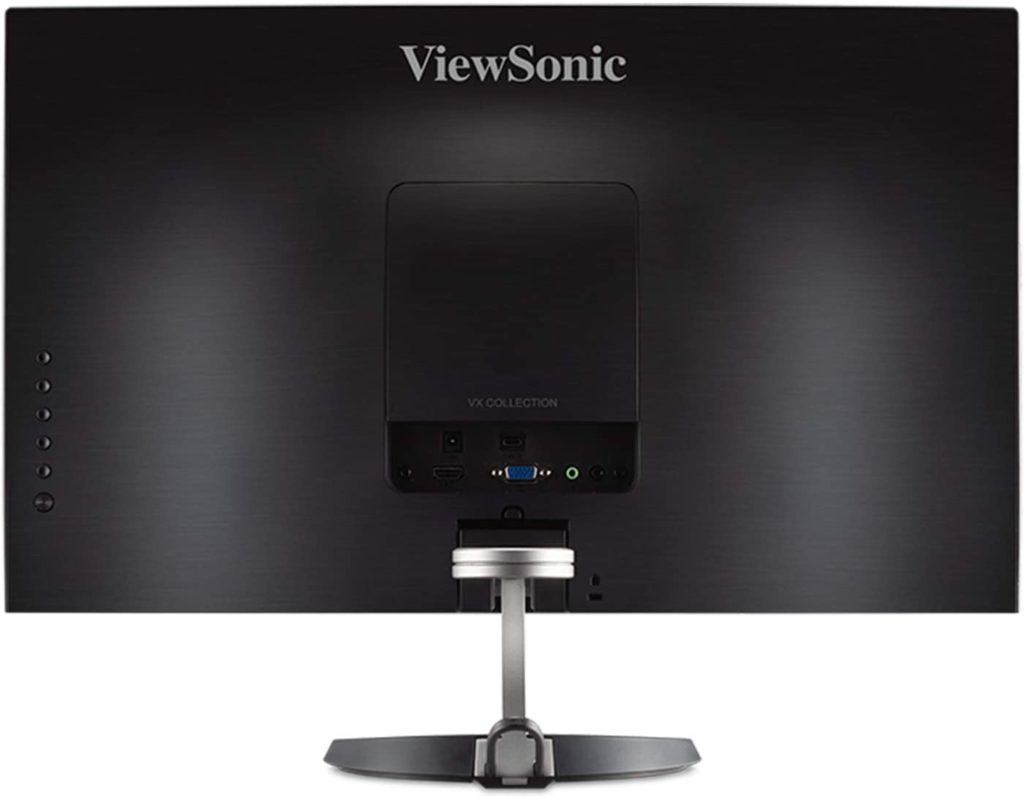 Design and Features
The ViewSonic VX2485-mhu has a more sophisticated look than your regular office displays which makes it more appealing. The chassis has a nice matte black cabinet with a brushed aluminum texture with glossy accents on the edges of the base. The display is bezel-free on three sides, but inner borders are still visible especially when the screen is in use.


The ViewSonic VX2485-mhu is lightweight thanks to its slim chassis, but the circular base takes up an unnecessary amount of desktop space. You need to clear 9.8 inches of depth for this model, although many standard computer tables will still be able to accommodate it along with the usual peripherals. However, users with extra gear such as stream decks or full-sized keyboards will appreciate a more modest alternative.
ViewSonic's excellent build quality which spans its entire range of products is also on showcase with the ViewSonic VX2485-mhu. The plastics used do not feel thin or fragile, and there are no cosmetic defects on any of the chassis' angles.  The display also doesn't wobble even if the stand's pillar is thin thanks to the brand's superb craftsmanship.
The physical feature we like the least on the ViewSonic VX2485-mhu is its OSD buttons which are, at times, a pain to use. The buttons are clicky and responsive, but this implementation has always been difficult to use compared to a joystick or a dedicated remote. However, the market for this monitor will probably tweak the monitor once and leave it like that, so this shouldn't be a bother for the majority.
The stand included with the ViewSonic VX2485-mhu is unique due to its upright which has swivel hinge in the middle. It also doubles as a cable holder along with the lower ring to help you with keeping the wires neat and always in place. The display also tilts, but you will miss having height adjustments since the device will feel quite short or low.
VESA mounting with 100 x 100 adapters is also possible with the ViewSonic VX2485-mhu, but it offsets the cost too much. You could go for a more ergonomic monitor with that kind of money, but you lose some of the key features that not a lot of competitors offer.
One of those features is the ViewSonic VX2485-mhu's USB-C connector which supports DP-Alt Mode while providing up to 60 Watts of charging power. This model is perfect for MacBook users who want a display that can double as a hub for easy and fuss-free use. There is also an HDMI 1.4 slot which you can use for devices like gaming consoles and a VGA port for older devices.
The ViewSonic VX2485-mhu also has a pair of 3.5mm jacks for audio passthrough and a 3-watt speaker set. The latter is loud enough for music and conference calls, but it cannot provide the details and bass you will want for games and movies. But to be fair, that's secondary for this model's intended audience, so it is forgivable.
Display and Performance
The ViewSonic VX2485-mhu sports a 24-inch IPS panel with a 1920 x 1080 resolution, 75Hz refresh rate, and a 5ms response time. The backlight is rated at 250 cd/m2, while the contrast ratio is listed at a typical 1000:1 like most IPS panels. 75Hz isn't a massive boost over 60Hz, but it helps with improving the smoothening and motion handling of a display.
Full HD at 24 inches is still the universal standard for computer use for its excellent balance between visibility and detail. The screen isn't very sharp and it doesn't offer a lot of space to work with, but you don't have to squint too hard or use scaling for small objects like text. Its also rather easy to run most games at high settings with the ViewSonic VX2485-mhu's resolution since 1080p isn't very demanding.
The ViewSonic VX2485-mhu covers 93% of the sRGB gamut which isn't bad for daily use, but many monitors have already reached the 100% mark. The default accuracy sits with a decent deltaE average of 2.8, so the screen renders colors decently save for some clipping in reds. Color temperature is slightly warmer than expected, but it is easily fixable by reducing the respective color temp by one or two notches.
You can calibrate the monitor to get an improved DE of around 1.12, but we don't think it is worth the extra cost of the colorimeter. It's only justified if you are going to use the ViewSonic VX2485-mhu for photo editing, but getting a better pre-calibrated alternative like ViewSonic's VP2468 might be a better and more practical option.
The main weakness for the ViewSonic VX2485-mhu is its poor contrast ratio which only reached 740:1 at 60% brightness. The screen looks grayish when displaying dark images, while some colors can look washed out. Its also unable to counter the effects of a brightly lit room, so the display might look dull or washed out during daytime use.
Responsiveness isn't a key feature of the ViewSonic VX2485-mhu, but the extra refresh rate headroom helps in reducing blurs during motion transitions. The screen still shows trails and ghosting in fast-paced movements or when you pan the screen too fast, but it isn't as bad as some VA panels. You are better off with a 144Hz IPS option like the AOC 24G2 if you want the benefits of IPS without this limitation.
The ViewSonic VX2485-mhu is FreeSync compatible unlike many similar variants, allowing you to enjoy smooth frames with zero tearing if you use an AMD GPU. However, G-Sync compatibility mode isn't possible since this model doesn't have a DisplayPort. Input lag sits at 10ms, so there are no noticeable or disturbing delays while gaming with this offering.
Thoughts on the ViewSonic VX2485-mhu
The ViewSonic VX2485-mhu has a fantastic design that comes equipped with a 60-watt USB for modern devices. The latter makes it one of the most affordable options for USB-C laptop users who want single cable docking. We like how ViewSonic incorporated a few creature comforts in the stand. The monitor covers all the modern essentials you will need for daily use, whether if it's for productivity or entertainment.
However, the ViewSonic VX2485-mhu's imaging performance leaves something to be desired in a few key aspects. Default color accuracy is decent, but the low contrast ratio and brightness could be deal-breakers for meticulous users. However, it is easy to look past these if you need a $170 solution with USB-C for day to day use in both your home and office.
Pros:
Very Affordable USB-C Monitor
60 Watts Charging Power
Excellent Design and Build Quality
FreeSync
Cons:
Poor Contrast
Limited Stand
No DisplayPort
About the Author: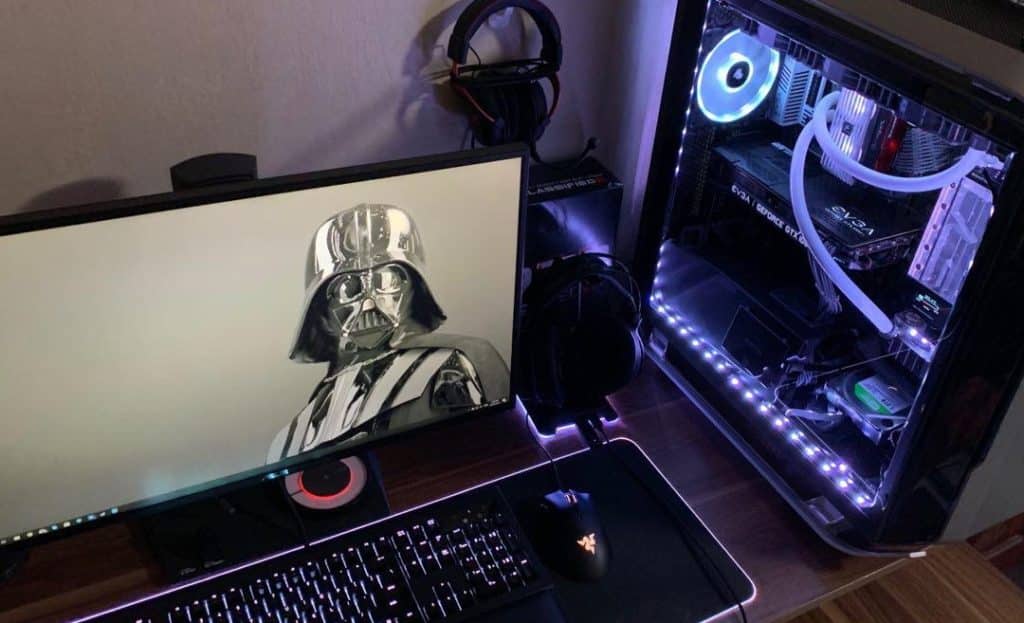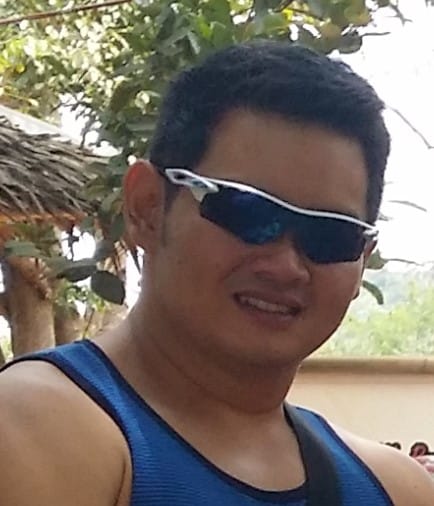 Paolo is a gaming veteran since the golden days of Doom and Warcraft and has been building gaming systems for family, friends, and colleagues since his junior high years. High-performance monitors are one of his fixations and he believes that it's every citizen's right to enjoy one. He has gone through several pieces of hardware in pursuit of every bit of performance gain, much to the dismay of his wallet. He now works with Monitornerds to scrutinize the latest gear to create reviews that accentuate the seldom explained aspects of a PC monitor.