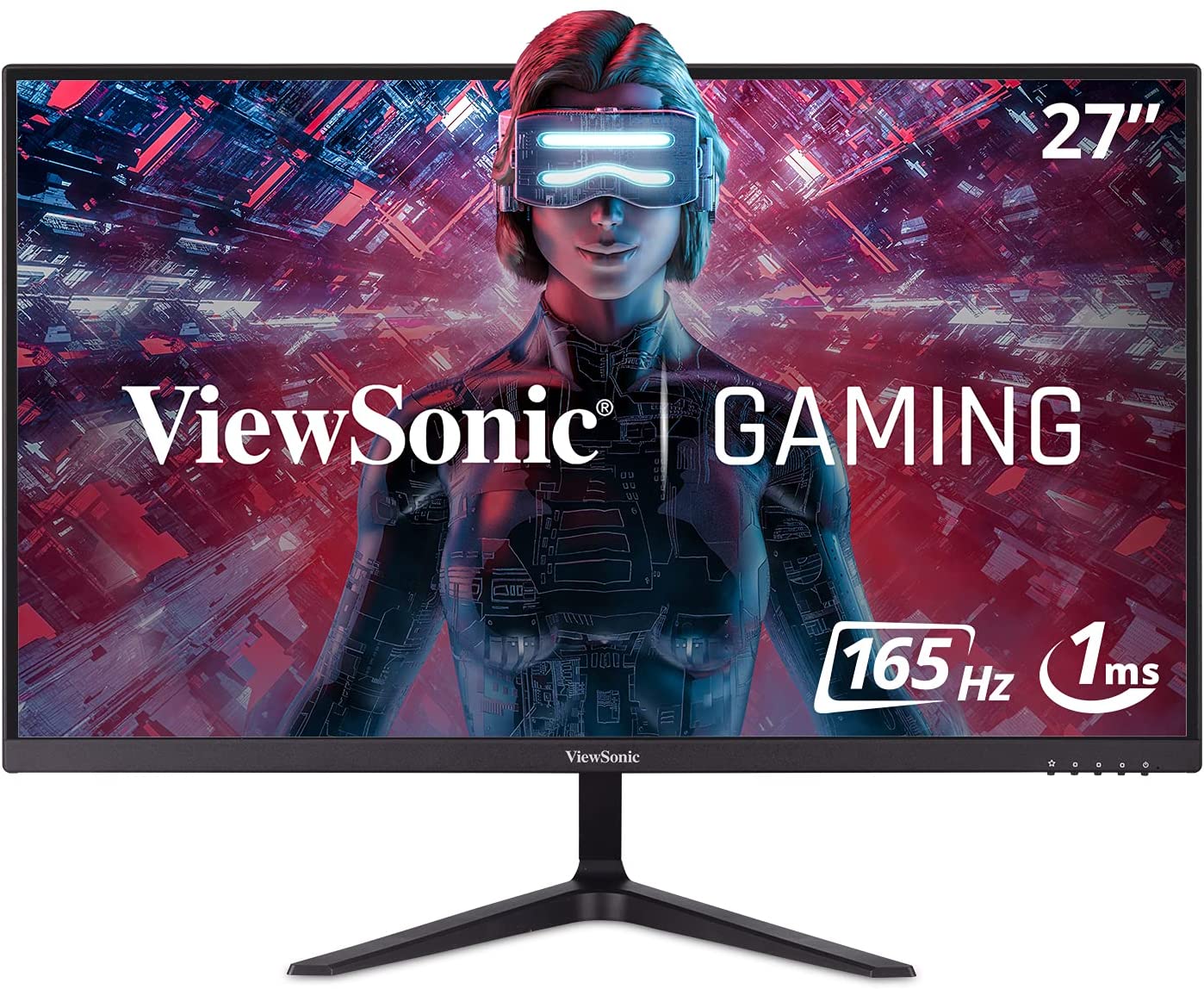 The ViewSonic VX2718-P is a budget-friendly 1080p gaming monitor with a 165Hz refresh rate and an attractive high contrast VA panel. It has a disadvantage in the blur reduction segment, but we know many gamers prefer the deeper black levels and saturation from the panel type. Let's check out if the ViewSonic VX2718-P is a worthy pick despite its handicaps in a highly contested monitor category.

ViewSonic VX2718-P Specifications
Screen Size: 27 Inches
Resolution: 1920 x 1080 Full HD
Aspect Ratio: 16:9
Panel Technology: Vertical Alignment (VA)
Refresh Rate: 165Hz
Response Time: 1ms MPRT
Contrast Ratio: 4000:1 (Static)
Brightness: 250 cd/m²
Built-in Speakers: Yes (2 x 2 Watts)
Stand: Height: No
Stand: Tilt: Yes
Stand: Swivel: No
Stand: Pivot: No
VESA Compatibility: Yes
Connectivity DisplayPort 1.2 x 1, HDMI 1.4 x 2, USB 2 0x 3, 3.5mm Jack
Dimensions (W x H x D): 24.2" x 18" x 8.9"
Weight: 9.7 lbs

Design and Features
The ViewSonic VX2718-P has a plain design that could trick anyone into thinking that it's an office monitor. It has a matte black chassis which may look bland, but at least it won't clash with any kind of setup. The display is bezel-free on three sides so you only see the panel's inner borders when the monitor is in use.
The device has sleeker dimensions than its competitors, but that's mostly because it's not a full-featured variant. The device needs less than nine inches of depth when assembled, although its base doesn't eat up a chunk of your desk since it has thin legs. It is also light enough to be taken to LAN parties or it can easily be moved around if you rearrange often.
Build quality for the ViewSonic VX2718-P could use some improvements, but that's usually understandable for cheaper models. The plastic housing is durable enough to withstand flexing and cracking, but they are noticeably thinner and lighter compared to the premium models. The stand can keep the monitor upright, but there is some wobbling especially if you nudge the edges of the screen accidentally.
The ViewSonic VX2718-P has buttons instead of a more convenient joystick for its OSD. They are accessible and easy to reach the bottom of the chassis, but multiple keypresses are sometimes required to reach a specific setting. This isn't a big issue for most, but enthusiasts who often tweak their monitors will miss a more tactile tool.
The stand included with the ViewSonic VX2718-P only offers tilt so angling the monitor for multi-display setups isn't possible. Taller users might also feel that the device is too short, so adding a base or propping a few books below it might be necessary. You can use VESA mounts instead, but that will add cost that can equal what a higher-tiered model will cost.

Another simplification you will see on the ViewSonic VX2718-P is its connectivity layout which only carries the essentials. The panel at the back has a DisplayPort 1.2 slot and two HDMI 1.4 slots for secondary devices like consoles. There are no USB ports to help lower its cost, but it still has a 3.5mm jack for headphones.
We like that it still includes built-in speakers, but they only have 2 watts of power so they can't get loud and clear enough for gaming. The drivers distort if you set the volume too high so explosions and other sound effects won't sound good. However, they can be used for basic tasks such as conference calls or as backups which have their uses in some instances.
Display and Performance
The ViewSonic VX2718-P sports a 27-inch VA panel with a 1920 x 1080 resolution, a 165Hz refresh rate, and a 1ms boosted response time. The backlight has a 250 cd/m2 output while the contrast is listed at a healthy 4000:1. This model is flat unlike other VA gaming monitors, and there aren't a lot like it out there.
1080p at 27 inches gets a bad reputation since it's less crisp and it can sometimes look pixelated from up close. However, it also offers excellent visibility and legibility so your eyes don't have to struggle with seeing small objects or reading walls of text. It is also very easy to run with most GPUs so you can reach the maximum refresh rate most of the time.
The ViewSonic VX2718-P renders 99% sRGB and around 79% DCI-P3 which is sufficient for gaming and movie-watching purposes. Its default accuracy isn't perfect, but the deltaE average of 2.56 is already acceptable for daily use. Most users will be happy with it from out of the box, although some adjustment to simple settings like its brightness is a must.
Calibrating the ViewSonic VX2718-P improved its dE average to 1.87, but the advancements in color fidelity aren't as noticeable to the naked eye. You also need a colorimeter to guide you in tweaking the monitor and achieving this kind of score. The gadget itself isn't cheap, so it is not worth buying one just to get small improvements on a budget monitor's screen.
Its backlight went beyond its specification to reach 290 cd/m2 at 100%, while its contrast ratio hit 4355:1 at 60% brightness. The screen is bright enough for daytime use and it's capable of producing deep blacks. There is some black crush in some instances where objects disappear into the darkness, but it is still nicer to play immersive games with this versus IPS or TN.
Panel uniformity for the ViewSonic VX2718-P is great since there are no backlight leaks or clouding issues on the screen's edges. The lower area of the screen is slightly dimmer compared to the center and top edge, but it's only noticeable under scrutiny. Take note that this could vary between every monitor due to tolerances, so there are better and worse units out there.
The ViewSonic VX2718-P is a bit more prone to blurring in fast-paced or contrasting transitions. Setting the overdrive to its Advanced level helps in indicating the most conspicuous trails and persistence, but we still see trailing in flaring scenes such as driving past explosions in nighttime scenes. This is a known limitation of VA monitors, and the closest you can get to avoid it is to go with fast IPS which has lower contrast in return.
The ViewSonic VX2718-P is compatible with both FreeSync and G-Sync so you won't have to worry about losing Adaptive Sync. This aspect is important since GPUs aren't readily available nowadays and their pricing is very volatile. Input lag sits at 5ms at 165Hz, so there is no need to worry about delays while gaming.
Thoughts on the ViewSonic VX2718-P
The ViewSonic VX2718-P is a superb budget monitor with good color performance and a fantastic contrast ratio. It's not the fastest monitor around, but it has a functioning overdrive feature that helps mitigate blurring issues. It is slim and lightweight, although we'd sacrifice that for a more flexible stand for better comfort and ergonomics.
The main downside of the ViewSonic VX2718-P is its lack of creature comforts which some affordable competitors like the AOC 27G2 offer. It's expected to lose some of these characteristics at lower price points, but the market is already too competitive to skimp out. It's a decent buy, but you only need to spend more for a better-designed gaming monitor.
Pros:
Good Color Performance
High Contrast Ratio
Affordable
FreeSync and G-Sync Compatible
Cons:
Tilt Limited Stand
Prone to Some Blurring
Black Crush in Dark Scenes
About the Author: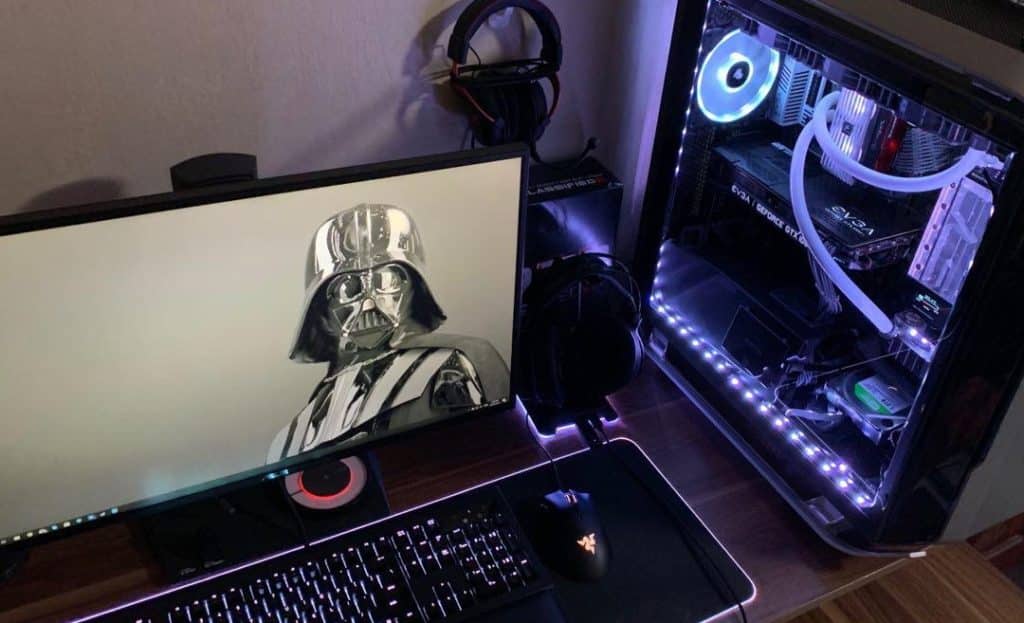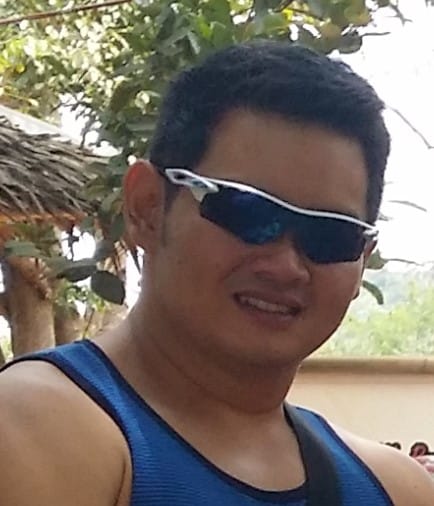 Paolo is a gaming veteran since the golden days of Doom and Warcraft and has been building gaming systems for family, friends, and colleagues since junior high. High-performance monitors are one of his fixations and he believes that it's every citizen's right to enjoy one. He has gone through several pieces of hardware in pursuit of every bit of performance gain, much to the dismay of his wallet. He now works with Monitornerds to scrutinize the latest gear to create reviews that accentuate the seldom explained aspects of a PC monitor.