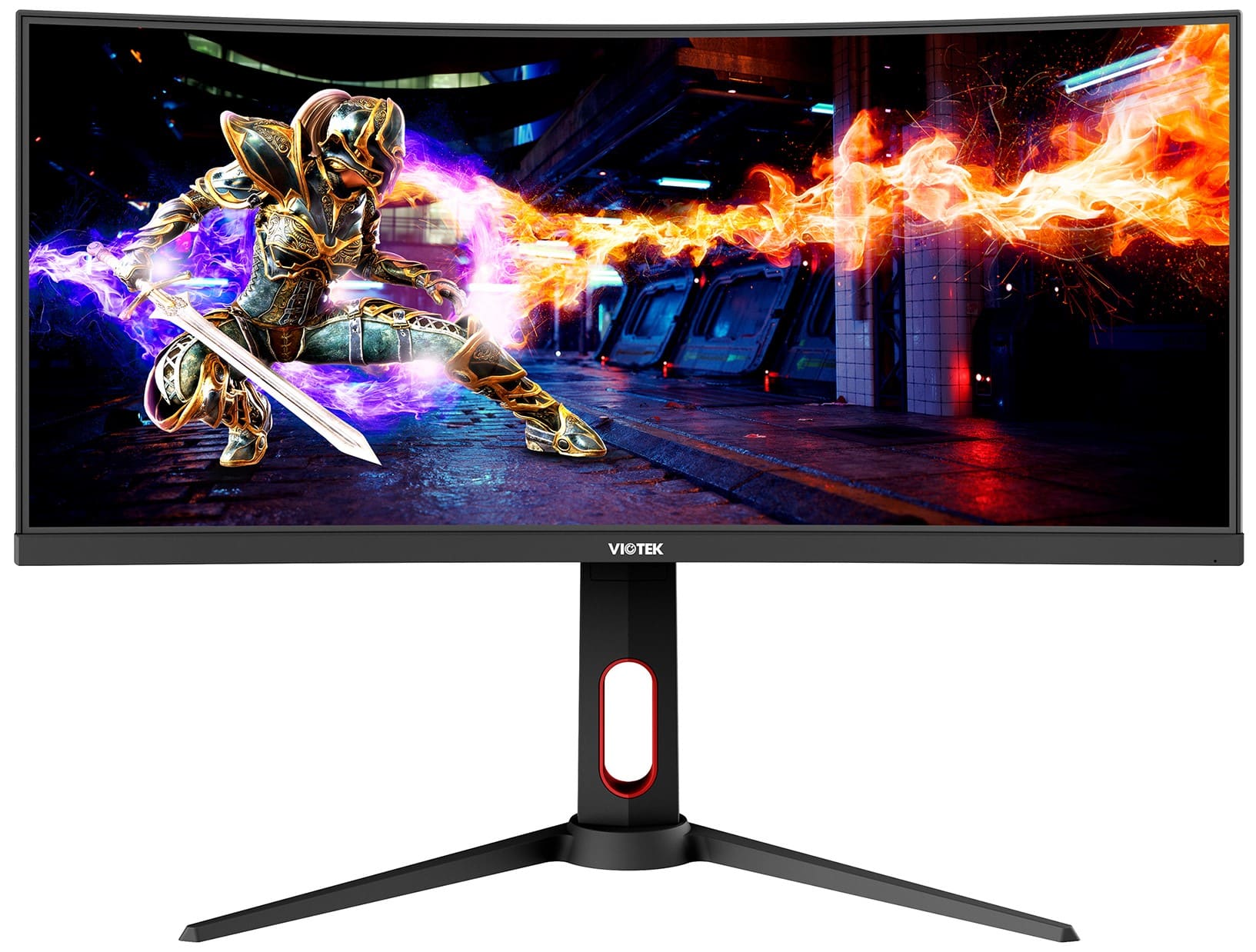 The Viotek GNV30CBXA is an easy-to-own 30-inch ultrawide monitor that's designed for fast-paced gaming while enjoying a wider view. what's exciting about it is its 200Hz refresh rate, but its 2560 x 1080 is less ideal than the more common 3440 x 1440 options. But despite that, the Viotek GNV30CBXA is still a must-see option since it doesn't even go over $350 at the time of this review.

Viotek GNV30CBXA specifications
Screen Size: 30 Inches
Resolution: 2560 x 1080 FHD
Aspect Ratio: 21:9
Panel Technology: Vertical Alignment (VA)
Refresh Rate: 200Hz
Response Time: 5ms (OD)
Contrast Ratio: 3000:1 (Static)
Brightness: 300 cd/m²
Built-in Speakers: No
Stand: Height – Yes
Stand: Tilt – Yes
Stand: Swivel – No
Stand: Pivot – No
VESA Compatibility: Yes
Connectivity: DisplayPort 1.2 x 1, HDMI 2.0 x 1, HDMI 1.4 x 2, 3.5mm Jack
Dimensions with Stand(WxHxD): 27.63" x 18.81" x 9.09"
Weight: 12.35 lbs

Design and Features
The Viotek GNV30CBXA's looks have been drastically improved when compared to its predecessors which looked either plain or tacky. It now has a smooth matte black aesthetic with red accents that resemble AOC or LG's identical offerings. The display lacks bezels on three sides, but you will still see inner borders when it's in use.
30-inch ultrawides are the smaller variants in the bunch so they can sometimes look narrower and less ideal for immersive gaming and productivity. however, this model still manages to have a bigger than necessary stand, so you might have to rearrange your setup. It's lightweight at 12.35 pounds, so setting it up isn't a two-man job.

Build quality is also on par with top-shelf brands thanks to Viotek's efforts in improving their products and listening to feedback. The plastics used are now sturdy, and the stand isn't flimsy or wobbly like their older models. The adjustment mechanism on the monitor is also surprisingly firm so it will be able to hold the display's angle almost permanently.
One downside of the Viotek GNV30CBXA is it still uses OSD buttons instead of joysticks which you will find on VIotek's other affordable offerings. It's cumbersome to use since some of the keys have double purposes. It's not a deal-breaker at this price, but it's always great value if manufacturers upgrade small bits like this for the gamers.
The rear panel of the housing even has LED accents around the mounting point and under the left and right sides of its bulge. However, they only glow in red, leaving out gamers who have specific color themes with their setups. It only adds a gentle glow to your setup, but it can be turned off as well if it clashes with your colors.
The stand included with the Viotek GNV30CBXA is very flexible, and that's rare for an ultrawide monitor. It's easy to get a preferred viewing angle, but curved ultrawides need to be centered to be enjoyed. It's VESA-compatible, but that's only necessary if you have limited space or use multiple screens.
The layout on the Viotek GNV30CBXA offers DisplayPort 1.2, HDMI 2.0, and two HDMI 1.4 slots to handle most of your devices. This is nice to have for multi-platform gamers who don't want to spend a small fortune on a monitor. There are no extra slots except for the 3.5mm jack, but that's ok since this is a budget model that is needed to meet a certain price point.
There are no speakers with the Viotek GNV30CBXA, but again, that's understandable considering how affordable it is. Most built-ins sound tinny for gaming anyway, so it is not worth having them and paying a higher price for the product. We recommend using a good pair of headphones if you want better focus and immersion, especially in games that could take advantage of the extra peripheral view.
Display and Performance
The Viotek GNV30CBXA boasts a 30-inch VA panel with a 2560 x 1080 resolution, a 200Hz refresh rate, and a 5ms response time. The backlight has a 300 cd/m2 maximum while its contrast ratio is listed at 3000:1 like most VA panels. This model doesn't have HDR features, but it mentions rich sRGB coverage and contrast which are natural for VA types.
1080p ultrawides aren't ideal since they are quite narrow, but they are sufficiently crisp enough for gaming. You get more space to place two programs next to each other, so there is some value in productivity. it's not as immersive as mentioned, but the extra peripheral view holds value for gamers who want to see more out of game environments or FOVs.
The Viotek GNV30CBXA covers 125% sRGB and around 85% DCI-P3 which means it looks rich and vibrant in games. However, it doesn't look like it is factory-calibrated since the dE average is too high at 3.93, causing oversaturation and imbalance in some shades. Some users might want to tweak the settings a bit more, but those who play vibrant games could like how it looks by default.
Calibrating the Viotek GNV30CBXA resulted in a much more pleasant 2.77 dE average with some balanced tones. However, it's not worth getting a colorimeter for this kind of result, even if you are going to use it for editing. We recommend manual adjustments to find a setting that you like instead of worrying about dE scores since the monitor wasn't meant for professional use anyway.
The backlight on this model reached 310 cd/m2 which is plenty for daily use, including gaming. its contrast ratio at 60% brightness reached 2680:1, enabling it to produce deep blacks and rich saturation. Dark scenes look good and compelling on this monitor unlike many IPS and TN alternatives in the market.
Panel uniformity for the Viotek GNV30CBXA sample could use some improvements since there were noticeable light leaks at the top and bottom edges of the screen. They become visible in dark scenes or when an all-black image is set. This flaw is common with curved screens, but it's not permanent across the entire range so there are better units out there.
The Viotek GNV30CBXA is incredibly fast at 200Hz, but its pixel response time could not catch up to it perfectly. This results in some blurring in fast or contrasting transitions which can be disturbing for sensitive users. Setting the overdrive to its Fast level helped, but it does not clean up the screen completely.
The Viotek GNV30CBXA is a FreeSync monitor, but it's also compatible with Nvidia's G-Sync implementation. This duality is essential nowadays so you don't get stuck with one GPU brand when the time to upgrade arrives. Input lag sits at a little under 4ms at 200Hz, making it one of the fastest 21:9 monitors in the market.
Thoughts on the Viotek GNV30CBXA
The Viotek GNV30CBXA offers an extended screen that's hard to resist because of its very low price. it provides vibrant colors and lag-free gaming which you don't often get in a budget-oriented monitor. We like how Viotek has consistently improved its products, and we can't wait for their future projects and releases.
However, that low price tag comes with a few key limitations which can be deal-breakers for the more discerning enthusiasts. The screen isn't perfect, while its 200Hz speed isn't enough to mitigate the VA panel's limitations in pixel response time. It's a decent buy at less than $350, but you can't expect it to be perfect after considering what it brings to the table.
Pros:
Great Price
200Hz Refresh Rate
FreeSync/G-Sync Compatible
Low Input Lag
Cons:
30-Inch Looks Narrow
Poor Color Accuracy
Limited Pixel Response Time
About the Author: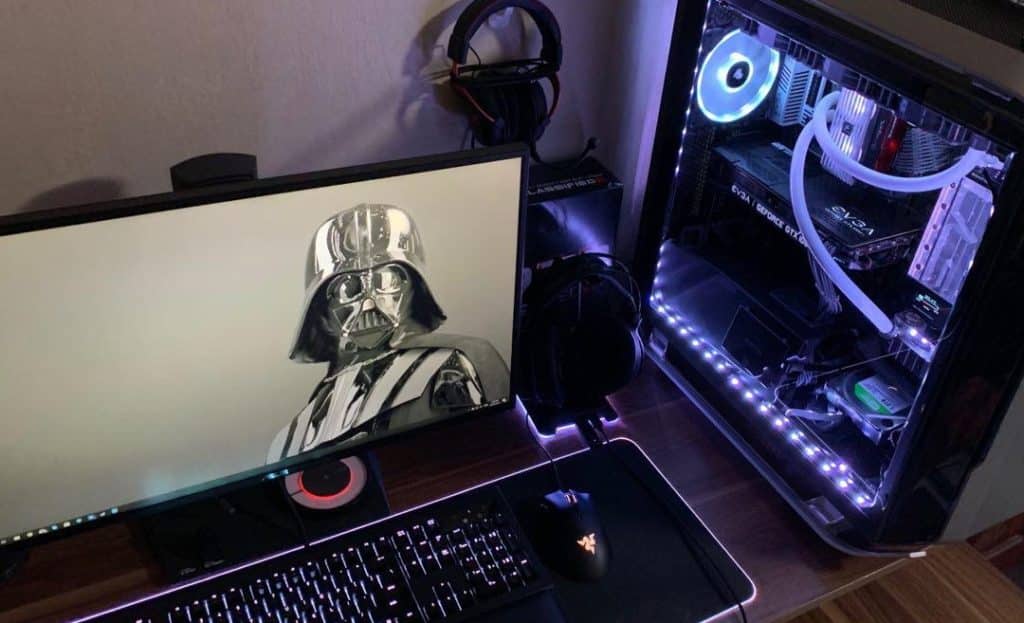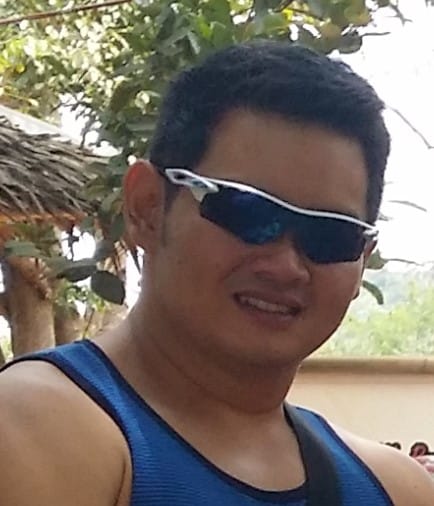 Paolo is a gaming veteran since the golden days of Doom and Warcraft and has been building gaming systems for family, friends, and colleagues since junior high. High-performance monitors are one of his fixations and he believes that it's every citizen's right to enjoy one. He has gone through several pieces of hardware in pursuit of every bit of performance gain, much to the dismay of his wallet. He now works with Monitornerds to scrutinize the latest gear to create reviews that accentuate the seldom explained aspects of a PC monitor.