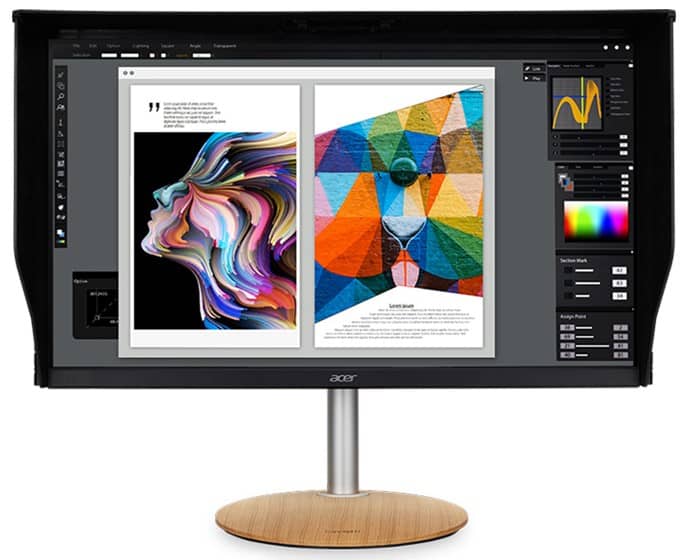 Check Availability From Amazon
The Acer ConceptD CP5271U V bridges the gap between prosumer and gaming displays which need fantastic color fidelity and breezy speed. This model is the next ConceptD monitors which were proudly launched by the CP7271K which excelled in all aspects. The latter has a 4K 144Hz screen while this model has a more humane 170Hz 1440p screen which is easier on your PC specs.
The naming scheme for these new models is a bit different, like the aesthetics they are using which is a massive departure from their Predator line. The wood-textured base and the aluminum finished stand gives it a distinct look that is both contemporary and ultra-modern. We'd appreciate it if it was real wood, but we understand that the faux texture is better since it is eco-friendly and more durable.
The Acer ConceptD CP5271U V ships with a 27-inch IPS panel which is perfect for its 2560 x 1440 resolution for round the clock comfort. Other specifications also list a 1000:1 contrast ratio and a 400 cd/m2 backlight that peaks at 600 cd/m2 for HDR content. This means that the monitor will support DisplayHDR 600 standards which isn't the best out there but certainly better than HDR 400 variants.
The aforementioned screen will also be factory-calibrated to offer a deltaE average below 2.0 along with Pantone validation. The 10-bit depth will help trememdously with vibrancy and 3D LUTs to enable the monitor to produce fantastic precision in color representation. The display also comes with a Quantum Dot backlight that brings 99% Adobe RGB coverage into the discussion.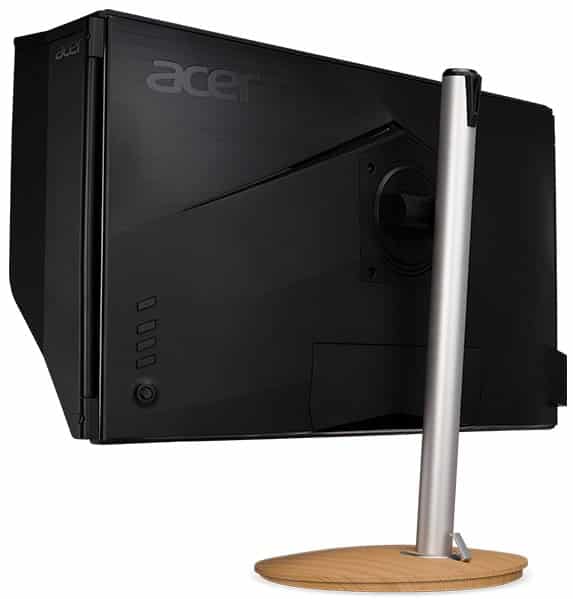 These capabilities are comparable with the 4K 144Hz version, but what sets the Acer ConceptD CP5271U V apart aside from its resolution is its affinity for both FreeSync and G-Sync. The latter makes this option more practical for the long term unlike its G-Sync ultimate counterpart since you don't have to stick with Nvidia GPUS throughout its lifespan. It also means that you are not restricted to DisplayPort and HDMI as mandated by the exclusive G-Sync module used for those variants.
The Acer ConceptD CP5271U V includes DisplayPort 1.4, HDMI 2.0, and a USB-C slot with 65 watts of power and DP Alt Mode. You also get a slew of USB 3.02 ports, 4-watt speakers, and the ambient light sensor which can help with eye comfort during extended use. Another notable add-on to the package is the calibration hood which helps fight glare, but its usefulness is subjective to each user.
The Acer ConceptD CP5271U V is yet to be officially announced globally, but it has recently popped up at Taobao in China. The price for this new model starts at around 5000 Chinese Yuan or around $700 for the western regions. Specific release dates are forthcoming, but this offering is expected between June and July 2020.
About the Author: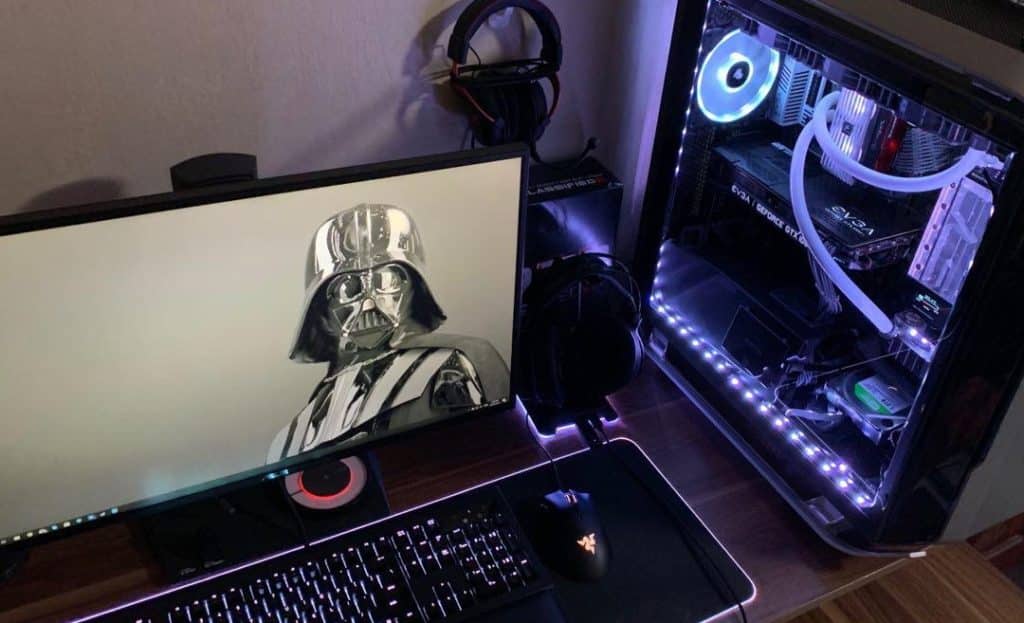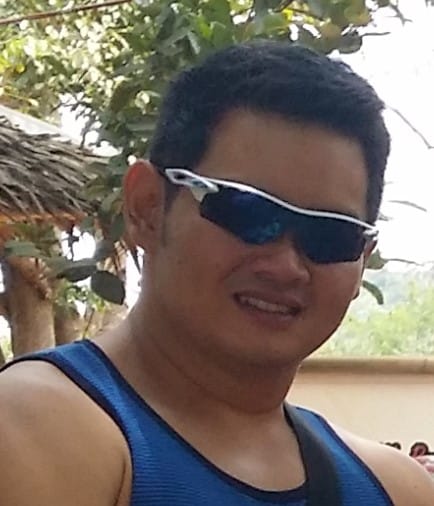 Paolo is a gaming veteran since the golden days of Doom and Warcraft and has been building gaming systems for family, friends, and colleagues since his junior high years. High-performance monitors are one of his fixations and he believes that it's every citizen's right to enjoy one. He has gone through several pieces of hardware in pursuit of every bit of performance gain, much to the dismay of his wallet. He now works with Monitornerds to scrutinize the latest gear to create reviews that accentuate the seldom explained aspects of a PC monitor.