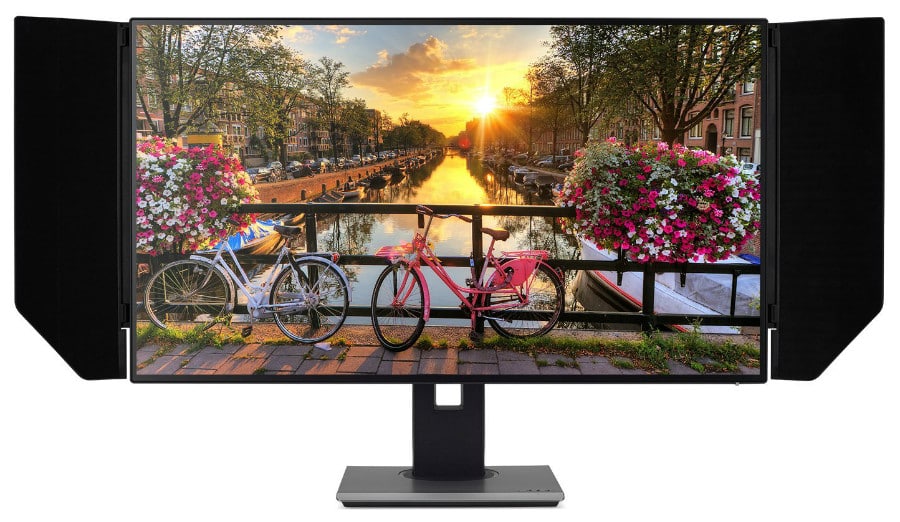 The Acer PE320QK is a factory-calibrated 4K monitor designed to provide the most unambiguous imaging and most accurate color possible for meticulous professionals. This product's features and capabilities can handle your editing work and gaming on the side, making it a suitable choice as an all-in-one display. The Acer PE320QK is asking for a large chunk of cash, but at a glance, it could be one of those monitors that are well worth the price.

Acer PE320QK Specifications
Screen Size: 32 Inches
Resolution: 3840 x 2160 4K UHD
Aspect Ratio: 16:9
Panel Technology: In-Plane Switching (IPS)
Refresh Rate: 60Hz
Response Time: 4ms
Contrast Ratio: 1000:1 (Static)
Brightness: 350 cd/m²
Built-in Speakers: Yes (2 x 4 Watts)
Stand: Height – Yes (4.5 Inches)
Stand: Tilt – Yes (-5°/+20°)
Stand: Swivel – Yes
Stand: Pivot – No
VESA Compatibility: Yes 100 x 100
Connectivity: DisplayPort 1.2 x 1,, HDMI 2.0 x 2, USB 3.0 x 4, USB-C x 1 3.5mm Jack
Dimensions with Stand(WxHxD): 28.6" x 24.2" x 11.2″
Weight: 25lbs

Design and Features
The Acer PE320QK adopts a minimalist design but is oozing with functionality which makes it blend seamlessly into a design studio or a working an environment. This monitor comes with an all matte black chassis which forgoes bezels for that clean look. There are, however, 2mm plastic trimming surrounds the screen along with 7mm panel borders for a total of 9mm.
Still, this does not affect the display output of the Acer PE320QK since the screen is large enough for most usages. To help deflect unwanted glare which can change the color integrity of the screen, Acer included a four-piece hood which you can configure and attach depending on needs based on ambient light in your area. The chassis is then completed by a minimal bulge at the rear with a flat surface which makes the monitor suitable for wall mounting.
But most users might find little reason to utilize the VESA bolt pattern since the Acer PE320QK is flexible enough to provide a wide array of positions for every user. The included stand offers sufficient stability for this massive monitor while enabling users to tilt, swivel, and adjust height with 4.5 inches of travel. The base only requires 9 inches of depth, providing sufficient space for those who place keyboards further or if they have wrist rests.
The Acer PE320QK's dazzling OSD which includes numerous calibration options can be accessed with four buttons and a joystick on the lower corner of the rear. Buttons are satisfying to press, and the joystick is tactile, so it won't get annoying for users to sweep the sub-menus.
Connectivity-wise, the Acer PE320QK is equally impressive since it includes every connector you will need for a workstation and up to two 4K consoles. On the rear panel, you will find a DisplayPort 1.2, two HDMI 2.0 slots, and two USB 3.0 ports along with a USB-C receptacle. There is also a USB 3.0 hub on the side for convenience so you won't need to reach for the back if you want to plug an accessory.
Finally, the Acer PE320QK's exterior features are rounded up by a pair of 4-watt speakers which sounded pretty decent for essential use. However, if you want better quality, you might want to spend the extra cash for a speaker set or headsets which you can connect to this product's 3.5mm audio pass-through jack.
Display and Performance
The Acer PE320QK sports a 32-inch IPS panel with a 3840 x 2160 resolution, 60Hz refresh rate, and 4ms response time. Contrast is specified at 1000:1 while the WLED backlight can go all the way up 350cd/m2, enabling it to provide a refined range of adjustment from its slider in the OSD. What's strange, however, is Acer's choice of an 8-bit panel with FRC instead of a 10-bit model which is usually involved in products like this model.
However, our colorimeter showed surprising results when it comes to gamut coverage and vibrancy. The Acer PE320QK can cover 130% of the sRGB gamut or 96.6 of the DCI-P3 color space. Accuracy is middling at best with an average Delta E of 2.8, which is still within acceptable limits. To get the most out of the Acer PE320QK, users might want to employ a calibrator for regular adjustments.
The Acer PE320QK' contrast ratio is off the charts as well, posting an average steadily of 1350:1 at default, with gamma flowing steadily at its ideal 2.2 setting. This gave the monitor a glow which wasn't washed out or overly darkened in any way, and test images looked alive with colors popping.
You can tighten these scores further by calibration with a colorimeter or selecting Acer's factory calibrated mode which improves color accuracy at the expense of the extra gamut coverage. Doing so will lower sRGB to 98% while the Delta E average lands at 1.1 for a more lifelike output.  Contrast also drops a bit to 1250:1, which still is brilliant for a default mode.
If you have a colorimeter, you can calibrate the Acer PE320QK to a DeltaE of 0.5 while preserving the excess coverage of the sRGB gamut. The contrast will soar to 1470:1 which pits the IPS panel in this model against some of the VA panels available in the market. Take note, however, that these results may vary from unit to unit due to the IPS lottery concept.
The Acer PE320QK is advertised as an HDR-capable monitor, but it doesn't have the complete requirements for full compatibility. The panel and its DCI-P3 coverage should enable the extra vibrancy in HDR content, but the low backlight level without zoned adjustments are insufficient. You can view HDR content or set games to HDR mode, but results may vary, and the promised improvements might not be visible in some situations.
One fault we noticed on the Acer PE320QK is the panel uniformity which suffered a bit on the corners due to degradation of the backlight. There is also a little backlight bleed on the bottom of the screen, although it did not affect our test images unless we stared for some time. Again, this aspect may vary from unit to unit, although we can say that the PE320QK is a much better option in this regard than the nearly identical Acer BM320.
On the other hand, gaming does exceptionally well on the Acer PE320QK since it includes a few features to keep your favorite hobby enjoyable. The product comes equipped with FreeSync that has a variable range of 30Hz to 60Hz, although to utilize it you will need a high-end AMD GPU. The screen looked snappy when it comes to pixel transition, so ghosting and blurring shouldn't be an issue in general situations.
To achieve this, you need to select the Normal setting from the Overdrive section of the OSD. Avoid the Extreme level like the plague since it will induce haloing or reverse ghosting which was noticeable and distracting during gaming.
Finally, the Acer PE320QK is one of the most responsive professional monitors we have reviewed since it only posts an input lag time of 7ms. For PC and 4K console gaming on the side, this model is one of the best options out there.
Thoughts on the Acer PE320QK
The Acer PE320QK is one of the best examples of an all-around PC monitor for both gaming and editing that we have tested. The 32-inch 4K screen provides an impressive view of your content, while the image qualities and the low input lag make every experience enjoyable. The monitor's default performance and factory calibration are brilliant for most type of users, but using colorimeters will help you squeeze out every ounce of accuracy this model can achieve.
The Acer PE320QK isn't cheap at nearly a grand, but its fantastic performance in both aspects of monitor usage makes it a top choice. If you are in the market for a photo editing monitor that can give you an enthusiast-grade performance in gaming, the Acer PE320QK should at least be in your top three.