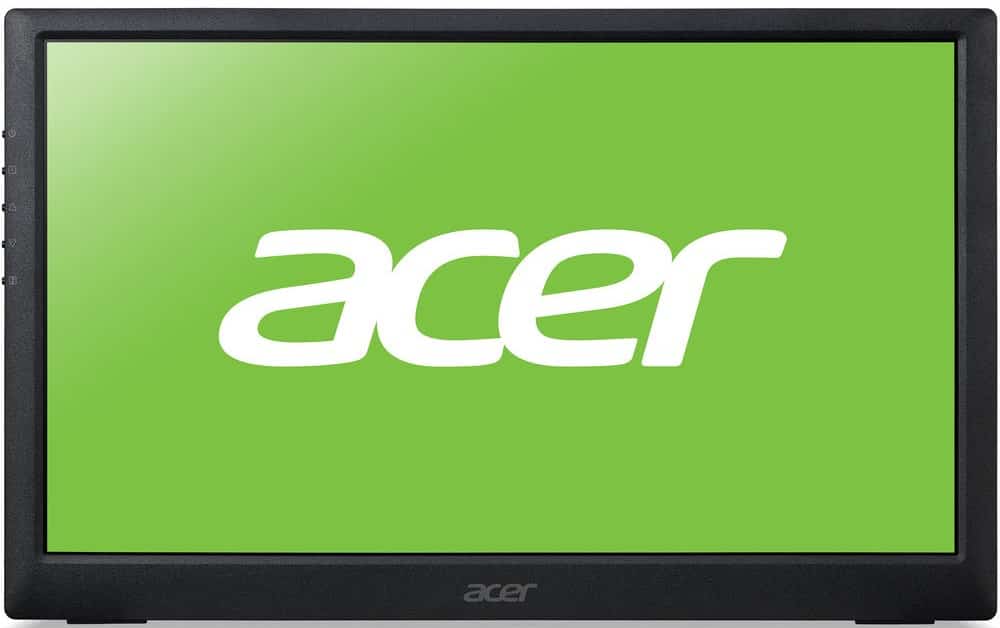 The Acer PM161Qbu is an inexpensive portable monitor that's quite attractive as a backup display for professionals on the go. Its got a simpler design, but it also has all the essentials for convenient and seamless functionality. Let's see how the Acer PM161Qbu compares against its competition in a steadily growing niche of the computer display market.

Acer PM161Qbu Specifications
Screen Size: 16 Inches
Resolution:1920 x 1080 FHD
Aspect Ratio: 16:9
Panel Technology: In-Plane Switching (IPS)
Refresh Rate: 60Hz
Response Time 15ms
Contrast Ratio: 800:1
Brightness: 250 cd/m²
Built-in Speakers: Yes
Stand: Height – Yes
Stand: Tilt – Yes
Stand: Swivel – No
Stand: Pivot – Yes
VESA Compatibility: No
Connectivity: USB-C x 1, Micro HDMI 1.4 x 1
Dimensions With Stand (WxHxD): 14.8″ x 9.24″ x .0.79″
Weight: 1.7 lbs

Design and Features
The Acer PM161Qbu isn't ultra-slim or fancy, but it looks functional and durable, unlike other portable monitors. It has a matte black textured finish that is virtual scratch and smudge-proof so the monitor will always look new. It's not bezel-free, but we think that it's a small price to pay if you want to go with an affordable option.
It is worth noting that the Acer PM161Qbu is slightly bigger than its more premium counterparts. It's a little wider and it is three times as thick as the Espresso Display from last time. However, it's one of the lightest in the market at 1.7 pounds, so it's still easy to bring around in your pack.
What makes the Acer PM161Qbu truly a budget monitor is it's all in plastic so it might not feel as durable as the aluminum-clad variants. However, don't get us wrong since it feels robust and it won't bend or flex just like that. There are no cosmetic defects as well since it looks like the plastic panels were manufactured with precision.
The Acer PM161Qbu has a series of buttons for its OSD which is slightly better since it can be held by hand. Each one is clearly labeled and clicky, so you won't have much trouble unless you are fumbling around with it in the dark. We still prefer joysticks, but at least this implementation gives you a better amount of control versus the others.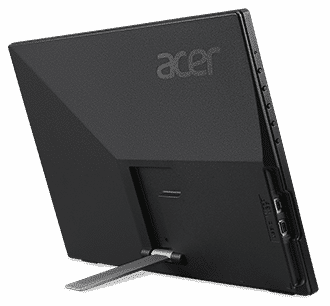 We like that the Acer PM161Qbu has a kickstand built into the rear chassis that simply snaps out if you need to use the monitor. It only offers tilt and you'd still want a folio to protect the screen, but it works and is able to keep the monitor upright. There are no VESA options with this model, so you will have to resort to a clamp-type mount for desktop use.
The Acer PM161Qbu has a USB-C slot for power and video inputs along with a micro USB port for adapters. The latter is used if your laptop or PC cannot provide the juice to run the monitor or if you don't want it to drain your laptop battery. Honestly, we would prefer it if it had dual USB-C slots instead, but this is forgivable since it's a budget monitor.
The Acer PM161Qbu also doesn't have speakers, but that's again, forgivable since this is a budget model. Most built-ins on portable monitors sound tinny anyway, so users tend to go with the laptop's pair or headphones for better quality.
Display and Performance
The Acer PM161Qbu sports a 15.6-inch IPS panel with a 1920 x 1080 resolution, a 60Hz refresh rate, and a 15ms response time. The backlight has a 250 cd/m2 maximum, while the contrast ratio is listed at 800:1. These specs are consistent with many portable monitors in the market, particularly in the contrast and response time department.
The target audience of the Acer PM161Qbu will most probably find it comfortable to use since it's basically the same size and PPI as a 15-inch laptop. Its full HD resolution doesn't offer a lot of space by today's standards, but it's intended to do just that for the main display on the device. Legibility is great even if the pixels are bunched up compared to a regular desktop monitor.
The Acer PM161Qbu only managed to produce a dismal 63% of sRGB like other budget portables such as the ViewSonic TD1655. Color accuracy is decent since the dE average is only at 2.65 so the screen doesn't look too unbalanced. Most users will be happy with the default settings, although this monitor won't be as vibrant as the laptop's screen or a desktop display.
The backlight of the Acer PM161Qbu failed to reach its specification, reaching only 181 cd/m2 at 100% brightness. That's fine for most cases, but this means that the monitor will not be able to fight off glare in outdoor spots. The contrast ratio is also unimpressive since it's limited to  895:1 at 100% brightness. Dark scenes and images don't play out well on this monitor since the low contrast makes them look grayish or washed out.
Panel uniformity for the Acer PM161Qbu is excellent since there were no backlight leaks that affected its image output. There is some slight deviance in brightness from the center to the sides, but it's not noticeable in full-color instances. Take note that this aspect varies between every monitor, so there are worse units out there.
Responsiveness isn't a key strength of the Acer PM161Qbu, and the brand hasn't denied it by slapping a faster response time on the spec sheet. The screen shows smudges and persistence in fast-paced scenes, but even some more casual games with slower transitions can reveal them. This display isn't ideal for gaming, but it can be used for mobiles like the Nintendo Switch for playing while traveling.
The Acer PM161Qbu doesn't support FreeSync and G-Sync, but that's ok since this is a productivity product more than one meant for gaming. If these are required, then you should be looking at a desktop monitor or the Asus XG17AHPE instead. Input lag sits at 15ms at 60Hz, so it's still usable for casual gaming without having to worry about noticeable delays.
Thoughts on the Acer PM161Qbu
The Acer PM161Qbu is an attractive pick for users who want an affordable secondary monitor while traveling or working on the go. It's built quite well despite using plastics instead of aluminum, so it won't break or get scratched easily. It also includes all the right features for mobile use such as USB-C and a built-in kickstand.
However, the Acer PM161Qbu doesn't improve on the existing limitations of portable monitors such as the limited color coverage. It's forgivable since the monitor is affordable and it's common across the entire budget segment. However, there are better options out there such as the Lenovo M14t which is smaller and has better image quality for a bit more cash.
Pros:
Robust Design
Affordable
USB-C
Easy to Use and Functional Design
Cons:
Dismal Color Coverage
Slow Pixel Response Time
OSD Buttons
About the Author: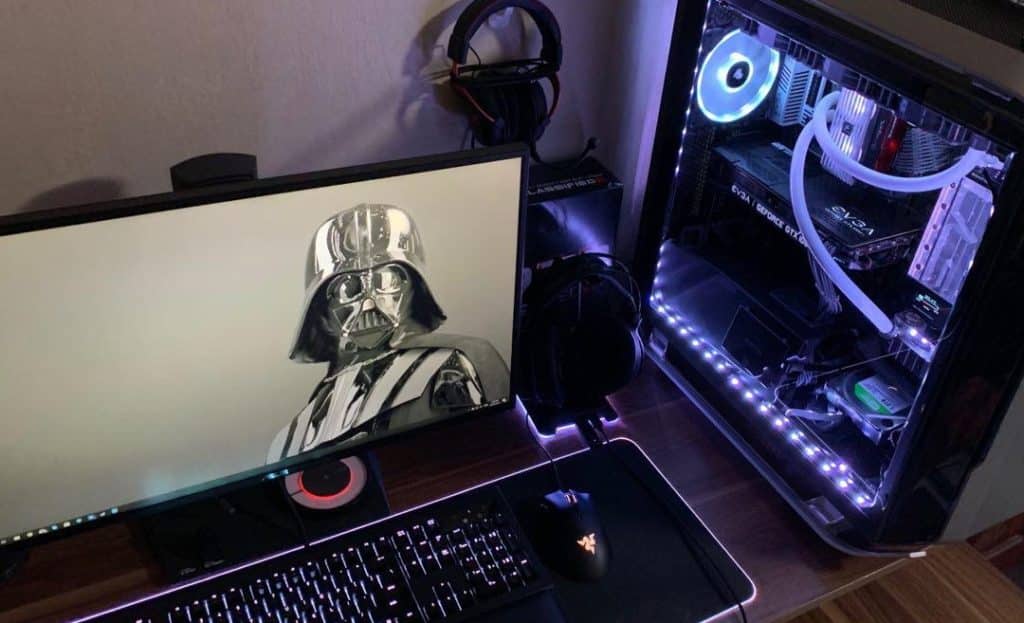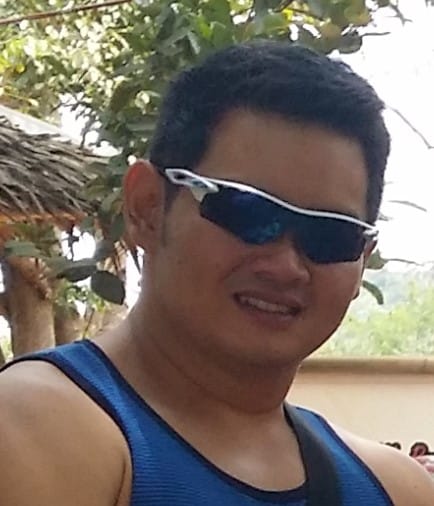 Paolo is a gaming veteran since the golden days of Doom and Warcraft and has been building gaming systems for family, friends, and colleagues since junior high. High-performance monitors are one of his fixations and he believes that it's every citizen's right to enjoy one. He has gone through several pieces of hardware in pursuit of every bit of performance gain, much to the dismay of his wallet. He now works with Monitornerds to scrutinize the latest gear to create reviews that accentuate the seldom explained aspects of a PC monitor.