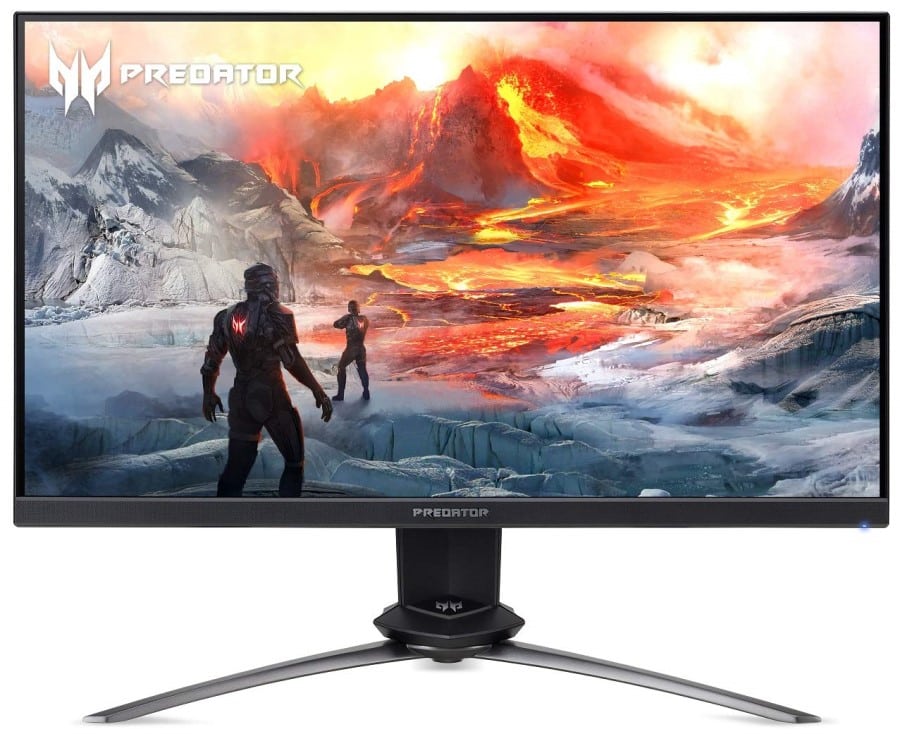 The Acer XN253QX offers an exciting package for competitive gamers who use Nvidia GPUs and want nothing but the fastest, cutting-edge gaming display. This model replaces the superb XB252Q which has almost the same specs, except for the usual 1ms response time. The Acer XN253QX sports a bold redesign, but will its claims in responsiveness hold true when so many others did not?

Acer XN253QX Specifications
Screen Size: 25 Inches
Resolution: 1920 x 1080 FHD
Aspect Ratio: 16:9
Panel Technology: Twisted Nematic (TN)
Refresh Rate: 144Hz
Response Time: 4ms
Contrast Ratio: 1000:1 (Static)
Brightness: 400 cd/m²
Built-in Speakers: Yes
Stand: Height – Yes
Stand: Tilt – Yes
Stand: Swivel – Yes
Stand: Pivot – Yes
VESA Compatibility: Yes 100 x 100
Connectivity: DisplayPort 1.2 x 1, HDMI 1.4 x 1, USB 3.0 x 5, 3.5mm Jack
Dimensions with Stand(WxHxD): 24.97" x 15.67" x 9.29"
Weight: 13.6 lbs

Design and Features
The Acer XN253QX was redesigned to resemble the brand's latest monitors such as the XB273K for a cleaner, more professional look. We like this new design direction, and we're happy to say goodbye to the aging boomerang or wing-shaped feet found on many Predator monitors. This model is bezel-free on three sides like its predecessor, so hardcore gamers can focus better on the action.
It's also worth noting that the Acer XN253QX does have a sleeker cabinet and footprint which allows you to save precious desktop space for your other peripherals. The device only consumes a little over nine inches of depth without affecting its stability against toppling over. The cabient isn't completely flat, but its noticeably thinner which makes it ideal for wall mounting.
It's also fantastic that you don't need to deal with pesky buttons when trying to optimize the Acer XN253QX for the game at hand. The monitor includes a joystick at the rear corner which is easy to access and master. We prefer this method over the former since its nearly impossible to incur mistakes and start all over again.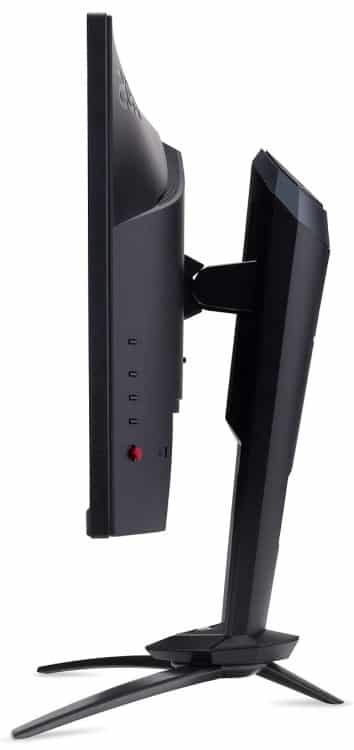 The brand did not opt to go with extensive decorations such as RGB lighting on the Acer XN253QX. Its combination of matte black and gunmetal looks timeless so it won't stale easily, plus, its easier to integrate into your existing build. Of course, Acer did add a few details from the Predator branding, along with some nifty extras such as a headset hanger at the rear of the upright.
The included stand for the Acer XN253QX is also very flexible, so getting a perfectly comfortable view angle is doable. The mechanism offers tilt, swivel, pivot, and height adjustments, so you won't need to swap the beautifully crafted stand with an aftermarket option. The product is compatible with virtually any VESA mount, as long as it supports the size and a 100 x 100 bolt pattern.
The Acer XN253QX is a G-Sync monitor, so it comes with the expected limitations in connectivity. The video inputs only include DisplayPort 1.2 and HDMI 1.4 since the monitor carries the original G-Sync module instead of the HDR version. There is also a total of five USB 3.0 slots with two placed in a hub on the side, along with a 3.5mm jack for audio pass-through.
Acer also included a pair of 2-watt speakers with the Acer XN253QX, but they are tinny-sounding and non-ideal for gaming. The audio quality starts to break up at higher volume levels, plus bass is practically missing from the output.
Display and Performance
The Acer XN253QX sports a 25-inch TN panel with a 1920 x 1080 resolution, 240 Hz refresh rate, and 0.4ms response time. The backlight peaks at 400 cd/m2, while contrast rated at a typical 1000:1 ratio. This format is ideal for extremely competitive gaming, but we think the response time claim is more marketing than a fact.
The size of the Acer XN253QX's display area is the limit for 1080p screens before you start to see pixelation or image softening. The pixel density is just right to make details appreciable, while the resolution isn't too taxing on your GPU. The latter is the reason why E-sports gamers still prefer 1080p, but monitors like this variant offer a considerably faster refresh rate which higher resolutions still do not offer.
The Acer XN253QX is capable of rendering 99% of the sRGB color space to produce decent richness in vibrancy. Accuracy could be better since DeltaE sits at 2.4, but that's acceptable for a monitor that focuses on speed more than eye candy. The color temperature looks slightly higher than the ideal 6500K, but the difference isn't enough to make us complain.
You can tweak the Acer XN253QX without the help of a colorimeter to get better results and reduce the color errors to around DeltaE 2.1 Applying some tweaks to the RGB settings will also lower the temperature deviance further, giving users an almost perfectly balanced screen. One thing that was off with this monitor is its gamma presets which produced varying results like the Gamma 1.9 option producing 2.1, and the Gamma 2.5 producing something closer to 2.4.
Contrast is the weakest link in the Acer XN253QX's performance, maxing out at 860:1 using preferrable settings. Adjusting the brightness to around 20%-30% helps in this regard, along with balancing the screen's appearance and gamma. Using the ULMB to reach the monitor's peak pixel response time will further drop it to 750:1, so we advise against using it if black luminance and grayscale is important to you.
Panel uniformity for the Acer XN253QX could use some improvements even if it doesn't suffer from backlight bleeding like many IPS variants. The screen looks dimmer at the top compared to the bottom which in turn washes out some colors in those quadrants. The key to avoiding this issue is setting a good viewing angle to counter the panel type's main weakness.
Pixel responsiveness is one of the Acer XN253QX's key elements, and it doesn't disappoint. There are two ways you can utilize this monitor to reduce blurring and ghosting, starting with its 240Hz native refresh rate. You won't see any trails or artifacts on the monitor with its overdrive set to the Normal level, so it's already set if you want G-Sync active.
But if a focused and sharper image is your requirement, we recommend using the monitor's ULMB mode in 144Hz. Using this feature locks out G-Sync and it cuts your refresh in half, but you get a cleaner image which counts in highly competitive engagements. It's fantastic that the monitor can be set in different ways to enjoy its blur reduction capabilities, but we wish you don't have to sacrifice some key aspects if you want to use one mode or the other.
The Acer XN253QX is a G-Sync gaming monitor, making ideal for high-end Nvidia setups used for competitive gaming. We say high-end because you need an upper-bracket GPU if you want to reach close to the 240Hz limit in newer games, but you can also tweak the graphics settings with a less-powerful GPU. Input lag sits under 4ms, making this model lightning-fast and highly ideal for E-Sports use.
Thoughts on the Acer XN253QX
The Acer XN253QX is a fantastic gaming monitor for competitive use even if its response time claim is a bit too high. Using either the 240Hz mode with G-Sync or the 144Hz ULMB setting are effective in reducing blurs with almost no ill side effects such as overshoot or noticeable flickering. The monitor could use some tweaking to improve its image quality, but it's easy to do so without the help of a colorimeter.
But perhaps, the Acer XN253QX's main caveat apart from those mentioned above is its pricing which sits at the $500 price point. We don't think many are willing to pay half a grand for specifications that are regularly offered unless the user needs the absolute pixel responsiveness this monitor is capable of. Overall, the XN253Q is a fantastic competitive gaming monitor, but it penalizes you with a premium in a market with plenty of other 240Hz options.
About the Author: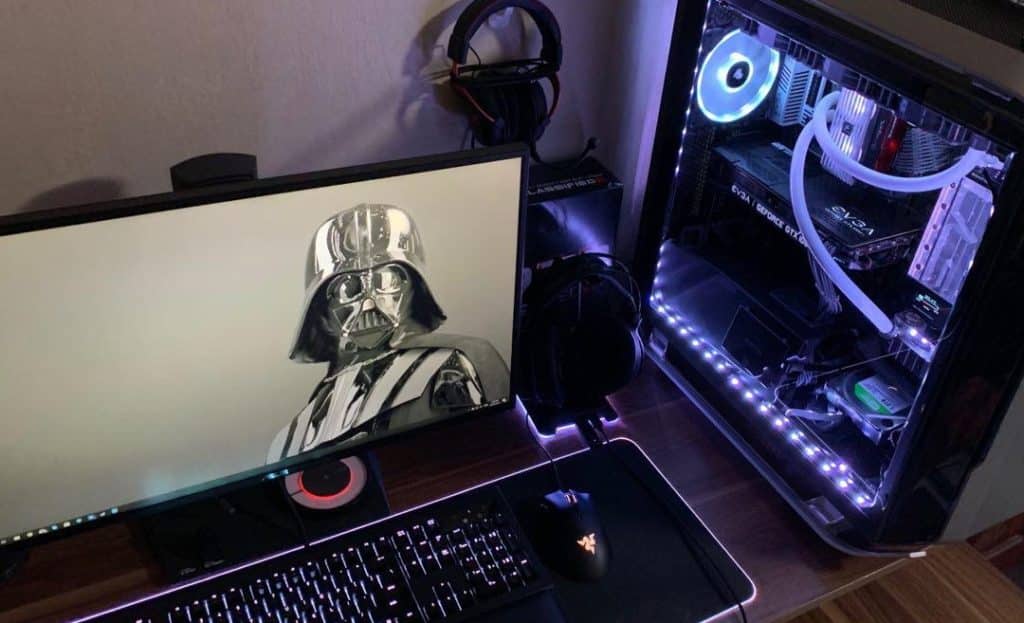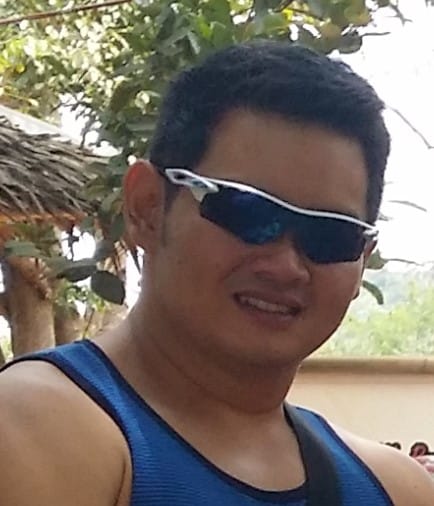 Paolo is a gaming veteran since the golden days of Doom and Warcraft and has been building gaming systems for family, friends, and colleagues since his junior high years. High-performance monitors are one of his fixations and he believes that it's every citizen's right to enjoy one. He has gone through several pieces of hardware in pursuit of every bit of performance gain, much to the dismay of his wallet. He now works with Monitornerds to scrutinize the latest gear to create reviews which accentuate the seldom explained aspects of a PC monitor.