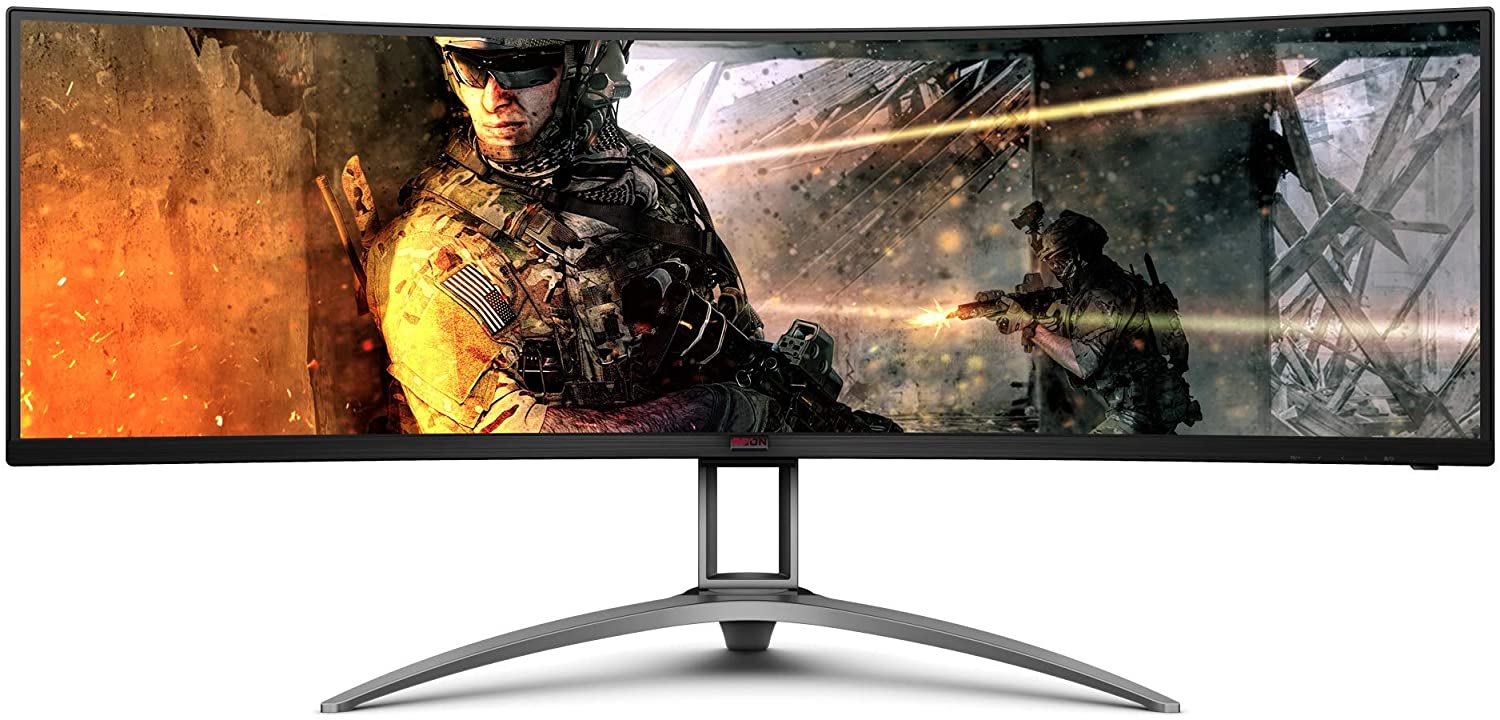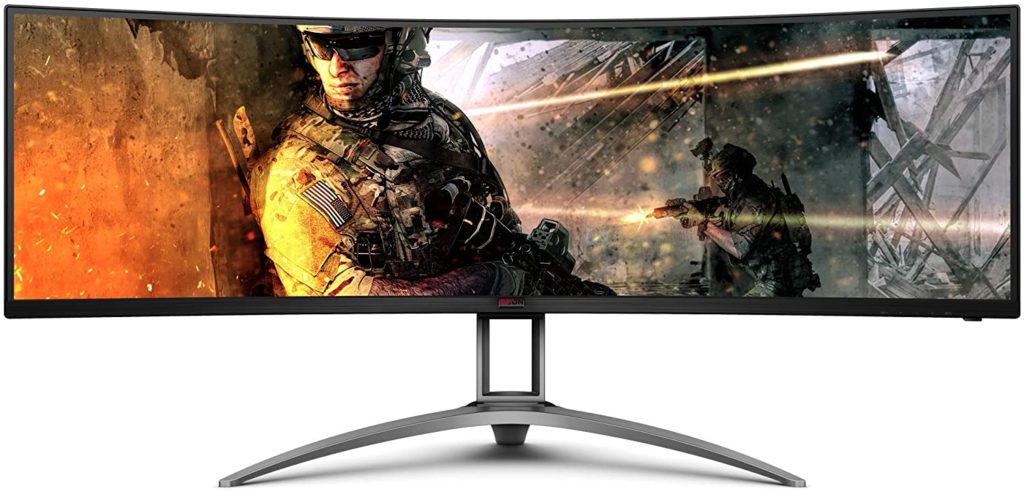 The AOC AG493UCX offers a flagship-sized, super ultrawide screen with top-end specs such as its 5120 x 1440 resolution with a 120Hz refresh rate. This model competes with established offerings such as the Samsung C49RG90 which everybody is loving so far thanks to the awe-inspiring screen. The AOC AG493UCX offers identical capabilities in a gamer-focus flavored design, but how does it stack when it comes to performance?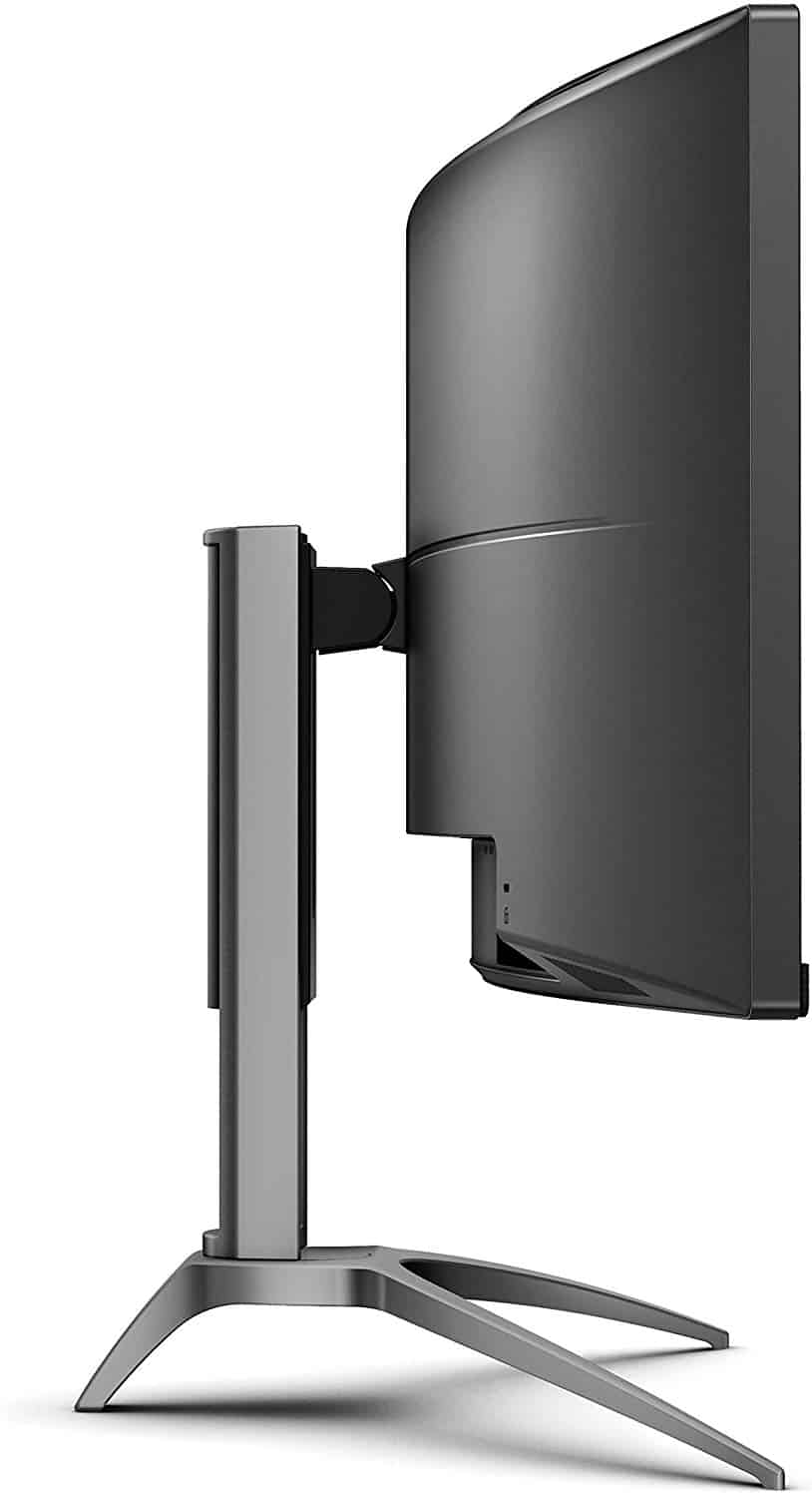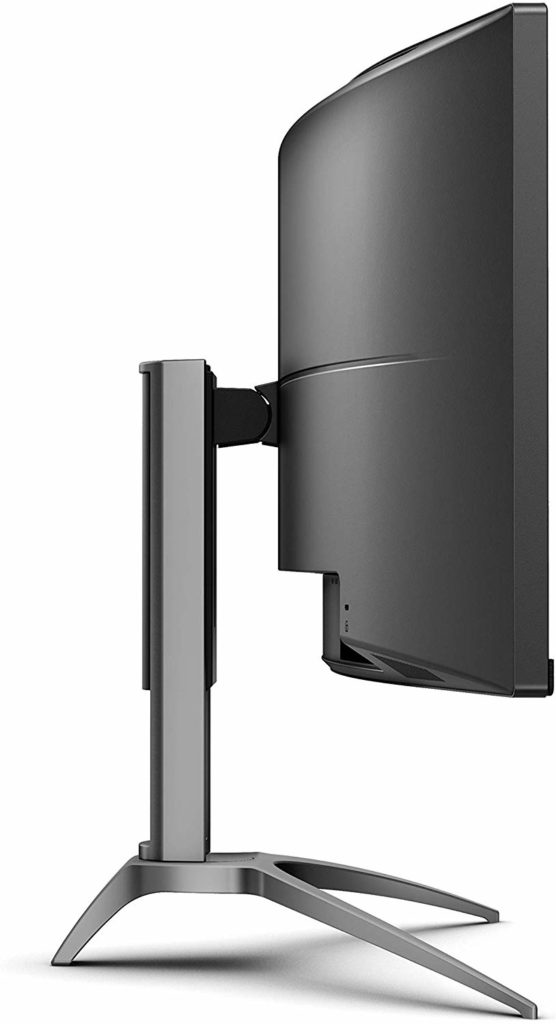 AOC AG493UCX Specifications
Screen Size: 49 Inches
Resolution:5120 x 1440 QHD
Aspect Ratio: 32:9
Panel Technology: Vertical Alignment(VA)
Refresh Rate:120Hz
Response Time:1 ms
Contrast Ratio: 3000:1 (Static)
Brightness: 600 cd/m²(1000 cd/m² Peak)
Speakers: Yes (2 x 5 Watts)
Stand: Height–Yes
Stand: Tilt – Yes
Stand: Swivel–Yes
VESA Compatibility: Yes (100 x 100)
Connectivity: DisplayPort 1.4 x 2, HDMI 2.0 x 2, USB 3.2 x 3, 3.5mm Jack
Dimension (W x H x D): 47" x 22.2" x 12.1"
Weight: 32.8 lbs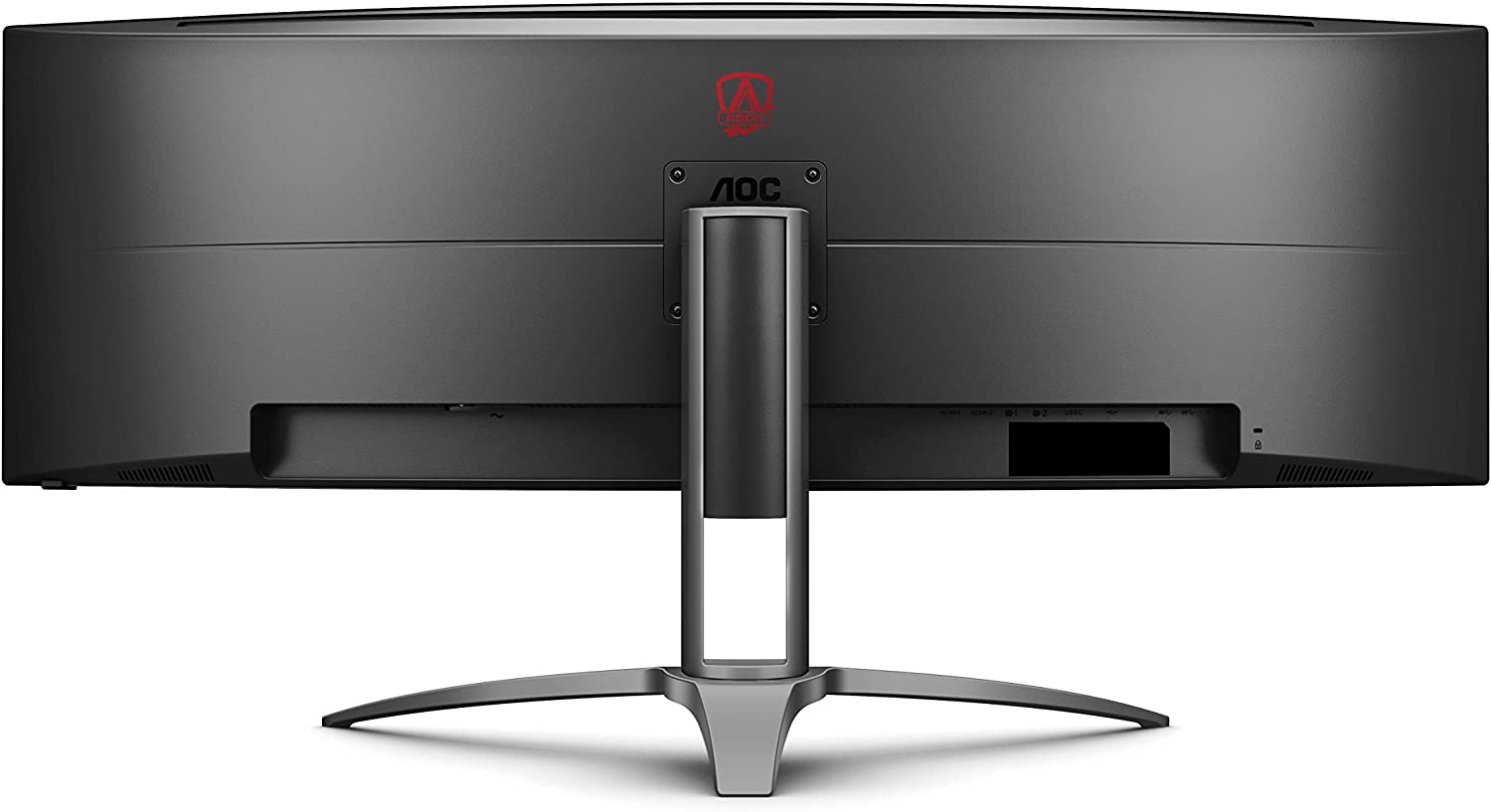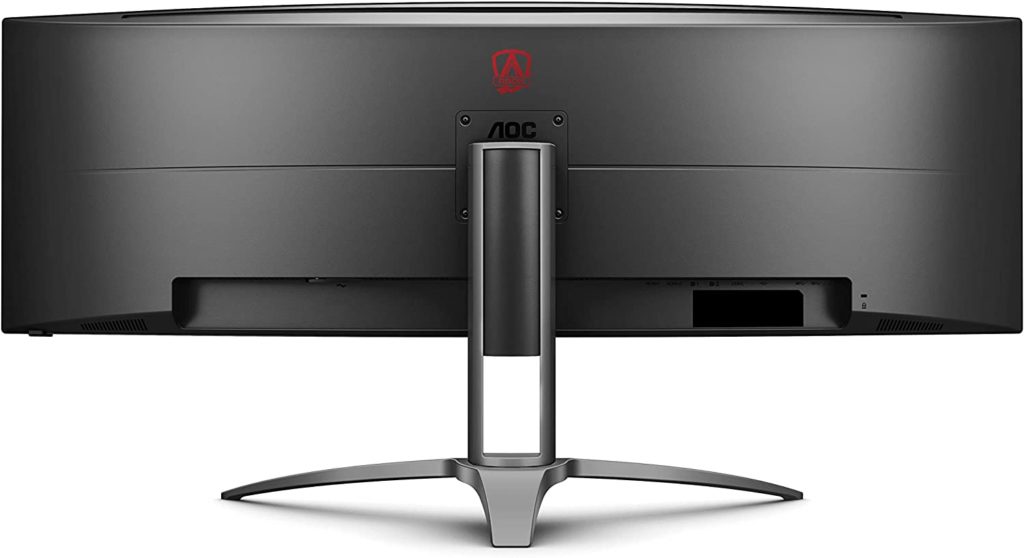 Design and Features
The AOC AG493UCX takes the traditional AGON aesthetic, but with a more conservative and sleek approach to its lines and proportions. The cabinet has a matte black finish while the stand is in metallic gray which added to the premium feel of the product. The display is bezel-free on three sides, but you will still see thin inner borders which are mostly unnoticeable against the massive screen real estate of the monitor.


Take note that the AOC AG493UCX is massive, requiring up to four feet of width and a foot of depth in total. Most desks should be able to handle the device even if it is heavier than most, but those with bookshelf speakers and the like might find it problematic to place the monitor correctly. We recommend measuring your existing table's available space first before buying this monitor, unless a new desk is also in your shopping list.
Build quality for the AOC AG493UCX is impressive thanks to thicker plastic panels and excellent construction quality. The metal stand provides great stability for the massive cabinet, and there are no creaks or unwanted snaps when you touch the display. The whole device is free from cosmetic defects such as uneven or uncut seams and scratches, and we expect the retail products to be the same.


What we dislike about the AOC AG493UCX is it uses buttons for the OSD which are placed on the far right of the cabinet. The keys are difficult to reach without leaning over, plus there's also the fact that these usually need some familiarity in order to get to a specific submenu quicker. Thankfully, the package includes a handy remote with all the controls necessary, so you only have to keep that close so you can conveniently adjust the screen to your liking.
The gorgeous stand made of cast aluminum with the AOC AG493UCX offers excellent flexibility to allow gamers to maximize the monumental display. The mechanism includes tilt, swivel, and height adjustments so you can get a comfortable view which should be at dead-center of the screen. You can also opt for VESA mounts, but it's not entirely necessary unless you want to clear your desktop from the monitor's large footprint.
The connectivity layout on the AOC AG493UCX is well-equipped to handle its requirements, starting with its dual DisplayPort 1.4 and dual HDMI 2.0 combination. There are four USB 3.2 slots on the panel, along with a USB-C upstream port that also doubles as an input for video signal. However, the latter will only support 60Hz operation without FreeSync, G-Sync, and HDR, but it is definitely handy if you have a USB-C device like a MacBook Pro for work.
The AOC AG493UCX also packs a pair of 5-watt speakers which generally sound better than most built-ins included in today's monitors. It sounds decent enough for background music and some videos, but it doesn't have the oomph games will require. You are better off with a dedicated headset that will go well with the screen's immersive properties.
Display and Performance
The AOC AG493UCX boasts a 49-inch VA panel with a 5120 x 1440 resolution, 120Hz refresh rate, and a 1ms boosted response time. The backlight has a max rating of 550 cd/m2, while contrast is at 3000:1 which is expected from VA types. The display has an 1800mm radius which is more pronounced in this model compared to the usual 3440 x 1440 variants due to the extra width.
The AOC AG493UCX'x pixel density is directly comparable to two 2560 x 1440 QHD screens, so there is no question regarding sharpness and visibility. Games will look satisfyingly detailed and crisp, while your eyes won't need to suffer from viewing microscopic text when reading articles or documents. This form factor is perfect for both gaming and multitasking, plus it has fewer pixels than 4K so you should be able to get good frames with a top-end GPU.
The AOC AG493UCX doesn't reach its color specifications, but it still has very good accuracy and gamut coverage out of the box. The VA panel covers 99% of the sRGB gamut and around 82% of the DCI-P3 color space, while default accuracy sits at DE 2.72. These scores are reasonable for a gaming monitor, but you can still can calibrate it to a more acceptable DE 2.15.
The backlight on the AOC AG493UCX maxes out at 495 cd/m2, so it can only provide limited performance for HDR output. The contrast, on the other hand, reaches as much as 2920:1 at 50% brightness, so you don't have to worry about bland colors and grayish blacks in games. Gamma slightly exceeds the standard at 2.29, but it doesn't induce a heavy penalty on the image brightness due to the high contrast ratio.
HDR is one of the AOC AG493UCX's selling points, but it can only offer limited performance due to the backlight which barely breaks 500 cd/m2 and has no local dimming feature. You can enjoy the extra bump in vibrancy brought by the DCI-P3 color coverage when HDR mode is active, but it's limited to that. The display is fantastic for gaming, but it falls short compared to better-equipped HDR monitors like the Samsung C49RG90.
Panel uniformity for the AOC AG493UCX is excellent despite having such as large display area, with no visible clouding on any quadrant. The screen gets dimmer on the sides, but the deviance is limited to around 8% from the center so it isn't as noticeable as it sounds. Take note that these aspects along with some listed above may vary between every unit due to manufacturing tolerances.
Motion handling is another strength of the AOC AG493UCX thanks to a very effective overdrive feature. Some small trails and smudges can still become visible in light to dark transitions, but it won't be as disturbing like some of the older VA monitors we've written about. The monitor's backlight strobing is unnecessary as a result, especially since it locks out key features such as Adaptive Sync.
The AOC AG493UCX is a FreeSync Premium Pro gaming monitor, but it's also fully compatible with G-Sync. This monitor is an excellent choice if you upgrade your graphics card every cycle since it will not fix your choice to a single brand. Input lag sits below 10ms at 120Hz, so there should be no de-synced instances or delays while gaming.
Thoughts on the AOC AG493UCX
The AOC AG493UCX is a well-rounded gaming display even if it has a few shortcomings in its imaging capabilities such as gamut coverage. However, the 5K2K screen with decent accuracy out of box is still mighty enjoyable, especially when playing immersive titles. This model is one of the most responsive VA ultrawides in the market with good pixel transition times and low latency.
We love the AOC AG493UCX's revamped AGON design which appeals to gamers without being too aggressive or tacky. There's also the lower price of around a grand at launch which is considerably cheaper than its Samsung competitor. We recommend the AOC AG493UCX if you want enjoy a super ultrawide screen at a lower price since you have to spend more if you want a better overall performance.
Pros:
High Contrast
Attractive and Functional Design
Good Overdrive Performance
More Reasonable Pricing
USB-C
FreeSync Premium Pro/G-Sync Compatible
Cons:
Limited HDR Performance
Needs Calibration
Limited Gamut Coverage
About the Author: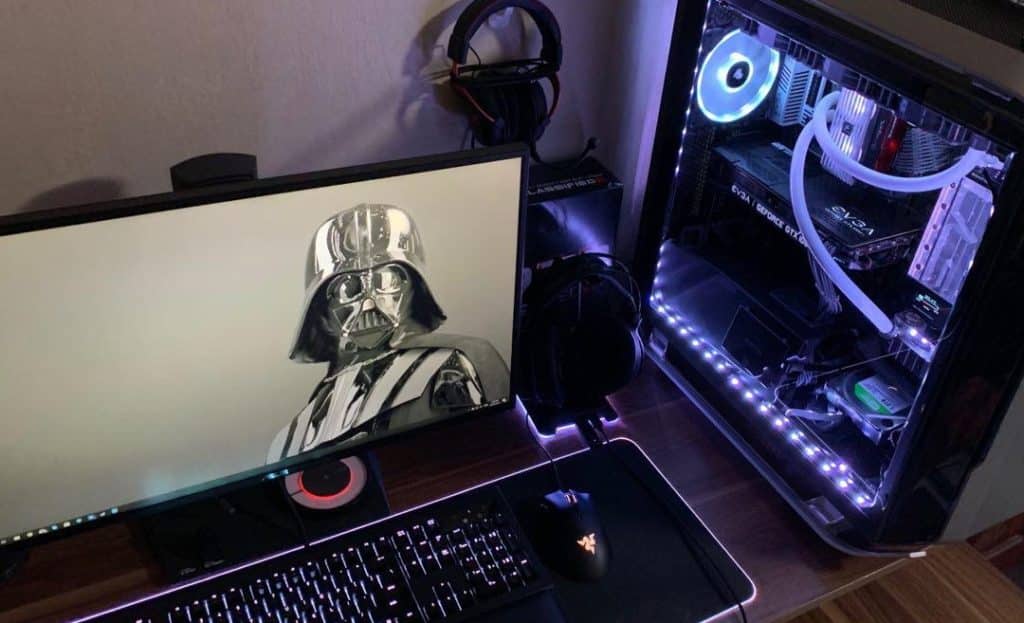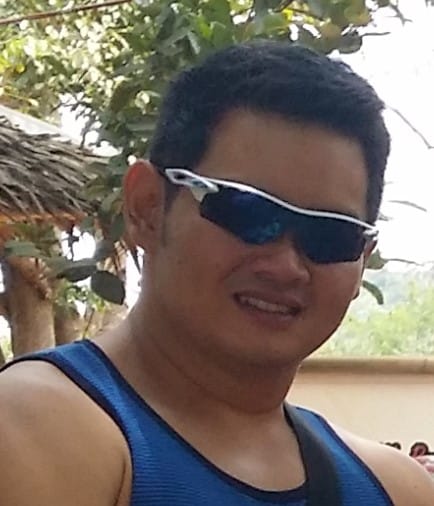 Paolo is a gaming veteran since the golden days of Doom and Warcraft and has been building gaming systems for family, friends, and colleagues since his junior high years. High-performance monitors are one of his fixations and he believes that it's every citizen's right to enjoy one. He has gone through several pieces of hardware in pursuit of every bit of performance gain, much to the dismay of his wallet. He now works with Monitornerds to scrutinize the latest gear to create reviews that accentuate the seldom explained aspects of a PC monitor.