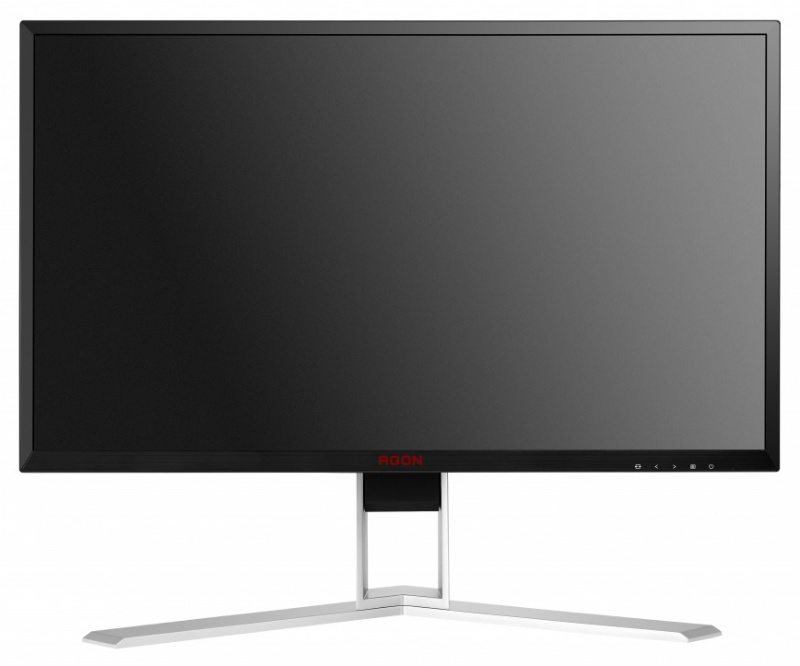 The AOC Agon AG251FG aims to provide cutting edge performance like our new Editor's Choice monitor the AOC Agon AG251FZ. But this time around, this 240Hz 1080p beast includes an exclusive G-Sync module for it to work seamlessly with a Nvidia GPU for smooth gaming. Both models are the same in every aspect except their VRR tech, so we are expecting similar or improved results from the AOC Agon AG251FG which comes from a proven line of gaming monitors.
AOC Agon AG251FG Specifications
Screen Size: 24.5 Inches
Resolution: Full HD 1080p
Aspect Ratio: 16:9
Panel Technology: Twisted Nematic Film (TN)
Refresh Rate: 144Hz
Response Time (Gray to Gray): 1 Milliseconds
Contrast Ratio: 1000:1
Brightness: 400 cd/m²
Built-In Speakers: Yes (2 x 3 Watts)
Stand: Height: Yes (5.12 inches)
Stand: Tilt: Yes – 3.5°/+21.5°
Stand: Swivel – Yes -20°/20°
Stand: Pivot – Yes
VESA Compatibility: Yes (100×100)
Connectivity: HDMI 1.4 x 1, DisplayPort x 1, USB 3.0 x 4, 3.5mm Audio Jack
Weight: 14.33lbs
Dimensions: With stand: 22.31"  x 21.46" x 8.59″

Design and Features
The AOC Agon AG251FG is the spitting image of its FreeSync-based twin, but that isn't necessarily a bad thing. The screen comes with reasonably thin bezels in matte black which don't distract users from the 24.5-inch display. The minimalist black treatment extends all the way to the back panel, which is then finished with a chevron-shaped bulge with a bloody red cover.
We thought that AOC would use Nvidia Green for their accents since this is a G-Sync monitor, but they retained red which fits a lot more builds. Under the edge of this part, you will find the I/O layout which is trimmed down to a DisplayPort 1.2 and HDMI 1.4 for video inputs plus two USB slots. Although there is a hub containing two more USB receptacles, the connector limitations are imposed by the proprietary G-Sync module which only allows DP and HDMI.
The included stand is one of our favorite designs in recent times, thanks to its architectural appeal and excellent functionality. You can tilt, raise, swivel and pivot the screen for comfortable position configuration, making the AOC Agon AG251FG ideal for people with different anthropometrics. The powder-coated metal used is superb as well, since it adds sufficient heft and stability to the whole product.
Just like its fellow Agon monitors, you get nifty extras like the folding headset hanger and the remote accessory for the OSD. This gadget has buttons for easy navigation and hotkey access to saved presets and options, therefore completing the premium gaming nature of the AOC Agon AG251FG.
Display and Performance
The AOC Agon AG251FG sports a 25-inch TN panel from AU Optronics with a 1920 x 1080 resolution, 240Hz refresh rate, and 1ms response time. From these three specs, one could easily determine that this model was designed for fast-paced E-Sports titles where a responsive, and blur-free performance is desired over fancy colors. 240Hz panels are still at a high premium nowadays, but it is the key to 1080p's survival in the gaming scene which also allows players with mid-spec machines to enjoy high FPS and decent graphics.
The AOC Agon AG251FZ posted great results in both color and responsiveness, and if you count it its excellent exterior and useful features, it is well worth the money. We are expecting more or less the same, if not better performance from the AOC Agon AG251FG, which should allow Nvidia users to experience this series' maximum potential. Any of the ten series Pascal cards should work fine with this product from the GTX 1060 all the way up to the GTX 1080Ti, although users should adjust graphics accordingly to get high refresh rates.
But remember, due to the nature of G-Sync's implementation, it does incur a minimal performance penalty amounting to 2% so that some games might have lower FPS outputs on the AOC Agon AG251FG. This downside mostly wouldn't affect gaming in practice, and you will only see the difference in synthetic results. What's important is that this model retains the characteristics of its twin that garnered it our Editor's Choice rating.
Thoughts
Its generous of AOC to create a Nvidia-specific variant of their outstanding 240Hz Agon monitor. This model should add another superb choice in a niche of the display market where options are far and few in between, and not to mention expensive. Although we wish there were a green-colored model, we think that the AOC Agon AG251FG will still be a killer addition to your gaming setup. We are eagerly waiting for a review unit so we can share the good news as fast as possible.