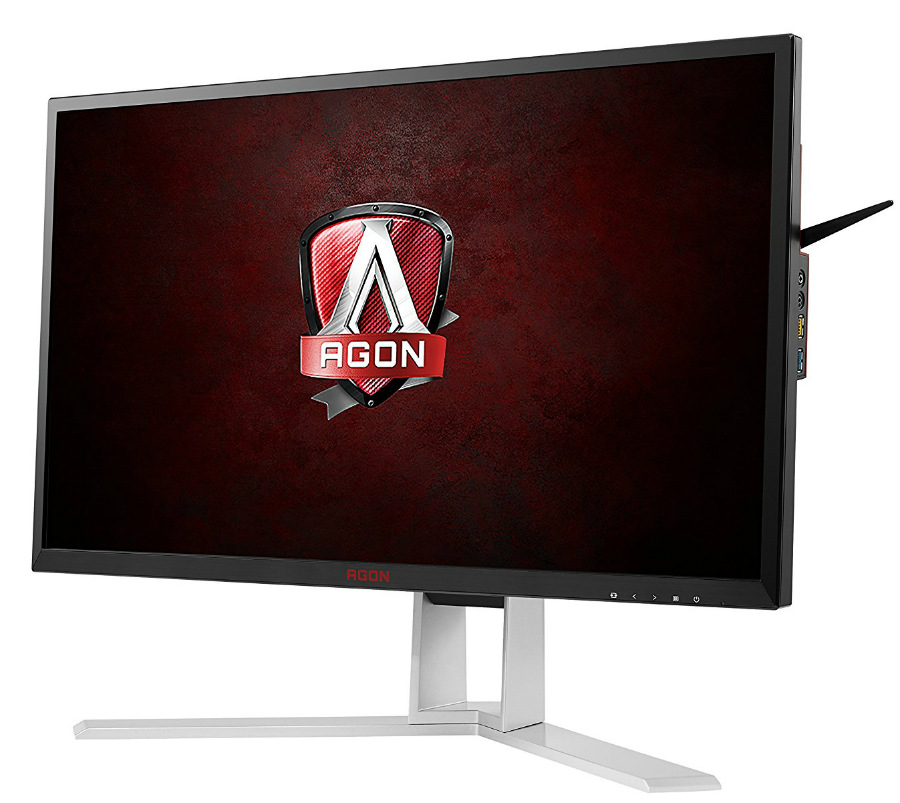 Review of AOC Agon AG271QG
AOC is no stranger to the display business, and their no-nonsense quality products enabled their staying power which has lasted for many decades while providing their customer base with some of the top monitor choices. The Chicago-founded company started their roots in the display market with the first color televisions for export, and fast forward to today; they are currently producing PC displays with excellent quality and performance. Recently, the company unveiled their Agon line of monitors meant to compete in every niche of the gaming screen market. This new line features bold designs and fascinating performance, and one of the products included is the 27-inch 1440p Agon AG271QG with G-Sync. The product utilizes an advanced IPS panel (AHVA) capable of vibrant colors, sharp details and wide viewing angles for top-notch gaming performance.

 AOC Agon AG271QG Specifications
Screen Size: 27 Inches
Resolution: 1440p QHD
Aspect Ratio: 16:9
Panel Technology: Advanced Hyper Viewing Angle (AHVA/IPS)
Refresh Rate: 165Hz
Response Time: 4ms
Contrast Ratio: 1000:1
Brightness: 350 cd/m²
Built-in Speakers: Yes -2 x2watts
Stand: Height – Yes (5.12 Inches)
Stand: Tilt – Yes (-3°/+21.5°)
Stand: Swivel – Yes (-60°/+60°)
Stand: Pivot – Yes (90°)
VESA Compatibility: Yes (100 x 100)
Connectivity: DisplayPort 1.2 x 1, HDMI x 1, USB 3.0 x 4, 3.5mm Headphone jack
Dimensions With Stand(WxHxD): 24.53″ x 17.05″ x 8.58″
Weight: 14.5lbs

Design and Features
The AOC Agon AG217QG boasts of a svelte and modernized exterior look which somehow sets it apart from competitors. The bezels surrounding the screen are reasonably thin, and aside from the red Agon logo on the bottom strip; there isn't much more you can see when the unit is turned off. The metal V-shaped stand sticks out from the lower part with its gorgeous brushed finish, and overall, this makes this product simply beautiful. From the back of the cabinet, the large V-shaped red hides the I/O ports and vents along its flaps plus the AOC logo emblazoned on the upper part. There is also a USB hub on the right side of the cabinet, which we think is an ideal placement for these types of things so users can conveniently reach and connect other peripherals. Another Interesting found here is a folding headset hanger, which is a sorely needed feature to keep your headphones in place, without causing clutter or getting damaged.
The metal stand on this model has enough heft to keep the whole thing stable on your desk, so there are no wobbles with minimal force. The mechanism provides an excellent range of ergonomics for most users, so getting a comfortable angle to view the beautiful AHVA screen is easy and convenient. The whole build of this product did not feel plasticky or cheap, so it is safe to say that the quality AOC is known for is present for this offering. The stand also quickly detaches from the rear casing to reveal 100 x 100 VESA holes for your mounting purposes. The top of the neck is molded as a carry handle if you want to lug this heavy beast around, while the bottom hole acts as a tidy cable option.
Since this is a G-Sync monitor, the required proprietary model dictates that the product can only have limited connectivity options. There is a DisplayPort 1.2 for 165Hz and G-Sync operation, a port for HDMI 1.4 so you can connect other hosts such as consoles, plus four USB 3.0 ports and an audio jack for the built-in speakers. This limitation is expected, but we like the addition of a dedicated hub on the side for ease of access, unlike the Asus PG279Q, which only has its USB receptacles behind the cabinet. Also, AOC is generous enough to provide heavy-duty wires for each connection, so when you do get the AG271QG, you are all set.
Display and Performance
The AOC Agon AG271QG features an AHVA panel, which is another name for IPS, with 1440p QHD resolution that can go up to a blistering 165Hz at the press of a button.  This type of screen has a limited 4ms pixel response, but in our gaming tests, each pixel was snappy enough not to cause flaws in the overall image. Colors were reasonably vibrant out of the box as well, so we only made minor adjustments to the different settings in the OSD. There are presets available in this product, but you can adjust Contrast, Brightness, Gamma and color temps to find an output that suits your personal tastes. There are also GameColor options which intensify saturation and ShadowControl to darken blacks and other dark colors.
The 165Hz speed does wonders for your gaming experience if you have enough frames to keep up with it, but regarding input lag, the AOC AG271QG does not fall behind that far. Both the Acer XB271HU and the AsusPG279Q are a bit faster by a small margin, but this is fact isn't enough to steer anyone away from the AG271QG since the difference is unnoticeable. If you want to up the ante, there is an Overdrive option in the OSD, but for most gaming purposes, we did not find the need to switch this on since too much overdrive can cause advanced ghosting or blurring. The connective feel and the hair-trigger response of the images we saw were more than adequate even for competitive gaming.
In our Overwatch tests, screen tearing and stuttering was minor at best. But once we switched over to Battlefield 1, frames instantly dropped by a large margin, and most of the time, it refused to stay above 110FPS. Thankfully, this offering comes equipped with Nvidia's G-Sync to keep the gameplay smooth and stutter or tear free. Activating the tech did incur a small performance penalty of around 2%, but it was rarely noticed against the large environments and dark atmosphere of the game which we thoroughly enjoyed on this product.  G-Sync does not induce a lot of input lag, but once your frames leap over its operational range of 144Hz, the monitor will revert to V-Sync, which might deteriorate the snappiness of your display. If you do choose to take advantage of this premium feature be sure to limit your frames to 140-142FPS so G-Sync does not deactivate and leave everything to V-Sync's laggy functions.
Conclusion
There are only a few top-ranking G-Sync monitors available in the market mainly due to the lower demand when compared to Freesync products. Nvidia's exclusivity methods, licensing and required additional pricing also limits the models each company releases, leaving the green team with lesser choices. However, most of these products are at the top of the chain when it comes to gaming displays, so most of the time, you can't go wrong with either. These types of products were also limited regarding connectivity, but recently, we have seen big names producing products with extra options such as USB ports and audio equipment built into their latest offerings.
What we like about the AOC Agon AG271QG is its cut above the rest design cues with its sturdy metal stand which provides stability when placed on a desk, and the black and red theme of the cabinet which has a unique layout despite having an overused color scheme. There is some room for improvement regarding its color qualities, but we found it easy to alleviate any discolorations with minor tinkering. The monitor is plenty fast for 1440p gaming, and we suspect most gamers with midrange to the top of the line graphics cards and processors would find it difficult to reach the speed limit with all the eye-candy settings turned on. G-Sync also proved its worth in graphic intensive games, but that is of course, subjective across numerous individuals with varying budgets.