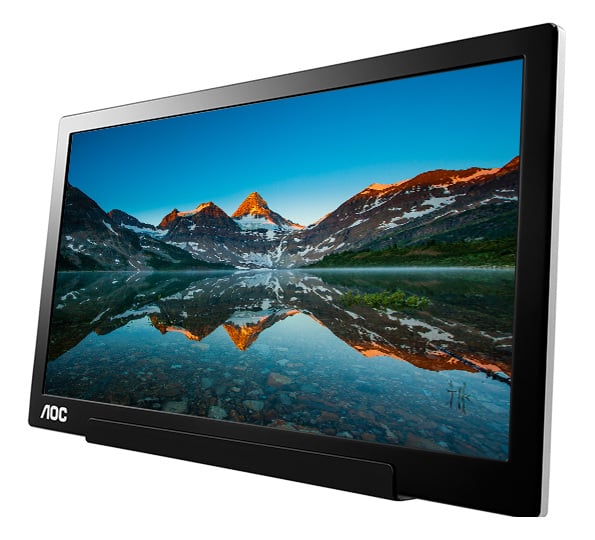 The recently announced AOC I1601FWUX offers an incredibly crisp 16-inch IPS screen that you can lug around conveniently thanks to its single-cord USB-C interface. Combined with the lightweight chassis and the modest dimensions, the inconveniences brought about by needing extra screen real estate are virtually eliminated. But the best part about the AOC I1601FWUX is it is a tad cheaper than other USB-C options in the market, creating practical per dollar value as a perfect accessory for your laptop.

AOC I1601FWUX Specifications
Screen Size: 16 Inches
Resolution:2560 x 1440 QHD
Aspect Ratio: 16:9
Panel Technology: In-Plane Switching (IPS)
Refresh Rate: 60Hz
Response Time: 5ms
Contrast Ratio: 700:1
Brightness: 220 cd/m²
Built-in Speakers: No
Stand: Height – No
Stand: Tilt – Yes
Stand: Swivel – No
Stand: Pivot – No
VESA Compatibility: No
Connectivity: USB-C x 1
Dimensions With Stand(WxHxD): 14.81″ x 9.26″ x .33″
Weight: 1.81lbs

Design and Features
The AOC I1601FWUX comes in a luxurious piano black finish and matte silver which requires extra care to avoid smudges and scratches. The face has bezels which are almost an inch thick which isn't ideal for modern tastes, although it gives the product a picture frame vibe. What's great about the gadget once you hold it is the robust feel of the metal alloy used for the chassis.
The AOC I1601FWUX does not feel cheap or flimsy in any way and is comparable to premium tablets when it comes to build quality. We didn't drop-test the device, but it feels like it can take a few hits without getting dented. Of course, the screen inside is fragile, so extra care is still necessary to keep it functional.
What we love about this device, however, is its slim chassis which enables owners to just slip it in next to a laptop in a sleeve or carrier. USB-C monitors like the AOC I1601FWUX are designed to achieve extreme portability not only by limiting its connectivity requirements but by also reducing its proportions. It also only weighs less than two pounds, so we figured most users wouldn't have too much trouble adding it to a laptop in a bag.
The firm includes a flexible stand which is perfect for propping up the device in landscape or portrait while doubling as its protection. This part allows up to 30 degrees of tilting for that perfect view, offering a certain level of ergonomics for your comfort. Users also don't need to go through a tedious assembly process since you only need to slap the magnetic case onto the metal alloy rear to secure it.
It's easy as peas to prop the AOC I1601FWUX on a desk which is almost similar to how tablets and their functional covers work. You only need to attach the narrow segment to the bottom bezel and fold the case into a V, so the wider magnetic strip connects to the rear.
The device doesn't slip and slide, but a gentle push to adjust the tilt of the AOC I1601FWUX could topple it. The monitor could use a better mounting solution, although we know that it would have a slightly detrimental effect to its portability.
It's also strange that the AOC I1601FWUX doesn't have control buttons which would make tweaking the device more convenient. The display only has a single screen which controls power and OSD navigation. It's unintuitive, but thankfully, AOC created a downloadable app called I-Menu which is easier to use.
Finally, the AOC I1601FWUX utilizes a single USB-C port for its power delivery and signal input. Using this device as a secondary display for your MacBook Pro or Dell XPS is plug and play so that you won't need clunky drivers or bloatware. However, keep in mind that adding this product to your laptop will shave off a chunk of battery life since this unit isn't self-powered.
Display and Performance
The AOC I1601FWUX utilizes a 16-inch IPS panel with a 1920 x 1080 resolution, 60Hz refresh rate and 5ms response time. Contrast and brightness are conservative at 700:1 and 220cd/m2, although the purpose of the screen isn't overly demanding in this regard. Color depth only comes with 262,000 shades so the output isn't as vibrant as we'd expect, but truthfully, that amount is plenty for a secondary monitor.
The AOC I1601FWUX's screen is designed to include conveniences for its users, starting with the auto-pivot function. Just like mobile phones, the display will auto rotate depending on your chosen position without the need for OSD activation. The product also includes a proprietary Low Blue Light mode which reduces the harmful spectrum on the software side, reducing the impact on the screen's colors.
The image quality from the AOC I1601FWUX isn't as high as we had hoped due to dismal results. The IPS panel in the device can only reproduce 54% of the sRGB color space with an accuracy rating of DeltaE 5.0. Ideally, the screen should at least hit 75% sRGB with a maximum DE of around 3.0 for it to be considered competitive at the least.
The color temperature of the screen sits a bit too close to 7000K instead of the ideal 6500K, but it doesn't look bluish or cool. The bigger issue here is the colors which become posterized when a good mix is on display, ruining the monitor's value for imaging.
Contrast also failed to hit ideal targets since it could only reach a maximum of 600:1. This aspect makes the screen less vibrant, although blacks and grayscale performance still fall within what we consider usable limits. The backlight of the display is also limited to 199cd/m2 which could be too dim for some users.
But what we like about the AOC I1601FWUX is its generous resolution of 1920 x 1080 fitted into a 15.6-inch screen. It may not be as cutting edge as 4K, but the tighter pixel pitch adds a level of sharpness and detail we can appreciate. Pixel response time is also pretty decent, especially if you set the monitor's overdrive setting to its medium level.
The AOC I1601FWUX isn't great for gaming, but it can pass as an entertainment display on the side for casual purposes. Playing light games such as Hearthstone while you work is an experience that most would appreciate, despite the shortcomings of the display.
Thoughts on the AOC I1601FWUX
The AOC I1601FWUX is a great solution if you are looking for a secondary display at a very cheap price. The build quality is robust and reliable, plus the screen looks extra-sharp due to the exceptional pixel pitch. The device's portability is also superb, adding only less than two pounds to your laptop bag.
However, the imaging qualities of the AOC I1601FWUX did not reach our expectations due to poor color representation and contrast. The product isn't ideal for viewing photos, limiting its usefulness to browsing and document processing. The Asus ZenScreen MB16AC is better in many ways, but its advantages cost a hefty premium over this option.