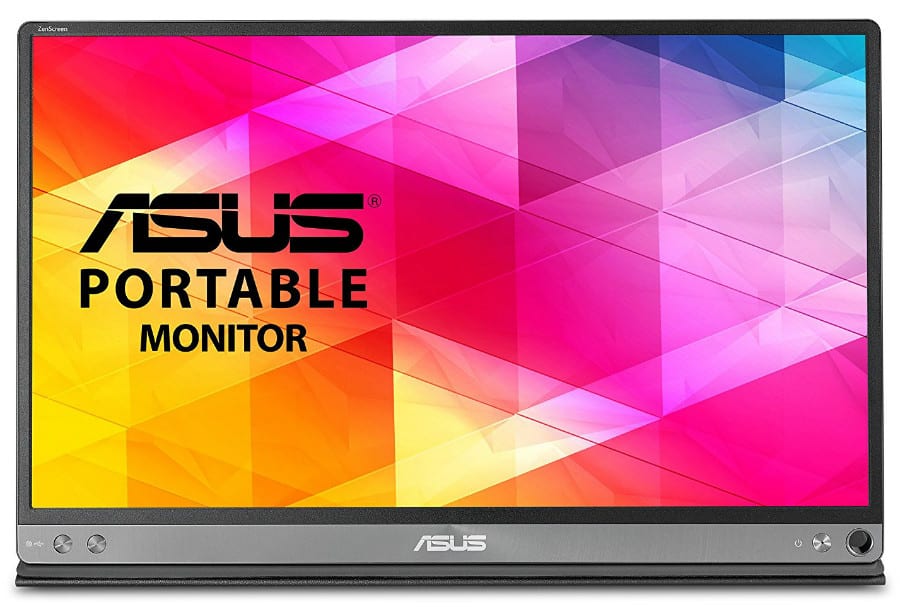 The Asus ZenScreen MB16AC is a sleek and lightweight portable monitor that provides 1080p visuals via its USB-C interface. This device was conceived to act as a secondary display to the Asus ZenBook UX32UA USB-C laptop, although the former also plug and play on other similarly equipped notebooks. The Asus ZenScreen MB16AC is the best-designed of the mobile monitor lot, but does it have the performance numbers aside from its USB-C functionality to justify its premium price?

Asus ZenScreen MB16AC Specifications
Screen Size: 16 Inches
Resolution:1920 x 1080 FHD
Aspect Ratio: 16:9
Panel Technology: In-Plane Switching (IPS)
Refresh Rate: 60Hz
Contrast Ratio: 800:1
Brightness: 220 cd/m²
Built-in Speakers: No
Stand: Height – No
Stand: Tilt – Yes
Stand: Swivel – No
Stand: Pivot – No
VESA Compatibility: No
Connectivity: USB-C x 1
Dimensions With Stand(WxHxD): 14.6″ x 8.9″ x .31″
Weight: 1.72lbs

Design and Features
The Asus ZenScreen MB16AC sports a clean and modernist design using typical elements of the Zen branding. The aesthetic is composed of a gunmetal gray exterior with modest portions and a bezel-free face which only has reasonably thin panel borders. The product is no bigger than a tablet, nor is it thicker since it only measures .31 Inches deep.
The thicker bottom strip holds two OSD buttons plus the USB-C slot on the left and the power button on the opposite side right next to a hole. The latter provides the option to insert an included pen which props the display up if in case you don't want to use the cover. Take note that this gray pen isn't a stylus for touchscreen operation since the Asus ZenScreen MB16AC isn't capable of such.
The Asus ZenScreen MB16AC also includes a folding screen cover which you can manipulate into becoming a stand for the screen. The product is lightweight as well at 1.72lbs, making it easy to slip into your laptop case or bag without adding a lot of weight or eating up a lot of space. Due to the weight and size restrictions, there are no other external features included which you can typically find on a standard monitor.
The focus of the Asus ZenScreen MB16AC is its USB-C interface which provides both power delivery and signal input. The screen instantly works when connected with a compatible mobile device without drivers or installs for most brands. But just in case, there is a type A USB adapter that you can use if your PC isn't equipped with USB-C, although you will need to install DisplayLink drivers for this device to work.
Display and Performance
The Asus ZenScreen MB16AC sports a gorgeous 16-Inch IPS panel with a 1920 x 1080 resolution a 60Hz refresh rate, and 800:1 contrast ratio. The specified brightness is rated up to 220cd/m2, but tests show this is only up to 160cd/m2 which is still plenty for a monitor of this use and size. You can freely adjust this setting in the OSD, but using filters like Reading Mode locks down the brightness levels, although we think each relatively labeled option works as intended.
Gamut coverage for the Asus ZenScreen MB16AC isn't overly impressive since this device can only display 66% of the sRGB color space and 50% Adobe RGB. Bumping up the brightness to 100% helps the color to pop, but what stands out is its actual contrast ratio of 900:1, exceeding the manufacturer specified 800:1. Another excellent capability of this mobile device is its color accuracy with a DeltaE of 1.3 which is superb for a secondary display.
Asus did not specify a response time for the Asus ZenScreen MB16AC, but gaming and movies are smooth despite a few moments with interlacing. The latter wasn't so bad considering this model isn't a cutting-edge gaming monitor, but proprietary features such as Asus GamePlus are still included. GPU acceleration from your laptop or desktop will work, but you can't take advantage of features like Adaptive Sync technologies like FreeSync.
These results place the Asus ZenScreen MB16AC as a mix-use secondary display if you have to do work like editing on the go or just want a discrete secondary screen for your battle station. But for laptop users, the question of how much power will a device like this eat away from the battery life. Upon testing, this screen slashes 100 minutes worth of charge from a 300-minute device or 1/3 of the total at 50% brightness.
Devices with smaller capacities might experience a wider margin, making the setup almost unusable in some cases. However, eating up to 1/3 of a laptop's battery life as a trade-off for a second 1080p screen is impressive if you are running on batteries alone. This limitation is one of the setbacks of USB-C; however, it is, in our opinion, well worth the trouble.
Thoughts on the Asus ZenScreen MB16AC
The Asus ZenScreen MB16AC is the best portable monitor out there thanks to its excellent output and USB-C functionality. The product is also the most attractive model currently out in the market thanks to its advanced exterior design which makes its predecessors look even older. The added battery consumption of attaching this product to a USB-C laptop is a fair trade-off for what it offers since it would generally consume 1/3 of your battery charge for almost double the screen real estate.
However, we think Asus missed an opportunity to present the Asus ZenScreen MB16AC as a touchscreen device which would improve it further. We know that would increase the price and other factors of the product, but the form and function practically cry for it. The less impressive gamut coverage is also a turn-off for monitor enthusiasts at this price point, but we think that the utility of devices like this outweighs everything else.