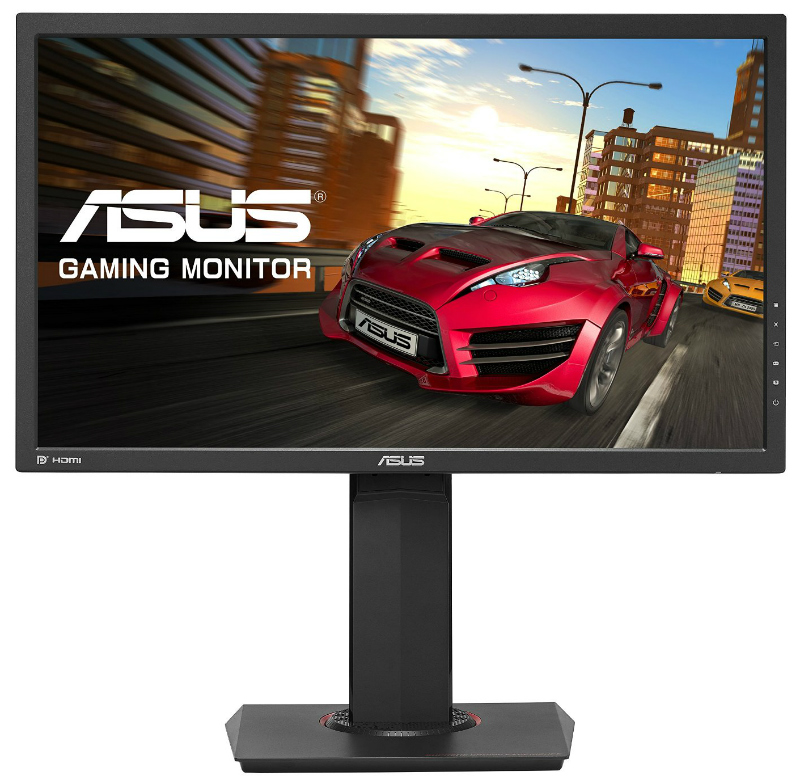 Review of Asus MG24UQ
4k gaming Monitors are not currently the norm. Most rigs are pretty happy powering a 1080 FHD display or pushing themselves pretty hard with a 1440 WQHD display and calling it a day. Depending on how you see it, the graphics power required for 4K gaming is still considered bleeding edge and might not be as accessible. Still, there are many of us that crave that insanely high pixel density, and Asus and found us a solution that goes easy on our eyes and pockets, while giving our hardware a run for its money. Although it's marketed as being competition spec, the Asus MG24UQ is surprisingly on point when it comes to bringing the beauties and perks of 4k to your home desktop. Check out our Guide on Best Gaming Monitors.
Asus MG24UQ – The Design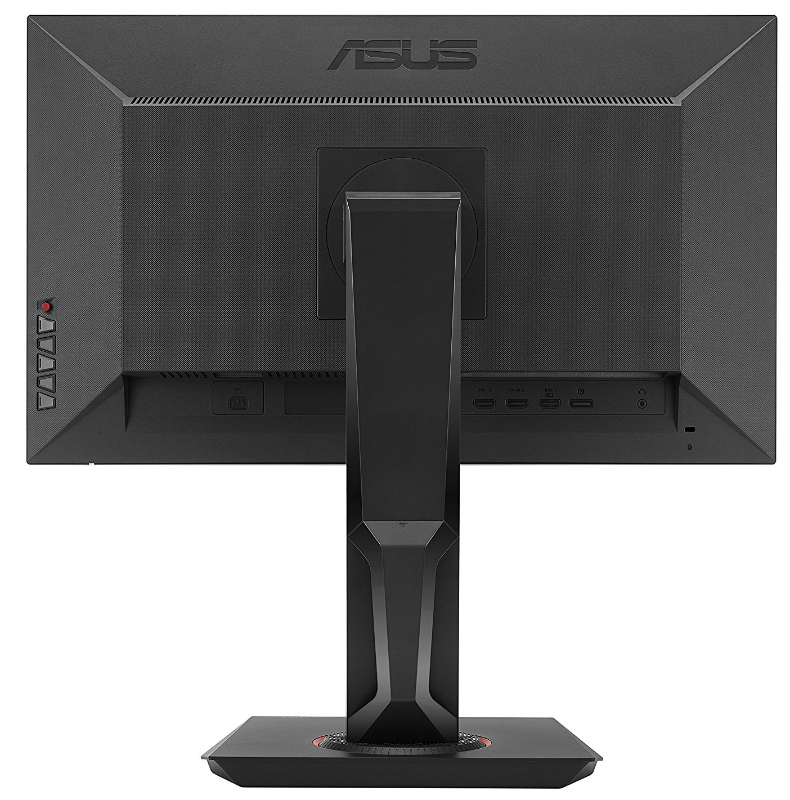 The Asus MG24UQ immediately strikes you as something that's out of the ordinary, even when it isn't turned on. The stand, by itself, tells stories of spaceship cockpits and dark technology, subtly feeding your imagination. The display isn't easy to ignore either, the softly rounded edges and the sharp angles on the back of the case can seem like they pull pages out of old sci-fi novels, while still keeping their decorum and not going over the top with the design ques.
The frame is pretty thin, packing only the few button guides on the front, allowing for a 16mm bezel width. Even with the quick access buttons available, you might find yourself defaulting to the intuitive joystick that hangs around at a spot above all of them. The joystick makes navigation a breeze and is just so much easier to use, compared to the buttons which would take quite a bit of getting used to and require that ritualistic fumbling that we all experience with most monitors.
The Asus MG24UQ doesn't come with speakers but does have a separate 3.5mm audio output jack. It's handy, but not something you'd write home about, obviously. What is pretty great, though is the abundance of connector ports. There are two HDMI 1.4 ports, 1 HDMI 2.0 port and one DisplayPort 1.2. All of the connectors sit, tucked away, underneath the monitor, along with the gripped power switch. If you do choose to use a single HDMI 1.4 port, you'd be limited to 4k @ 30hz. Using both HDMI 1.4 ports where supported will drop you off at 4k@60hz level with the HDMI 2.0 and DisplayPort 1.2 ports.
The stand is incredibly versatile, offering a rather flexible orientation profile. You can raise and lower the monitor between a 150mm height zone and rotate the monitor between a 120-degree angle. The up-down tilt gives you about 25-degrees of movement and the vertical rotation gives you an entire 90-degrees on either side. This allows you to orient the monitor in portrait mode and even works pretty great with multi-monitor setups. If you still prefer to use another stand, you can quite easily and quickly pop this one off and mount your preferred stand through the VESA compatible bracket on the back. It sits as steady as a rock, to top it off.
The MG24UQ also comes with a neat little design feature for all you cable management aficionados out there. It offers an easily detachable bridge clamp on the rear of the stand and is great at getting your wiring to behave. The clamp comes off and you can line up your wires, re-fixing the clamp to keep everything tidy and where you want it.
Display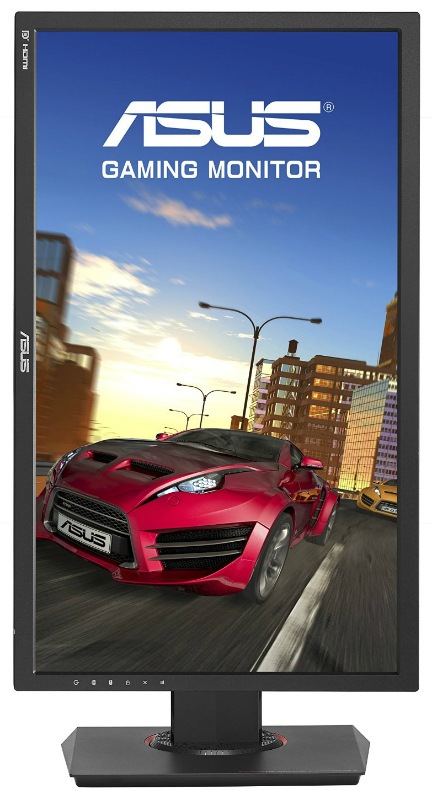 The display on the Asus MG24UQ is so sharp and clear that it draws you in to almost any virtual experience. It boasts an 8-bit IPS panel and runs at a resolution of 3840×2160 @ 60hz, which, at a 24" form factor, produces an incredibly rich resolution that makes it rather hard (read as: pretty much impossible) to discern individual pixels with your eyes. The images produced are smooth and flawless, motion is accurate and seamless. The contrast is particularly impressive, with great depth and a static range that sits at a true 1000:1 ratio. The colors, although great, aren't impressive, compared to most other 4kHD monitors, where the gamut covers a much wider range, but as far as gaming goes, you don't lose out on much, if at all. The colors are pretty decent out of the box, but, like most monitors today, a little bit of calibration goes a long way and gets it polished to a perfect finish. The colors also span the sRGB range and seem to do pretty well, bringing environments and characters to life. The colors are recreated with pretty good accuracy, compared to a printed swatch, but the much more saturated colors at the high-extreme ranges aren't rendered quite as right as they're supposed to, as they would on most larger, 4KHD monitors. Something to note here though, is the lack of any artifacts, which can usually be enjoyed on such previously mention larger 4kHD monitors. There's no backlight bleeding or ghosting, and images are displayed razor sharp and without disturbances.
The IPS panel picks up on the slack and gives the image an almost magical air to it. The picture is clear and flawless, with accurate color and contrast at any angle under that 180 mark. The screen also has a 4ms response time, putting out no noticeable input lag and has your actions feeling as responsive as a hair trigger (combined with adequate hardware, of course.)
The MG24UQ also ships with AMD's FreeSync technology, but this too comes with its drawbacks. The first being the obvious: You can only take advantage of this feature with an AMD or ATI video card. Secondly, FreeSync can only work if your game is running anywhere in between 40fps and 60fps. FreeSync eliminates screen tearing without giving you a little bit of extra lag for your efforts and forcing you to put up with stutter, if you're unfortunate enough to get stuck with it. With FreeSync enabled, you'll need hardware that can keep your games running at 40fps, at least, to be able to take advantage of FreeSync's stutter-free benefits. For a little reference, if you had an Rx 480 8gb, you'd be able to pull past that 40fps on most games rather easily, if you cut down on a few graphical features. With two 480s crossfired, you'd get real close to that shiny 60fps zone with some pretty graphics to boot.
The MG24UQ also boasts programmable hotkeys and a few monitor based features that can aid your gaming sessions. Whether or not the actually do, is somewhat of a different story. The stop clock, I can see myself using, for many reasons. That ugly superimposed crosshair? Not so much. The FPS counter and display adjustment buttons can't really be argued with, as they're just nice to have there, as an option. There's also an Ultralow blue-light mode that makes long sessions much easier on the eyes and this, paired with the flicker free tech, makes the monitor rather comfortable for long stretches.
Verdict
At 24", this IPS monitor from Asus treads new and exciting territory, nurturing the growth of 4k gaming, pushing great technology out towards the average gamer and the competitive one, without compromising on the appeals of either. The MG24UQ a beast that's been packed down to a manageable size, without having to lose everything that makes it beastly. A great sRGB range of colors paired with the solid, static 1000:1 contrast ratio and deeply immersive IPS panel and a slew of features aimed at gamers. With no backlight bleeding at all, this competition spec monitor can awe and immerse you in the game with incredibly vivid spells and an emulated atmosphere that rivals that of its larger counterparts. The MG24UQ 4KHD monitor is one of the best gaming 4kHD monitors on the market at the moment, and even if your hardware isn't up to it, it might still be worth grabbing for its incredible entertainment value and that sweet 186 pixel-per-inch density.
And finally, I've saved the best for last. The monitor goes for $300. No, I'm serious. I had a hard time processing that price point. There feels like there's got to be a catch somewhere, and if there is, I haven't found it as yet. This one had me scratching my head for a while, but if I were in the market for a desktop 4k monitor, I'd definitely pick this up. Rather tempting to pick two up, actually… Might need to live on ramen for a month.