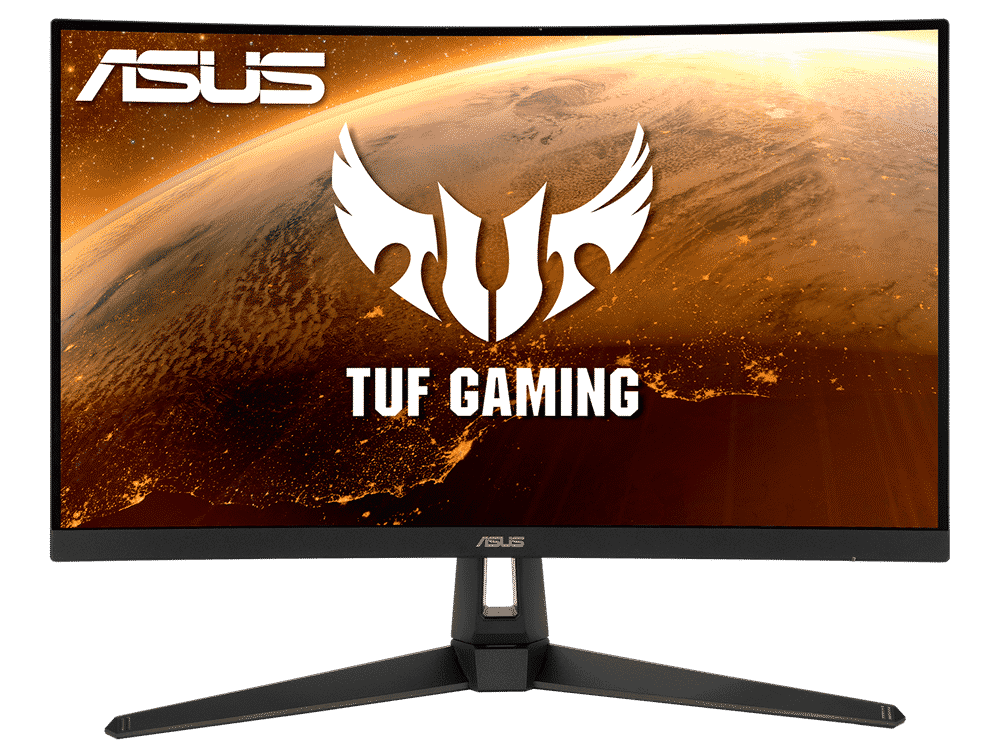 The Asus VG27WQ1B is a $350 gaming monitor with a curved 165Hz screen and lots of features gamers will enjoy. The price used to afford either a 60Hz 1440p or a 144hz 1080p monitor, showing us how far the gaming monitor business has grown. However, the Asus VG27WQ1B faces tough competition at $350 like the AOC CQ27G2, so let's check out if it lands at the top spot.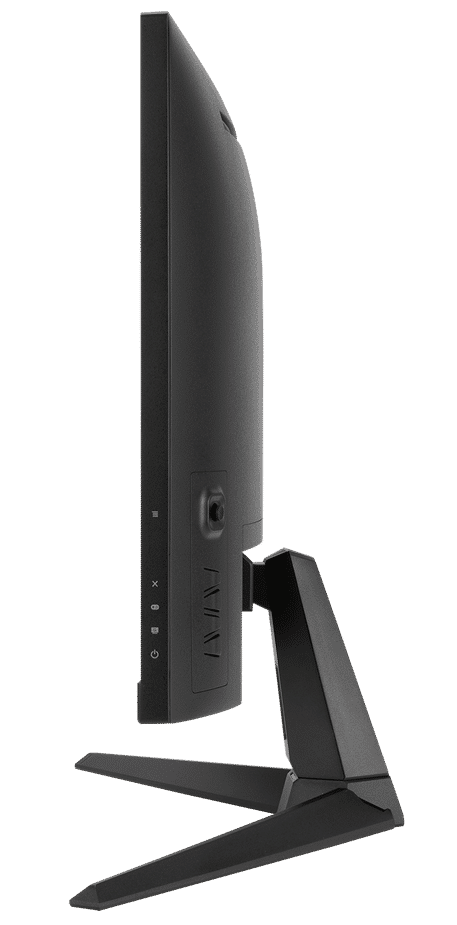 Asus VG27WQ1B Specifications
Screen Size: 27 Inches
Resolution: 2560 x 1440 QHD
Aspect Ratio: 16:9
Panel Technology: Vertical Alignment (VA)
Refresh Rate: 165Hz
Response Time: 1ms (MPRT)
Contrast Ratio: 3000:1 (Static)
Brightness: 250 cd/m²
Built-in Speakers: Yes (2 x 2 Watts)
Stand: Height – No
Stand: Tilt – Yes
Stand: Swivel – Yes
Stand: Pivot – No
VESA Compatibility: Yes(100 x 100)
Connectivity: DisplayPort 1.2 x 1, HDMI 2.0 x 2, 3.5mm Jack x 1
Dimensions with Stand (WxHxD): 24.03" x 18.71" x 8.42"
Weight: 18.08lbs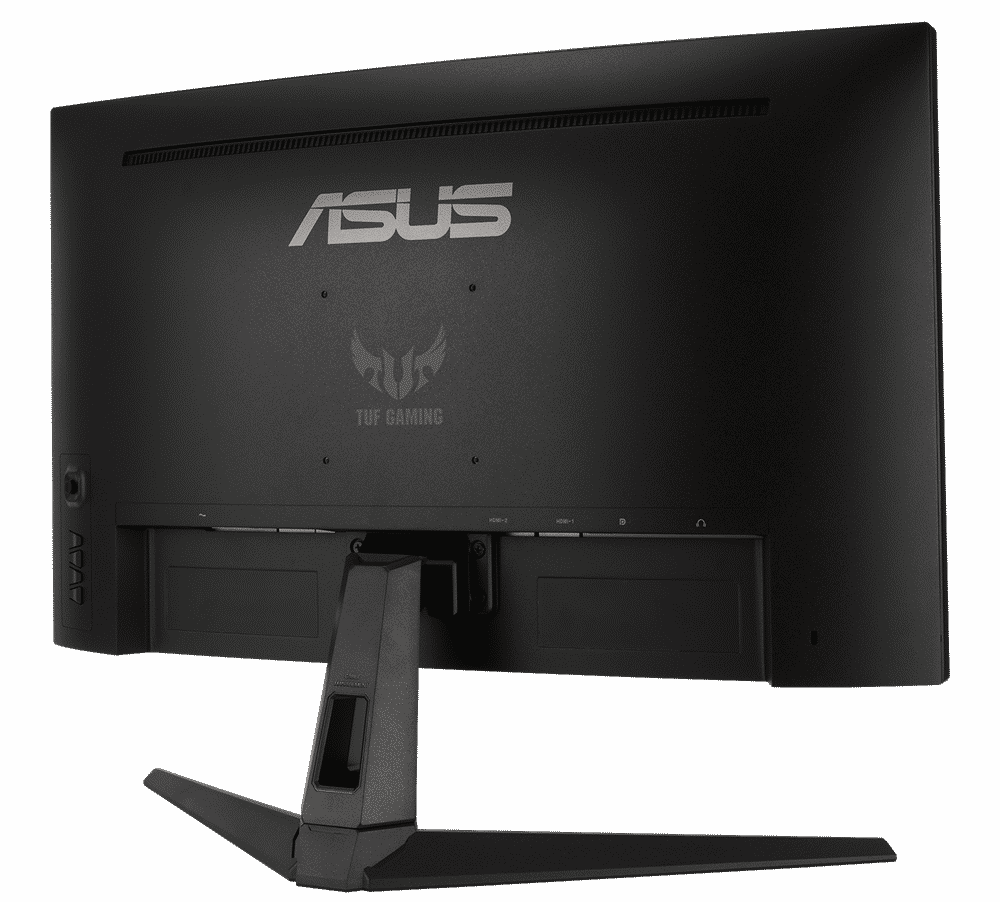 Design and Features
The Asus VG27WQ1B looks identical to the VG27AQL1A, but there are some distinct differences that spell the difference between budget and premium. The monitor has a nice and familiar matte black finish that lasts a while and is basically smudge and scratch-proof. This model isn't completely bezel-free, but it might as well be since the top and side borders are almost unnoticeable anyway.
We also like that Asus kept the Asus VG27WQ1B's dimensions to a minimum even if this model has a curved chassis. However, it is still going to be larger than most monitors since this is a 27-inch model, so make sure that you have the space for it. It's also one of the heaviest in its category, but it's not s cause for concern since most glass desks will still be able to handle it.
Build quality for the Asus VG27WQ1B is great and solid even if it's a budget option and it's mostly made out of plastic. There are no visible defects or signs of flexing on the chassis, indicating that Asus did well when it came to quality control. The stand doesn't wobble and it feels firm thanks to a metal hinge that works well even if its center of gravity sits low.
We appreciate the Asus VG27WQ1B's control layout which is identical to the brand's premium models. You will find an OSD joystick at the back that's accompanied by four shortcut keys. This design is easier to use since it's impossible to get lost in the OSD or wrongfully select an unintended setting or input. The payout is located at the back near the lower right corner, so you don't have to extend to reach it.
The stand included with the Asus VG27WQ1B is peculiar since it doesn't have height adjustments, but you can tilt and swivel the monitor. We think it is optimized for multi-monitor setups where you need to turn the peripherals a bit, but the swivel range isn't that wide. You can swap this part out with a VESA mount, but that adds more to the cost of your upgrade.

Connectivity for the Asus VG27WQ1B is limited to DisplayPort 1.2 and two HDMI 2.0 slots, along with a 3.5mm jack for headphones. It is understandable that you don't get extras such as USB ports since this is a budget model, so we expected the lack of extra features. The I/O can at least accommodate your PC and two consoles, so we're still happy about it.
The Asus VG27WQ1B also includes a pair of 2-watt speakers which are convenient for some situations such as listening in on conference calls. The two, however, do not have enough power or range for gaming use so they lack the oomph you need to completely enjoy your game. They also distort at higher volume levels, so it is normal to consider them as secondary or tertiary options for your audio needs.
Display and Performance
The Asus VG27WQ1B sports a 27-inch curved VA panel with a 2560 x 1440 resolution, a 165Hz max refresh rate, and a 1ms MPRT response time. The backlight is limited to 250 cd/m2, while the contrast ratio is listed at 3000:1 like most VA panels. This model doesn't have VESA HDR certification, but it is advertised as HDR10 compatible like many of the recent releases.
The Asus VG27WQ1B's size is perfect for its resolution since visibility and sharpness are well-balanced in this format. You won't struggle with reading walls of text while games look snappy and crisp even if you set post-processing effects like Anti-Aliasing to lower levels. You are still going to need a powerful card to max out the refresh rate, but it's easier here compared to 4K.
The Asus VG27WQ1B renders 100% of the sRGB gamut with some extensions and around 86% of DCI-P3. The screen looks vibrant and highly-saturated, so games like Cyberpunk 2077 will pop and become more enjoyable. Default accuracy is good since the deltaE average sits at around 2.83 which isn't perfect, but most would be hard-pressed to see the deviances.
Calibrating the Asus VG27WQ1B can lower that average to around dE 1.5, but buying a colorimeter to achieve it isn't worth it. Most gamers will be happy with a few tweaks, especially if this product will be dedicated to gaming only. Take note that these results vary due to panel properties, so your results might be slightly different.
The Asus VG27WQ1B can reach as much as 290 cd/m2 at 100% brightness which exceeds its brightness rating. Its contrast ratio goes up to 3190:1 at 60% brightness, so black or dark images look inky and convincing. It also makes the monitor ideal for nighttime use since it doesn't look grayish or washed out in some instances.
Panel uniformity for the Asus VG27WQ1B looked great when it shows full-color images, but some clouding was visible on the top bezels due to minor backlight leaks. This issue is common with curved displays, but not every monitor is made equal. There are better units out there, but that also means that there are specimens with worse symptoms as well.
The Asus VG27WQ1B isn't the quickest when it comes to pixel response time and it can show some trailing and smudges in fast, contrasting transitions. Setting the Trace Free setting to its maximum is your best option even if it induces some overshoot in some instances. You can use the monitor's ELMB black frame insertion feature for better blur reduction, but it conflicts with the monitor's VRR mode so you have to pick one or the other.
The Asus VG27WQ1B is a FreeSync gaming monitor, but it also flawlessly works with Nvidia's G-Sync Compatible mode. This is great since both companies have compelling GPU offers which are highly suitable for 144Hz QHD and above. Input lag sits at 6ms at 165Hz, so there is no need to worry about delays while enjoying your favorite title.
Thoughts on the Asus VG27WQ1B
The Asus VG27WQ1B is a great buy at $350 since it's quite capable in both gaming and entertainment use. The VA panel offers great contrast and colors even if it could use some more tweaking to improve accuracy and color temperature. We also like the functional features included with the monitor for the price, but it could use a better stand even if the one included is optimized for dual or triple display arrangements.
You can't expect perfection yet at $350, especially if you are getting a higher-spec monitor like the Asus VG27WQ1B. It does have a few limitations, but most are solvable or minor in our books. It's a great buy if you want to upgrade without spending big bucks, but you might also want to consider alternatives like the AOC CQ27G2 which is better in some key aspects.
Pros:
High Contrast Ratio
Designed for Multi-Monitor Setups
Decent Default Accuracy and Great Vibrancy
FreeSync/G-Sync Compatible
Affordable 1440p Gaming Monitor
Cons:
Stand is Limited to Tilt and Swivel
Prone to Blurring Without Overdrive
ELMB Doesn't Work with VRR
About the Author: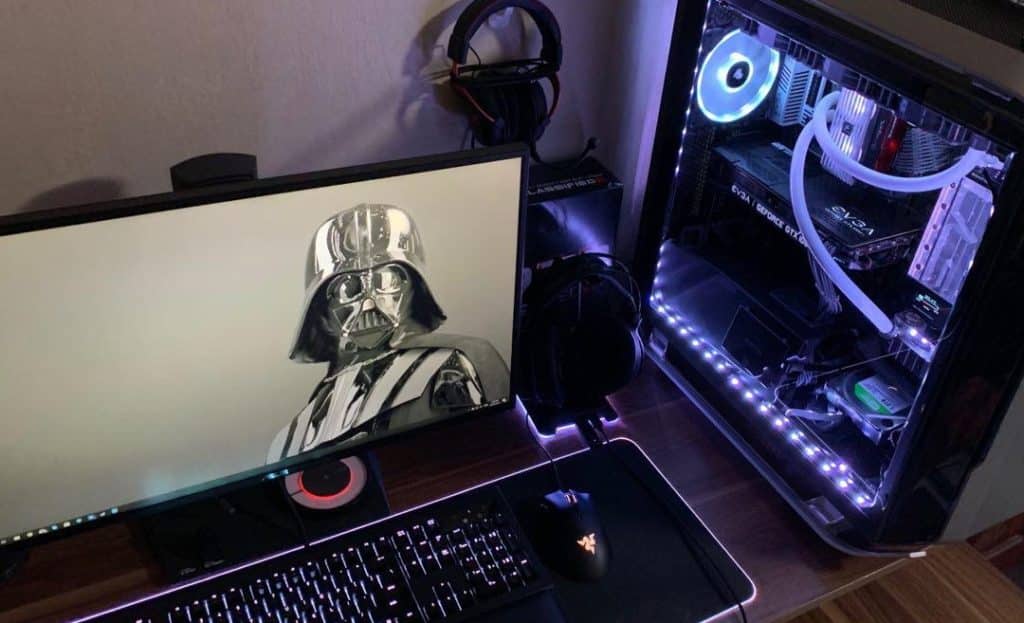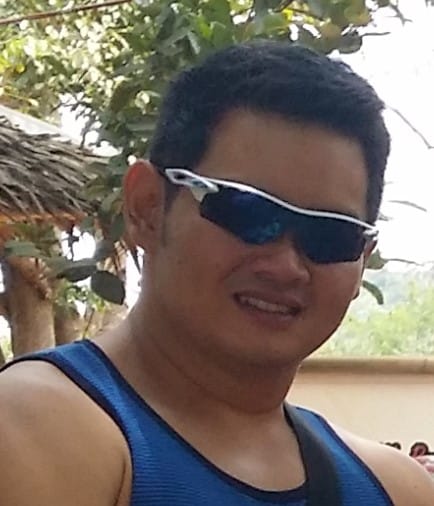 Paolo is a gaming veteran since the golden days of Doom and Warcraft and has been building gaming systems for family, friends, and colleagues since his junior high years. High-performance monitors are one of his fixations and he believes that it's every citizen's right to enjoy one. He has gone through several pieces of hardware in pursuit of every bit of performance gain, much to the dismay of his wallet. He now works with Monitornerds to scrutinize the latest gear to create reviews that accentuate the seldom explained aspects of a PC monitor.