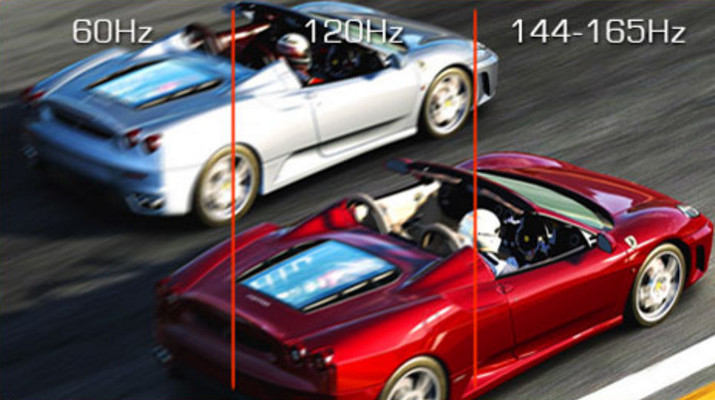 There can be no doubt that 144Hz monitors revolutionized the total gaming experience. The technology in these displays changes the way we visually appreciate and process the different aspects of the diverse genres by increasing the speed of control response, fixing image flaws such as tearing and blurring or simply just by smoothening the optic amusement and satisfaction a gamer gets when he delves into his or her chosen title. Most of these issues or flaws were non-existent back in the day, but as developers progressed with their enhanced graphics and programming, naturally, gamers had to follow suit with better controls, techniques, and strategies. The introduction of these gadgets also changed how system builders and players view the technicalities of their chosen gaming rig. Previously, nobody paid attention to the monitor. Most would simply get the biggest size and resolution the remaining cash they had in their budgets, so most ended up with entry-level or mainstream display products. Fast forward to today, these people now put more emphasis and budget allocation for the monitor, treating the peripheral as the second or third important part of a build or as a priority whenever upgrades are incoming.
Despite the rise in popularity and antecedence, 144Hz monitors are slowly being replaced with new and improved more agile versions. This fact isn't surprising since corporations are consistently offering newer products for consumers to buy, so they keep making profits to continue development, design and of course, prosperity. Recently, we have seen speeds go up to 165Hz, then 180Hz then finally 240Hz. The advent of these newer monitors will start next year, but current owners and prospective consumers should not fret, 144Hz models are here to stay as the next standard technology which will replace aging 60Hz displays for a few more years. This category of display products offers the most significant improvement from the latter concerning image correction and smoothness, while faster products offer advancements which are often described as subjective or dependent on each person's varying abilities. Another good thing about products like these is that they currently do not incur huge price premiums, since incremental step ups like 165Hz screens require stupendous amounts of moolah for ownership, but offer diminishing returns regarding benefits and performance.
I. 1080p 144Hz Monitors
144Hz screens first became popular in this category, since ideally, this resolution sits in a widely preferred 24-inch cabinet which was the previous most popular form factor. 1080p is also the current mainstream standard, so there are a lot of consumers who are already comfortable in this category, not to mention the resolution is optimized for a lot of graphics cards and midrange builds in a lot of households, making it easier to reach high FPS rates in a lot of titles. The ideal form factor and pixel count is also the chosen standard for almost all of the significant competitive events such as ESL, so it isn't surprising that a lot of avid gamers want displays from this segment. Demand is still high for these products, but we have seen prices already diving to all-time lows making 1080 144Hz monitors the easiest option gamers can buy for their after-hours enjoyment or training sessions.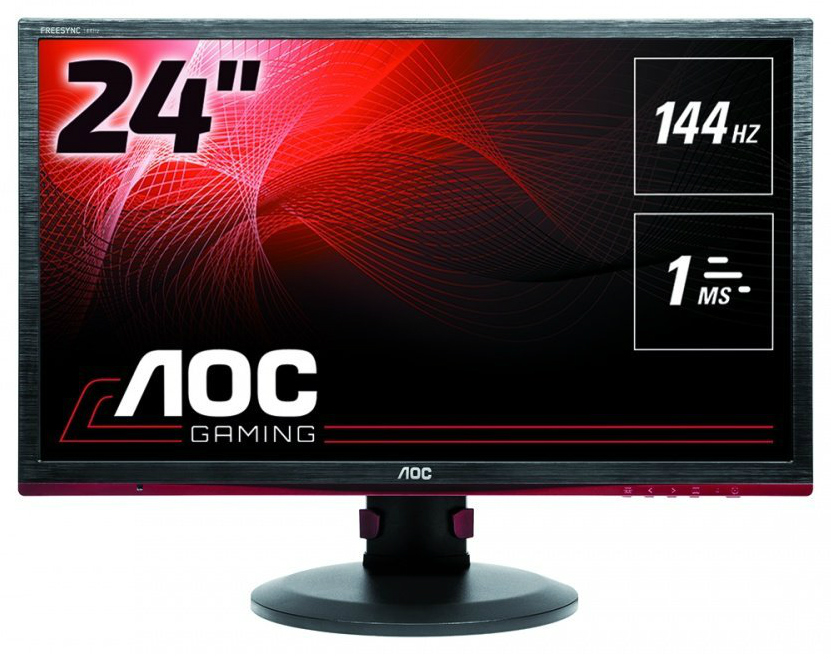 The AOC G2460PF is one of our favorite budget-friendly products which has all the essential features which caters to a lot of gaming needs. At its current affordable price tag, this monitor offers 144Hz refresh rates, 1ms response time, and Freesync with a 35Hz to 144Hz window; you can't go wrong if you choose this awesome option. The G2460PF still has a TN panel since this type is faster, so users cannot expect colors to pop or shades of black to be extra oily. For fast-action games such as CS: GO, vibrancy, and saturation rarely matters because your KDR will rely on speed rather than eye candy. The build quality of the AOC G2460PF is also excellent in our books, despite the flimsy assembly method. We did not find this as a deal breaker since the screen stands firm on top of a desk after going through the process of attaching the parts. AOC has been in the display business for decades, so there is no reason to doubt the quality and performance of this product despite its bargain price tag.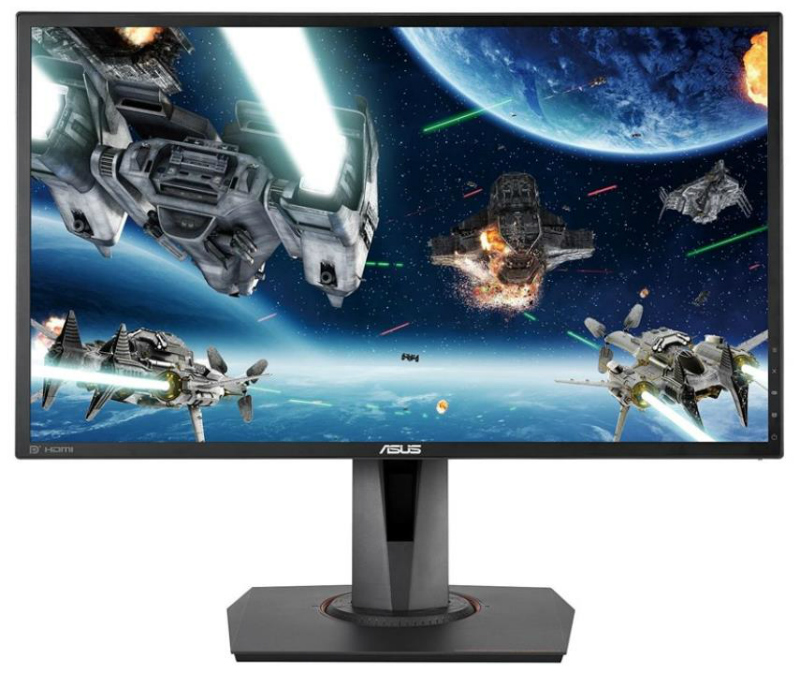 The Asus MG248Q is one of the Editor's Choice entries on our website because the product features a fantastic set of features which are all designed to augment the gaming experience. The TN panel in this model is superb regarding color and contrast, and we can say it is worlds apart from other regular offerings. The MG248Q is also one of the fastest 24-inch displays we have seen to date since its 144Hz 1ms response time goodness is achieved without any annoying input lag. Image enhancement techs include Freesync from AMD, and surprisingly, Nvidia's 3D Vision 2. 3D gaming itself is a dead niche, but what's interesting about its inclusion is the addition of Lightboost, which works as a backlight strobing feature for omitting blurring or ghosting defects when frames are too high. The high-quality design and exterior found on the bigger MG and PG monitors are also used for the MG248Q's exterior, so we can expect excellent ergonomics, functionality, and durability if you decide to get this offering.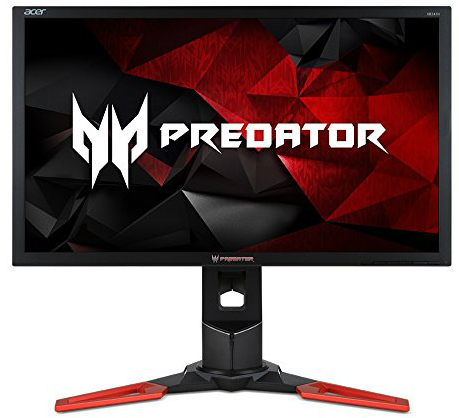 The Acer Predator XB241H is a high-performance 1080p gaming monitor which has a native refresh rate of 144Hz, but amazingly, at a touch of a button, gamers can utilize up to an 188Hz refresh rate to maximize the display range of the screen. For graphics-heavy titles usually preferred by casual gamers, Acer includes Nvidia's G-Sync tech into the veins of the XB241H to eliminate stutters and tears for Nvidia GPU users. This feature significantly raises the price of this offering, but products considered to be premium do not come cheap. The highly-favored Predator design is applied to the exterior of the monitor, which features a borderless face, aggressive design cues and accents, and a functional and easy to adjust mechanism for superior positioning and placement. The black and red color scheme would fit a lot of gamer setups out there, so it isn't a strange fact that this offering is one of the favorite monitors among professionals and weekend warriors. If the oozing performance and appeal of the Acer Predator XB241H aren't enough to convince you, know this; this is one of the selected 1080p gaming monitors for significant events such as ESL and the League of Legends Championships for the past years.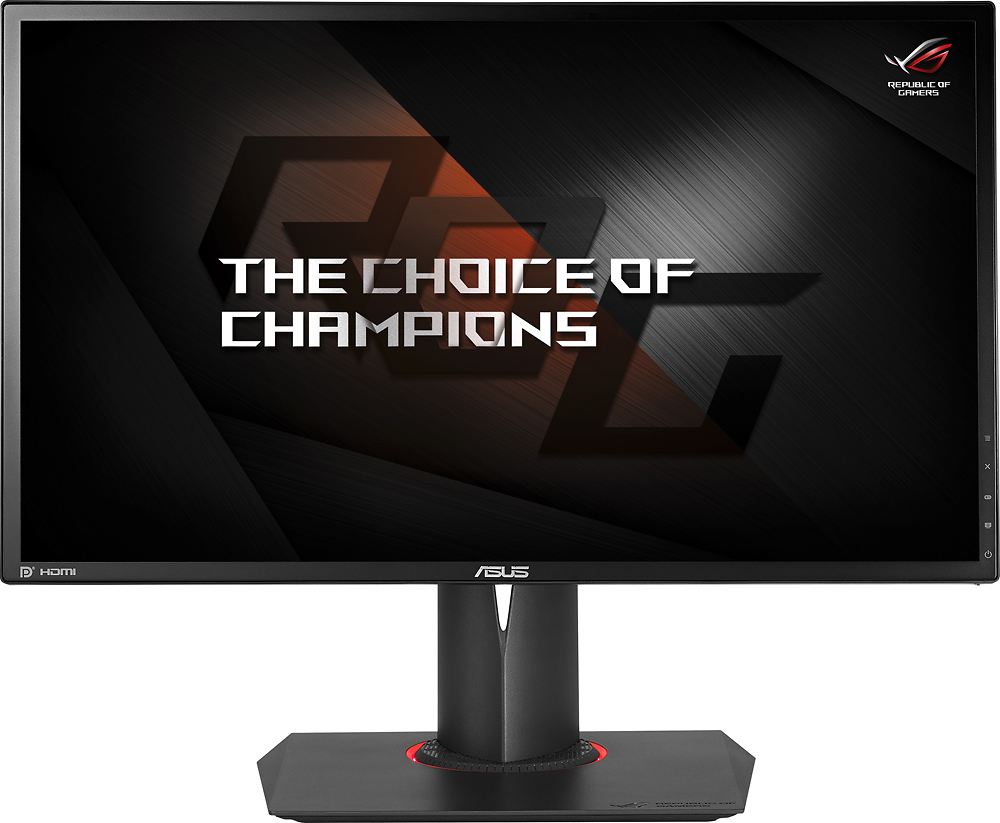 The Asus PG248Q is another premium contender meant to tangle with the Acer XB241H mentioned above. This model is the G-Sync enabled variant of the acclaimed Asus MG248Q, so it isn't surprising that this iteration is more expensive and packed with additional extras found on ROG Swift products. The TN panel in the PG248Q is also capable of great colors and contrast more than average TNs can do, to complement the speed it possesses. Users can either enjoy the native 144Hz refresh rate or overclock it up to 180Hz in the OSD. Also, this model is one of the fastest we have tested regarding responsiveness and feel, which is an important characteristic for FPS shooters like Overwatch where twitch aiming presents a massive advantage in clashes. If frames are going wild, the PG248Q's G-Sync function works wonders to alleviate stutters and tears. This feature adds value to this product for another set of gamers, so the quality and pedigree is unquestionable. Another thing we love about this product is the ROG Swift treatment of the exterior, with subtle but futuristic cues such as angular lines and the Light in Motion feature, plus a robust, and flexible build worthy of the crown of the best of the best.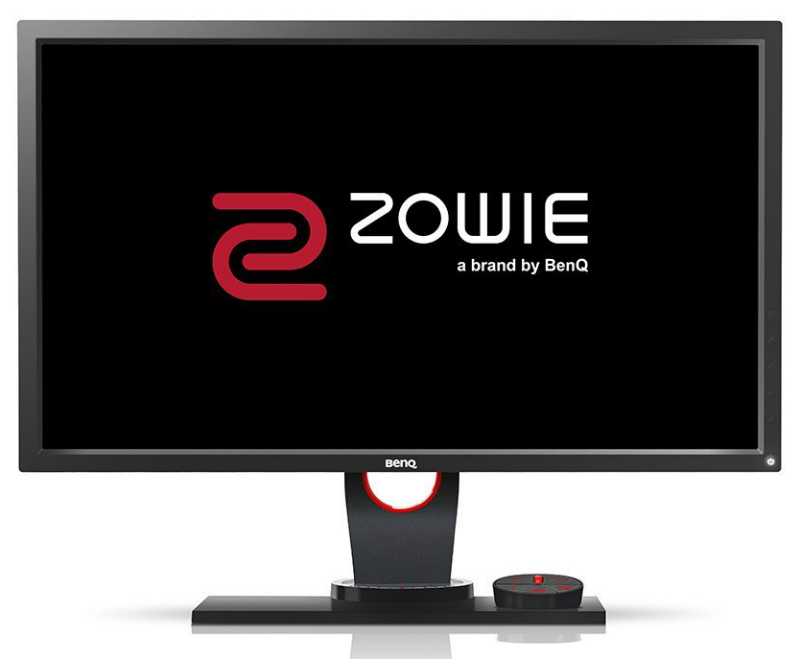 The BenQ Zowie XL2430 is one of the best monitors in this segment simply because it is the faster product since it has the lowest input lag among its companions in this list. The 144Hz TN panel in this model requires a bit of tweaking to get accurate colors and vibrancy, but for scenarios in games which need hair-raising speed, this isn't as important as your reaction time. But to get the most out of this product, taking the time to adjust each setting correctly or applying an ICC profile will improve the image quality by a large margin. Blurring and ghosting problems are noticeable when operating this gadget at it's fastest, so to alleviate this, BenQ Zowie includes their exclusive Blur Reduction feature which is a favorite among enthusiasts. Professional gamers widely prefer this product simply because of its overwhelming speed factor, but the quality produced by BenQ Zowie's dedication is undeniable. Aside from the performance numbers, the exterior treatment of the XL2430 is one of our favorites here at Monitornerds. The exterior features comprising of the stand, headset hanger, and the S-Switch Arc for accessing the OSD and hot swapping presets all deserve an award for their functionality and quality.
II. 1440p 144Hz Displays
1440p monitors are the next logical upgrade step for most gamers since experts predict that the resolution will become more relevant in the coming years, replacing 1080p as the minimum for high-quality gaming. This category presents significantly heavier processing loads for current GPUs, but the increase in details and sharpness also negates the use of high levels of Anti-Aliasing. Field of View also dramatically expands, so most modern gamers already prefer this type of screen as an upgrade path. Although curiously, professional gaming has not followed suit in moving up to 1440p, so for users looking to train to be able to compete might have to look at the previous category mentioned above. This fact isn't a huge hindrance for a lot of consumers, and judging from the regular releases of 1440p products, we can safely predict that the display industry is inevitably headed into this niche. Faster QHD screens are already available, but they are overly expensive at the time of this writing due to high demand and manufacturing limits. Even some of the 144Hz-limited products on this list are still considered as luxuries, but to help you narrow out what to get in the crazy market, we have selected the best there is, that your hard-earned money can buy.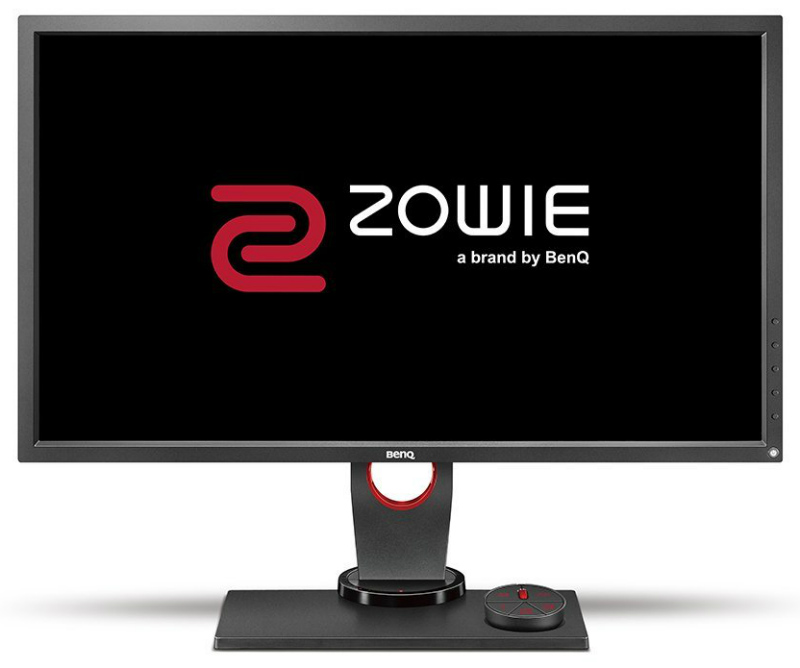 The BenQ Zowie XL2730 is one of the best 1440p 144Hz monitors we have reviewed to date, and much like its smaller sibling, the XL2430, this product also is pretty fast when it comes to input lag. One advantage this product offers is it has a slightly better contrast ratio when compared to other TN models available in the market. Although, the high-quality image performance of this product is only achieved with adjustment since the out of the box performance of the XL2730 gave washed colors and shallow shades and blacks. But after putting in the extra effort, vibrancy and saturation levels were on par with some of the top performing offerings, mainly because these high-end products share similar panels which come from AU Optronics. The XL2730 has Freesync included in its many features, and this tech is sorely needed at 1440p since the resolution will induce a lot of FPS fluctuations for a lot of titles. BenQ Zowie's Blur Reduction feature is also involved in the functions of this offering, so ghosting and blurring are immediately solved via backlight strobing. Also, like the XL2430, the same exterior design and build quality is also present in this bigger model. The stand is fantastic with its range of flexibility and durability, plus the little details such as position markers and the headset hanger make this an excellent product for your desktop. To top things off, the famous S-Switch Arc is also present, which will help techy users to navigate the OSD conveniently and quickly transition to different presets to adapt to any gaming situation.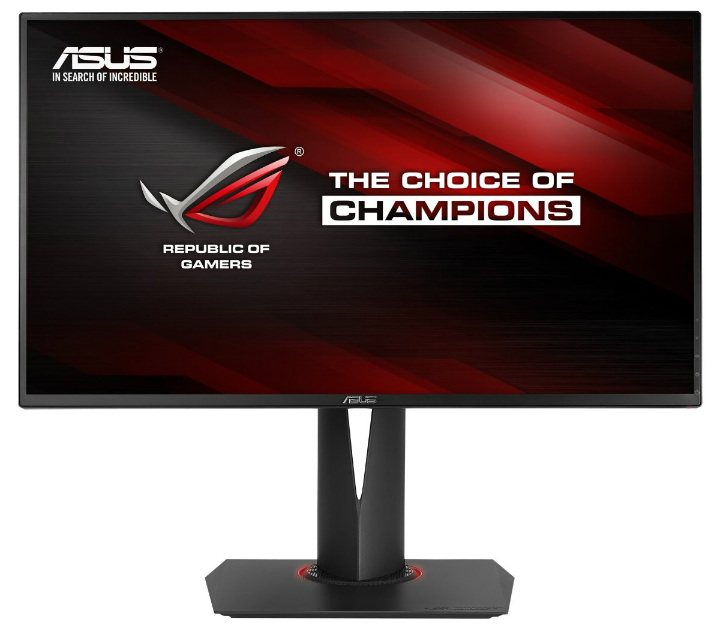 The Asus ROG Swift PG278Q is one of our preferred 1440p 144Hz monitors due to its impressive performance capabilities and outstanding build quality and design. This product still has a TN panel, but nevertheless, the color and contrast quality bridges the gap with the capabilities of IPS panels. The PG278Q is also one of the fastest products regarding input lag like its IPS sibling, the Asus PG279Q, with results almost identical to the XL2730. The magnitude of the pixel increase did not affect the responsiveness of games in our test. These two positive characteristics complement each other in providing users with extraordinary visual experiences. The PG278Q also has G-Sync for situations where your FPS numbers dance around as if there was a fiesta going on, and this is a situation which most users would likely encounter for a lot of games at 1440p. The build quality is fantastic for this product, and the mechanical aspects are smooth and steady, and the range of positioning improves the viewing comfort levels for most users. The ROG Swift treatment gives this product a sophisticated and rugged presence, with the graphite black exterior and the subtle ROG hints such as logos and LED light ring found on the base. To complete the ROG pedigree, Asus also includes add-ons such as the GamePlus overlays and tactile controls which all augment the convenience and gaming enjoyment of the user.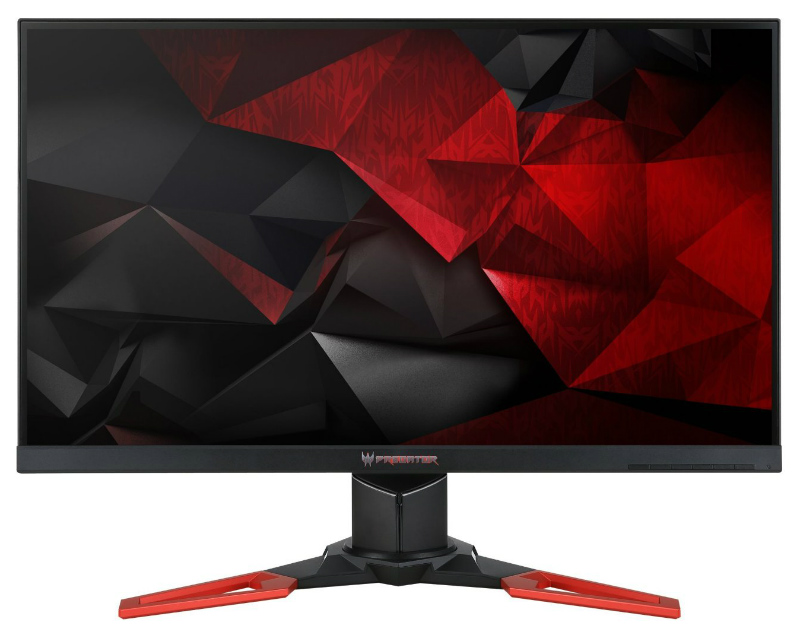 The Acer Predator XB271HU is the other highly-sought-after 1440p gaming monitor by enthusiasts for its unique quality and performance. This product has a speedy IPS panel with 144Hz up to 165Hz refresh rates, 4ms response time and significantly improved color and contrast performance. The best thing about this product's image reproduction is its fantastic grayscale performance, and in tests, we have seen every shade transition from white to black in perfect uniformity. 1440p games are graphics hogs so that FPS will fluctuate most of the time. For this situation, the XB271HU can utilize its G-Sync technology to solve tearing and stuttering so users can enjoy the promised buttery-smooth visuals. The exterior of this product also involves the Predator design concept, with its inky black appearance with red accents in the right places. The mechanical aspect of the exterior features is also exquisite, with its wide range of adjustments and robust stature. The Predator scheme is widely preferred due to its appearance, since the black and red matches a lot of gaming-grade peripherals making it easy to streamline the look of your battle station.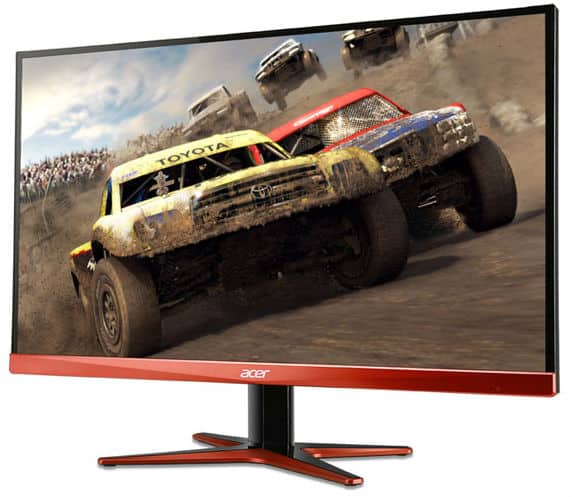 If you want 1440p eye candy playing smoothly on your screen, the Acer Predator XG270HU is your best pick with its 144Hz refresh rate and Freesync with a class-leading range of 30Hz to 144Hz. The TN screen in this model is only capable of a modest 72% coverage of the sRGB color space, but as we have tested in an action packed FPS game like Battlefield, this did not present an extreme issue for our gaming experience. The XG270HU also isn't the fastest regarding input lag when technically tested, but we found out that this did not matter much since it was not felt at a disturbing level. These are minor misgivings when you consider the current pricing of this model, which makes 144Hz at 1440p a lot easier to reach for a lot of budget-conscious gamers. The mechanical features of this offering are limited, but if you look at the svelte but aggressive Predator inspired scheme, you will forgive these limitations on the exterior. For the fantastic value this product presents regarding cost and performance, we consider the Acer XG270HU as one of the best since it is a feature-packed performer at a substantially lower price point that the rest of the entries in this category.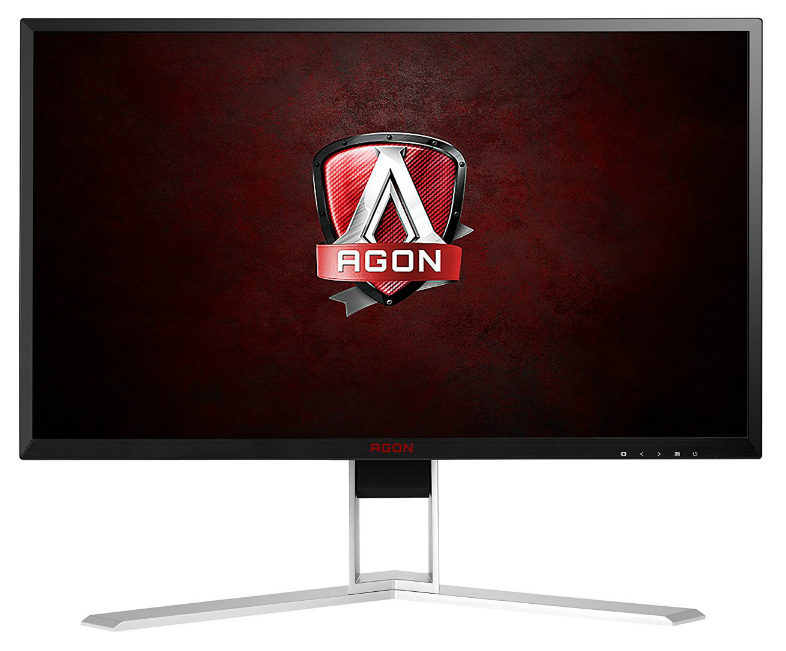 The AOC Agon AG271QX is a neatly designed product with all the fantastic features which are relevant to gaming, plus a few more. The three gaming presets in this model's OSD prove to be some of the best we have seen in different products since each one showed significant improvement over the factory calibration or the result of our actual testing. This ability makes this product ideal for users who want to jump into the action at once after plugging this gadget into your gaming rig. The product also features a picture boost mode with an option called Bright Frame. What this convenient setting does is it let users select a particular area on the screen where the brightness seems to be uneven with the rest of the space. Although not as feature-heavy as the other best options in this category, one thing we like about the Agon AG271QX is it's fantastic exterior design. The scheme looks quite futuristic, with a red chevron-shaped feature on the back, plus a sleek stand with an aluminum finish with markers for adjustment points. Another key feature of this model is its external control pad which connects via a USB port at the rear, which lets users navigate the OSD and select custom presets at the push of a button. All these essentials plus the reliability of AOC over the years, and a middling price point makes the AOC Agon AG271QX one of the best 1440p options money can buy.
I. 144Hz Ultra-Wide Monitors
Ultra-Wide monitors are the ultimate luxury products for gamers looking for incredibly immersive visual experiences. The addition of a peripheral view for a wider FOV entails a lot of advantages, but the biggest factor which contributes to the demand for these monitors is the increase in immersion and enjoyment of the rendered images playing on the screen. Environments seem much more massive than it was on 16:9 or you can see enemies earlier. Therefore, you can react quicker and better to frag that opponent. Sadly, the current models and the accompanying display standards out in the market now can only support lower resolutions at 144Hz. But a big advantage these 2560 x 1080 monitors offer is that they are easier to run with more types of graphics cards, so the higher FPS required to make use of the benefits of high refresh rates can be fully realized. One downside of this monitor is that a lot of media sources such as web pages and videos are not compatible with the 21:9 format. So you may end up with a lot of white surfaces on browsers or black bars on the side if you are watching movies. But if you are playing games with native 21:9 support, you are surely in for a treat.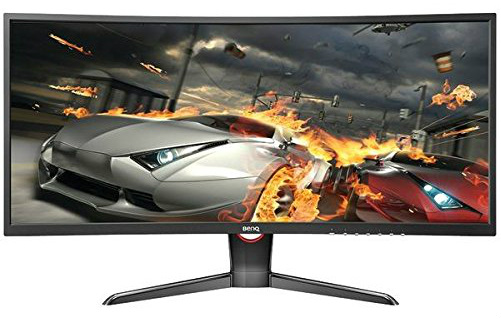 The BenQ XR3501 sports a tighter 2000r curvature, making it easier on the eyes to see the peripheral view of the screen. This model has an AMVA panel with a 144Hz maximum refresh rate, 4ms response time and 100% sRGB color coverage. The panel tech in this product allows for solid oily blacks and fantastic grayscale performance, making murky-themed games like the Witcher 3 look more sinister adding the depth of the experience. Despite the lower resolution, games did appear smooth, and the extra field of vision makes it easier to track events and opponents while playing a game. The mechanical aspect of the XR3501 is only limited to tilting, but this form factor seldom requires adjustments to get a perfect view. You only have to sit at dead center to enjoy the ultra-wide gaming bliss this product provides. The exterior looks classy as well, so users who are looking for a product with subtle design hints or something which emits a minimalist vibe but with raging specs and capabilities in the innards, the BenQ XR3501 fits the bill perfectly.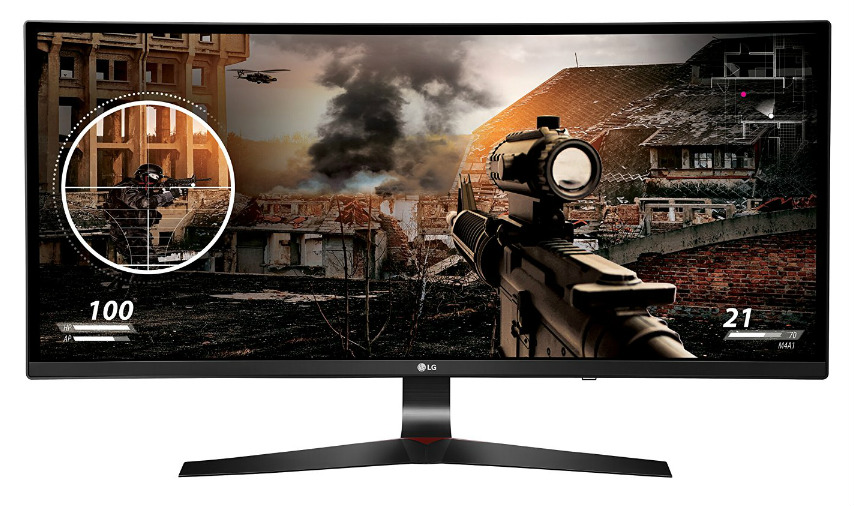 The LG34UC79G is another top pick with its distinguished IPS panel capable of excellent gamma levels and color uniformity, making it one the products suitable for those who want to get a taste of the action without spending hours and hours on adjusting and testing each visual setting. The panel has a maximum threshold of 144Hz and an acceptable response time of 5ms, making this model ideal for shooter titles as much as it is a good fit for immersive games such as RPGs. If the graphics become a bit heavy and your FPS goes wild, Freesync is present to keep your viewing pleasure tear and stutter free. Although the minimum limit is only at 50Hz, this monitor can utilize AMD's LFC (Low Framerate Compensation) tech to solve issues when Freesync stops its functions when your FPS goes out of bounds. The exterior design is savvy but with a hint of bad-ass red, so a lot of users can find this product enticing for their next visual upgrade. The build quality is excellent, and LG's quality is undeniable, making it easier for us to choose the LG34UC79G as one of the best 144Hz monitors we have seen up to the time of this writing.
3. Acer Predator XZ350CU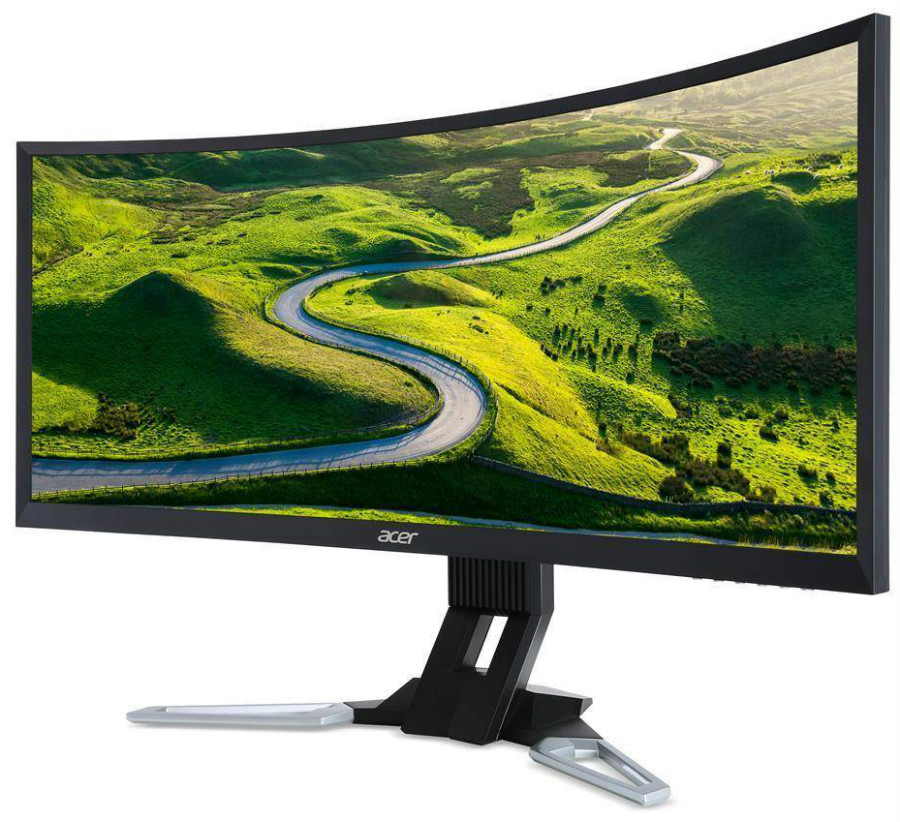 The Acer XZ350CU is the Freesync variant of the Predator Z35 series which has VA panel capable of wonderful contrasts, 144Hz speed, 4ms response time and 100% sRGB coverage. This product also sports a 2000r curvature, making the outside view accessible without users having to turn their heads to see the large FOV this screen provides. The max refresh speed is more than adequate for fast action games such as Overwatch with requires instantaneous aiming and a lot of jumping and twitching around, but for immersive casual titles such as Rise of the Tomb Raider which is taxing on a lot of gaming CPUs. Freesync is present to keep frames in order and maximize your eye-bleeding enjoyment. This product also features the exterior design cues of the other popular Predator models, but instead of using fiery red for accents, Acer used a silvery metallic color to differentiate this unit from its G-Sync brethren. Despite this difference, the same build quality and stand ergonomics are also present in the XZ350CU, complementing the performance it is capable of, and therefore, completing the Predator pedigree which makes this one of the best 144Hz ultra-wide displays available.
4. AOC C3583FQ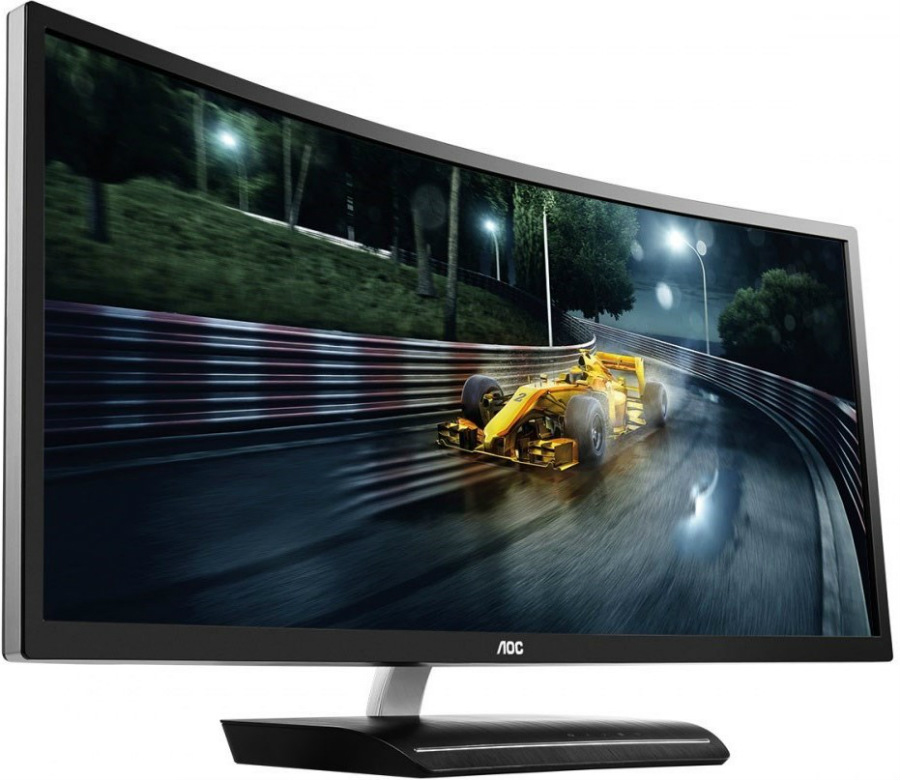 The AOC C3583FQ is the least sleek looking of the bunch, but it has its charms regarding the uniqueness of the design. One thing unique to this product is it is the fastest iteration in this selection, with a maximum refresh rate of 160Hz. The MVA panel in this product is capable of decent color representation and contrast, which are all as ideal as they can be for gaming purposes. The AOC C3583FQ also has Freesync in its functions, so your titles with brilliant graphics are covered for ultra-smooth visual performance. AOC did cut back on the exterior features to keep the price for this model affordable, but what's unique about is the base which holds the I/O ports at the back and OSD touch buttons at the front. We love this design direction since it allows for excellent cable management, making wires less visible from the view up front. Due to the additional heft from holding hardware internally, the base is very stable while the neck of the stand lacks directional adjustments except for tilting. There are compromises, but the 160Hz speed and the unique design of the AOC C3583FQ make it a great pick if you are looking for 144Hz ultra-wide monitors.
Conclusion
144Hz monitors are quickly becoming the acceptable standard for gaming and everyday computing, but the steady rise in the industry and demand for its products dictates an unstoppable rise in technological enhancements. Still, these products offer an excellent value especially for those who are coming from prehistoric 60Hz displays. For people who are looking for professional league format products, the 1080p products in this guide offers stunning performance capabilities at affordable prices, so it's a no-brainer to upgrade instantly even if 24-inch form factors are almost a thing of the past. For those who are looking for a balance of eye-candy and optimized system requirements, the 1440p options in this guide present the best value products with amazing capabilities, whether you are in the market for G-Sync or Freesync compatible units. As for the Ultra-Wide variants, it is disappointing that there are still no 144Hz capable displays with higher resolutions at the time of this writing, but in our opinion, 2560 x 1080 still has a lot to offer regarding visual enjoyment. As long as your chosen product is at least over 30 inches in diagonal width.
There are hundreds of 144Hz monitors out on retailer's shelves waiting for their prospective owners. It can get confusing, but in this buying guide, we have chosen products which we think deserve your hard-earned cash. There are faster options with higher refresh rates in the selection, and they are much more expensive than the 144Hz limited offerings, but they are also consistently the best upgrades of previous products which are already phased out. There are upcoming display products with up to 240Hz refresh rates next year, and while some may think it might be worth it to hold out and wait for these newer models to become available, always remember; more modern means hellishly expensive. Even when the upcoming year opens up and each manufacturer races to impress with newer and faster tech, 144Hz monitors are still the next best upgrades you can get, with practicality and performance in mind.